A traditional Bangladesh dish, Pithali, or beef curry, is served at all major events. Caramelized onions and potent spices make this beef and gravy dish memorable. Serve with a flatbread or rice.
By Lail Hossain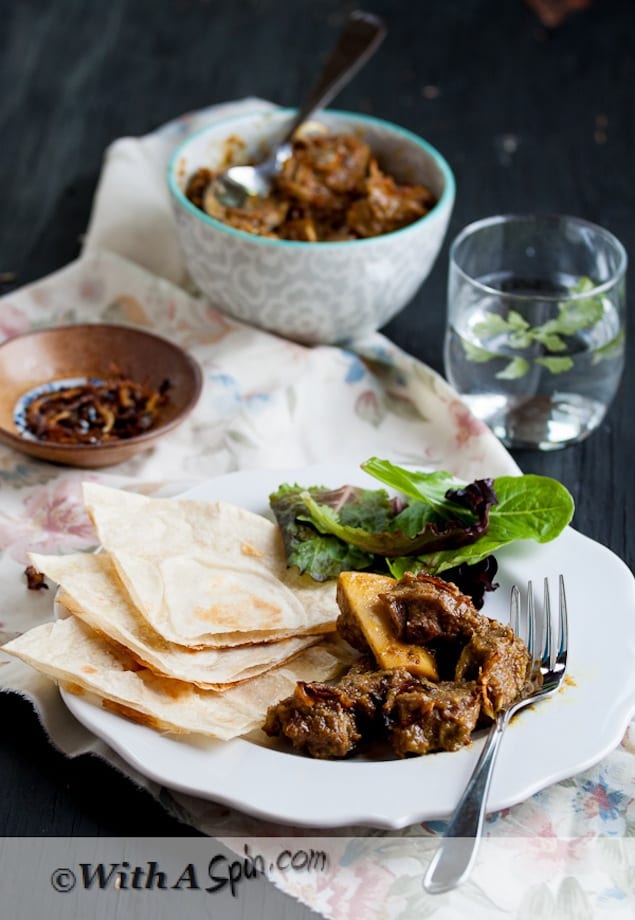 Imagine all the handwritten notes on scrap papers that our great grandmothers, grandmothers, mothers, and aunts scribbled over the centuries. Each of the scrap papers is a piece of history. Some of the faded, smudged recipe cards that some of us inherited got lost over the years. Wouldn't it be magical to be able to store those and pass along to the next generation?
Not all of us are lucky enough to still have our relatives around to ask them about their favorite meals and type them up to store! How great would it be to make it a project that is all about the sharing and teaching of heirloom recipes? Involving kids, friends and the foodies around you would be so much fun. Heirloom recipes are passed down from generation to generation. These collections of recipes are delicious, full of flavors, and fun to make. Along with traditions, heritage, faith, language, etc., I think it is very important to pass along recipes from grandmothers, mothers, and aunts. These are like family history and tell a family story through the ingredients and meals enjoyed by the previous generations. I get goose bumps thinking about passing heirloom recipes to the next generation's collection. The nostalgic recipes may come down from a family or they may be hometown or favorite to certain regions.
The recipe I am sharing today, Pithali, is one such heirloom recipe. Pithali is one of the traditional dishes in greater Mymensing district in Bangladesh and usually prepared for wedding, religious milad a.k.a congregation or other cultural events. A dear friend, Rubina Huq Lora, shared this recipe. Her grandmothers used to cook this delicious beef curry when they visited her every year. Her mom learnt to cook pithali from her grandmother and eventually she picked it up from her mother. She is hopeful and wishes that one day, her 4 year old daughter with learn and preserve the recipe for the next generation.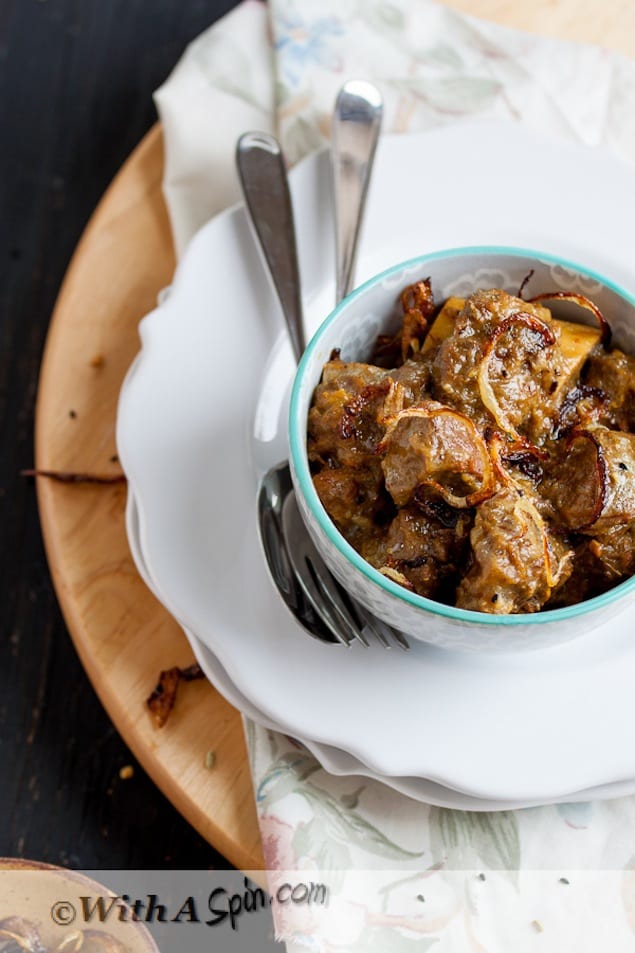 See Also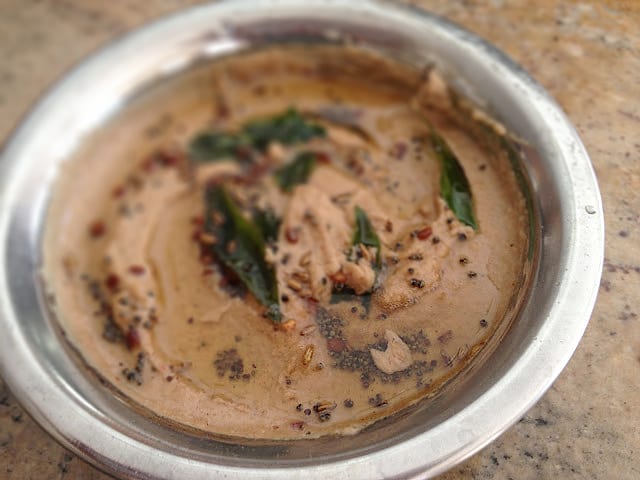 Print

Beef and Onion Curry
---
Description
A traditional Bangladesh dish, Pithali, or beef curry, is served at all major events. Caramelized onions and potent spices make this beef and gravy dish memorable. Serve with a flatbread or rice.
---
2

lbs Beef

2 cups

onion, thinly sliced (divided)

2

–

3

cinnamon sticks, about

1

inch each

3

–

4

green cardamom

4

–

5

black peppercorn

½ teaspoon

red chili powder

1 tablespoon

coriander powder

1 tablespoon

cumin powder

1½ tablespoon

ginger paste

1½ tablespoon

garlic paste

1

–

2

bay leaves

1 teaspoon

turmeric powder

½ cup

+

1 tablespoon

oil
Salt, according to taste.

¼ cup

rice flour

¼ teaspoon

panch phoron (a whole spice blend)

1 teaspoon

fennel seed powder
---
Instructions
Heat oil in a pan. Add 1 cup onion and saute until golden or light brown;
Put all spices from cinnamon to salt and fry them with a little water until oil separates.
Add meat and stir about 10 to 12 minutes.
Add enough water to cover the meat and cook till meat is tender.
In a separate bowl, mix rice flour with ½ cup water and pour into the pan where meat is cooking. Cook 5 to 6 minutes until the gravy gets thick;
In a separate pan, heat 1 tablespoon oil. Put panch phoron and onion.
Sautee the onion till dark brown and pour over the beef curry.
Turn off the stove and sprinkle the fennel seed powder.
Cover the beef for the flavors to combine. Wait about 15 minutes before serving.
Notes
Gravy thickness depends on personal taste. If you like thick gravy, add more rice flour. If you like runny gravy keep the rice flour amount as per the measurement above.
Category:

Main

Cuisine:

Bangladeshi
Lail Hossain
Lail Hossain finds cooking to be an explosion of creativity. She is enthusiastic about modifying a laborious step of an old recipe, and experimenting with different ethnic recipes by adding her own spin to it yet keeping the recipes simple, healthy, and delicious. Originally from Bangladesh, Lail shares her journey of food, creativity and family in her blog "With A Spin". She is also very passionate about highlighting Bangladeshi cooking to the international culinary space.