A dark, hearty beef stew that'll stick to your ribs and stomp out any winter day blues.
By Jennifer Abbott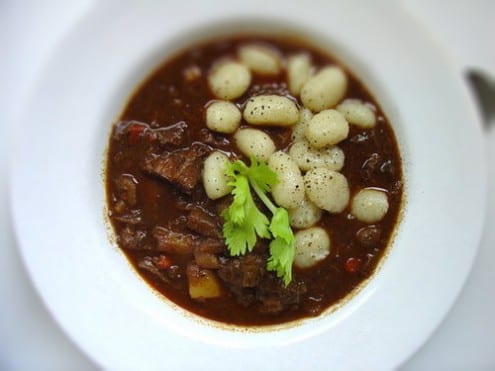 I grew up eating the 1970's school-lunch version known as "Goulash Supreme," which consisted of soggy macaroni, bland ground beef, and stewed tomatoes. I should point out here that when I was a kid, I actually liked it. And that it's pretty much the only thing called "goulash" I remember eating, ever, anywhere. And that I'm ready for a better goulash to take its place in my life.
So what I've come up with here is much, much better than what I grew up eating: a dark, hearty beef stew that'll stick to your ribs and stomp out the rainy day blues. If you want to go for the glory, put some of it in a baking dish and bake a pie crust on top. Even homemade dumplings would be great, but if you're tired, like me, store-bought gnocchi totally do the trick.

Beef Goulash with Gnocchi
A dark, hearty beef stew that'll stick to your ribs and stomp out any winter day blues.
Ingredients
4 tablespoons Hungarian paprika (not smoked)
3 pounds beef cut for stew, in 1" to 2" chunks (or cut up three pounds of beef chuck)
2 tablespoons canola or vegetable oil, plus more if needed
2 large onions, diced
2 tablespoons all-purpose flour
½ teaspoon caraway seeds
2 bay leaves
1 cup red wine (I used a pinot noir)
5½ cups beef stock
3 medium parsnips, peeled and diced
3 medium carrots, peeled and diced
3 stalks celery, diced
2 small turnips, peeled and diced
5 medium potatoes, peeled and diced (I used 2 yukon golds and 3 red potatoes)
salt and pepper to taste
cooked gnocchi for serving (optional)
Instructions
Toss the beef with the paprika until well coated. Heat 2 tablespoons oil in a large soup pot or Dutch oven over medium-high heat, until almost smoking. Add the beef to the pot in batches and cook until well-browned on all sides, about 8 minutes. Set the browned beef aside and continue cooking until all the beef is browned, adding more oil to the pot if necessary to prevent burning.
Return all the browned beef to the pot and reduce the heat a little, to slightly above medium. Add the onions and saute about 6 minutes, until starting to get soft. Sprinkle in 2 tablespoons of flour and stir well, incorporating it into the oil (it should be a little pasty). Cook for 2 minutes, then stir in the caraway, bay leaves, wine, and stock. Bring to a simmer and cover; simmer for 30 minutes.
Add the parsnips, carrots, celery, and turnips. Cover and simmer for 1 hour, stirring occasionally.
Add the potatoes; cover and simmer for 30 more minutes, stirring occasionally.
Taste and adjust seasoning with salt, black pepper, and additional paprika if you like. To serve, drop some cooked gnocchi in each bowl, or homemade dumplings, or egg noodles. Or bake a pie crust on top of it in the oven.
Jennifer Abbott
Jennifer Abbott is a writer, music teacher, Southern food enthusiast, and soup aficionado. She lives in New Orleans and blogs about cooking and dining at Food Orleans.