After three years of tantalising appetizers served up in various parts of Mexico, Kristian Brask Thomsen finally got to taste a full menu created by a friend of friends and through good Mezcal and conversations boiled things down to the essence of who the inspiring Baja Californian chef Diego Hernández is.
We've met through friends, at private dinners and at events several times in Mexico. I had his dishes at La Docena's fun-loving 5th anniversary in Guadalajara, others at the fabulous annual Millesime México in Mexico City, but never a full menu from his hand. Now I had the chance at Punto MX in Madrid; the first Michelin-starred Mexican restaurant in Europe and the continents leading culinary bridge to the old country.
My expectations were both high and fulfilled. Not only did Diego show great skills in blending flavours; he did it in an overall light and playful way dominated mostly by seafood and vegetables and often in combinations I hadn't had before – also playing with spice, but in way my palate was kept safe by a gentle chef with a beautiful mind.
This was so very far from the stereotypic perception of what Mexican cuisine is. This was Baja California-cooking through a playful and full use of the 3.5 hectare organic orchard that Roberto Ruiz has created North of Madrid. This was really exciting modern Mexican cuisine. I wanted to get into Diego's mind and see if I could track down the path to his culinary DNA, so we sat down in Punto MX's Mezcal Lab and had a good talk.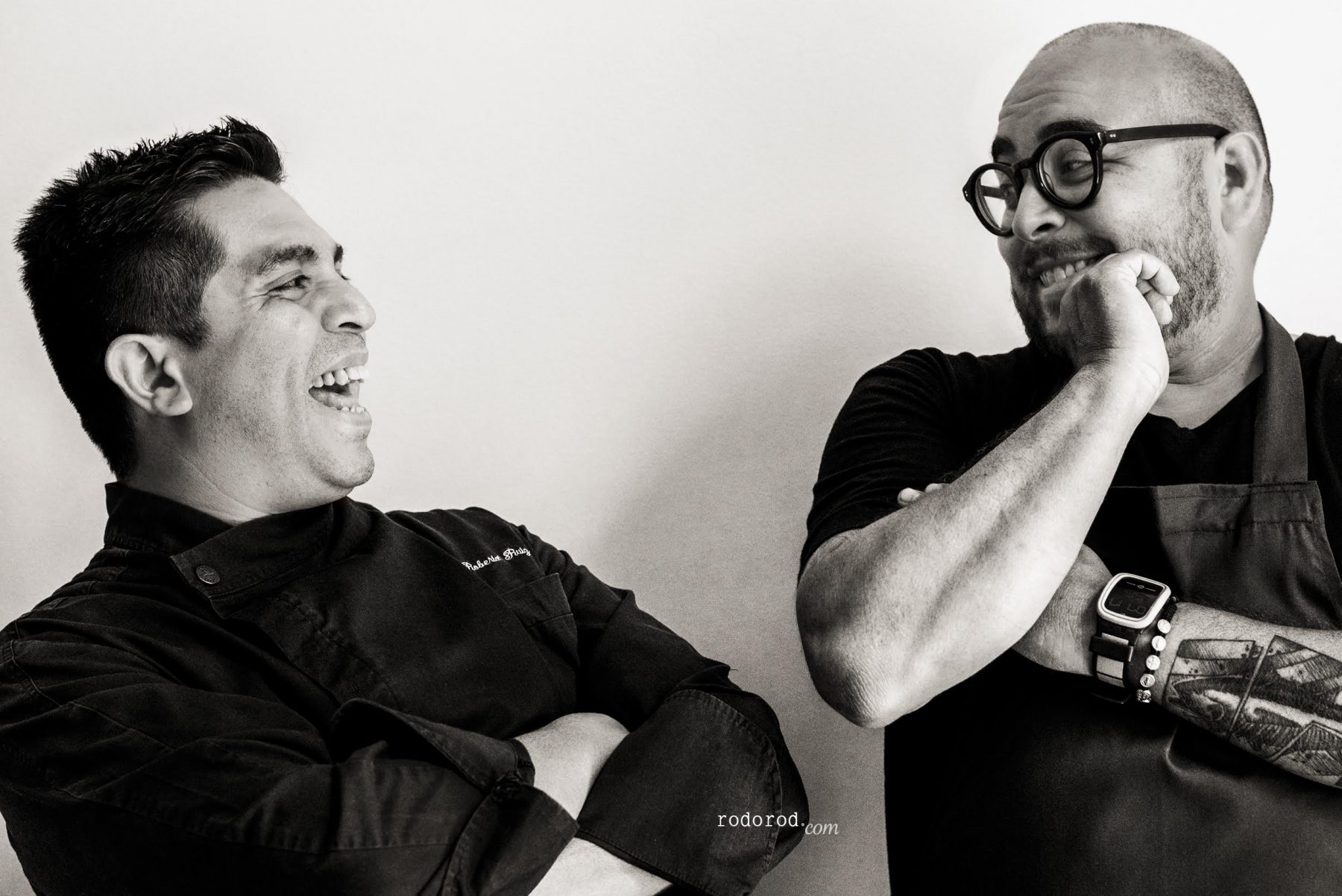 Roberto Ruiz and Diego Hernández at Mexican Madrid-hotspot Punto MX.
Diego Hernández of Baja California at Punto MX in Madrid. How did that happen? What made you come here?
"Roberto Ruiz and I have been very good friends for the past 5 years. We met at CIA (Culinary Institute of America) in San Antonio, Texas, where we both gave a Master Class on Mexican food. The next day I was flying from San Antonio to Madrid as I was cooking at Madrid Millesime, so we came together and got the opportunity to make a little gig at Punto MX – but just offering 2 or 3 dishes at Mezcal Lab, and that was it. I didn't touch the menu of the restaurant itself back then."
"We remained in touch and two years ago I had another event in London, where I brought friends with me and called Roberto because I wanted to visit him. We came and he offered us to cook again, but downstairs, in Punto MX. I came with Tomás Bermudez of La Docena and Esteban Lluis, now Chef of Verlaine – the restaurant we have in LA, and we cooked again. But this time around it's the first time Roberto invites me to make a solo menu – a whole tasting menu in the restaurant and I'm really excited about it."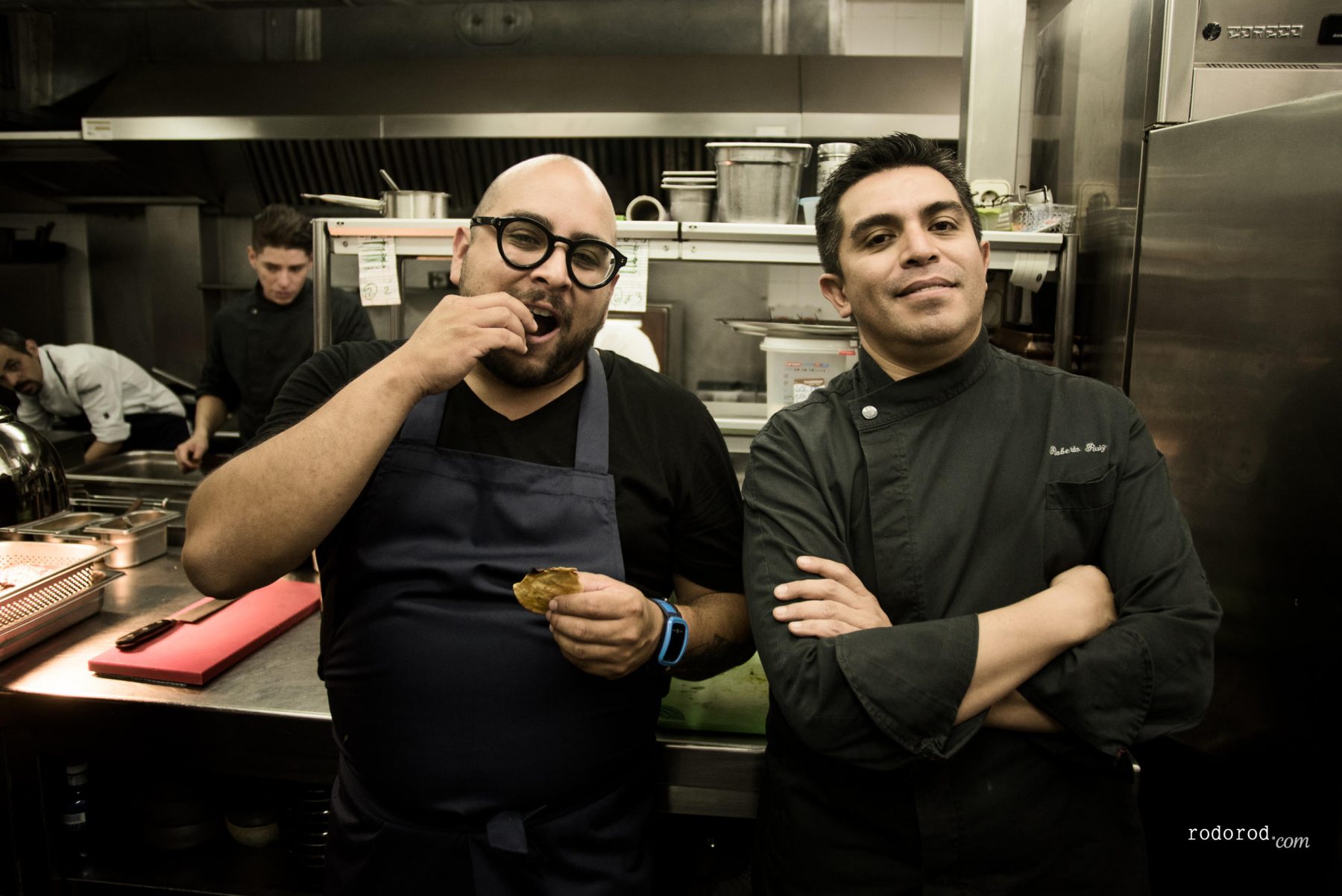 Kitchen snacking before full house service.
How is it to be here? How do you perceive Punto MX as a chef from the old country? I mean, Roberto is a chef from Mexico but running a Mexican restaurant based on Spanish products, while at the same time trying to reinterpret and tell the story of your home country, in Madrid. How do see this coming from the outside?
"When I came for the first time, what really got my interest was he was working as a mirror of the way that things happen in Mexico. As an example, in Mexico, the Mexican food that has been happening the last years has a lot of influence of techniques from outside cuisines, applied to Mexican ingredients. So what Roberto does is to export the Mexican techniques and applies it to Spanish ingredients. The first years I thought the food here was a little bit more traditional based, but the result of doing a carnitas taco with Cerdo Iberico confit in jamón fat, was amazing."
"The second time I saw a lot of improvement in the presentation and how the guests received the food. The first time I remember he used to have forks and knives to eat tacos because if not, people wouldn't eat it. He used to have a glossary in the back of the menu to explain techniques like "chilmole" for example. The second time I saw people was on it, you know? He didn't need any forks and knives or to explain, so he was obviously doing great work. This third time I understand this and I've been putting more attention in the way he designs the menu, engineering for example and the way he works in the kitchen. It's very different now. I think he came to realise how to make things sometimes a bit simpler without losing quality, just applying a different technique to the preparation. So it's really amazing what he's been doing here. He's a bridge between Mexico and Europe.
Read also: Punto MX: The powerhouse solidifying Mexican fine dining.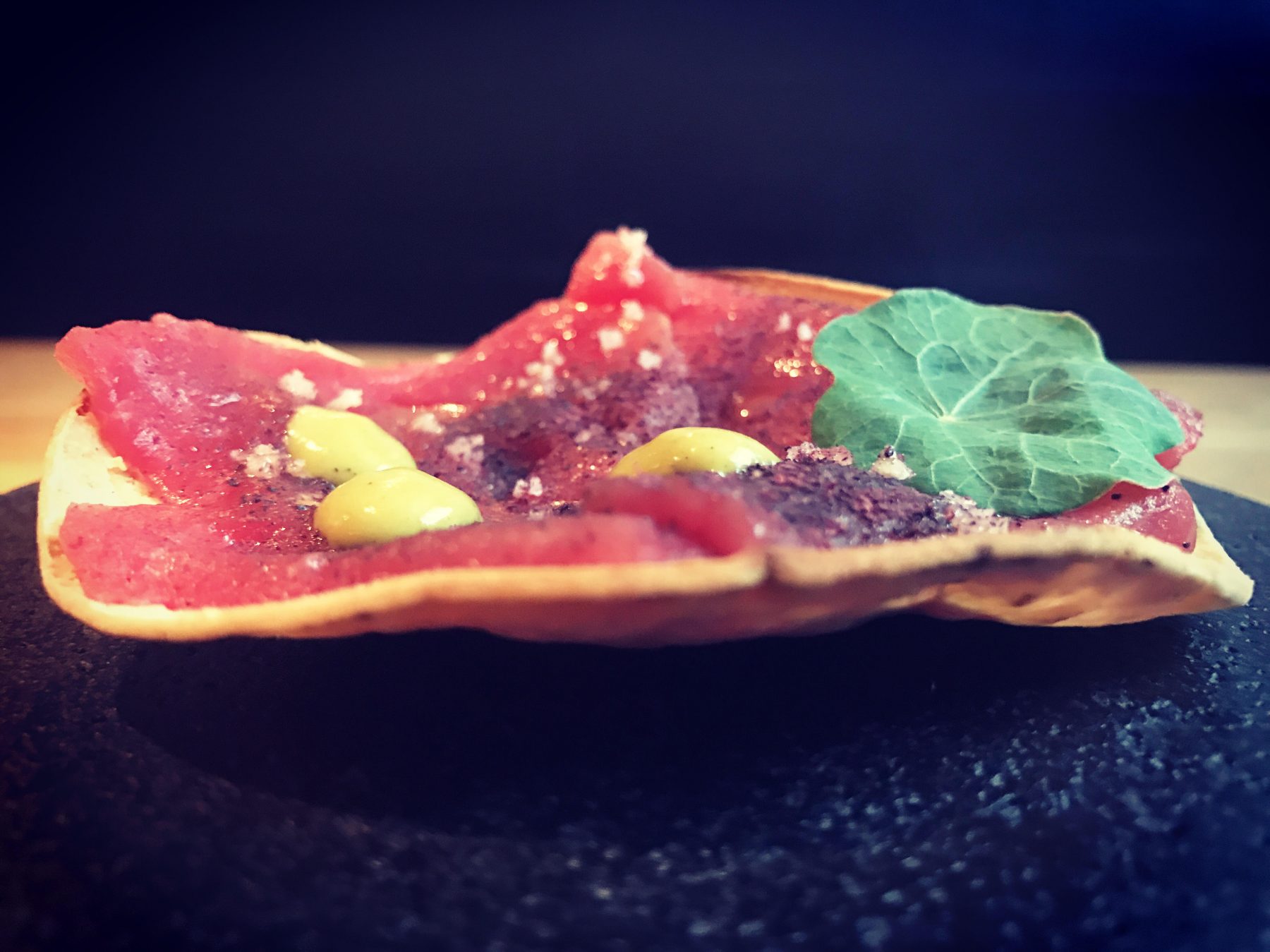 Diego Hernández: Red tuna tostada, guacachile and Jamaica powder at Punto MX.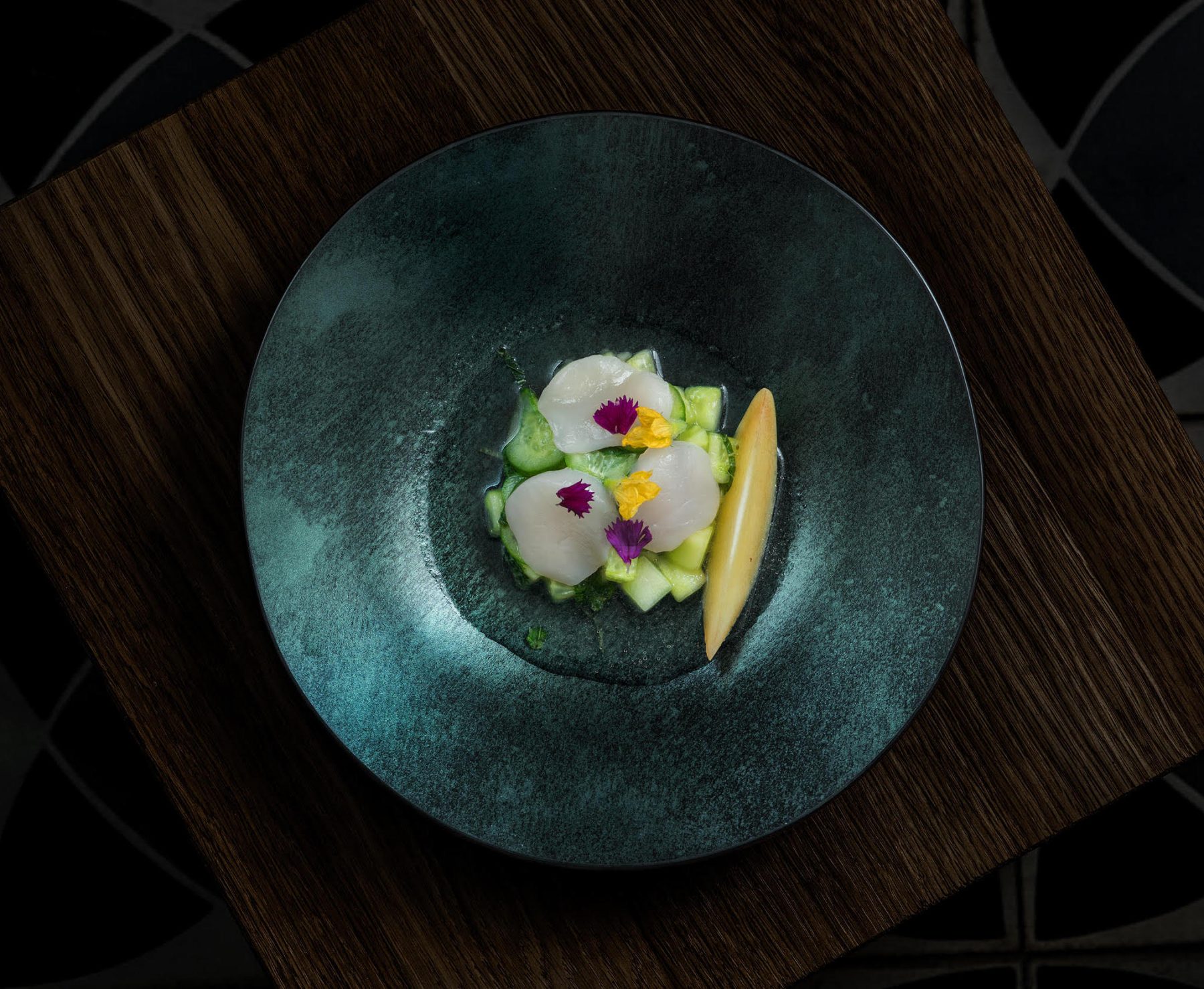 Scallops, four different cucumbers, tomato essence and lemon verbena. All green and vegetables from Punto MX's organic orchard. By Diego Hernández.
Short question. What made you become a Chef?"
"I like food in general. Some chefs like cooking, not necessarily to eat food. Some people like to eat, but not to cook. I like it in every way. I like nature, I like to learn about flavour. I think the first thing was flavour. I like to eat and because I like to eat, I like to understand why things tastes better, and when I realised that by becoming a cook I had access to great ingredients, and to keep tasting the stuff in the kitchen, I got committed to this job."
One has to start somewhere. Where did your hone your culinary skills? Please elaborate on the experiences and how this helped to form who you are as a chef today?
"After finishing high school I wanted to go to the university where I studied Business Administration for a year. But I failed every class because I wasn't committed to it. I wasn't sure that I wanted to be a chef or a DJ. So it was just luck. My mom was friend with Benito Molina's wife; well, they had a friend in common, and she made a comment to her who said "I know a very well-known chef, they are a couple, they have a restaurant, it's new and maybe they can have your boy after school…. And we'll see if he likes it."
"So I started doing it and after three weeks I dropped out of school and started working with them, unpaid. I worked with them for a year and 3 months, training. I wanted to go to the culinary school, but what I was looking for then were super expensive. It wasn't for me back then, so I decided to keep on with the training, working in kitchens. Now at Benito Molina in Manzanilla restaurant in Ensenada (that was my first real job) and he introduced me to Guillermo González, so I moved to Monterrey and worked for Pangea restaurant for three years. Then Guillermo introduced me to Enrique Olivera and I moved to Mexico City and worked at Pujol for another year. After these years of training I came back to Baja California, but this time to Tijuana and got into school."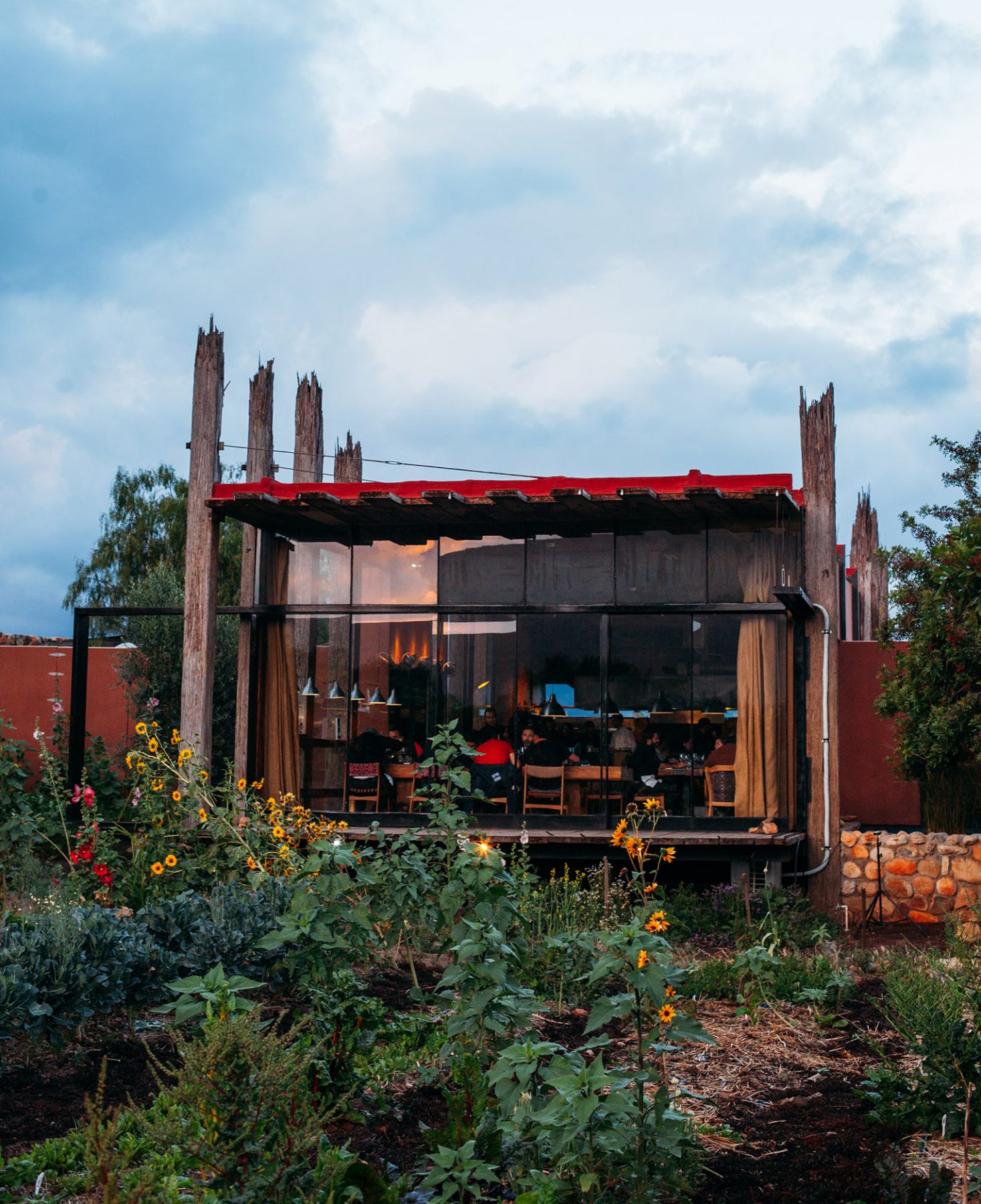 Corazon de Tierra in Valle de Guadalupe of Baja California – a reference in terms of what can be done when you work closely with on-site gardens, terroir and regional ingredients.
Wow. Admirable. That's a long not to mention very impressive preparation to get into school. And then Valle de Guadalupe today. Why?
"Valle de Guadalupe is part of Ensenada where I'm from, so it's basically my hometown. But it wasn't a tourism destination when I was a kid. Wine has happening since then as much as seafood and organic vegetables. That's the lifestyle of that part of the world because the border, of course California, influence a lot on the organic kind of vegetables,- the wines is from there and the seafood is the main food source in the town. So when I left and I saw that in Pangea and Pujol they were using a lot of ingredients from my hometown, I realised that we had really good things going on in there."
"My life plan was always to come back to Ensenada. Not specifically to the Valle; in my mind it was something more like the beach because I love the ocean, but things happened that way and I'm happy with it."
You opened Corazón de Tierra in 2011. How would you describe the restaurant?
"It's a restaurant that depends a 100 percent on its environment, surroundings and circumstances. The restaurant is all built with recycled materials by a famous architect who lives in Ensenada and who is our friend. We were lucky. The way the architecture was made is meant to blend with the surroundings, not to interrupt. When we opened the restaurant Valle de Guadalupe wasn't really a tourists destination, so I thought I had to create a system in which the food wins points. So we planted a vegetable garden, I had a living inventory and I went to Napa Valley to do a training in charcuterie to learn how to preserve meat."
"At that moment people visiting Valle de Guadalupe because of the wine, so I thought opening a breakfast restaurant was a good idea. What we wanted to do was more like sandwiches and cured meats, but it never happened. People didn't show up in the morning – instead in the afternoon, so I was forced to improvise a menu with three courses and fixed prices. When I realised that was the path I needed to follow I started including more courses into the menu, until now, with 10 servings."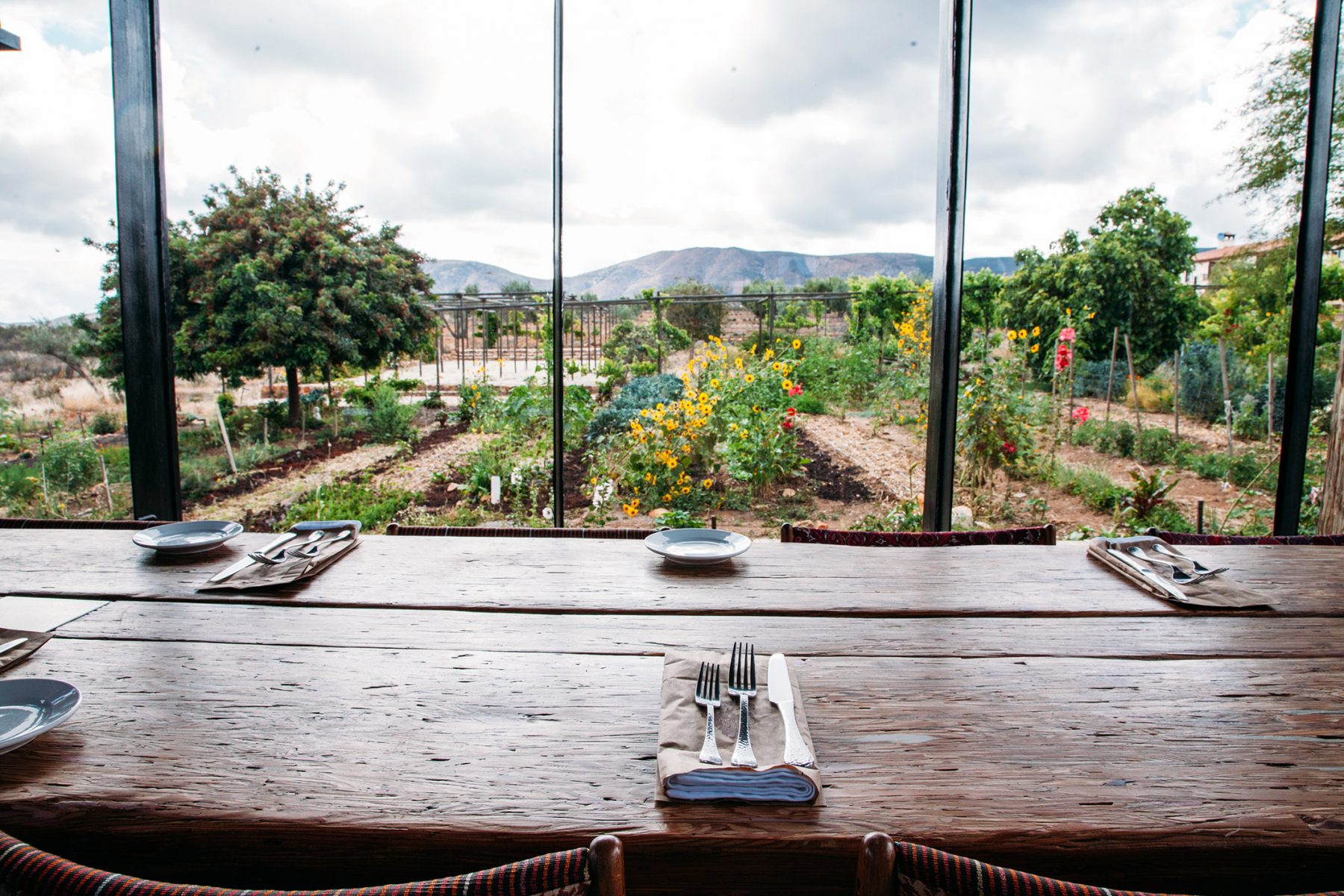 Terrior: View to the gardens and Valle de Guadalupe from your table at Corazon de Tierra.
I hear you. A restaurateur's first vision of a new place is often remodelled by outside factors. Where has this led your culinary philosophy? What inspires you today?
"I always remain myself like a white canvas. I try not to be very squared with an idea or what I want. At the beginning I started with an intention, a contemporary Baja California cuisine, so I took the responsibility of limiting in just using local ingredients that had the flavour of the land. To do that I couldn't do anything that was from a greenhouse for example, because greenhouse flavours are replicable all over the world; you control everything. I just used the ones grown in the soil of the Valle open fields, where the weather affects. So you have a plant that have different flavours depending on if it's summer or winter, but in both cases it tastes of the Valle. This was my first commitment."
"The second was to explore the flavour profile of the area, so by the migrations of the people that lived in the area,- maybe 70% Mexicans, 20% Europeans and 10% Asians. Those are the flavour profiles you find in the streets; if you go to a ceviche cart you'll have one with chile, another with ginger or olive oil in the sauces. I wanted to explore that. So for the first year I worked so squared on only that because I was young (this was in my first restaurant in Tijuana) and had this plan in my mind."
"But as soon as I moved to the Valle and started working with the vegetables, I totally let myself free and nature guide me. I stopped watching tv chefs and programs, and I limited myself to the few books that I bought, but I opened myself a lot to real experiences like going to restaurants. My influence is my life. I go eat and that influences me."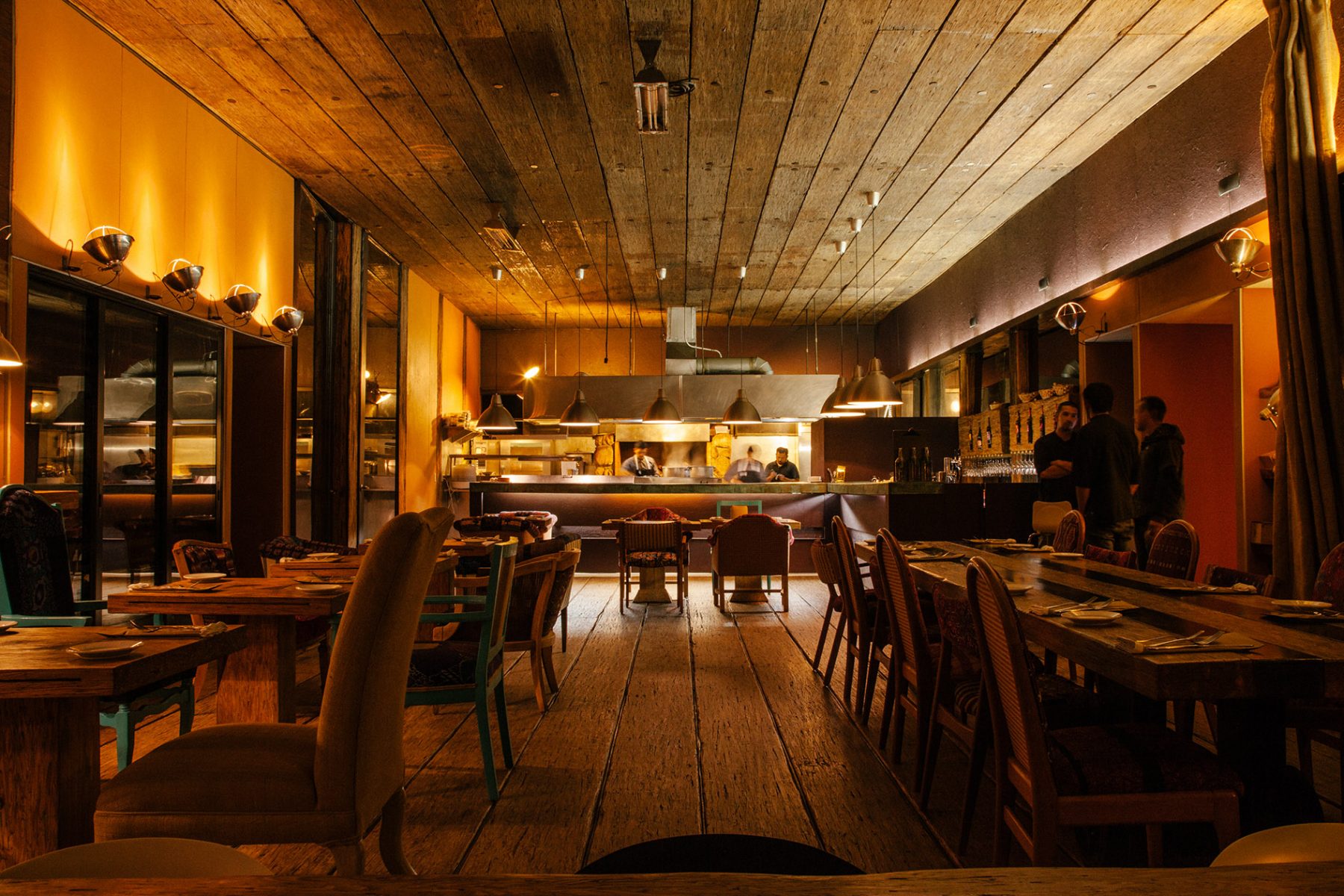 Baja Ambiance: Inside the warm Corazon de Tierra during evenings.
Sounds life freedom to me. Wonderful. Do you have any special cooking techniques or equipment you particular enjoy cooking the Valle-products with?
"I'm really used to cook with fire, the grill… I love that because I like the flavour mostly. But lately I've been trying not to complicate things, but to be more gentle in general. I like to cook with kitchen heating lamps for example. Usually you're trying to have your meat portioned in the drawer, ready, whenever you need to grill it. So little by little I learned it's better not to cut it; instead you use the whole piece for the service – one for lunch and one for dinner and you rub it, touch it, massage it, and then dehydrate it with the heating lamp, and then pull it, and sear, and dehydrate, and sear, and dehydrate… So the crust in layers are like puff pastry."
"When you get to the point of rare, you just leave it under the lamp so it's hot enough to dehydrate the surface – not too hot to cook, but still hard enough to transform the proteins. So even if it's rare when you slice it, the texture is not bubbly – it's gentle transformed proteins and the meat tastes much better. For example the vegetables that you had with the mole here at Punto MX – those are roasted and put under the heating lamp until they dehydrate, but the center is still soft. If you don't do this and instead cook it in the moment, and let it cool and sear it or stuff, it's not the same result at all. It's important to understand the surface of food."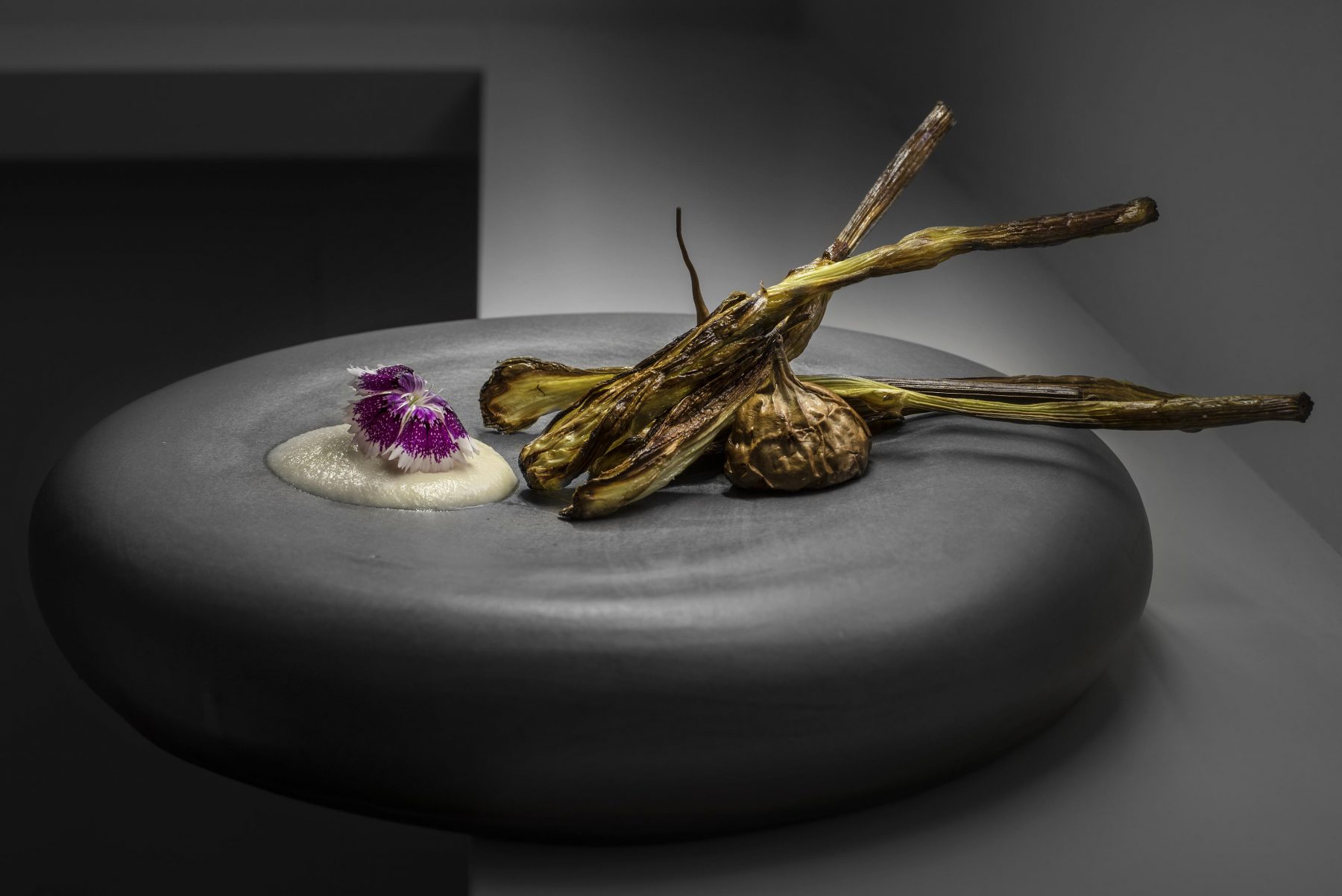 Diego Hernández: White Mole with tender vegetable roots from Punto MX's organic orchard.
That's a new cooking technique to me. Impressive. Which leads me to ask; produce, creativity or technique?
"It's equally important. You can have the best product, but you can spoil it if you don't know technique. You might have both and say nothing if you aren't creative. Food is a language. You can explain an idea by using a lot of words or you can say the same with less, and the better you are at something, the more you can have things in sync.
Different ballgame. Mezcal – do you like it, and if so, what makes special to you?"
"I like Mezcal more than Tequila, and I think the reason is the same as the one of every other Mexican; when I was young I got super drunk in Tequila, so I've hated it ever since. The truth is also that Mezcal flavour is more complex, more earthy and there are a lot of varieties. Tequila got famous because of the Mexican film industry in the 1930s where the main studios were based in Jalisco. So the Mexican culture in TV was basically Jalisco, including all the Mexican clichés like Tequila and Mariachi. It's only Jalisco. So the world only knows Jalisco and Tex Mex. It's crazy! Jalisco is just 1 region of 31 in Mexico. And no intend to offend all the hardworking Tequila producers and beautiful products – it's just a my personal taste."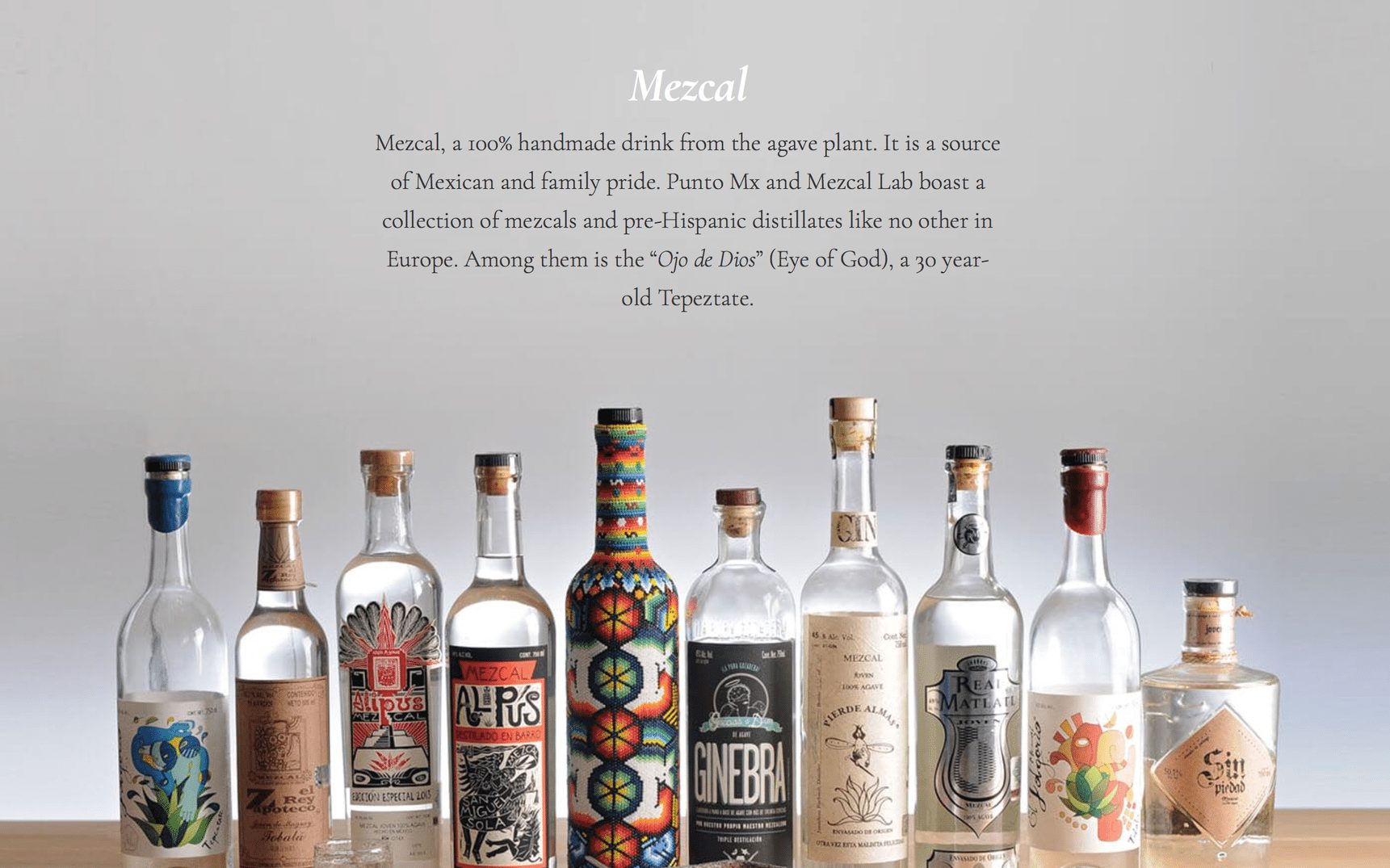 Punto MX has the greatest Mezcal-collection in all of Europe. This is merely an appetizer.
Speaking of Tex-Mex. Do you think it has/is beneficial for Mexican food or a disadvantage?
"I have tasted the real Tex-Mex in Texas, and the bad thing is that over the world it's seen as being Mexican food, but it's not. If the message is wrong the conversation is still open."
Straight to the point. I like it. How do you continue to grow as a chef? Do you have a process or method to keep evolving in the profession?
See Also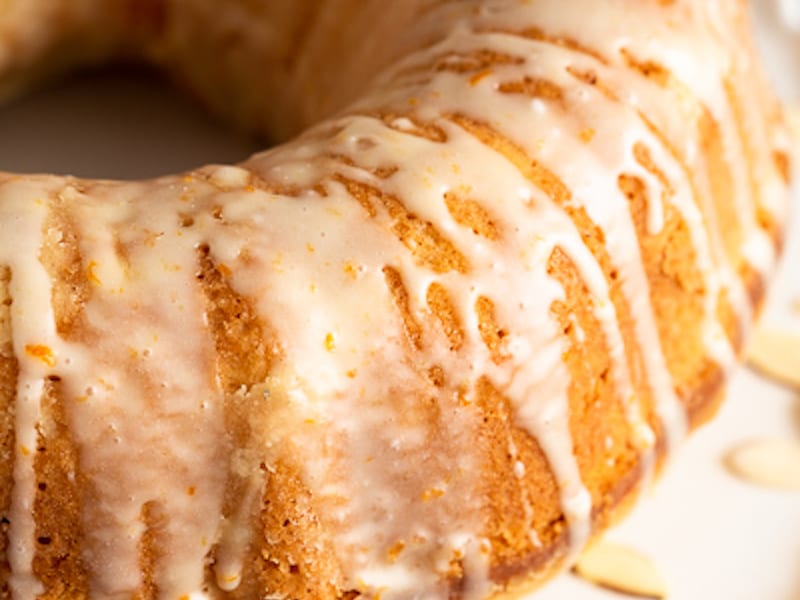 "By struggling. Every living specie needs stress to understand the value of the good stuff. Also to go through the process of learning. So when you get too comfortable, you stop learning and that's as far you'll go. But when you are not comfortable you have to keep pushing yourself. I'm used to that because the nature of my restaurant that depends on the nature of the surroundings. So if it's dry during Summer I struggle because I have to feed people – and Summer is when I have less products. The life cycle of the plants is the life cycle of the restaurant, and it's the life cycle of learning of everyone who works there."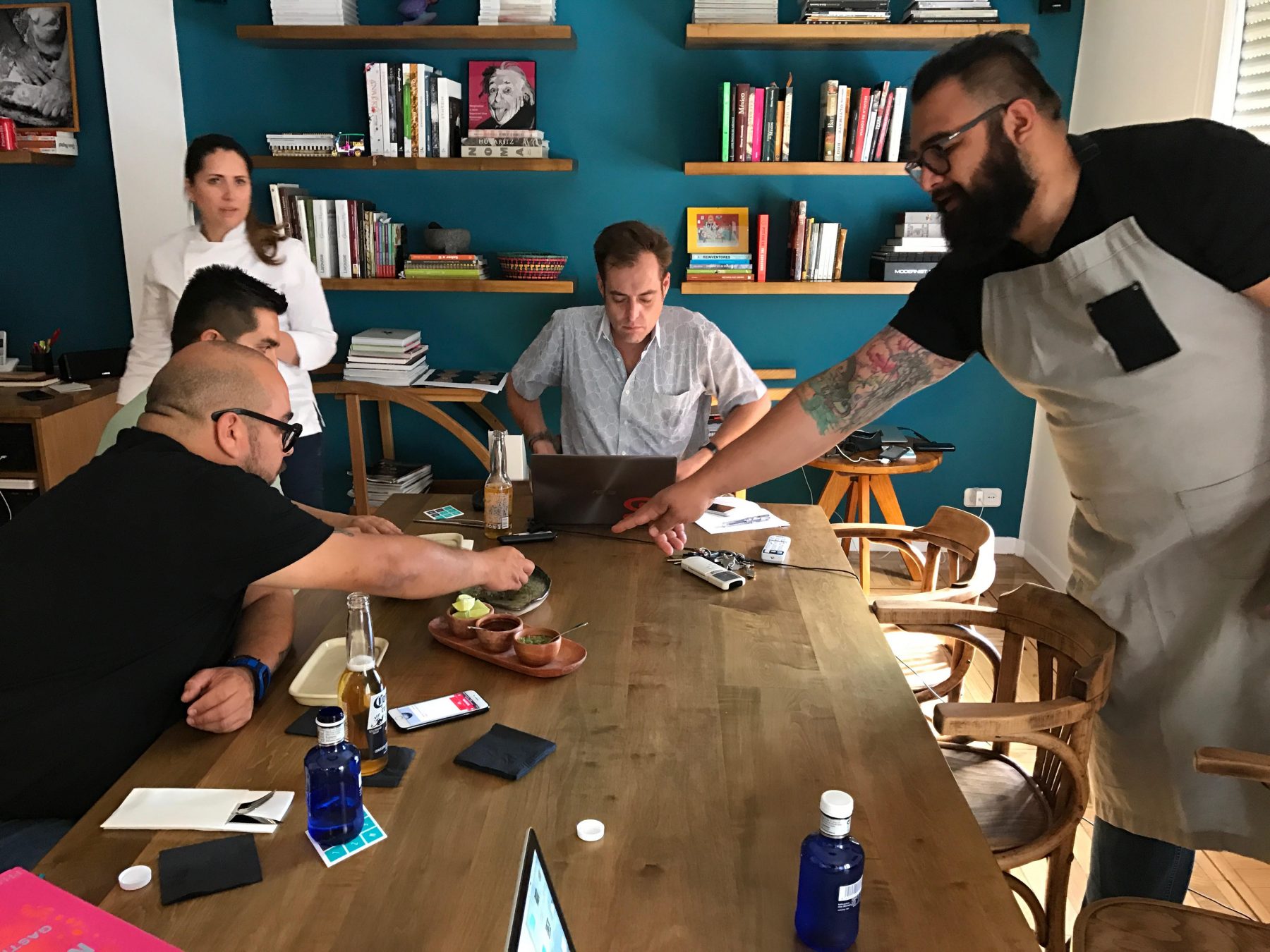 Work in progress; Diego Hernández brought his cooks from Mexico to help further develop the grand taco selection of the Mezcal Lab, but also that of Salón Cascabel – Punto MX's fun-loving rooftop terrace eatery at El Corte Inglés.
That's perhaps one of the most clever things I've ever heard a chef say all year; true character is built through hardship. But being a chef has somehow become a glamorous thing, and by far always being so. What is your best advice to aspiring chefs?
"I think they should follow their passion. It's sad to see people that you love aren't happy with their job. They work because they have to make money for living, they have commitments, kids and so on. Every life is different, every situation is different, but I see a lot of people not happy with what they do."
"What they are really passionate about are their hobbies. I think I'm very lucky to be passionate about this and make a good life out of it. It's really hard to find success with something you don't like or with expectations that only you gets halfway. Then you'll never succeed as a professional, or more importantly, as a person."
"So if people get into the culinary field then they need to have passion, because what's most likely to happen is you fail in your dreams. But if you dream very high and you try really hard to succeed, you can become so very close to achieving it and as a consequence you will achieve a lot more in the process. The glamorous life of a chef is not a thing to persuade. People that gets into this because of that are already late. Those with the true passion are miles ahead."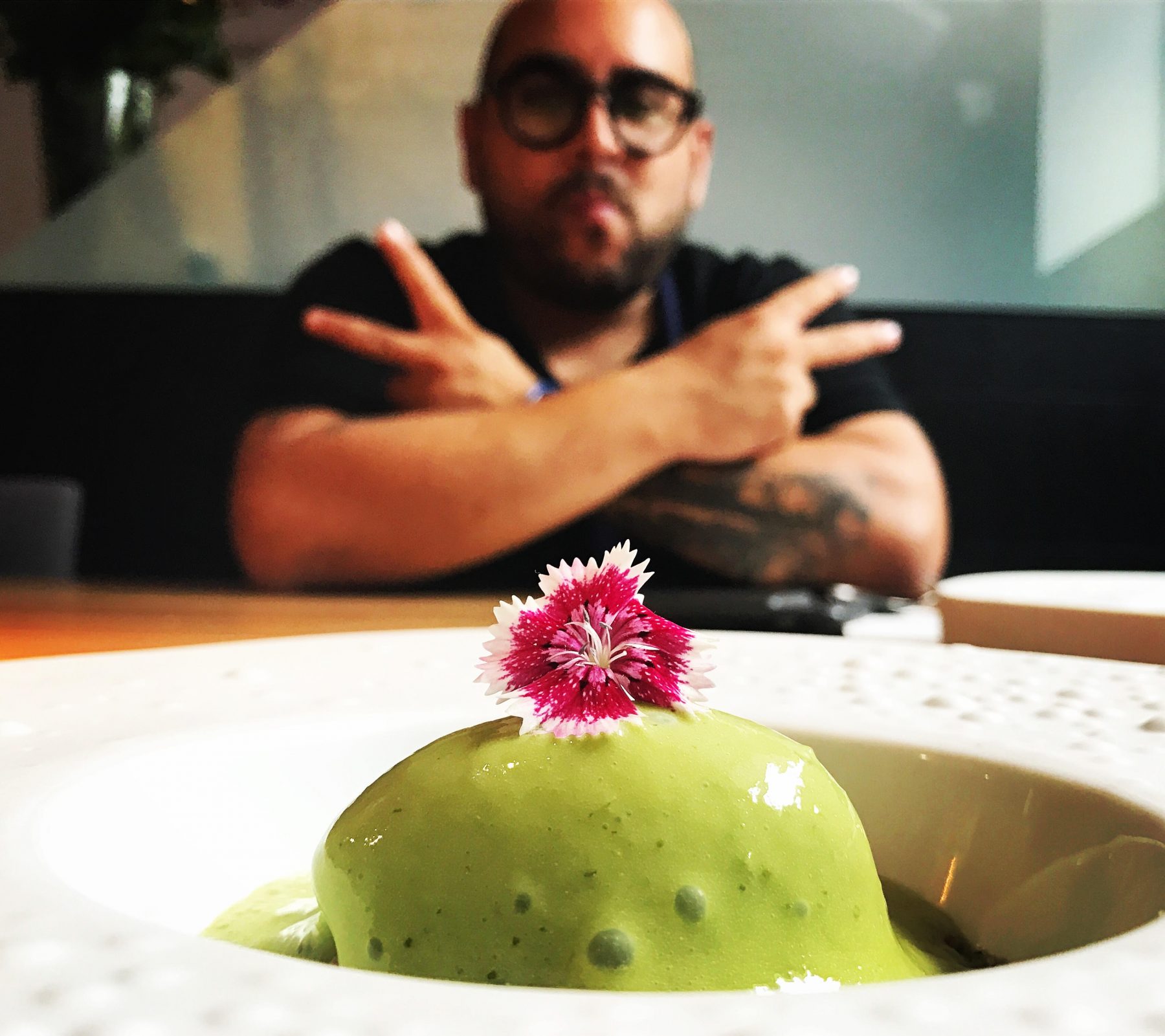 Badass with a beautiful mind – Diego Hernández with sesame ice cream, pickled radish, candied ginger, coriander foam and seaweed praline. How's that for Mexican Cuisine.
I get you. The most powerful force on earth is the human soul on fire. Now, do you have a guilty pleasure in food?
"I eat a lot!"
Well, hello there. Welcome to the club. What's your favourite destination to eat at then?
"I'm constantly discovering, but I think San Sebastián. The first time because I learned from Juan Mari Arzak when Spain was fully on top of the culinary world, and as a young cook you aspire to be where things happen. It was mind blowing! The second time I came to Madrid, and then to San Sebastián and I took it as a personal journey, by myself."
"I made friends and I got to know about the culinary clubs that men have in San Sebastián. The whole region's lifestyle is about food, and to me it's a lot like the Ensenada lifestyle. That's why I like it so much. If I ever move somewhere else it will be San Sebastián. That's the lifestyle I want."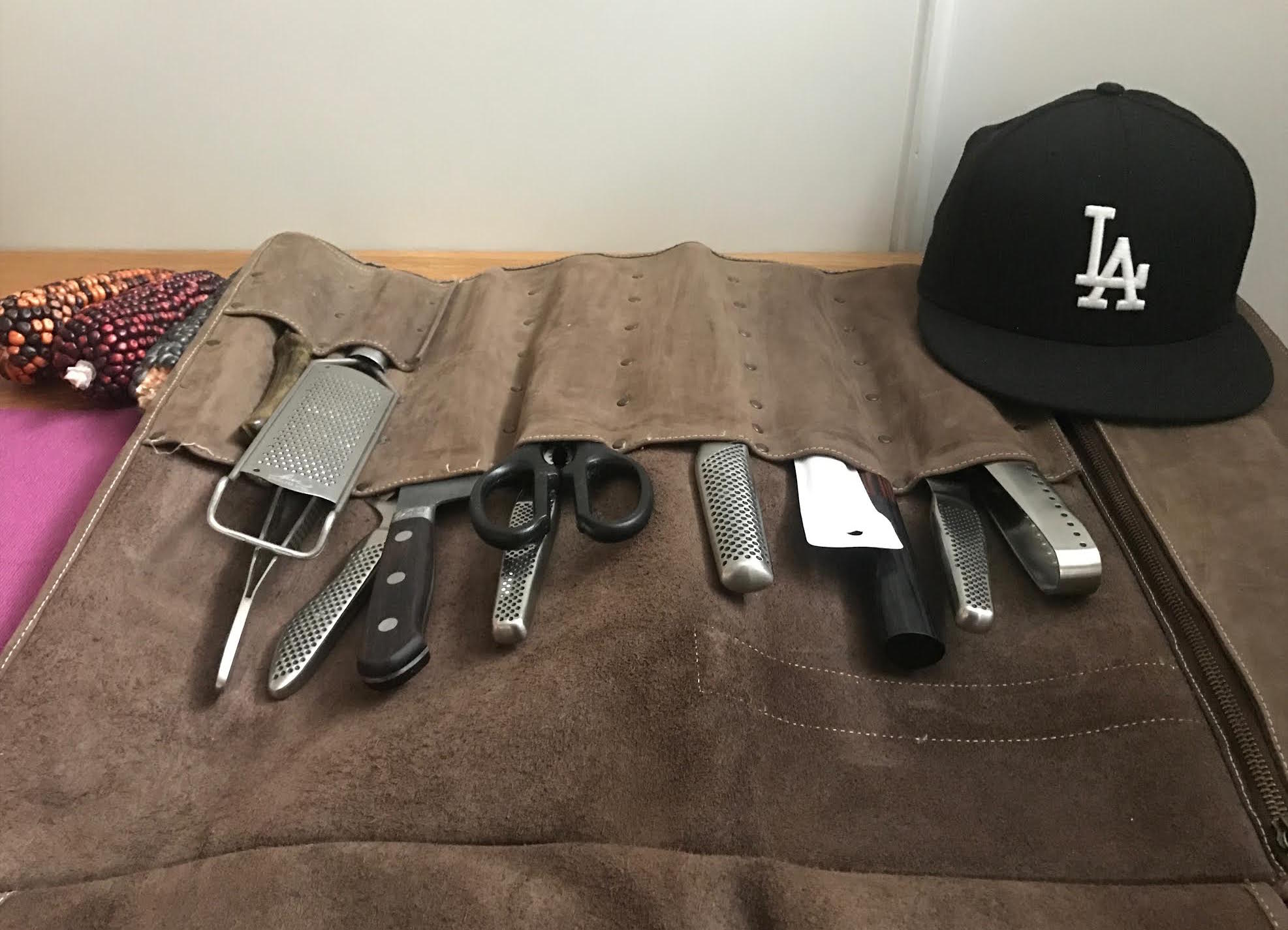 The Hernández-essentials when cooking across continents.
San Sebastián, yes, I fully get you. On that note, who do you think is underrated in the culinary world. Who deserves the attention without getting it?
"There a few culinary experiences that I think are mind blowing and don't understand why aren't attractive to press or people in general. Here in Madrid I really like Arce, run by an old chef, Iñaki Camba. He's Basque, grumpy but his intentions are really really good. Everything he cooks is like the food that I like. His technique is classic, but for me it's more about intentions."
"And then there's a guy in Ensenada that has a sea urchin street cart; Pasiano. This guy used to work with the uni-cooperative in Ensenada – he became the chief of quality control, started to export to Japan and moved to Tokyo and started to work at the Tsukiji market, giving grades to all the uni market. But then he lost everything due to personal matters, and now he runs a sea urchin truck in Baja California with the most outstanding products. A must go to!"
Chef, it was a pleasure.
"Carnal, the pleasure was mine."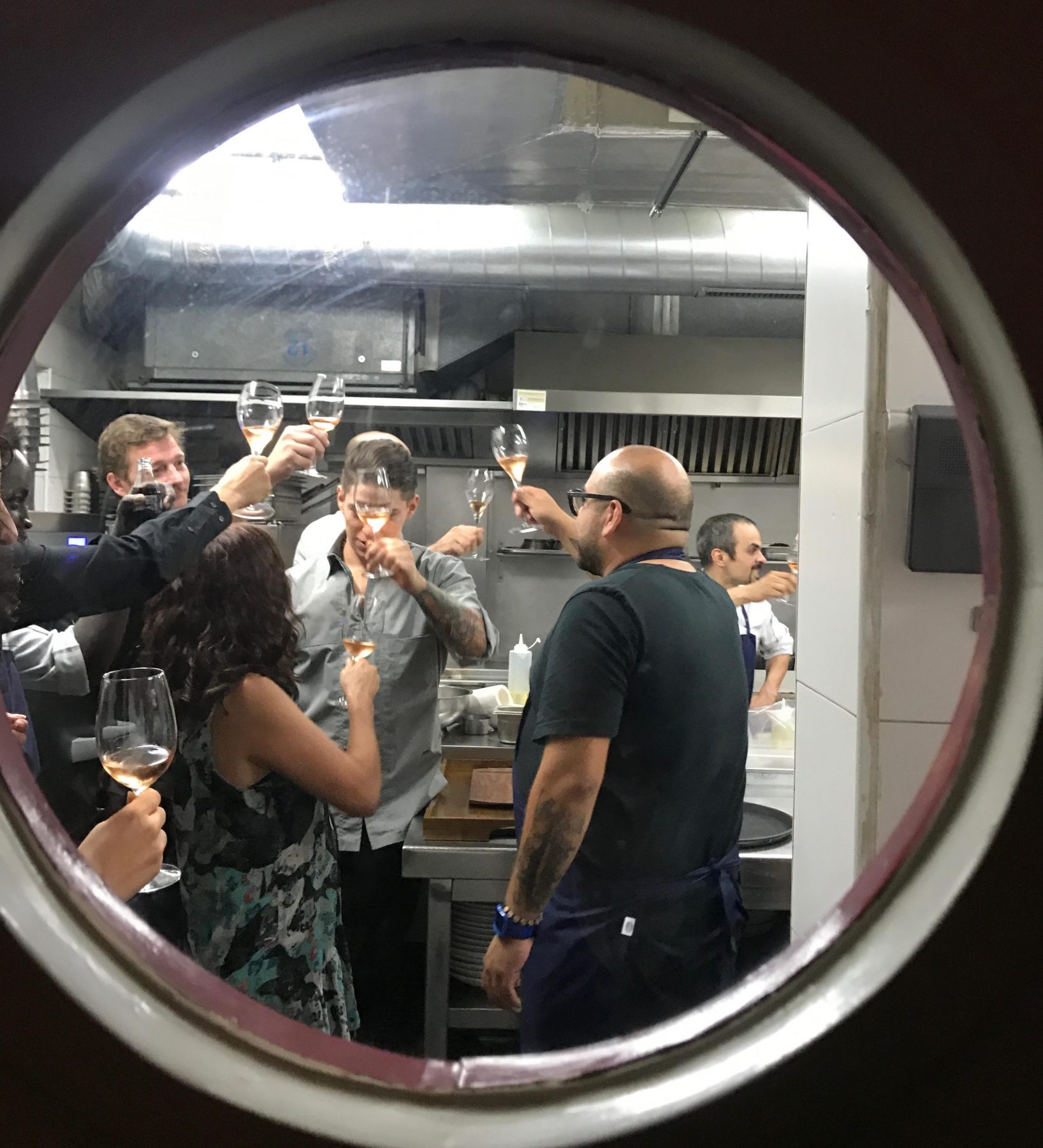 Diego Hernández and staff celebrating three days of companionship after the last service.
Diego Hernández Baquedano was born and raised in the Mexican Baja peninsula. His cooking style is influenced by that area by being observant and devoted to local ingredients, but also from being trained in some of Mexico's greatest kitchens where he learned from stature chefs such as Enrique Olvera Figueras and Guillermo González Beristáin. Besides being the Executive Chef Owner of Corazón de Tierra in Valle de Guadalupe – currently no. 39 of Latin America's 50 Best Restaurants, then Diego also runs Mur Mur situated along the beach strip in Tulum, and lately he opened Verlaine in West Hollywood, Los Angeles.
Hernández's motto is "organic, local, sustainable," – as an example Corazón de Tierra grows its own herbs, fruits, vegetables and even olive oil and honey, with other ingredients supplied locally.
Kristian Brask Thomsen
"A sommelier turns professional bon vivant and culinary ambassador with one of the world's best rolodexes." - Forbes. Founder of Bon Vivant Communications - a global gastro embassy specialising in culinary diplomacy, exclusive dinner parties, cultural marketing, filmmaking and entrepreneurism. Host of DI:JET and Dining Impossible. Creator of star chef world tours. Film Producer of "Michelin Stars - Tales From the Kitchen".