After eating, drinking, and overindulging during the holidays, many people are looking for lighter meals. Black Bean and Vegetable Enchiladas are full of flavor and are a satisfying vegetarian dinner.
By Amy Casey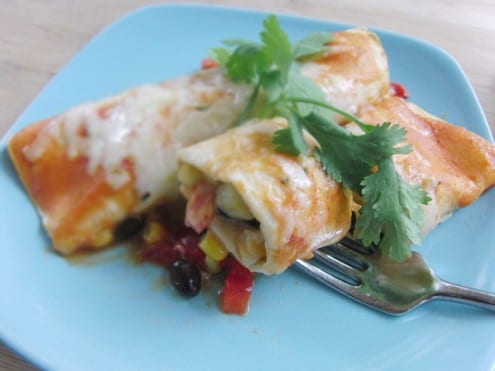 Bean and Vegetable Enchiladas
Delightfully tasty bean and vegetable enchiladas.
Ingredients
1½ teaspoons cumin
¼ teaspoon chipotle powder
¼ cup flour
¼ cup tomato paste
2 cups vegetable stock, reduced sodium
1 teaspoon kosher salt
2 teaspoons olive oil
¾ cup red pepper, small dice
¾ cup zucchini, small dice
11/2 cups grated pepper jack cheese
1 cup grated sharp cheddar cheese
1 (15 – ounce) can black beans, drained and rinsed
¾ cup corn
3 scallions, thinly sliced
10 (6-inch)flour tortillas
Sour cream, for serving
Cilantro, for serving
Instructions
To make the enchilada sauce, heat a small saucepan over medium heat. Add the cumin, chipotle powder, flour, and tomato paste. Whisk to combine and cook for about one minute. Gradually whisk in the stock, salt, and ⅔ cup water. Bring to a boil. Reduce heat and simmer for three to five minutes or until the sauce is slightly thickened. Remove from heat and set aside.
Heat a saute pan to medium-high heat and add the oil. Add the red pepper and zucchini and saute for about three to five minutes. Remove from heat and place in a large bowl. Cool slightly. Add 1 cup of the pepper jack cheese, ¾ cup of the cheddar cheese, the black beans, corn, and scallions and stir to combine.
To assemble the enchiladas, spray a 9-inch-x-13-inch baking dish with cooking spray. Brush both sides of the tortillas, one at a time, with the enchilada sauce. Place on a cutting board and fill with about ½ cup of the filling. Roll up tortilla and place seam side down in baking dish. Continue filling and rolling the remaining tortillas. Pour the sauce over the enchiladas and top with the remaining cheeses.
At this point, the enchiladas can be baked, refrigerated for up to 2 days, or frozen.
To bake, place uncovered dish in a preheated 400 degree oven for 15 to 20 minutes until the cheese is melted and the enchiladas are heated through. Remove from oven and serve with sour cream and cilantro if desired.
To freeze, cover baking dish with plastic wrap and then foil.
Freeze for up to three months. To bake, thaw for 24 hours in the refrigerator and bake as directed above adding about 10 minutes to the cooking time.