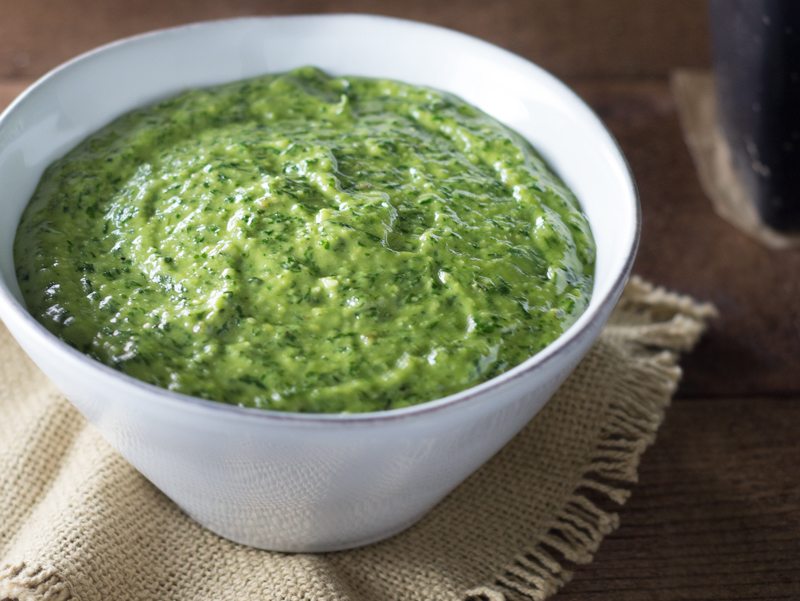 Pesto is one of those things that will never go out of style.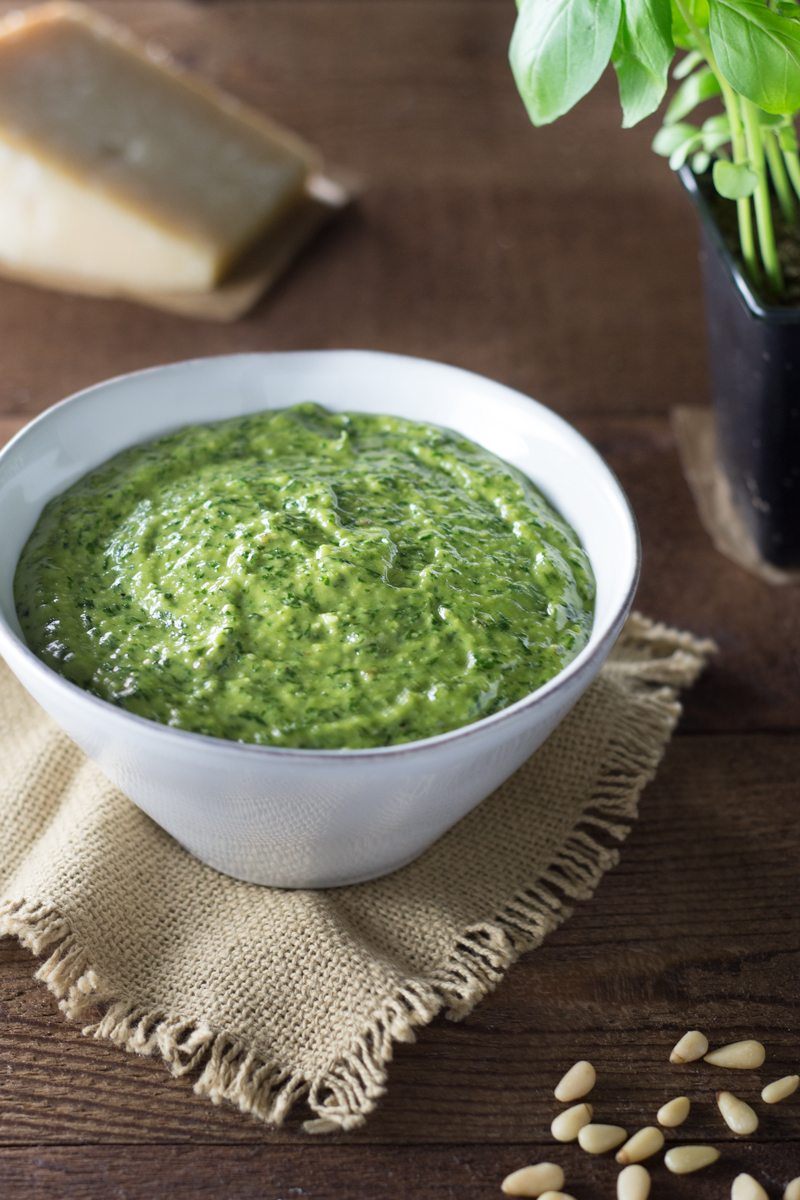 My version of basil pesto is fairly traditional. Basil, pine nuts and good quality olive oil and Parmigiano (not parmesan) make for a great pesto. The only ingredient not so classic in my rendition is lemon, but I like the hint of acidity. You can also easily make this vegan! Simply leave out the cheese and add a few more nuts for flavor. I'm sure nutritional yeast would a good vegan addition, too. I've used this product at one of my jobs in the past, but haven't specifically tested it out in my pesto, so I did not include it as a substitution in the ingredient list.
Pesto is great with chicken, shrimp, potatoes and pasta (of course) to name a few options. While basil is still in abundance this season, it's a great time to make extra pesto and freeze it. Use jars rather than porous plastic containers, if possible. Top off the pesto with oil to coat, and you're set. Anyway, enough talk. Time to eat some pesto.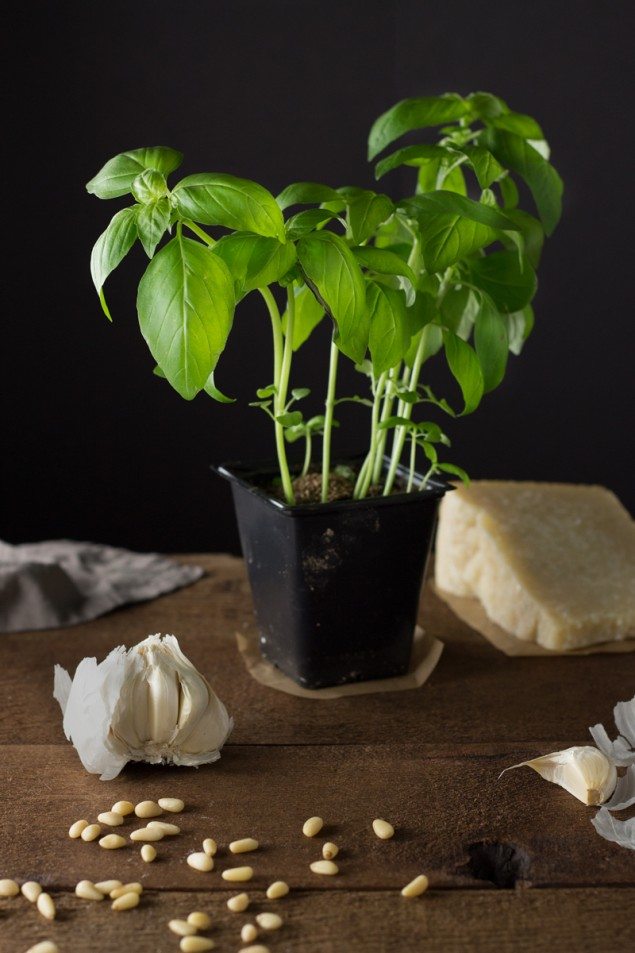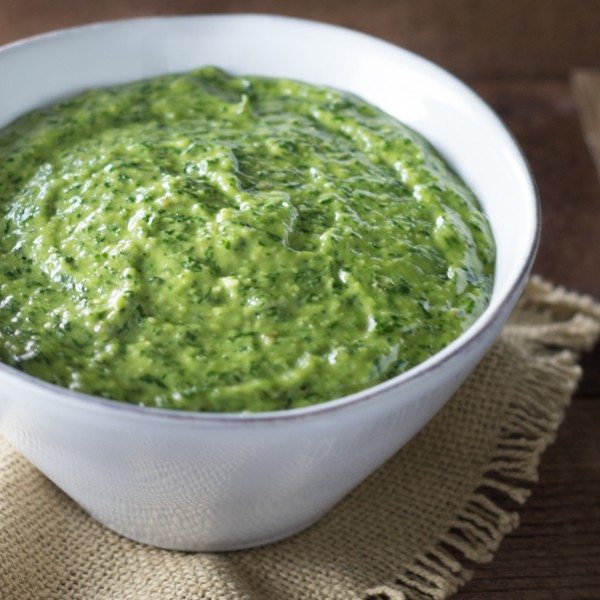 Sabrina Russo
Ingredients
6

C

2.25 oz basil leaves, loosely packed

½

C

2.5 oz toasted pine nuts or walnuts (add extra 1-2T, if vegan)*

2

cloves

garlic

2

tsp

lemon juice

½

C

0.5 oz Parmigiano Reggiano cheese, finely grated (omit if vegan)

Kosher salt

Freshly cracked black pepper
Instructions
Combine the nuts and garlic in a food processor or good quality blender, and pulse until finely ground. Add basil, season lightly with salt and drizzle in a small amount of the oil. Process until finely chopped, but do not over-process. Stream in olive oil slowly while blending until a thick paste forms. Add cheese and pulse to combine. Stir in lemon juice. Taste and adjust seasoning, if needed. Enjoy.

*NOTE: To toast pine nuts, add them to a small, cold pan. Turn heat to medium. Toss frequently as nuts gently toast, for about 3-4 minutes or until fragrant and lightly golden. Do not brown.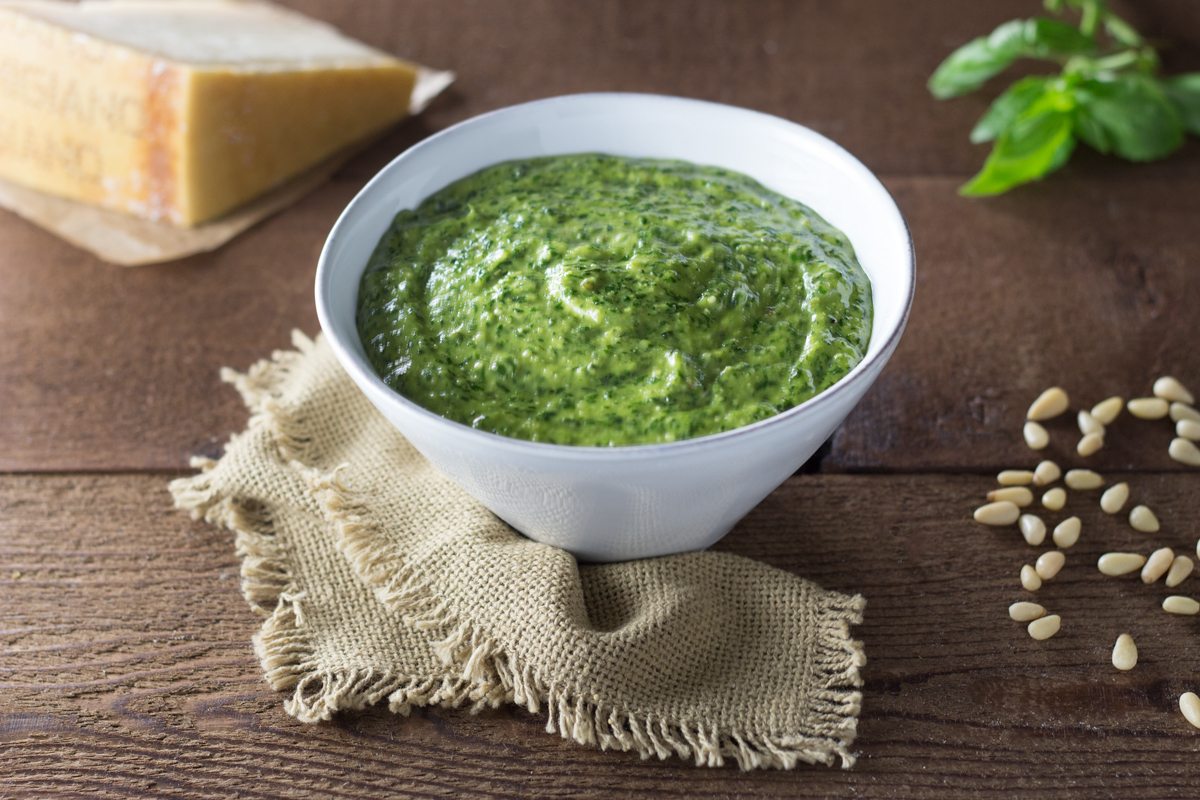 Sabrina Russo
My Three Seasons represents the 3 key factors that are most important to me in cooking. #1 Seasonal ingredients #2 Proper Seasoning (don't skimp on that salt!) #3 Cooking like a Seasoned chef (technique is everything). My name's Sabrina. I live in NYC. I'm a registered dietitian with professional cooking and food styling experience. Come cook with me.