This Bari focaccia hails from the port city in the Puglia region. It's a soft bread made with mashed potatoes and topped with tomatoes and oregano.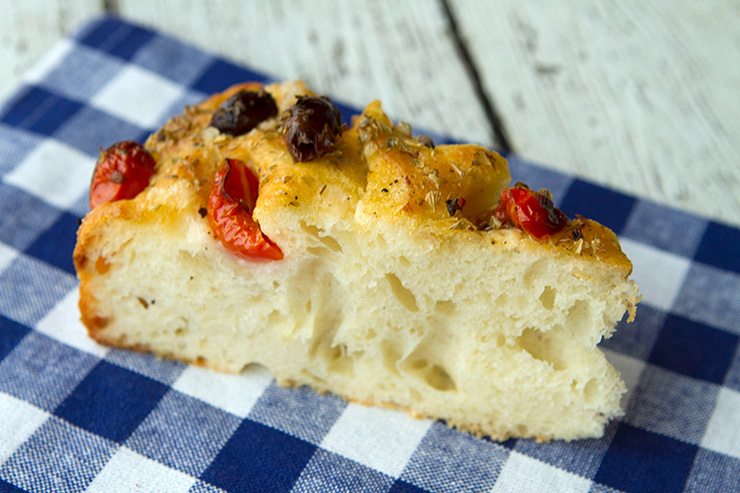 One of my favorite things about Italian cuisine is that is so regional. When traveling from one region to the next across the country, you'll find that the cuisine changes dramatically, depending on the region's location, climate, and the people within. Although I chose to make Umbria our home, I've always had a love for Puglia, and over the years, and we try to visit Puglia as often as we can. As well as being a beautiful region, the cuisine of Puglia is particularly unique and like Umbria ii is born from cucina povera. Potatoes are an important ingredient used in Puglia and can be found in soups, pasta dishes, and even bread. Focaccia made with mashed potatoes has a very tender texture, and a subtle taste that is delicious. In Bari, the focaccia is often made with mashed potatoes, and then is topped with ripe tomatoes, oregano, olive oil, and sometimes olives.
This focaccia is great served with soup, can be enjoyed throughout the day as a snack, and is wonderful cut into wedges and packed for a picnic. Here in Umbria I did not have a large round baking pan, so I just used my 12-inch springform pan so my focaccia is a little smaller and thicker than I had wanted but it still tasted great. I also used the tomatoes I had on hand, and I just happened to have a big bowl of cherry tomatoes that I had picked from the garden that morning that were very ripe, so I used those. Any fresh, ripe tomato will work just fine for this focaccia, and if tomatoes are not in season, you can even use a can of tomatoes drained to remove most of the liquid. Just break up the canned tomatoes with your fingers before adding on top of the focaccia.
Olives are sometimes used on this focaccia, and loving olives as much as I do, I decided to include them. I keep a few jars of taggiasca olives onhand at all times, so I used those. Kalamata or any flavorful olive will work just fine. Some recipes for this focaccia include semolina flour along with white flour, but I decided to use regular flour instead. This focaccia keeps well for a couple of days if wrapped because of the addition of the potatoes, and it also freezes well if you wanted to freeze half to enjoy later.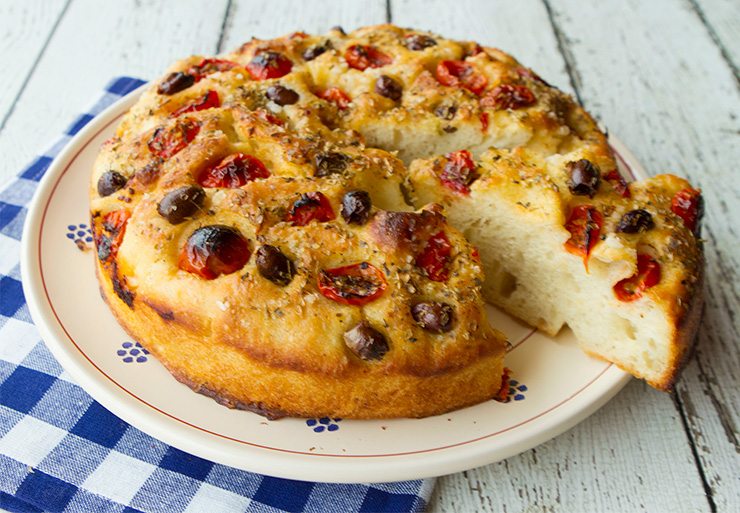 See Also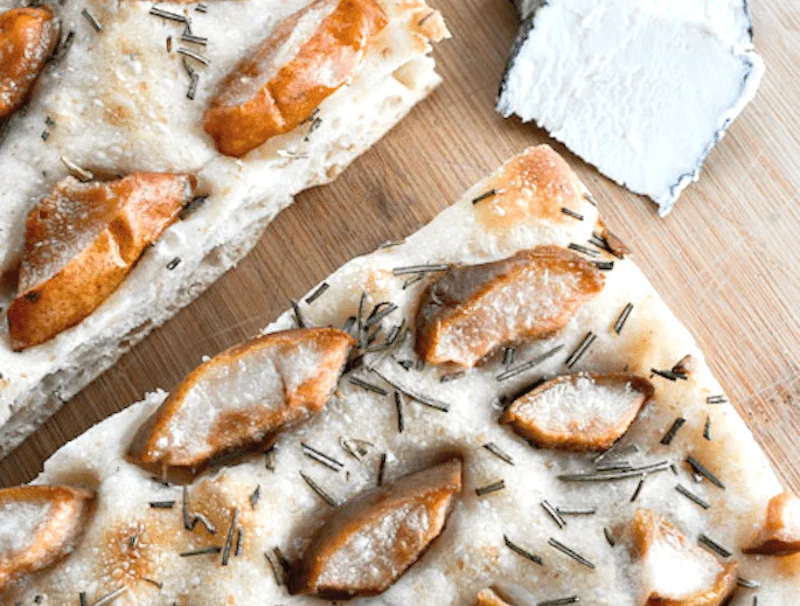 Print

Focaccia from Bari, Italy
---
Author:

Deborah Mele

Yield:

8

servings

1

x
Description
This Bari focaccia hails from the port city in the Puglia region. It's a soft bread made with mashed potatoes and topped with tomatoes and oregano.
---
FOR THE FOCACCIA:
3 Cups

All-purpose Flour

1

Medium Potato (Peeled, Boiled & Mashed)

1 Tablespoon

Rapid Rise Yeast

1 Teaspoon

Sea Salt

3 Tablespoons

Olive Oil
Luke Warm Water
TOPPING:
1 Cup

Halved Cherry Tomatoes

1/3 Cup

Pitted Olives (Optional)

1 Teaspoon

Dried Oregano

3 Tablespoons

Olive Oil
Coarse Sea Salt
---
Instructions
In a large bowl mix together the flour, yeast, potatoes, oil, and salt, then add just enough warm water to create a dough.
Dump the dough onto a lightly floured surface and knead for 5 to 7 minutes, or until smooth and shiny.
Place the dough into a lightly oiled bowl and cover with plastic wrap.
Place the bowl in a warm spot in the kitchen, and let rise until doubled in size, about 1 hour.
Preheat oven to 450 degrees F.
Lightly oil a 14 inch round baking pan and press the dough in to fit.
Press your fingertips over the top of the dough to create dimples.
Place the olives and tomatoes over the dough, then sprinkle with the oregano and coarse salt.
Drizzle with olive oil, let rest for 30 minutes, then bake until golden brown, about 20 to 25 minutes.
Cool to room temperature before slicing.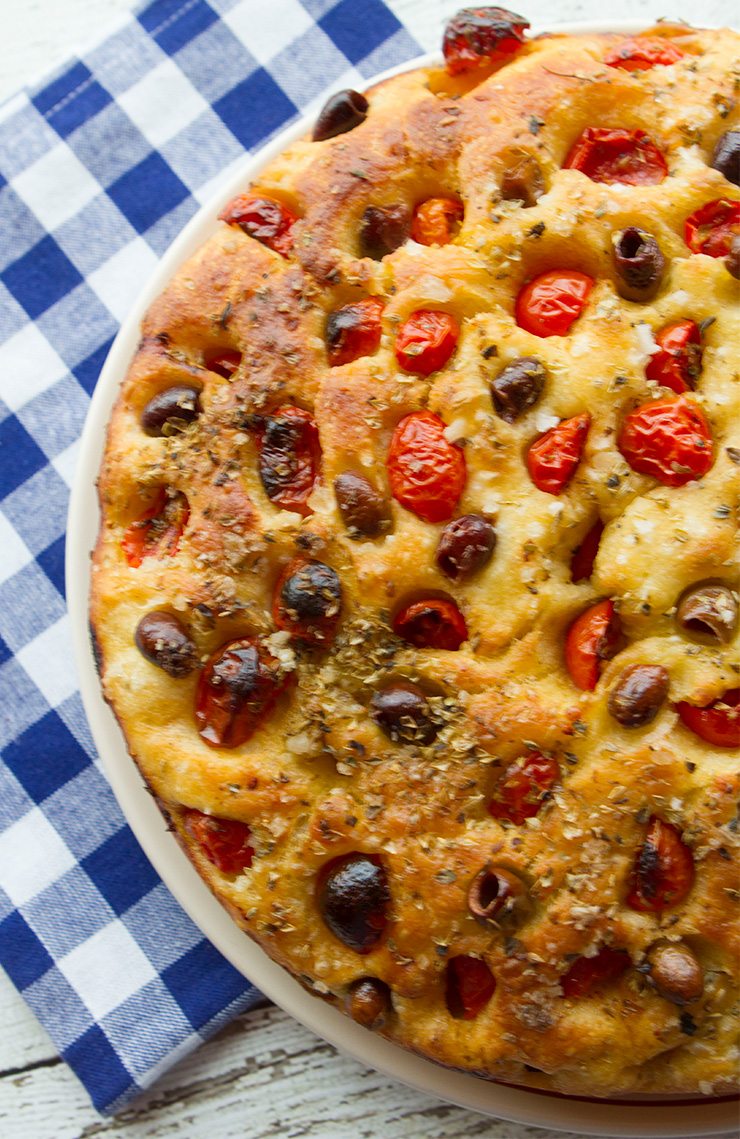 Deborah Mele
Deborah Mele is a self-taught cook whose passion for Italian cuisine began after living in Milan, Italy for 8 years. Although not Italian by birth, she became a true Italian by heart and palate. Deborah created her Italian recipe blog ItalianFoodForever.com 12 years ago to share her passion for Italian food. During her various travels throughout Italy, Deborah fell in love with the central Italian region of Umbria so when they retired, Deborah and her husband bought two farmhouses there where they now reside for six months a year and run a farmhouse rental for guests and give cooking classes.