Barbecue Chicken and Sweet Potato Hash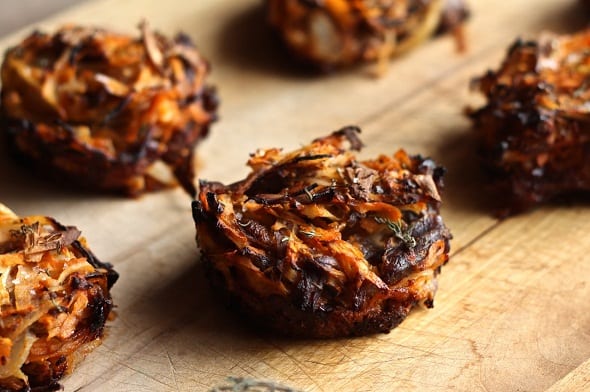 Generally speaking, a hash is made from diced potatoes with leftover meats. For this recipe, use braised chicken, barbeque sauce, sweet potatoes and thyme.
By Bryan Pickard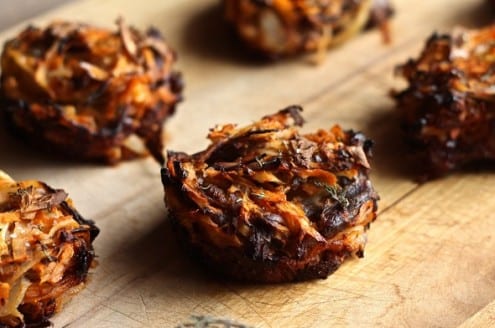 Generally speaking, a hash is made from diced potatoes with leftover meats. I made mine with leftover braised chicken, barbecue sauce, sweet potatoes, and thyme. It's great for breakfast or with salad and a dollop of crème fraîche for lunch. Because barbecue sauce is added to the mixture, it is important to squeeze the moisture out of the potatoes before mixing them with the other ingredients.
For the barbecue sauce, use your favorite or see below for a quick, easy recipe.
Barbecue Chicken and Sweet Potato Hash
Generally speaking, a hash is made from diced potatoes with leftover meats. For this recipe, use braised chicken, barbeque sauce, sweet potatoes and thyme.
Ingredients
Hash:
1 cup leftover chicken, turkey, or duck, shredded
½ cup barbecue sauce
1 medium potato (~150g), grated
1 medium sweet potato (~175g), grated
1 small onion, thinly sliced
2 garlic cloves, thinly sliced
1 egg
3-4 sprigs thyme, leaves only, fresh or dried
sea salt + ground black pepper
sunflower or grapeseed oil
Barbeque sauce:
¼ cup maple syrup
¼ cup brown sugar
¼ cup malt or apple cider vinegar
4 tablespoons tomato paste
1 garlic clove, finely chopped
½ teaspoon hot smoked paprika
½ teaspoon dried mustard
½ teaspoon cayenne pepper, or more
Instructions
Hash:
Pre-heat the oven to 450°F.
With you hands, squeeze extra moisture from the grated potato and sweet potato.
In a large bowl, mix all of the ingredients together and season with salt and pepper.
You can cook these in either small pie pans or a muffin tin (6 large or 8-10 smaller).
If using a muffin tin, pour a spoonful of oil into each mold and heat up the pan in the oven for 5 minutes (until the oil is really hot) before putting equal amounts of chicken/potato mixture into each mold.
Cook in the oven for 25-35 minutes, depending on the size, until golden brown.
Serve right away with a side of barbecue sauce, if desired.
Barbeque sauce:
Mix all the ingredients together and simmer for 5 minutes. Set aside.
Bryan Picard
Bryan Picard is a wild and homegrown food enthusiast. He lives in the Maritimes in Canada and has worked the kitchens as a cook and chef for the past ten years. He writes on his blog The Bite House.