This coconut caramel syrup is super simple to make and while it's delicious drizzled over fluffy banana pancakes, the possibilities are truly endless.
By Laura Davidson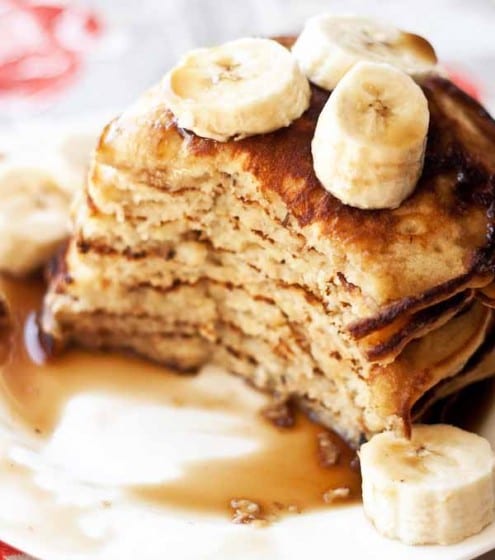 Banana Pancakes with Coconut Caramel Syrup
This coconut caramel syrup is super simple to make and while it's delicious drizzled over fluffy banana pancakes, the possibilities are truly endless.
Ingredients
Coconut Caramel Syrup:
½ cup packed brown sugar
½ cup light coconut milk
¼ teaspoon vanilla extract
pinch of salt
Banana Pancakes:
1 cup + 2 tablespoons all-purpose flour
1 tablespoon granulated sugar
1 teaspoon baking powder
½ teaspoon baking soda
¼ teaspoon salt
1 cup buttermilk
1½ very ripe bananas, mashed
1 whole egg
1 tablespoon unsalted butter, melted
sliced banana (garnish)
Instructions
Coconut Caramel Syrup:
Combine brown sugar, coconut milk, and pinch of salt in small saucepan. Whisk together until sugar has mostly dissolved and bring to light boil. Continue to boil for 2-3 minutes until syrup begins to thicken. Remove from heat.
Whisk in vanilla extract. Set aside (reheat for serving). Can be stored in an air-tight container in the refrigerator for up to one week.
Pancakes:
Combine flour, sugar, baking soda, baking powder, and salt in a medium sized bowl.
In separate bowl, whisk together buttermilk, mashed banana, egg, and melted butter.
Add the liquid mixture to the dry ingredients and using a spatula, fold and stir together until just combined. Allow batter to sit for at least 10 minutes.
Heat a tab of butter in large non-stick (or cast-iron) skillet over medium heat. Once the butter begins to sizzle, spoon the batter onto the pan--forming 5-6 inch pancakes. Avoid over-crowding the pan.
Once bubbles begin to form on the tops of the pancakes, flip them carefully and continue to cook on other side until lightly brown. Adjust heat if necessary.
Serve immediately with the warm coconut caramel syrup! Garnish with sliced banana.
Laura Davidson
After deciding to take a leap of faith, Laura enrolled in culinary school to pursue her passion for all things food. On her blog, Blogging Over Thyme, she shares her experience as a culinary student, her favorite recipes, stories, and photography!