Braised Beef Braciole Stuffed with Basil and Mozzarella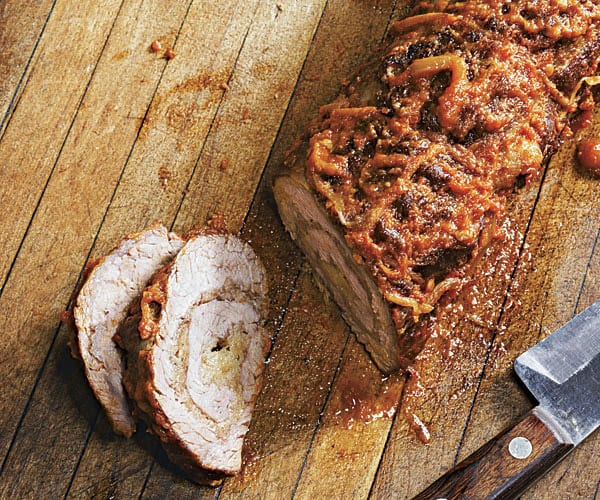 The traditional dish uses small roulades of beef round, but this recipe uses a whole flank steak because it is easier to stuff and roll one large cut of meat.
By Jovina Coughlin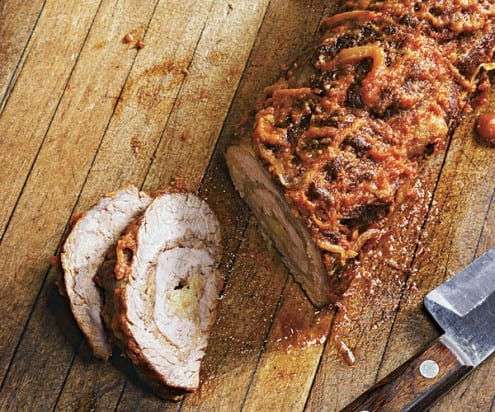 Braised Beef Braciole Stuffed with Basil and Mozzarella
The traditional dish uses small roulades of beef round, but this recipe uses a whole flank steak because it is easier to stuff and roll one large cut of meat.
Ingredients
One 2 lb. flank steak
Kosher salt and freshly ground black pepper
1 cup grated mozzarella
¾ cup freshly grated Parmigiano-Reggiano
⅓ cup dry breadcrumbs
12 large basil leaves, torn into pieces
¼ cup olive oil
1 large onion, cut into thin strips (about 1-1/2 cups)
½ cup red wine
One 26-28-oz. container crushed tomatoes
¼ teaspoon crushed red pepper flakes
8 oz. white mushrooms, quartered
Instructions
Place the flank steak on a large cutting board. Using a chef's knife, slice the steak lengthwise along one long side (without cutting all the way through the meat) and open it up like a book. Using a meat mallet, flatten the meat so it is about ¼ inch thick. Sprinkle both sides of the meat with 1 teaspoon salt and ½ teaspoon pepper.
For the stuffing: put the mozzarella, Parmigiano, bread crumbs and basil in a food processor and pulse to combine. Sprinkle the stuffing evenly over the beef and roll it up lengthwise, jelly roll–style, with the stuffing inside. Secure with kitchen twine in five or six places.
Heat half the oil in a large Dutch oven over medium-high heat until it's shimmering. Add the beef and cook until it browns and releases easily from the pan, about 2 minutes. Turn and cook the other side until browned, about 5 more minutes. Transfer meat to a large plate.
Add the remaining 2 tablespoons oil and the onion to the pan and lower the heat to medium. Sprinkle with ½ teaspoon salt and cook, stirring, until the onion wilts completely and turns a light brown, about 8 minutes. Add the red wine and cook, stirring, until it is almost completely reduced, about 2 minutes. Add the tomatoes and red pepper flakes and bring to a boil.
Reduce to a gentle simmer and add the meat and mushrooms to the sauce. Cover and cook, repositioning the meat occasionally, until the meat becomes tender and cuts easily with a paring knife, about 1-1/2 hours.
Set the meat on a cutting board and let rest for 10 minutes. Thinly slice and serve topped with the sauce.
Jovina Coughlin
I was born in New Jersey to first generation Italian parents. Both sets of my grandparents were born in Italy and emigrated to the United States in the early 1900s. They brought with them a love of the Italian culture and cooking. I have 2 brothers and 1 sister. I learned many of my cooking skills from my parents and grandparents, but I also studied Italian cooking and made many of the recipes for my children as they were growing up. I am married with three children and six grandchildren.Besides New Jersey, I have lived in Pennsylvania, Michigan and now on the Gulf Coast of Alabama. I have a Bachelor of Arts Degree and a Masters of Science Degree and I have taught high school English and special education. I have also been an administrator in the public schools at the district and county levels. Now that I am retired from the teaching profession, I have the time to write a blog and share my information about Italian American cooking and culture. Because I am a teacher by trade, I feel that I have the skills to share with readers the techniques for preparing authentic and healthy meals.