Baked Filo Filled with Thyme and Lemon Feta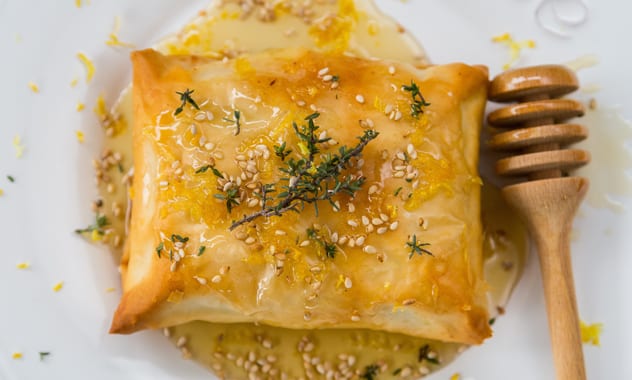 You can never go wrong with feta cheese drizzled with honey. This feta wrapped in a parcel made of filo is baked until crunchy on the outside and soft on the inside and with the help of the lemon and thyme, the flavors become so delicately sweet and delicious.
By Rowena Dumlao Giardina
I love desserts, who doesn't? This time, I would like to veer off the usual flavors that we are used to because feta cheese is the protagonist in this very simple and delicately-flavored dessert. The feta, wrapped in filo sheets, is baked with lemon zest and a few leaves of fresh thyme. Feta is a mild-flavored cheese that goes very well with other ingredients. It never dominates nor clashes with the flavors of any dish and for that reason, it is great to use both in dessert and savory dishes. Because of the lemon and herb, they give incredible hints of freshness and delicacy. When it is cooked, the filo becomes crunchy and golden while the cheese inside is so soft. It is a very simple dessert to put together but with incredible result. If you are in a hurry, this is a great idea to make – simple, delicate yet powerful in flavors.

Baked Thyme and Lemon Feta in Filo
Greek flavors in a different kind of dessert using feta cheese paired with honey. The lemon gives a delicious hint of refreshing citrus touch.
Author:
Rowena Dumlao - Giardina
Ingredients
7 ounces feta cheese, sliced in two
2 lemons, zest only
Fresh thyme
4 filo pastry sheets
1 tablespoon extra virgin olive oil
Honey, preferably the dark kind
2 tablespoons toasted sesame seeds
Instructions
Preheat the oven to 200 degrees C (395 degrees F).
Lay 2 filo sheets on your working table then place one slice of feta at the end of the filo (closer to you).
Sprinkle with the zest of half lemon and some thyme (leave some for garnishing).
Roll the feta and tuck in the sides. You should have a little parcel. Do the same with the other feta.
Place the parcels on a baking pan lined with parchment paper. Brush them with the extra virgin olive oil.
Bake for 20 minutes or until they turn golden brown.
When they are cooked, drizzle with the honey and sprinkle with the remaining lemon zest and thyme and sesame seeds. Serve immediately.
Rowena Dumlao Giardina
Rowena Dumlao - Giardina is the author and photographer of Apron and Sneakers and The Chosen Table. Besides her blog, she's also a recipe developer and a travel writer for other food and travel sites.