PARTNER POST: We've teamed up with Bonne Maman to bring you the best homemade breakfast and brunch recipes to show Mom you care this Mother's Day and all spring long.
Feed a breakfast crowd with these baked pancakes loaded with wild blueberry preserves, bacon and a hint of brie cheese.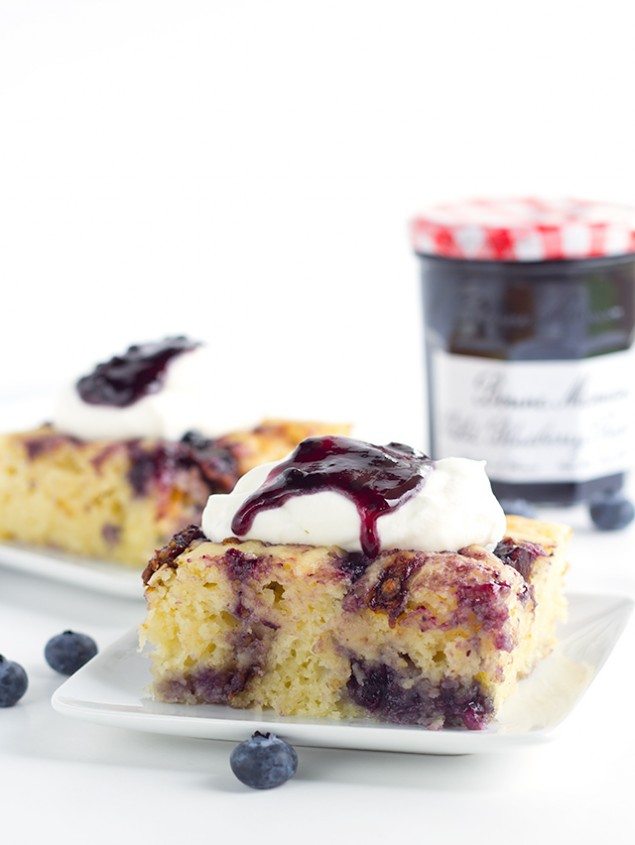 Need a delicious Mother's Day brunch recipe or maybe just have to feed a crowd? This bacon blueberry baked pancakes has your name on it. It's packed full of wild blueberry preserves, candied bacon baked in the oven, and a little brie cheese. You want to serve these up hot out of the oven with a dollop of whipped cream and some more wild berry preserves. Thanks to Bonne Maman for sponsoring this post! As always, all opinions are my own.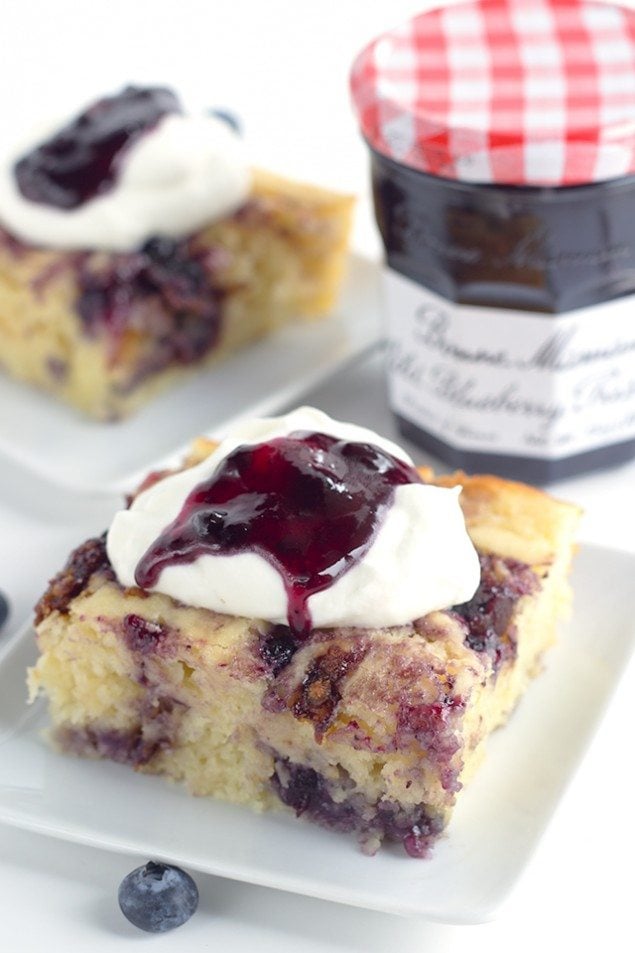 The bits of bacon have been baked prior to being added into the baked pancake and glazed in the blueberry preserves. That glazing isn't necessary, but it adds just a crunchy sweet flavor to the salty bacon. I always bake my bacon on a wire rack with a rimmed cookie sheet underneath to catch the grease. It makes for some straight, evenly cooked slices of bacon. I'm not a fan of doing it in a fry pan. It curls up, gets too dark in some spots and uncooked in other areas. It's just not a battle that I care to take on when I want some bacon.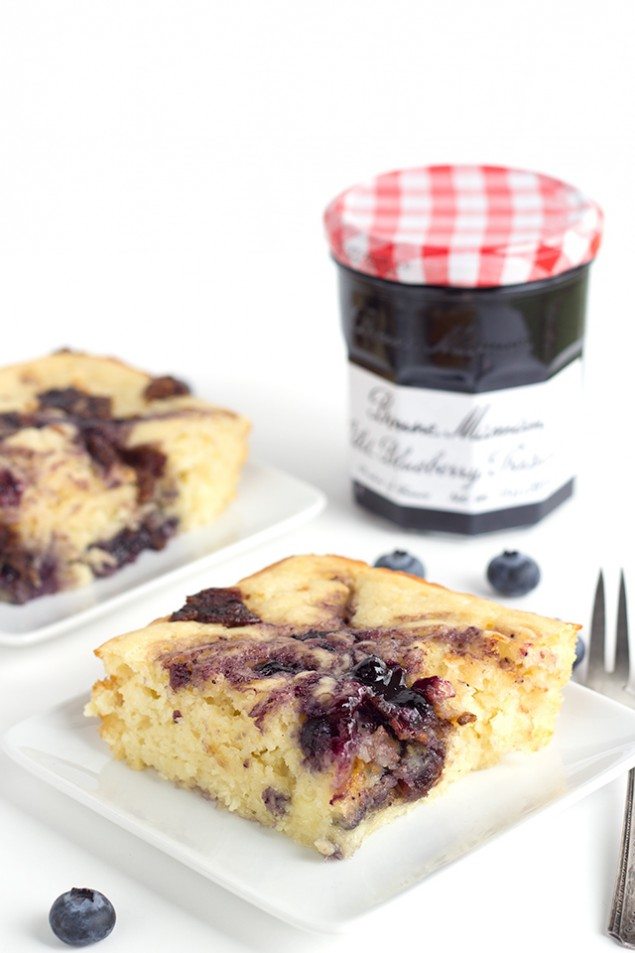 We all love breakfast! Okay, so I'm not that crazy about cereal, pop tarts, or anything really before 10 in the morning. My husband seriously twitches every time I say that. He's a strong believer in breakfast, but I just can't handle it early in the morning. I guess you can say I'm a brunch girl just like my mama bear which would make this the perfect brunch to serve up for all of us while we visit them for Mother's Day.
I love how spongy this buttermilk pancake batter is. It puffs up beautifully in the oven and the preserves just melts into it. Swirling in the wild blueberry preserves gives it a pretty top that will impress your guests. I recommend adding some whipped cream and preserves to the top of your baked pancakes, but maple syrup is also welcome.
If you're not a fan of wild blueberries, Bonne Maman offers a variety of preserves that you can use instead. A few of my other favorites being strawberry, peach, and blackberry. There are SO many more that I haven't even tried yet. They also make jellies and spreads. I love that the packaging makes you feel that it's homemade and the quality makes you feel that it is. The packaging is what drew me in for the first time actually. It's a plus that it's made from simple, wholesome ingredients that can be found in anyone's pantry though.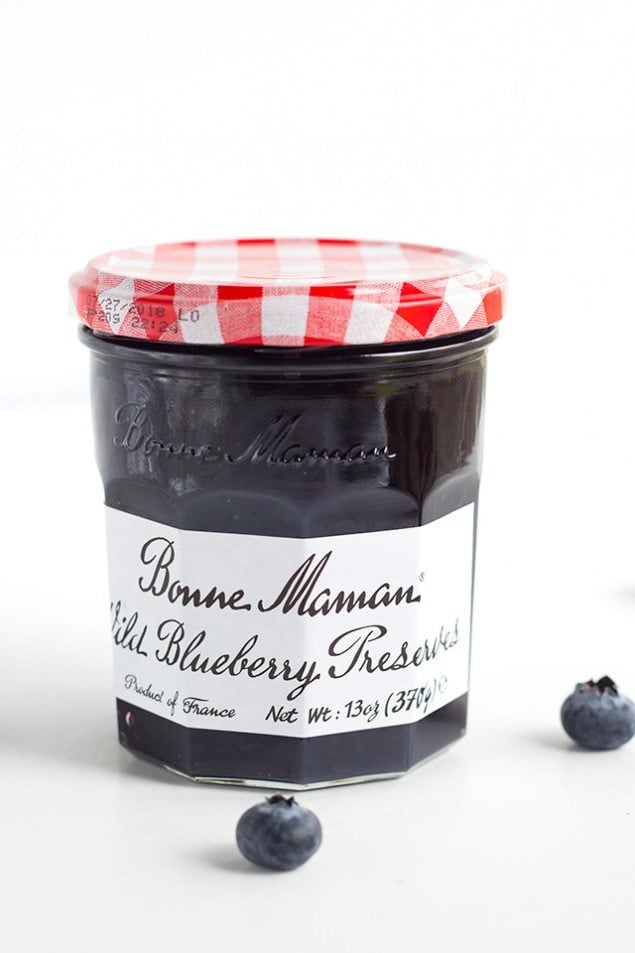 Bonne Maman also has a sweepstakes going on. Winners are going to be selected for prizes ranging from a 12-piece Le Creuset Cookware Set in Cerise with the cookbook "The Cast Iron Way to Cook" all the way down to a 5-pack of Bonne Maman mini jars preserves and spoon. Click below to enter!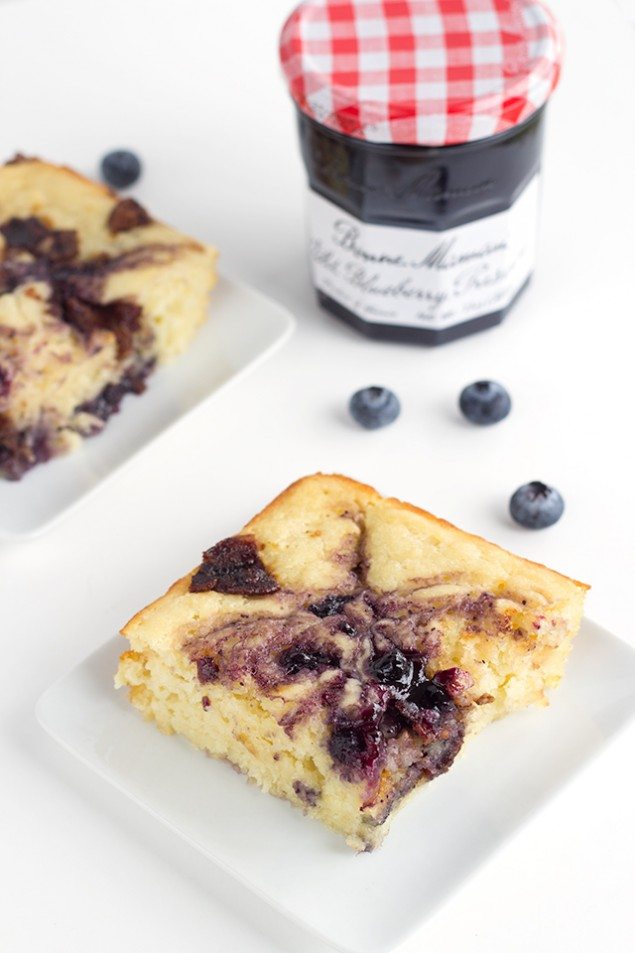 For another recipe idea, check out these strawberry muffins.
Click here for the written recipe.
Print
Baked Blueberry and Bacon Pancakes
Feed a breakfast crowd with these baked pancakes loaded with wild blueberry preserves, bacon and a hint of brie cheese.
Author:

Miranda Couse

Prep Time:

25 minutes

Cook Time:

1 hour 50 minutes

Total Time:

2 hours 15 minutes

Category:

Breakfast
6

slices bacon

4

T. butter (melted)

2 cups

buttermilk

2

eggs (lightly beaten)

2 tsp

. vanilla extract

2

+

1/2 cups

all-purpose flour

3

T. granulated sugar

1

T. baking powder

1/2 tsp

. salt

5

T. Bonne Maman wild blueberry preserves (divided)

4 oz

. Brie (rind removed and cheese cubed)
Instructions
Preheat oven to 375 degrees.
Place the bacon on a wire rack inside of a rimmed baking sheet. Place into the oven and let bake for 35 – 40 minutes until the bacon has started to brown up.
In a small dish, add 1 T. of preserves and 1/2 tsp. warm water. Stir until the preserves thin out a little.
Flip the bacon. Brush the preserves on top of the bacon. Place back into the oven and bake for 12 minutes.
Flip the bacon once more. Brush the preserves on top of the bacon. Place back into the oven and bake for another 12 minutes.
Remove from the oven and let cool. Begin making the pancake batter.
In a large mixing bowl, add in the melted butter, buttermilk, eggs, and vanilla extract. Whisk until incorporated. Make sure the eggs are thoroughly whisked in. Set aside.
In a separate large mixing bowl, add in the flour, sugar, baking powder, and salt. Stir to combine.
Pour the buttermilk mixture into the flour. Whisk until all of the flour is incorporated. There may be a couple of lumps.
Grease a 9×13 cake pan.
Pour the batter into the prepared cake pan. Spread out.
Sprinkle the cheese on top of the pancake batter. Poke it down into the batter.
Crumble up the candied bacon and sprinkle over top of the batter.
In a small bowl, add in 4 T. of the blueberry preserves. Add in 1 teaspoon of warm water and stir until the preserves is slightly thinned out.
Drizzle the preserves on top of the batter. Use a toothpick and swirl the batter into the preserves just to give it a pretty design.
Place into the oven and bake for 50 – 55 minutes or until done. Mine took 51 minutes exactly. Use the toothpick test to check.
Serve up immediately. Add some whipped cream and more preserves!
Miranda Couse
I'm Miranda. I'm a self-taught baker, recipe developer, writer, and photographer behind the blog http://cookiedoughandovenmitt.com. When I'm not satisfying sweet teeth, I can be found spending time with my family, reading cookbooks, attempting crafts and crocheting.