A mixture of cuisines, baked aubergine with italian style tomato sauce layered with arabic spices, to be enjoyed with a bowl of Jasmine rice.
By Jehanne Ali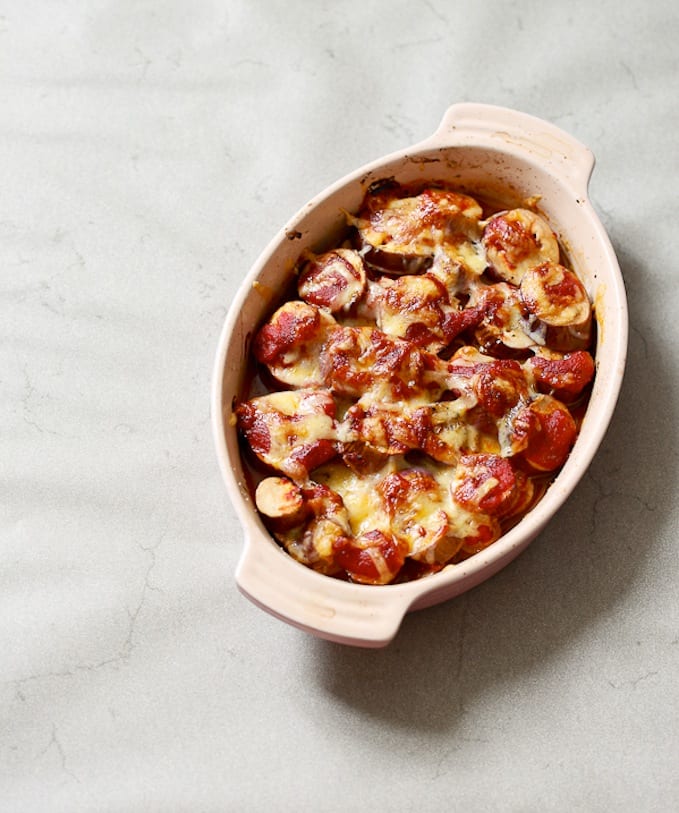 Irrespective of whether it's called brinjal, aubergine or eggplant, it will still be delicious. I took to chopping the aubergine into neat little circles, and since I always have stocks of homemade tomato ragu in the fridge, this dish took minimal time to prepare.

Baked Aubergine and Mozzarella
Feel free to use store bought tomato ragu. Sumac is tangy arabic spice used frequently in kebabs/ shawarma or meat based dishes. Omit if you don't have, it will not affect the casserole much but the flavours are outstanding with it.
Ingredients
2 medium sized aubergine
1 cup Tomato Ragu
1 cup grated mozarella
1 tbsp sumac
1 tsp black pepper
1 tsp salt
1 tsp italian seasoning or oregano
Instructions
Slice the aubergine into thin circles.
Preheat the oven to 190C. (375F)
Layer the aubergine circles ( as 1 layer ) on the bottom of big casserole.
Divide the tomato ragu into 3 portion, and spread ⅓ cup on top of aubergine.
Mix all the spices ( sumac, black pepper, salt and oregano) and sprinkle on top of tomato sauce.
If the tomato sauce is already salted, omit the salt.
Sprinkle half of the cheese and repeat layer with aubergine, then tomato sauce, spices and cheese again.
Ensure the top is top layer ends with cheese.
Sprinkle the spices and bake for 30-45 mins until golden.
Serve warm with bread, rice, potatoes or as main course.
Jehanne Ali
Jehanne is an enthusiastic baker, food blogger, mother and wife all in one. She swaps her scalpel from her day job as a doctor to kitchen utensils in the evening and creates magical treatment of healthy treats for her family, which she shares in her blog, The Cooking Doctor. She is a firm advocate of healthy eating and always believes that honest and healthy food will steer you clear from the doctors.