Lovely sweet buns packed with bitter-sweet cranberries and nutty pumpkin seeds. Serve with plenty of cold salted butter.
By Mia Irene Kristensen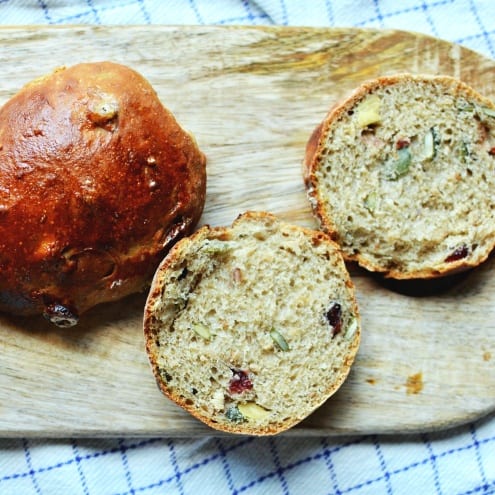 November rain…Is pouring down my window and all I want to do these days is bake loads of amazing bread!
Normally I'm really into sourdough and artisan style bread, but whenever the rain really hits this capital all I'm baking is "grandma's buns" – butter based and delicious!
Cranberries vs. Raisins
Some of my friends and family are not big fans of raisins in baked goods. It's one of those things that kind of split the masses. With or without raisins even carrot cake, buns, cookies, it is always up for discussion. One of my dear friends argues with the texture of them after baking – "They get this weird, soft, and sometimes too moist – almost like a little forest snail sneaking into my bun". I absolutely disagree – I love al fruit dried and is pleased whenever I'm serve traditional Danish  "Teboller" with plenty of cardamom and totally packed with raisins. The fruit makes the bread a little sweeter (almost cake-like) and it keeps the bread from drying out. These types of festive breads are not meant to have a long shelf life, so I might as well boost the goodness with a little extra fruit, making even more festive and rich than the original recipes.
See Also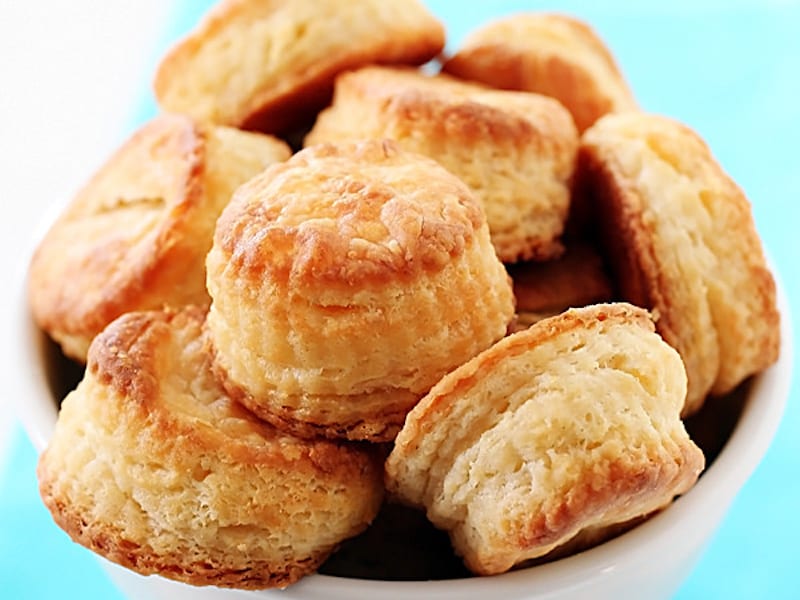 A crowd pleaser
This recipe apparently suits both crowds. The flavor of the dried cranberries isn't overpoweringly sweet, but more bitter/sweet. The same way the texture is of course different. Not as "soggy" as raisins tends to become. After doing a lot of testing on both fruity buns haters and lovers, I think these are a winner for both.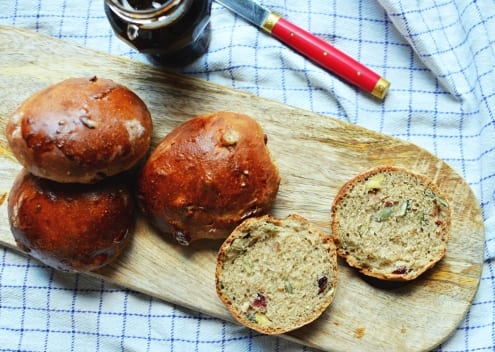 Autumn buns with cranberries and pumpkin
Lovely sweet buns packed with bitter-sweet cranberries and nutty pumpkin seeds. Serve with plenty of cold salted butter!
Author:
Mia I. Kristensen
Recipe Type:
Baking, snack, breakfast
Ingredients
300ml water
50g butter
3 tbsp honey or syrup
3 tsp cardamom (optional)
1 egg
12g fresh yeast
75-100g dried cranberries
50g pumpkin seeds
~500g bread flour
salt
Instructions
Heat the water, butter, honey and cardamom in a casserole over low heat until the butter is melted and the water is slightly warm (not over 40 degrees, you should still be able to hold a finger in it)
Pour the water/butter into a mixing bowl and add the egg.
Stir in the yeast along with the cranberries and pumpkin seeds.
Add the bread flour little by little along with the salt and knead the dough for 7-10 minutes (either by hand or machine).
Leave the dough to rise for 1½ hour.
Heat the oven to 210C and tip the dough onto a floured surface.
Carefully cut and shape the dough into rolls/buns, without pressing the air out if the dough. Leave them to proove for 15-30minutes.
Bake the buns on a lined baking sheet and bake for 15-20 minutes, until golden.
Notes
If you're a fruit-lover like me, go for 100g of cranberries or even more. Otherwise stick with the 75g. In a hurry? Add 25g of yeast and let the dough rest for 45 minutes.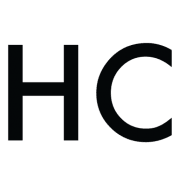 Mia Irene Kristensen
Mia Irene Kristensen is a passionate food blogger, creative recipe developer and Master Student in Food Science and Technology. When not braising and baking, she runs the companies CPH Good Food and TASTE CPH. This keeps her in touch with her creative side and passion for cooking, as she is constantly working on new projects, developing recipes, hosting cooking classes and food walks, and lastly trying to teach the public a tiny bit of the science that goes on in their pot and pans.