Aubergine, Eggplant Veggie Roast with Goat Cheese and Tomatoes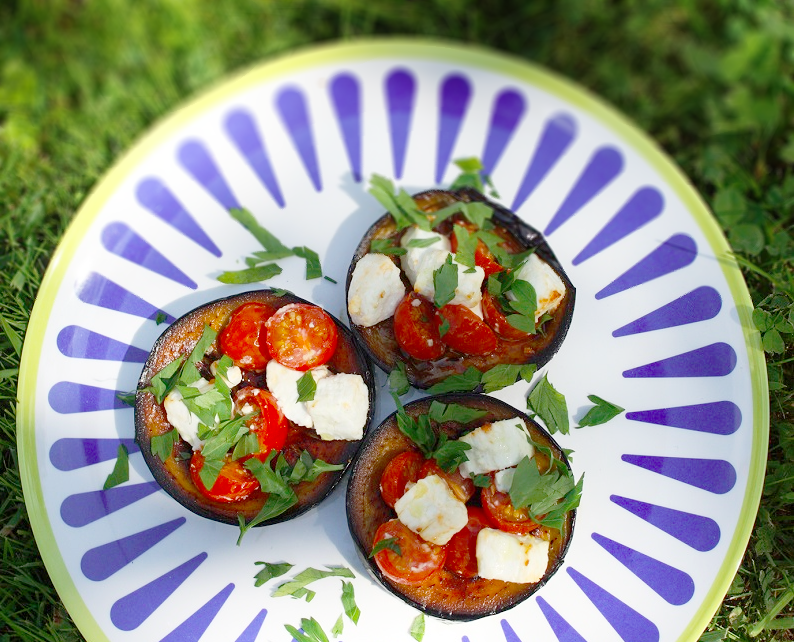 Roast-aubergine slices, crisp on the outside and deliciously succulent within, piled up with tomatoes and goat's cheese makes an excellent veggie picnic roast.
By Serge Lescouarnec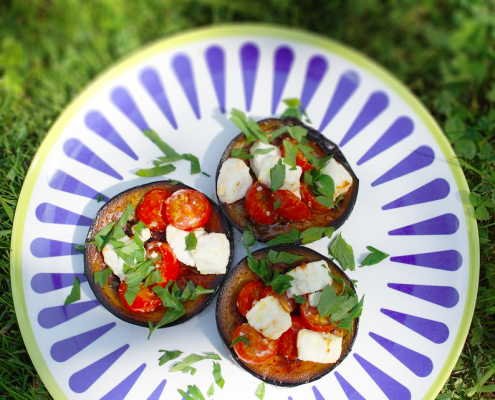 Aubergine, Eggplant Veggie Roast with Goat Cheese and Tomatoes
Roast-aubergine slices, crisp on the outside and deliciously succulent within, piled up with tomatoes and goat's cheese makes an excellent veggie picnic roast.
Author:
Serge Lescouarnec, recipe excerpted from 'The Picnic Cookbook' by Annie Bell-Kyle Book
Ingredients
3 aubergine, sliced approx. 3cm thick, ends discarded
extra virgin olive oil
sea salt and black pepper
300g cherry tomatoes, halved or quartered, depending on size
150g young firm goat's cheese (such as Perroche), cut into approx. 1cm dice
coarsely chopped flat-leaf parsley
Instructions
Preheat the oven to 200°C fan/210°C/gas mark 7. Lay the aubergine slices out on a couple of baking trays, with a little space between each slice. Brush the slices with oil on both sides and season the top.
Roast for 20 minutes, then turn them and cook for another 15–20 minutes until golden. At the same time, scatter a little salt over the tomatoes in a bowl and set aside.
Transfer the aubergine slices to a large roasting dish that holds them in a single layer with a little space in between. Pour 3 tablespoons of oil over the tomatoes and gently toss, and mix in the goat's cheese.
Pile this on top of the aubergine slices and return to the oven for 4–5 minutes to warm through, then leave to cool. Scatter with lots of chopped parsley. Transport in the roasting dish covered with foil, or transfer to a plate or container and cover.
Serge Lescouarnec
Also known as Serge The Concierge, food and wine are essential parts of the DNA of New Jersey based Serge Lesouarnec. His French roots guarantee strong opinions on food, wine and travel, topics he has been writing about since 2005.