Bread selection is a key element to transforming a burger from ordinary to extraordinary.
By Marissa Sertich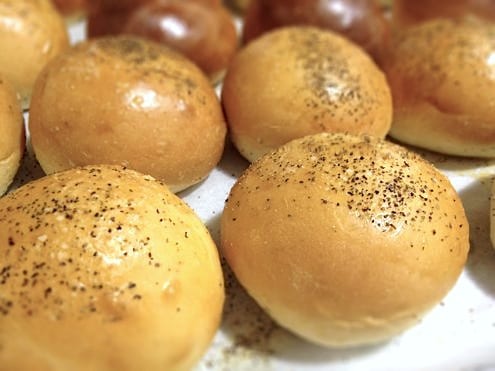 It's all about the buns. Bread selection is a key element to transforming a burger from ordinary to extraordinary. While a white, mushy burger bun has its place in a drive-through, our expectations should go beyond grocery store Wonder Bread.  Not just a vehicle for holding the meat patty; the bun is what makes a burger a burger – and not a pile of grilled ground beef on a plate.  So, let's give it a little respect.  Texture, flavor and wholesomeness – a good burger bun brings life to what can otherwise be thoughtless fast-food fare.
Print
Attractive Buns
Although it requires more time than the store-bought variety, a soft roll is easy to make at home and brings life to an otherwise ordinary burger.
Author:

Marissa Sertich

Prep Time:

50 mins

Cook Time:

10 mins

Total Time:

1 hour

Yield:

1

0

1

x
500g

Bread Flour

55g

Sugar

10g

Salt

10 g

Black Pepper

10g

Instant Dry Yeast

1

Egg

55g

Dry Milk Powder

45g

Butter

290g

Water
Instructions
Pre-heat oven to 350F
In a standing mixer, place all dry ingredients (Flour, sugar, salt, pepper, milk powder and yeast)
Using the hook attachment, mix until all the dry ingredients are evenly distributed.
Add the water, egg and butter. Mix for 10-15 minutes, or until dough looks smooth and kneadable.
Transfer the finished dough to a floured surface and divide it into 100g pieces. Roll each piece into balls.
Arrange the balls on sheet trays at least two inches apart. Sprinkle the balls with flour, cover lightly with plastic wrap and allow them to rise for 45 minutes.
Using a small brush, carefully egg-wash each bun before baking and sprinkle with salt and pepper.
Bake for about 10 minutes, or until golden.
Notes
When bread baking, invest in a small, home scale to weight your ingredients, rather than using volume measurements – this will ensure a much more consistent product.
To make the egg wash, beat one egg with a pinch of salt. Paint each bun using a small pastry brush. This will give your burger buns a professional shine.
Marissa Sertich
Marissa Sertich Velie is a New York based pastry chef and graduate of the Culinary Institute of America. She passionately documents her adventures of baking and eating her way through the fascinating (and sometimes nutty) underbelly of the American pie. Velie has a Master's degree in Food Studies from NYU.