Often, the simplest dishes are the best dishes. Like this avocado pesto crostini from Kim Hamill.
By Kim Hamill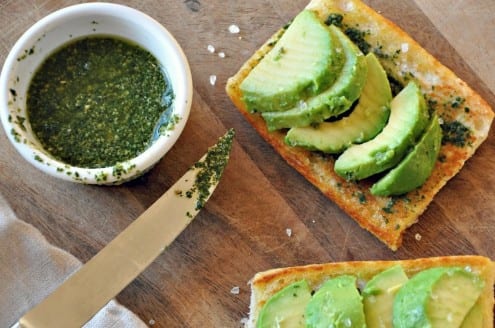 Often, the simplest dishes are the best dishes. I recently had one of those perfect New York City nights. We dined with friends alfresco at Frankies Spuntino 570, then we strolled the West Village streets ending the night with berry crumble and banana pudding at Magnolia's.
As good as the sweets were, all I could think about was the perfect appetizer Frankie's served: an avocado pesto crostini.   It was the type of appetizer that makes you want to order another round (or two) and just cancel your entree. And don't be scared off by the pesto. Three of us insisted we weren't fans of pesto and we ended up fighting over every last morsel. I told myself I could recreate it the next day for lunch. And the next day. And the next.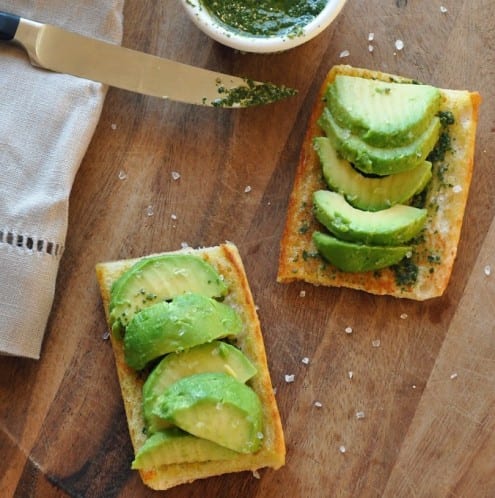 Ingredients
Baguette (sliced)
Avocado (sliced)
Pesto (store bought is fine!)
Olive Oil
Sea salt
Instructions
Heat olive oil in a skillet. Place sliced baguette (inside of bread face down) in pan and allow it to brown. Remove from heat and smear a thin layer of pesto on bread. Add slices of avocado. Sprinkle with sea salt. Enjoy!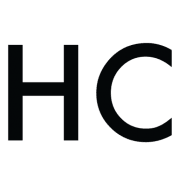 Kim Hamill
By day, Kim is the 3rd generation in her family's NYC taxi business. By night, she writes about food, fashion, DIY projects, travel, and beyond on www.loveumadly.com. Her stories, recipes, and photographs have appeared in Marie Claire, NY Press, the Kitchn, HGTV.com, Food Gawker, and Finding Vegan. She doesn't sleep very much.