Asian-Spiced Sloppy Joe with Pineapple Slaw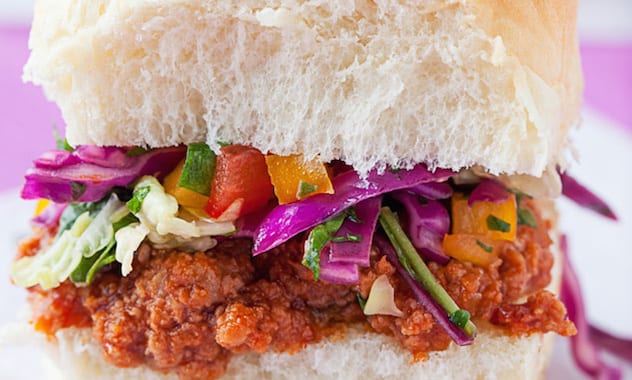 For a flavorful weeknight bite, make turkey sloppy joe sandwiches with hoisin, ginger, lime, and soy sauce. But that's not all, the filling is then topped with a Napa cabbage and pineapple slaw for the ultimate finish.
By Taylor Mathis and Sally James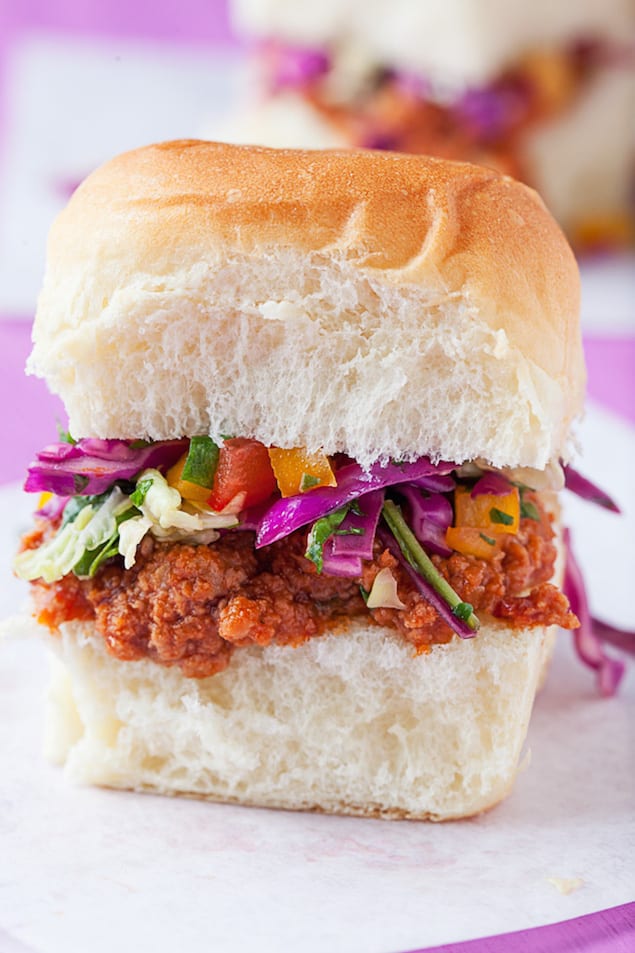 Asian Turkey Sloppy Joes are a great weeknight dinner that you can have on the table in thirty minutes. Ground turkey is flavored with hoisin sauce, garlic chili sauce, fresh ginger, lime zest, toasted sesame oil, and soy sauce. Serve the sandwiches on grilled buttered sandwich buns with a zesty Napa cabbage and pineapple slaw. Are you looking for a fun, healthy, grab and go snack? Serve the Asian Turkey Sloppy Joes as sliders.
Try this recipe for the slaw, or create one of your own!
See Also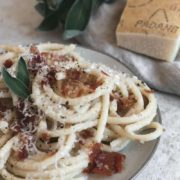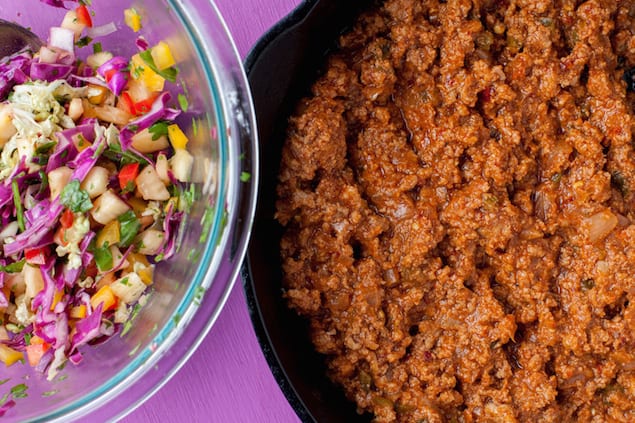 Asian-Spiced Sloppy Joe with Pineapple Slaw
For a flavorful weeknight bite, make turkey sloppy joe sandwiches with hoisin, ginger, lime, and soy sauce. But that's not all, the filling is then topped with a Napa cabbage and pineapple slaw for the ultimate finish.
Author:
Taylor Mathis and Sally James
Ingredients
3 Tablespoons vegetable oil
1 cup finely chopped yellow onions
½ cup finely chopped green bell peppers
1 teaspoon minced fresh ginger
2 Tablespoons tomato paste
½ cup water
1 (1⅓ pound) package ground turkey
½ cup ketchup
¼ cup hoisin sauce
3 Tablespoons garlic chili sauce
1 Tablespoon soy sauce
1 Tablespoon rice wine vinegar
½ teaspoon toasted sesame oil
½ teaspoon grated fresh lime zest
½ teaspoon worcestershire sauce
¼ teaspoon salt
¼ teaspoon pepper
Instructions
In a large nonstick sauté pan, add the vegetable oil and bring the heat to medium. Add the onions, bell peppers, and ginger. Cook the vegetables, stirring frequently, for 2 minutes. Add the tomato paste and cook stirring constantly for 2 minutes.
Add the water and the turkey to the sauté pan. Break the turkey up with a spoon and cook the mixture for 2 minutes, stirring constantly. Reduce the heat to medium-low and add the ketchup, hoisin sauce, garlic chili sauce, soy sauce, vinegar, sesame oil, lime zest, Worcestershire, salt and pepper. Cook the sloppy joes for 15 minutes, stirring frequently. Raise the heat to medium and cook stirring constantly, for 5 minutes, or until the Sloppy Joes have reached your desired consistency. Serve the Asian Turkey Sloppy Joes on warm or buttered and toasted sandwich buns.
Taylor Mathis and Sally James
Sally James and Taylor Mathis are a mother and son duo from Charlotte, NC. Sally, a professional recipe developer, and Taylor, a professional Food and Lifestyle photographer, work together to create beautiful and delicious recipes designed to be eaten anywhere! Together they are the creators and authors of the food Blog Taylor Takes A Taste and worked together on The Southern Tailgating Cookbook.