There are many ways to fry artichokes, but according to Italian 19th century writer Pellegrino Artus, the Tuscan method is unsurpassed.
By Rita Banci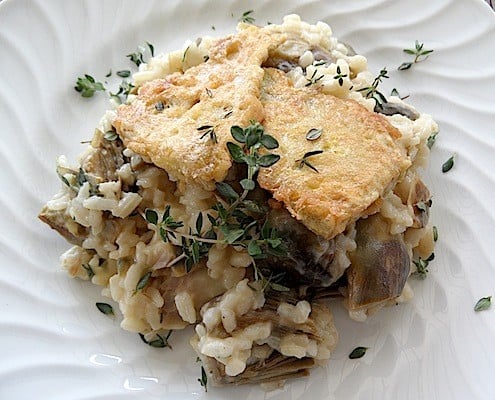 When, wandering about markets, you bump into boxes of artichokes on sale, well, you know it's officially Spring. No vegetables – except maybe peas – are more related to Spring than these sharp-scaled, thistle-like, prickly dark green buds. Artichokes can be cooked in many ways – boiled, roasted, stuffed, sliced for a frittata, even pickled – but "their death", as we say in Tuscany, is either fried or in a risotto, meaning that there are no other ways better than these to make the finest use of artichokes.
No doubt artichokes and risotto are like two peas in a pod (we're in Spring: can we help talking about peas?). On the other hand, even slippers taste good if fried ("fritta è buona anche una ciabatta"), as we say here in Tuscany, and fried artichokes are no exception; hence the idea of combining the two of them in the same dish.
The making of risotto – and those who are a little familiar with its preparation will agree with me – is quite a standard matter. One can easily assert that once you know how to prepare a mushroom or an artichoke risotto, you can make risotto with any vegetable your creativity suggests.
However frying artichokes is slightly different. There are many ways, involving regional and personal variations, to fry artichokes, but according to Italian writer Pellegrino Artusi, one of the most authoritative voices of the boot-shaped peninsula in the cooking field, the Tuscan method seems to be unsurpassed.
"This is a basic fry", Pellegrino Artusi wrote in 1891, "but strange as it may seem, not everyone knows how to make it. In some places, they boil the artichokes before frying them, which is not a good idea. In others, they first cover them in batter. Not only is that not necessary, but it takes away their natural flavor. Here is the method used in Tuscany, which is the best. Tuscany is the region, where by dint of using and abusing fruits and vegetables as much as they do, they end up cooking them best."
Artusi wasn't of Tuscan origin. He was born in 1820 in Forlimpopoli (a small town in Emilia Romagna, another Italian region renowned for its famous culinary traditions), but he spent most of his life in Florence, where he eventually died in 1911. A fine gourmand and a literature enthusiast, Pellegrino Artusi gathered many recipes (790 to be precise) during his frequent journeys.  He had these recipes meticulously tested by his personal Tuscan cook and ultimately managed to publish them in 1891 in his masterpiece cookbook "La scienza in cucina e l'arte di mangiar bene" ("Science in the Kitchen and the Art of Eating Well", here in the English translation by Murtha Baca and Stephen Sartarelli). Though I cannot claim his statement on fried artichokes to be completely true, surely Artusi's method – that he had learnt during his long sojourn in Tuscany – is undoubtedly a very good one.
Here's the method explained in his own words:
"As an example, take two artichokes, remove the tough outer leaves, trim off the sharp ends, cut off the stems, and slice in half. Then cut the artichoke halves into wedges, or to be more precise in slices, about 8 to 10 of them for each artichoke, even if they are not particularly large. As you cut them up, toss them into cold water. When they are quite cold, take them out of the water and blot them or just squeeze dry, then dredge them immediately in flour which will stick well to them.
Neat the white of one egg until half-stiff, one egg being enough for two artichokes; then combine the yolk and the white, and salt. Put the artichokes in a colander to shake off the excess flour. Then drop them in the egg, stir and allow to sit a while until they absorb the egg. Place the pieces one at a time in a skillet sizzling with oil. When they have turned a nice golden color, take them out and send to the table […]." Sounds scrumptious, doesn't it?
Print
Artichoke Risotto with Thyme and Artusi's Fried Artichokes
A delicious artichoke risotto perfectly matches with a 1891 recipe for fried artichokes.
Author:

Rita Banci

Prep Time:

20 mins

Cook Time:

30 mins

Total Time:

50 minutes

Yield:

2

1

x
160 g

Arborio rice

6

artichokes

600

ml vegetable stock
Extra Virgin olive oil

1

garlic clove, peeled

1

shallot, peeled and sliced
Chili pepper flakes to taste
Salt and pepper to taste
Sprig of fresh thyme
Knob of butter
Parmigiano Reggiano
For the fried artichokes
Juice of

1

lemon
Flour

1

egg
Instructions
Clean the artichokes, removing stems, sharp ends and all hard leaves. Cut 4 artichokes into wedges. Slice the remaining 2 artichokes for frying according to Artusi's directions.
Soak all the artichokes in water with the lemon juice to prevent them from browning.
In a large saucepan heat oil and gently fry shallot, garlic and chili pepper flakes for about 1-2 minutes. Remove garlic.
Toss the 4 artichokes cut into wedges into the saucepan and cook for 2-3 minutes. Now add the uncooked rice and let it sauté for about 1-2 minutes, stirring constantly and swiftly with a wooden spoon (the rice grains should all be covered with oil but must not turn brown).
Pour a ladle of hot stock over the rice and let it simmer, stirring constantly to prevent rice from scorching (note that the stock must be hot because otherwise the cooking process is stopped). When the liquid is all absorbed, pour another ladle of stock, stirring all the time, and let it cook till it's absorbed again; repeat until you have no more stock left and the rice is completely cooked (it will take about 20 minutes). This method of adding a ladleful of stock at a time allows rice starch to be released thus giving risotto a very creamy texture. The risotto is ready when it's al dente, that is grains are tender but rather firm, though not hard (if for any reason the rice is not done yet, add some hot water as you did with the stock and keep cooking).
Halfway through cooking remember to stir in the fresh thyme.
In the meantime, fry the remaining 2 artichokes following Artusi's method, as explained above.
When the risotto is done, remove it from heat. Stir in parmesan and butter. If the vegetable stock is already salted, adding more salt is probably unnecessary. In any case, wait until parmesan is stirred in before adjusting the seasoning, because it is a rather tasty cheese itself.
Serve the artichoke risotto in a plate and decorate with the fried artichokes on top.
Rita Banci
Rita Banci is the author of the blog the Culinary Taste. A former textile conservator, she now divides her time among family, gardening and cooking. As many Italian women, she has learnt to cook watching her mother and grandmother, both housewives, preparing meals for the family. Rita is a fanatic of jams and jellies and lives in Prato, Italy.