An American comfort food favorite served as an appetizer? Yes, please. Tomato soup with an aged Havarti and sun-dried tomato grilled cheese for dipping is unforgettably delicious.
By Priscilla Willis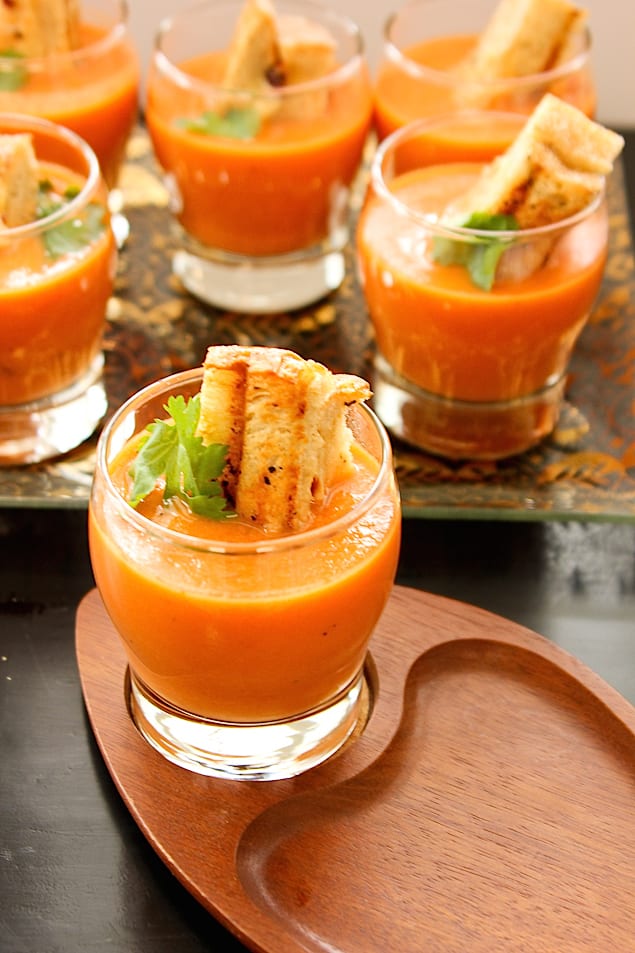 Oh, cheese, how I love thee! Recently, I discovered a new variety that has captured my heart, a crumbly yet creamy, buttery yet tangy, semi-firm hunk of pure joy that quickly became my new obsession. The moment a nugget of Castello® Aged Havarti coated my tongue with its full complexity, I wanted it every night – no crackers or baguette slices needed, only a sip of wine or craft beer and a sliver of fruit to prep my palate for another bite, and another…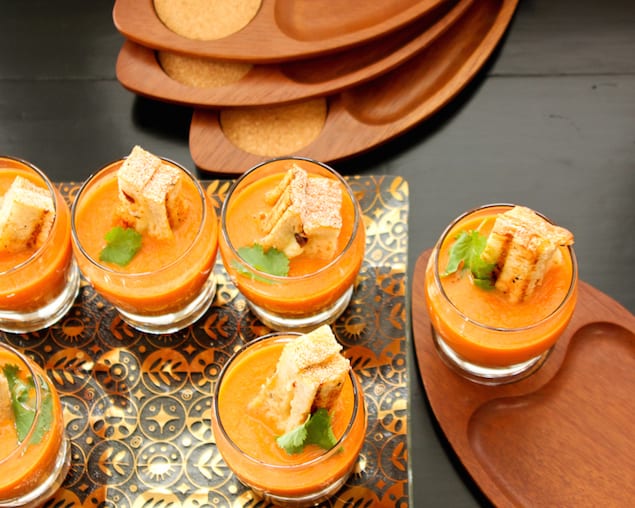 When it comes to foods of exceptional quality, whether it be an heirloom peach from Masumoto Farms or an heirloom tomato from the farmers market, I'm a purist who desires to savor that food in its most unadulterated form. When I received a distinguished black cushy cooler-full of Castello's Aged Havarti it was all my family could do to refrain from devouring it all on cheese boards (if you're a regular here, you know how much I love cheese boards!). In fact, an artisan cheese board and pairings would be my wish if I were stranded on a deserted island.
But we're not on a deserted island, so we can also enjoy a great American comfort food favorite: a crock of homemade tomato soup and a cheesy grilled sandwich for dipping. Adapted from Ina Garten's Easy Tomato Soup with Grilled Cheese Croutons. A touch of labneh (yogurt cheese) and spiciness balances the sweet acidity of tomato soup and bright sun-dried tomatoes mixed into buttery, tangy Castello® Aged Havarti melted between thick slices of herby rosemary olive bread impart another dimension of flavor to the grilled cheese. Who wouldn't like a miniature serving of this as an appetizer at a winter soirée or tailgate party?!! Here the grilled cheese "fingers" are already dunked, but you will want to serve them alongside and let your guests to the dunking – a soggy grilled cheese is no bueno.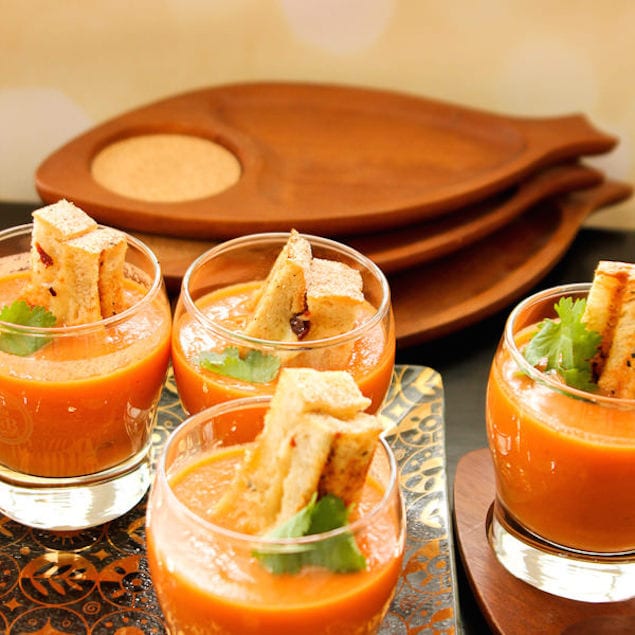 The Art of Cheese — Tomato Soup with Grilled Havarti Cheese Croutons
Comfort food served as an appetizer? Yes, please. Tomato soup with aged Havarti and sun-dried tomato grilled cheese for dipping is unforgettably delicious.
Ingredients
3 tablespoons EV olive oil
2-1/2 cups sweet onions, chopped (2 onions)
2 cloves fermented black garlic*
¼ teaspoon red chile flakes
4 cups chicken or vegetable stock, preferably homemade
1 (28-ounce) can No-Salt crushed or diced tomatoes
Large pinch of saffron threads
Freshly ground black pepper
½ cup heavy cream or Labne yogurt cheese*
Grilled Cheese Croutons
4 (1/2-inch-thick) slices country white, sourdough or herb bread
2 tablespoons unsalted butter, melted
4 ounces Castello Aged Havarti cheese, grated
2 tablespoons chopped oil-packed sun-dried tomatoes
Instructions
In a large pot or Dutch oven, heat the olive oil over medium heat. Add the onions and chile flakes, cook over medium-low heat for 15 minutes, stirring occasionally, until golden brown. Add the garlic and cook for 1 more minute. Stir in the chicken stock, tomatoes, saffron, and 1 teaspoon pepper. Bring the soup to a boil, then lower the heat and simmer for 15 minutes.
Stir in the cream, return the soup to a simmer, and cook for 10 more minutes, stirring frequently. I allowed the soup to cool and pureed it, but this step is optional.
Meanwhile, heat a panini grill or grill pan. Before chopping, wrap the sundries tomatoes in a paper towel to remove excess oil. Combine the sun-dried tomatoes with the grated cheese. Place the four slices of bread on a cutting board and brush lightly with the melted butter (including the sides). Turn the slices over and pile grated Havarti on two of the slices. Place the remaining two slices of bread on top of the cheese, buttered sides up.
Grill the sandwiches on the panini grill for about 5 minutes, until nicely browned. Place on a cutting board, allow to rest for 1 minute, and cut into 1-inch cubes or strips depending on presentation.
Notes
*Fermented black garlic from Frieda's Specialty Produce is my secret ingredient for added umami. One tablespoon of fresh minced garlic can be substituted.
* I use Labne Greek Yogurt Cheese which is low in calories and sodium as a replacement for cream cheese, heavy cream, and sour cream.
Recipe adapted from Barefoot Contessa's Easy Tomato Soup with Grilled Cheese Croutons.
Priscilla Willis
Intrepid food writer, drinker, and culinary traveler, Priscilla is the publisher of the popular Orange County, CA food and cooking blog She's Cookin' which features deliciously healthy, low sodium recipes, Southern California restaurants and foodie events, cocktails, spirits, and culinary travel.