Fashion comes first in Milan – the city known for its high fashion and glamours shopping. At the Armani Hotel, in the fashion district, the perfect combination of class, sophistication and that oh-so-chic-and-glamourous existence are rolled into one for the fashionista and gourmet in all of us.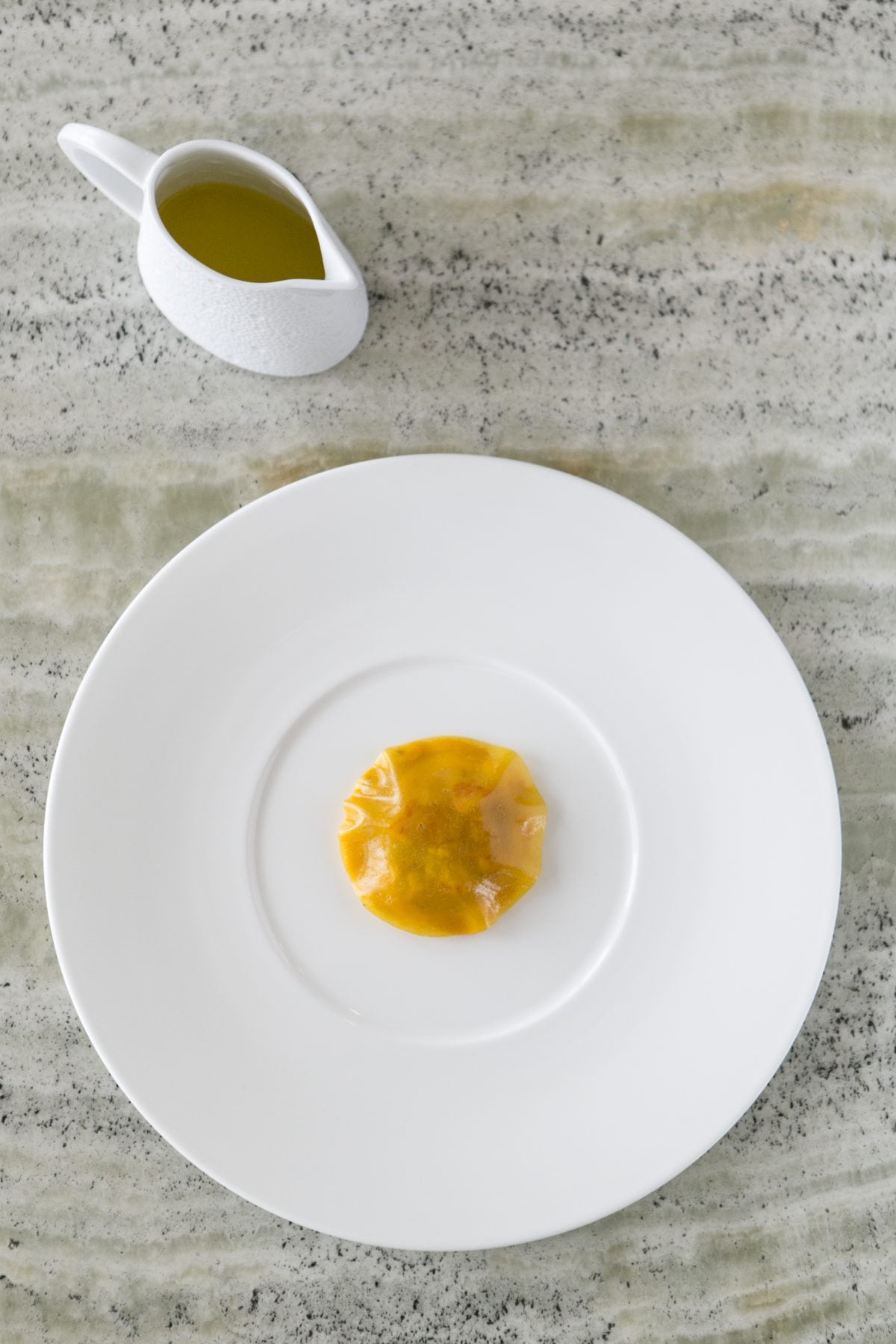 Armani is all about style and at its award-winning, Michelin-starred restaurant Armani/Ristorante – the style style and sophistication runs throughout the menu thanks to Chef Francesco Mascheroni.
For those who can't go, here is a recipe
Executive Chef Francesco Mascheroni and Armani/Ristorante
Print
MAZARA RED SHRIMP
4

MAZARA RED SHRIMP (headless and totally cleaned)

1

PASSION FRUITS
MASHED CARROTS
600 grams

of sliced and peeled carrots

150 grams

of grass-fed butter

100 grams

of fresh ginger

40 grams

of hot red-pepper sauce

60 grams

of orange oil

60 grams

shiracha sauce
muscovado brown sugar
maldon salt
PASSION FRUIT JELLYS
400 grams

of passion fruit juice

100

lemon cordial

6 grams

of agar-agar

2 grams

of isinglass
Instructions
MASHED CARROTS
All the ingredients should go in a pan, except for salt and sugar. Cover with a lid and lead
to cooking. Mash all and fix it with sugar and salt.
PASSION FRUIT
Drain all the passion fruits (2)and use the seeds to marinate the uncooked shrimps with olive oil and salt.
PASSION FRUIT JELLYS
Mix and lead to boiling. Lay it in a thin stratus, cut it with a food ring mold and fully cover
the cream.
ASSEMBLE
Create a mashed carrots circle; cleaned and cut into 3 pieces the schrimps tails previously
marinated with evo oil, maldon salt, passion pruit seeds. Cover with the jelly'sheet; top with warm butter
Michelle Tchea
Michelle Tchea is a 4-time bestselling author. Her books include, Building a Perfect Meal, My Little SoHo Kitchen, Signature Dishes (Australia's Best) and Chefs Collective. Her work can be found in other leading luxury travel and food magazines including Travel+Leisure Asia, SMILE, NUVO Magazine and The Telegraph