Argentina is the fifth largest producer of wine in the world, and their most used grape is the Malbec. But there's more to sip from the South American country.
By Tim Elliott
Argentina is best known in the wine world today for their distinctive interpretation of Malbec, a blending grape from Bordeaux but also notable in the wines from France's Cahors appellation. The grape was first introduced to Argentina by Miguel Aimé Pouget in 1853 from cuttings he brought from Southern France. In the temperate, dry and sunny climate of Argentina Malbec found a new home producing bold and fruit-forward wines quite different than anywhere else in the world the grape is grown. Used in Bordeaux as one of the six blending grapes, Malbec is almost always made on its own in Argentina. Malbec produces full bodied wines of deep color, good tannic structure and rich plum and blackberry flavors.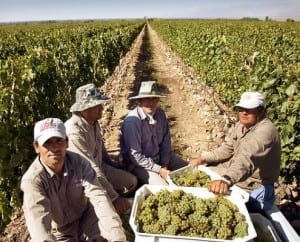 But Malbec is just one of the grapes that has found a home in the foothills of the Andes. Bonarda is another imported variety with an interesting back story. Brought to Argentina by Italian immigrants the grape is not the same as Bonarda grown in Italy but is a different grape know as Charbono outside of Argentina. Wines made from Bonarda in Argentina are slightly earthy and lighter in structure than Malbec with black cherry and blueberry flavors. Naturally higher in acidity, Bonarda makes a nice wine for pairing with food.
The signature white grape of Argentine is Torrontés which was recently identified in DNA testing as being a cross between Muscat of Alexandria and Criollas. Most likely imported hundreds of years ago from Spain, Torrontés makes highly aromatic wines that suggest its Muscat lineage but most often is made in a dry style. If not handled correctly, the wine can finish with a slightly bitter note similar to Gewürztraminer. But many winemakers have mastered Torrontés making some unique and food friendly wines that are good values.
Today Argentina is the fifth largest producer of wine in the world. The industry has grown to include over 1,500 wineries but two large producers make up about 40% of the total wine made today in the country. Since modernization in the late 1990's, lower quality grape varieties have been replaced with grapes to make wines more attractive to export markets. Overall vineyard yield has also been reduced over this period further increasing quality.
Malbec is a good introduction to the wines made in Argentina but I also encourage you to try the aromatic and unique white Torrontés and earthy and fruity Bonarda. All of these wines are available at any good wine store and many grocery stores.
Tim Elliott
Tim Elliott is a marketer, blogger, and podcaster based in the Twin Cities. In 2004 he created Winecast, the first wine podcast, which is also a wine blog. He has also written about wine for Minneapolis City Pages and Vineyard & Winery Management Magazine.