PARTNER POST: We've teamed up with Bonne Maman to bring you the best homemade breakfast and brunch recipes to show Mom you care this Mother's Day and all spring long.
Almost like a tea cake, this sweet treat is baked with orange zest, apricot preserves, and pistachios and topped with cashew cream. It's the perfect baked good for brunch.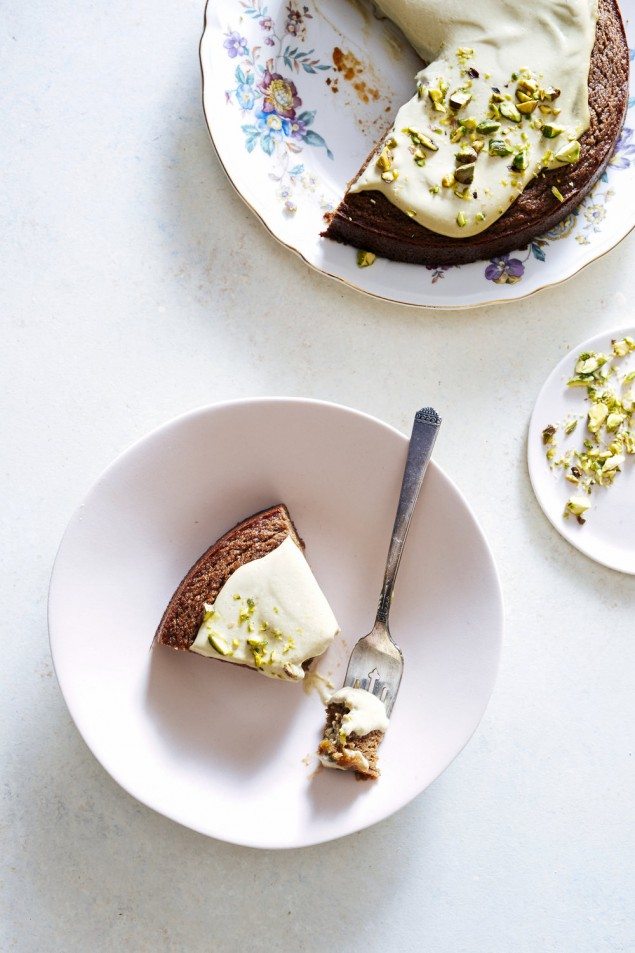 Brunch, to me, is always homemade. As much as I get the appeal of being served (especially in the morning hours), the best breakfasts are the ones I've made myself or for others. This cake, inspired and adapted from "Liz Prueitt's tartine cake", includes little pockets of apricot jam dolloped throughout (a truly lovely use for the preserves in your fridge.) Although I've only just begin experimenting with Teff flour, I can already see it becoming a staple in my kitchen. It's whole-grain & earthy, something that could easily take the place of buckwheat in my own recipes.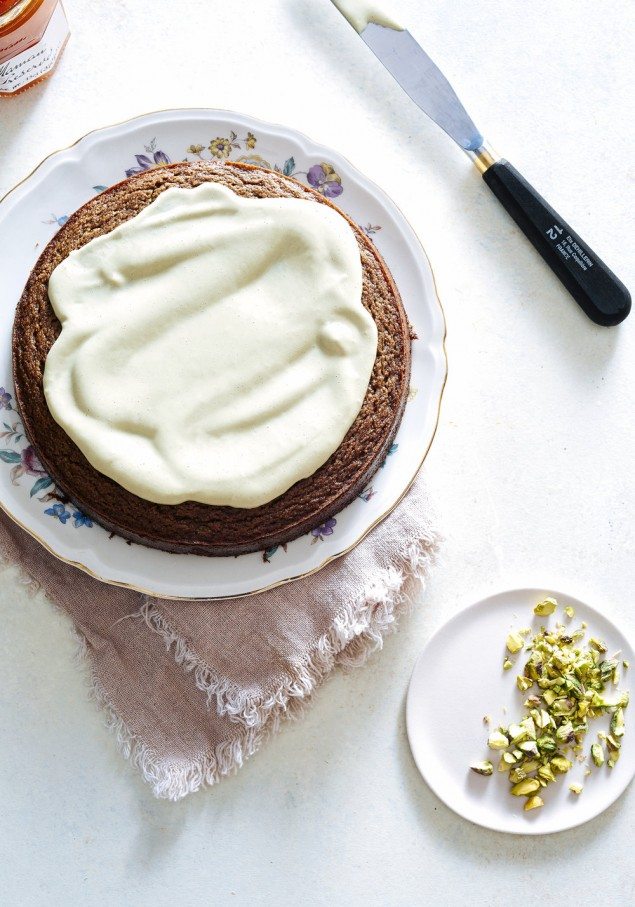 The cake is somewhere between a layer cake and tea cake, slightly sweet, but still decadent. So, it's perfect for a special occasion or brunch (Mother's Day perhaps?). It's topped with a orange blossom cashew cream & toasted pistachios for crunch (& the pop of color doesn't hurt). If you do dairy, this would delicious with whipped cream because really, what isn't?
Bonne Maman is giving away a gorgeous 12-piece set of Le Creuset cookware plus many other goodies (over 1,000 prizes!) on their website. Click below to enter! Who doesn't love beautiful cookware?!

For more recipe ideas, check out these fun toasts.
Apricot and Pistachio Cardamom Cake
Almost like a tea cake, this sweet treat is baked with orange zest, apricot preserves, and pistachios and topped with cashew cream. It's the perfect baked good for brunch.
Ingredients
CAKE
3 cups almond flour
1 cup teff flour
¼ cup arrowroot flour
1 teaspoon baking soda
2 teaspoons cardamom
¾ teaspoon sea salt
1 cup plant (or dairy) milk
2 teaspoon apple cider vinegar
½ cup coconut sugar
½ cup maple syrup
4 large eggs
2 teaspoons vanilla
2 teaspoons orange zest
7 small spoonfuls apricot preserves (about 1 tsp. each)
⅓ cup toasted pistachios, chopped
CASHEW CREAM
1 cup cashews, soaked for 4-6 hours
½ cup pistachios, soaked for 4-6 hours
1 cup plant (or dairy) milk
1 teaspoon vanilla
2 tablespoons maple syrup
1 teaspoon orange blossom water
1 tablespoon lemon juice
1 teaspoon lemon zest
Pinch of salt
Instructions
Preheat oven to 350F.
In a large mixing bowl, whisk together flours, baking soda, cardamom and salt.
Measure out plant milk in a pyrex of small bowl, then add apple cider vinegar & set aside. In a separate bowl, whisk together coconut sugar, maple syrup, eggs, and vanilla. Whisk vigorously for 1 minute or a ribbon of beaten eggs should trail back into the bowl. Stir both wet ingredients into dry and mix to combine well - making sure there are no lumps. Zest 2 teaspoons worth of orange zest into the batter & mix well.
Pour batter to a greased 9 inch springform pan. If your preserves are too thick, dilute with a little water to thin. Dollop about 7 spoonfuls (about 1 tsp. each) evenly overtop the cake. Bake for 40-45 minutes or until browned. The cake will bounce back slightly when you press it & a toothpick (poked into the center of the cake) should come out clean.
For cashew cream, drain soaked nuts and rinse. Add to a high-speed blender with remaining ingredients. Blend very well - until super smooth and whipped. Serve cake with toasted pistachios and cashew cream.