Make a homemade mustard with dried apricots and serve with perfectly crispy fried chicken on a buttery biscuit.
By Mallory Leicht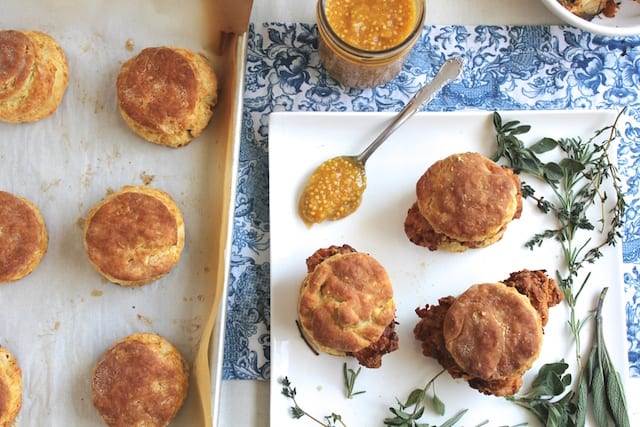 This all started with craving for apricot jam and slowly transformed into an excuse to dish up fried chicken, which happens more often than not; I love fried chicken. I have very sweet memories from childhood of fried chicken and roller coasters because my family would venture to Six Flags St. Louis theme park once every summer and we couldn't do so without packing fried chicken.
When lunchtime rolled around, we migrated back to the parking lot for a packed picnic lunch of fried chicken that we enjoyed cold from iced coolers packed in the family minivan.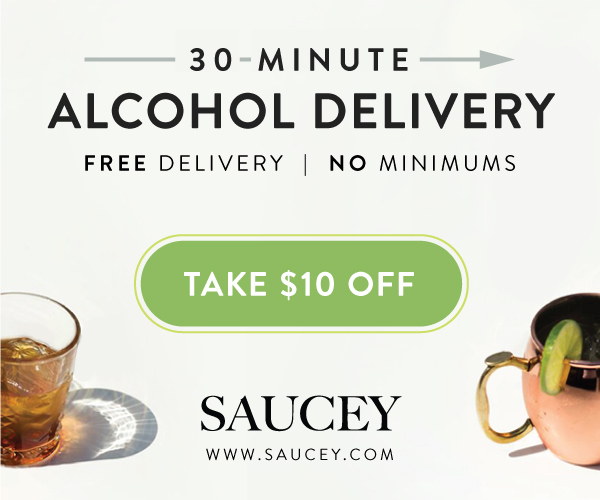 Getting back to today and the apricot decisions, I opted to postpone apricot jam until summer when I can get fresh, in season apricots from the market to bring to a sweet stovetop simmer. Instead, I put together an apricot mustard from dried apricots. The mustard seeds and dried apricots take a few days to hydrate in a bath of white wine and apple cider vinegar, but the result is glorious. The biscuits and fried chicken come together in less than an hour.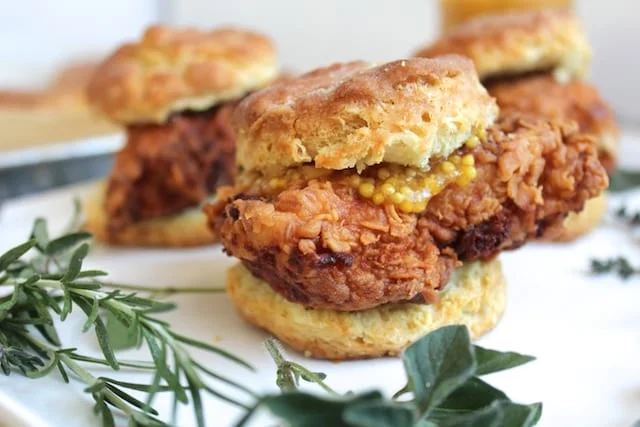 Apricot Mustard and Fried Chicken Biscuits
Make a homemade mustard with dried apricots and serve with perfectly crispy fried chicken on a buttery biscuit.
Recipe Type:
Breakfast, Lunch
Cuisine:
Southern Inspired
Ingredients
Apricot Mustard (Makes about 1 cup)
¼ cup mustard seeds
½ cup dried apricots
½ cup dry white wine
½ cup apple cider vinegar
1½ teaspoons salt
¼ cup brown sugar, packed
⅛ teaspoon nutmeg
Buttermilk biscuits (Makes 12 biscuits)
2 cups flour
1 teaspoon baking powder
1 teaspoon baking soda
1 tablespoon sugar
1 teaspoon salt
6 tablespoons butter, chilled and cut into small pieces
1 cup buttermilk
2 tablespoons melted butter
Herb Fried Chicken (Makes 12 biscuits)
Peanut oil
6 cloves garlic, lightly smashed with skins in tact
6 sprigs hard herbs: thyme, oregano, rosemary
4 large boneless skinless chicken breasts, each cut into 3 pieces
½ cup greek yogurt
1 cup milk
1 teaspoon chili sauce or hot sauce (optional)
1½ cups flour
1 teaspoon salt
¼ teaspoon black pepper
Instructions
Apricot Mustard
Soak mustard seeds and apricots in a glass bowl along with wine and vinegar. Cover with plastic wrap and let soak for 3 days at room temperature. Transfer mustard seeds, apricots, white wine and apple cider vinegar to a food processor. Add salt, brown sugar and nutmeg and blend until the mustard reaches your desired coarseness and consistency.
Buttermilk biscuits
Preheat the oven to 475 degrees fahrenheit.
Sift together flour, baking powder, baking soda, sugar and salt. Using a pastry cutter or your fingertips, cut the butter into the flour until it's the size of small peas. Add buttermilk in a pool in the middle, then mix until just combined. Turn out the biscuit dough on a lightly floured surface and knead gently by folding it in half, rolling out the dough, then repeating the fold and roll two additional times. Cut out biscuits using a 2-inch cutter, place on parchment-lined baking sheet, then brush them with melted butter.
Bake at 475 degrees fahrenheit for 12 minutes. Remove biscuits from the oven and cool on a wire rack.
Herb Fried Chicken
Fry chicken in three batches using a medium skillet. Add 1½ inches of peanut oil to the skillet and set the heat to medium-high. Add garlic and herbs immediately so that they infuse while the oil comes to temperature. Meanwhile, pat dry the chicken and set aside. Whisk together greek yogurt, milk and chili sauce (if using) in medium bowl. Sift together flour, salt and black pepper in a separate medium bowl. Drench the chicken first in the flour, then in the milk and again in the flour. Then fry, baby, fry. The oil is ready to start frying when it sizzles from a drop of water. Fry the chicken for 3 minutes on each side. Check for doneness by cutting into the center of a piece, then adjust heat and cooking time accordingly. It's better to keep the heat in the medium to medium-high range and cook longer than to crank the heat and end up with burnt chicken. Transfer the fried chicken to a paper towel-lined plate, then serve with biscuits and apricot mustard.