Perfectly spiced cinnamon waffles topped with sweet caramelized apples are sure to get you out of bed even on the coldest morning.
By Danae Halliday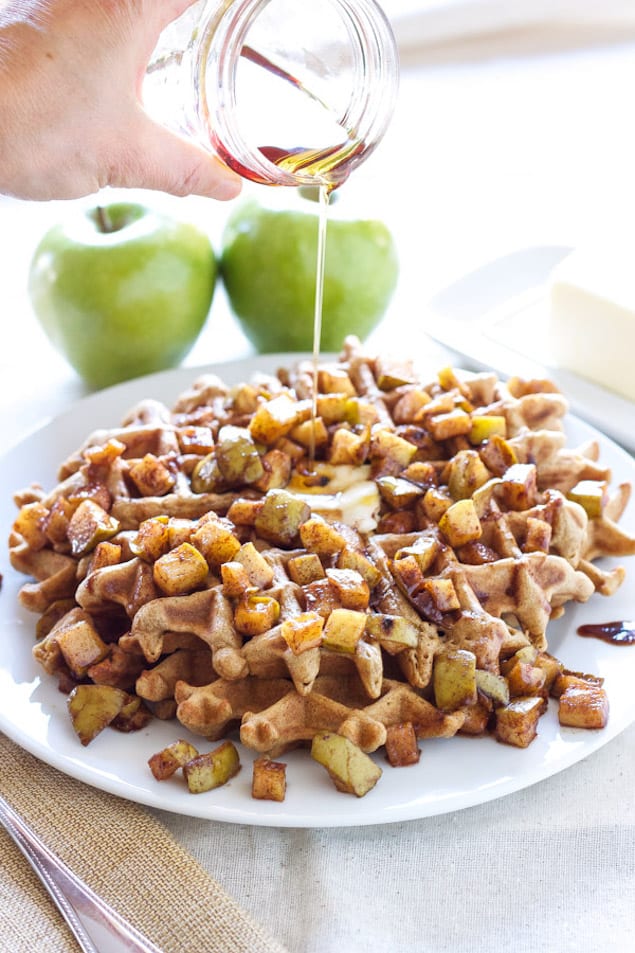 Waffles are a treat for me. I don't usually find myself making them as often as I should. Usually I stick with some sort of omelet for breakfast, but on weekends or special ocassions I like to make a breakfast that is a little more special. Waffles are not only any easy breakfast to make, but they are so versatile as well.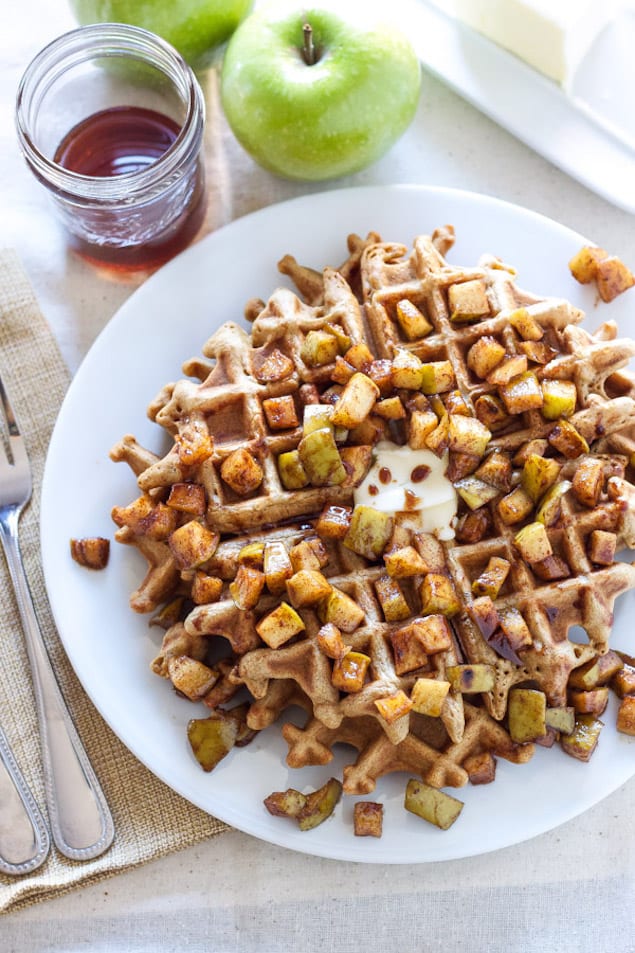 In the past I have always added shredded or diced apple to the waffle batter, but this time I decided to make a special topping with them instead. I wanted the apple topping to remind me of apple pie filling and that is exactly what it did! To make the topping I simply melted some butter in a skillet over medium high heat then added in a diced apple. I then added in brown sugar and some cinnamon. After giving them a quick stir I let the apples caramelize in the pan for several minutes. They smelled incredible, just like apple pie! Once the apples were caramelized and softened, I removed the them from the heat while I made the waffles.
See Also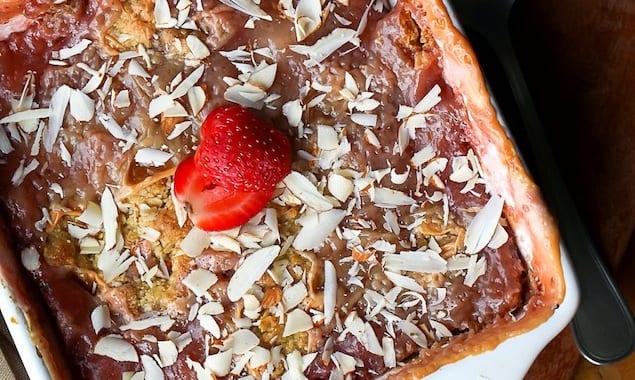 I separated the egg yolk from the white and whipped the egg white into stiff peaks. I find that it makes the waffles lighter and more airy. If you don't have the patience for this step, no worries, you can just whisk the whole egg in with the rest of the wet ingredients.

Apple Topped Cinnamon Waffles
Perfectly spiced cinnamon waffles topped with sweet caramelized apples are sure to get you out of bed even on the coldest morning!
Ingredients
For the Cinnamon Waffles
1 cup whole wheat flour
¾ t. cinnamon
½ t. kosher salt
2 t. sugar
¼ t. baking soda
1 cup unsweetened vanilla almond milk (or milk of choice)
1 egg, separated
1 T. grapeseed oil
1 t. vanilla extract
For the Apple Topping
1 apple, diced
½ t. cinnamon
2 t. brown sugar
½ T. butter
Instructions
To Make Waffles
Preheat your waffle maker.
In a large bowl whisk together the flour, cinnamon, salt, sugar, and baking soda.
In two small bowls separate the egg yolk and white.
In the bowl with the egg yolk add the almond milk, oil, and vanilla and whisk together.
Pour the wet ingredients into the dry and stir together.
Whisk the egg white until stiff peaks form and then fold it into the waffle batter.
Depending on the size of your waffle maker add ¾-1 cup of the batter.
Bake the waffles until they are golden brown.
To Make the Apple Topping
Melt the butter in a medium sized skillet over medium high heat.
Add the diced apple, brown sugar, and cinnamon and stir together.
Cook the apple mixture for about 3 minutes or until the apple has softened slightly and caramelized.
Serve the waffles topped with apple topping and maple syrup if desired.
Danae Halliday
Hi, I'm Danae, the blogger, photographer, and recipe developer of Recipe Runner. Recipe Runner is all about my love of food, cooking, baking, and running. I hope that I can tempt you with my recipes and inspire you with my running stories! Enjoy!