Apple spice cake with cookie butter mixed right into the batter is swirled with a cinnamon and nutmeg spiced cheesecake. Cinnamon whipped cream with walnuts and cookies finish this decadent dessert.
By Kathleen Siegle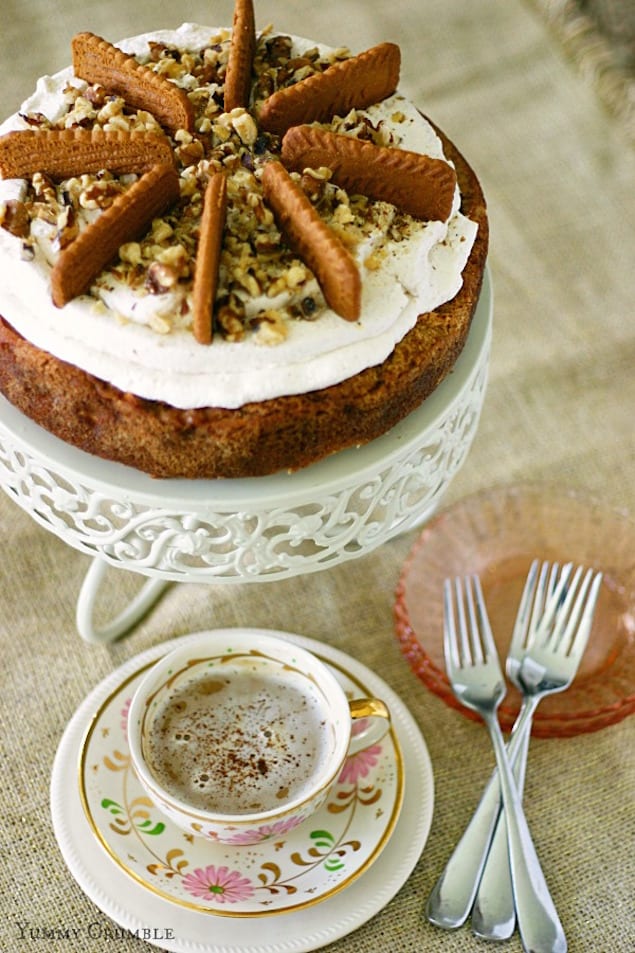 I've been wanting to make something with spiced apple and my beloved cookie butter as soon as I noticed the first signs of fall. Now, what's Florida's first sign of fall you wonder? Why, it's the Starbucks Pumpkin Spice Latte chalkboard sign Ya'll! And yes, said Starbucks chalkboard sign is most likely sweltering in the 85 degree heat. We don't get the "changing of the leaves" you lucky lucky northerners you. If you're sensing some jealousy in my tone, let's just switch to a yummy topic.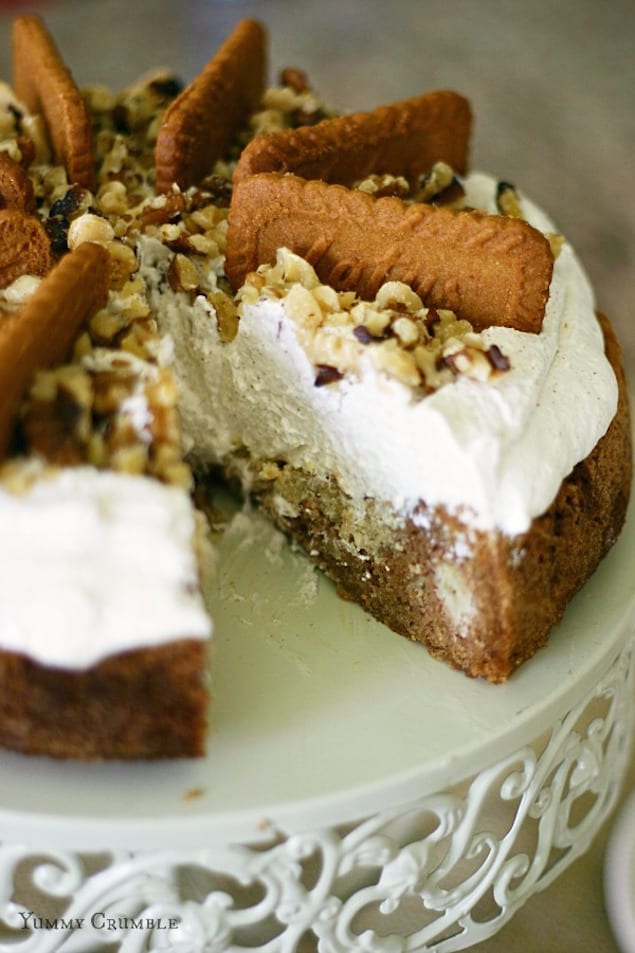 The cake is a scrumptious spiced apple cake with big bits of green apple and a 1/4 cup of cookie butter blended right into the batter. It's insanely perfect. Perfectly insane. Then on top is one of my most favorite things ever in the history of all things. Homemade. Cinnamon. Whipped. Cream.

Apple Spice Cake Cheesecake with Cookie Butter
Apple cake with cookie butter in the batter is swirled with a spiced cheesecake. Cinnamon whipped cream, walnuts and cookies finish this decadent dessert. cheesecake adapted from Scientifically Sweet
Recipe Type:
Dessert, Baking
Ingredients
Apple Spice Cake
½ cup butter, softened
½ cup sugar
½ cup brown sugar
2 eggs
1 teaspoon vanilla
¼ cup Cookie Butter
1¼ cups all-purpose flour
1 teaspoon baking soda
1 teaspoon ground cinnamon
¼ teaspoon nutmeg
¼ teaspoon salt
1 green apple peeled and chopped into ¼ inch cubes
Cheesecake
1 package 8 oz cream cheese, at room temperature
¼ cup granulated sugar
½ tsp pure vanilla extract
¼ tsp ground cinnamon
⅛ tsp nutmeg
1 large egg yolk
1 tsp all-purpose flour
Cinnamon Whipped Cream
2 cups regular or heavy whipping cream (cold)
½ cup powdered sugar
1 teaspoon cinnamon
Topping
Instructions
Apple Spice Cake
Preheat your oven to 350 F and grease a 9 inch spring from pan.
With your electric mixer on medium, with the paddle attachment, beat the butter and sugars until light and fluffy.
Beat in vanilla, then the eggs one at a time.
Beat in the Biscoff cookie butter until smooth.
On low, mix in flour, baking soda, cinnamon, nutmeg, and salt.
Fold in apples and and pour into pan.
Cheesecake
With an electric mixer, beat the cream cheese on medium for a few minutes.
Beat in the sugar and vanilla until smooth and creamy.
Beat in cinnamon and nutmeg.
Next beat in the egg yolk and flour until just combined. Try not to over mix.
Pour cheesecake batter on top of apple spice cake batter and spread evenly.
Put cake in oven and bake for 40-45 minutes or until middle is just set.
Once finished, set aside to cool.
Cinnamon Whipped Cream
Before whipping the cream, place your large metal bowl and whisk attachment in the freezer for about 5 minutes.
Put all ingredients (cream, sugar and cinnamon) in the bowl and whip until stiff peaks form.
Do not over beat.
Piper over entire cake and garnish with chopped walnuts and Cookies.