This is the perfect dish for anyone going apple picking this season — more apples than cake. Even if you don't, it makes a delicious breakfast, snack or dessert.
By Bowen Close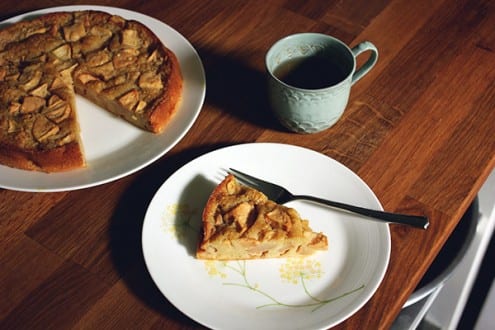 Apple Rum Cake
This is the perfect dish for anyone going apple picking this season -- more apples than cake. Even if you don't, it makes a delicious breakfast, snack or dessert.
Author:
Bowen Close, adapted from Dorie Greenspan
Ingredients
8 Tbsp. (1/2 cup | 4 oz.) butter
Medium sprigs thyme and rosemary (optional)
4 large apples, about 1¼ lb. before peeling/coring
¾ cup (3⅜ oz.) flour
¾ tsp. baking powder
¼ tsp. salt
2 large eggs
¾ cup (5¼ oz.) sugar
¼ cup (2 oz.) dark rum (I usually stock Whaler's in my home bar)
1 tsp. vanilla extract or vanilla bean paste
Instructions
Note: The original recipe specifies using a springform pan to make this recipe. I've used a springform pan, removable bottom cake pan, and a dark metal cake pan, and have found the best results come from the dark metal cake pan. Any of the three is fine, though, just note that since the first two options need to bake on a cookie sheet to protect against leaks, the baking time will be longer.
Heat oven to 350F.
Prepare pan If using a springform or removable bottom pan, heavily butter the inside of the pan and place it on a rimmed baking sheet. If using a regular cake pan, heavily butter and then flour the inside (place a small handful of flour the pan, tilt and shake to coat the bottom and sides with flour, then invert and hit the pan to shake out the excess).
Melt and cool butter: Cut butter into small pieces and melt in a small pan or in the microwave, then set aside to cool while preparing the rest of the recipe. If using herbs, place in the bowl or pan with the butter and remove just before adding butter to the batter.
Prepare apples: Peel and core the apples, then chop into roughly 1½? cubes. Set aside. (Apples may brown while you're waiting to use them, but that's okay.)
Combine most dry ingredients In a small bowl, combine flour, baking powder, and salt. Set aside.
Whisk eggs: In a medium mixing bowl, whisk eggs until slightly foamy.
Add remaining ingredients: Whisk sugar, rum, and vanilla into the eggs. Using a wooden spoon or rubber spatula, gently in half of the flour mixture, then half the melted butter (first removing the herbs, if using), then remaining flour, then remaining butter. Fold in the apple pieces until well-coated with batter.
Bake: Pour/scrape apples and batter into prepared pan and bake for 45 minutes to 1 hour (the cake will bake more quickly in a cake pan, more slowly if using a springform or removable bottom pan on a baking sheet), or until a knife inserted into the center comes out clean. Rotate the cake halfway through (if baking more than one at once, switch shelves in the oven as well). Let cool in the pan on a cooling rack for 10 minutes, then run a knife around the edge to loosen the cake from the pan since apple pieces can easily stick to the sides. If using a springform pan, remove the sides. If using a removable bottom pan, place the pan on a can, drinking glass, or other item taller than the pan and push down on the sides of the pan to remove. If using a cake pan, invert onto a plate or cutting board to remove the cake, then invert back onto a serving plate (or cooling rack, if the cake is still quite hot).
Bowen Close
Bowen Close believes that food should make people happy and healthy, and loves bringing together people with creative, delicious food made from the heart. She loves making farm-inspired, flavorful dishes with sustainable ingredients - whether that's a big plate of roasted veggies, a towering chocolate layer cake, or a cocktail utilizing backyard ingredients - and collects recipes and other food-related stories on her website, Bowen Appétit. She is a chef, cooking instructor, and food writer living in Southern California with her husband and fully stocked pantry.