A cake made with pantry basics, flavored with seasonal fruit and your favorite spices.
Text and illustration by Carol Egbert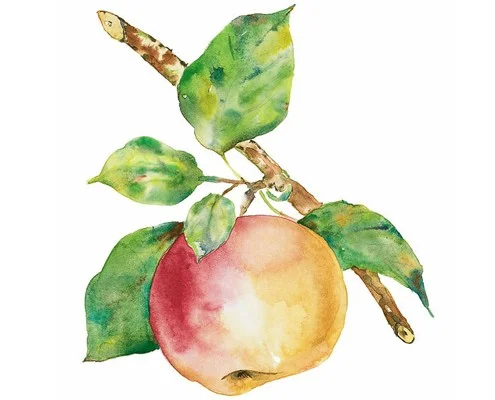 An afternoon snowfall inspired me to make a pot of tea and organize my books. I began by uploading three cookbooks to the virtual bookshelf in my eReader, then, I moved on to the actual bookshelves near the wood stove in the kitchen.
The first book I pulled from the shelf was the 1930 edition of the Chicago Daily News Cook Book that had belonged to my mother-in-law. Tucked inside, I found a grease-stained piece of paper with a hand written recipe for "Crumb Cake with Fruit". It read "Use fingers to mix together 1 1/2 cups flour, 1/2 cup sugar, 1/2 cup butter and a pinch salt. Add spice. Save 3/4 cup of crumbs. Put rest into bottom of pan. Put sweetened fruit on top. Sprinkle rest of crumbs around. Bake until golden."
I had flour, butter, sugar, salt, spices and a basket of apples in the pantry. The books could wait until the next blizzard, recreating this cake was a more interesting way to spend the afternoon.
Served warm with a bit of ice cream, it's perfect for dessert. It can also serve as the centerpiece of a Yankee breakfast. Here is how a Yankee is defined – to a foreigner, a Yankee is an American, to an American, a Yankee is a northerner, to a northerner, a Yankee is someone from New England, to a New Englander, a Yankee is someone from Vermont, and to a Vermonter, a Yankee is someone who eats apple pie for breakfast.
Apple Crumb Cake from the 1930's
A cake made with pantry basics, flavored with seasonal fruit and your favorite spices.
Ingredients
180g plain flour
100g caster sugar
1 pinch of salt
100g unsalted butter, diced
½ teaspoon ground cardamom
4 baking apples, peeled, cored and sliced
50g light brown sugar
Instructions
Pre-heat oven to 220º C/Gas Mark 7.
Use fingers to combine flour, sugar, salt, butter and cardamom until mixture looks like coarse sand.
Reserve 75g of crumb mixture and press remainder into a 20cm springform cake tin.
Combine apples with brown sugar and arrange on top of crumb mixture in tin.
Sprinkle reserved crumbs on apples.
Bake for 45 minutes or until cake is golden and fruit juice is bubbling.
Cool on rack for 10 minutes before serving.
Notes
Vary this recipe with seasonal fruit and choose a spice to complement the fruit - rhubarb and nutmeg, peaches and ginger, blueberries and lemon zest, etc. Serve warm with ice cream or a splash of double cream or as the centerpiece of a Yankee breakfast.
Carol Egbert
Carol Egbert is a writer, painter, graphic designer and cook. Her studio is on a country lane in rural Vermont. During mud season she escapes, for a couple of months, to a flat in Sicily overlooking the Ionia Sea. Her newspaper columns, magazine articles and blog are illustrated with her watercolor paintings – Honest Cooking means beautiful food.