Spiced, sweetened and beautiful in color, this Indian mango yogurt, or amrakhand, is a refreshing dessert or fun yogurt snack.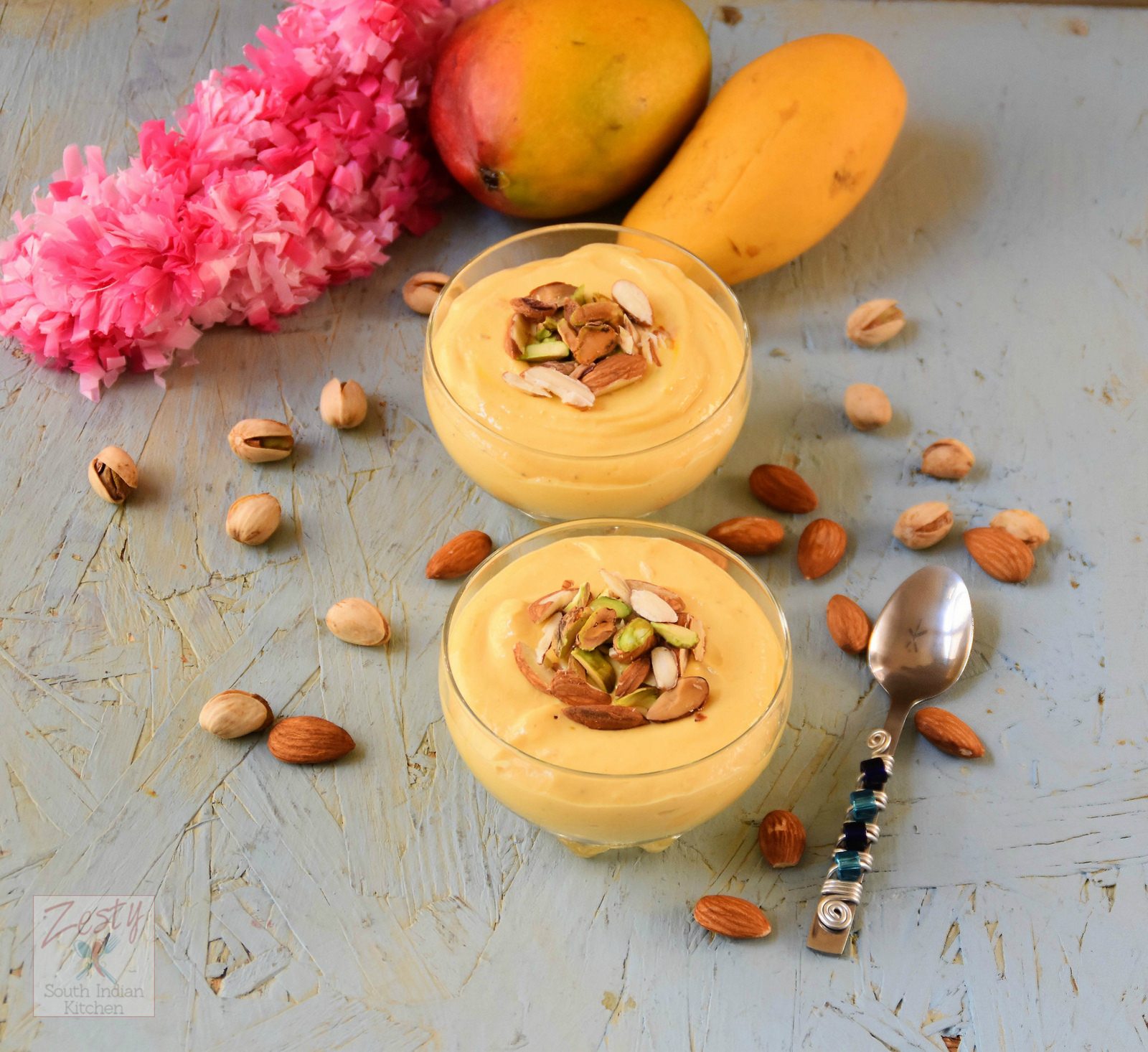 My hubby is from Mumbai, he grew up there. When we visited lasted Mumbai (India) trip he asked his niece to get Amrakhand from the nearby grocery store. That was the first time I tasted those. I didn't have it while growing up. Now I can get delicious mango available in the grocery stores, I asked him if he wanted amrakhand. He immediately said yes and asks me to make it lesser sweeter version.
If you ask me the recipe it is really simple. I have seen several versions, some even with cream cheese. I prefer to use Greek yogurt and I did it the traditional way of making. First made strained yogurt (Chakka) then add mango pulp, sugar, saffron and cardamom, and finally topped it with chopped pistachio and almonds.
I have read that Shrikhand has been referred to as "Shikhrini" in Sanskrit and it has been around in India from 400 BC. Making of shirkhand and amrakhand is same except the later has the addition of mango pulp in it. I think in India this is the flavored yogurt, they have it to cool down during the harsh summer months. I am not a fan of flavored yogurt and mainly like to use plain one. That too homemade ones, but sometimes I buy Danon yogurt from the store. I like to eat yogurt with rice and curries or some time in smoothie.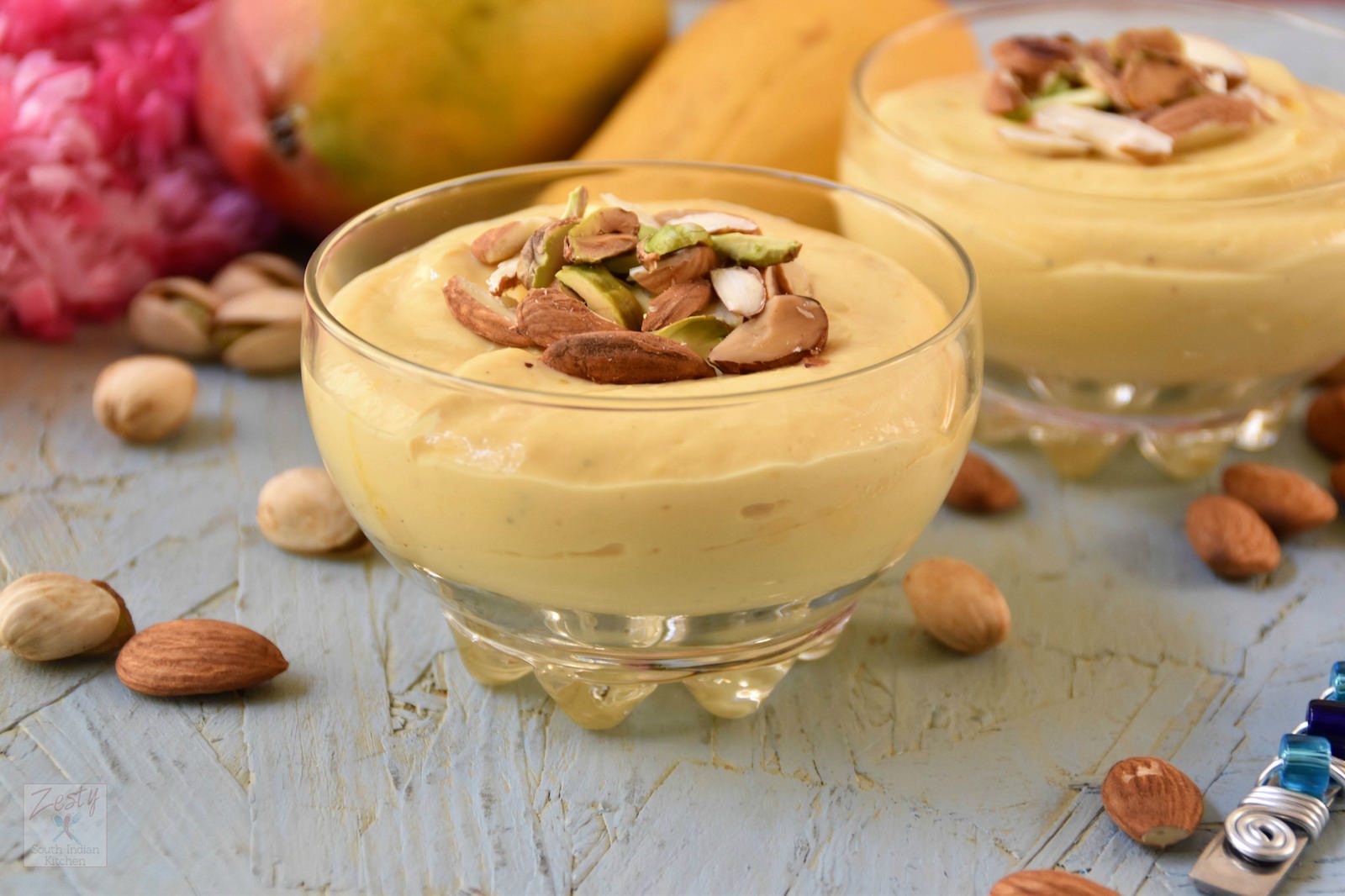 See Also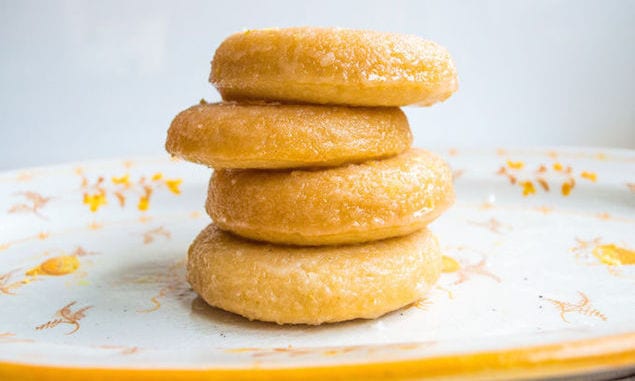 I used the Greek yogurt strain it to remove the extra water content. Amrakhand is really thick and you can have it with scoop of spoon, but the best part is that it is spiced up with cardamom and saffron. If you are in search of simple dessert this one is really good, you can use mango pulp, yogurt, spices and nuts. You can use nuts of your choice. I used salted toasted pistachio and raw almonds. This is great dessert idea for get together too.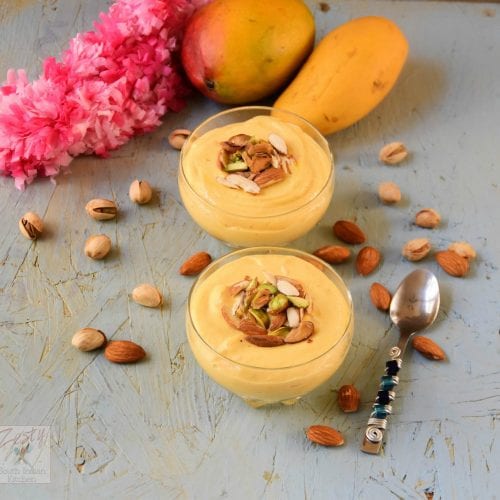 Amrakhand: Indian Mango Yogurt
Swathi Iyer
Spiced, sweetened and beautiful in color, this Indian mango yogurt, or amrakhand, is a refreshing dessert or fun yogurt snack.
Ingredients
1 ½

cup

Greek Yogurt

1

cup

mango chopped

5

cardamoms

A pinch of saffron

1

tablespoon

milk

4

tablespoon

sugar

Powdered not the confectioner's sugar this is slightly sweetened, you can increase the sugar if you want more.
Instructions
Strain the Greek yogurt in a cheese cloth/cotton cloth for 8 hours. This will help to remove the water content from the Greek yogurt.

When you are ready to make the amrakhand, make a puree of mango along with cardamom and set aside.

In a small bowl add1 tablespoon of milk and pinch of saffron and microwave for 10 seconds and set aside for cooling.

In a sauce pan add strained yogurt/chakka, mango pulp, sugar and cooled saffron milk and mix everything. And chill until you ready to use it.

When you are ready to use it add some chopped nuts and serve.
Swathi Iyer
Swathi ( Ambujom Saraswathy) loves to explore cuisines from all over the world, and write about the ones that she and her family enjoyed on her blog Zesty South Indian kitchen. She loves to gives an Indian touch to several of the world cuisine, and has weakness for freshly baked bread. She is also a mom to two wonderful young kids who gives a up or down vote to the food she creates.