Vaughan Mabee is the chef of Amisfield, one of the most remote top restaurants, situated at the bottom of the world. There, the awarded chef tells the story of New Zealand through a tasting menu that exudes flavor, innovation and creativity and that above all things, expresses his love and respect for nature.
Most people have only seen the beautiful lands of New Zealand through a screen. Instagram, traveling shows, National Geographic or the Lord of the Rings sagas are most of the main connections this incredible country has with the rest of the world. And yes, it is as majestic and cinematic as you imagine it. Queenstown, in the southern island and a part of the Central Otago-region, is the house of Amisfield, the restaurant where local hero Vaughan Mabee cooks dishes that smell, taste, look and feel like his motherland.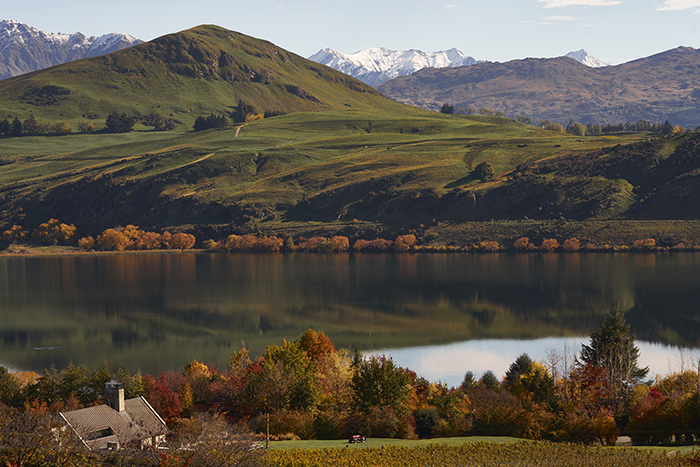 In 2022, Mabee maintained the most coveted three hats status awarded by the Cuisine Good Food Awards in his country, on top of winning Restaurant of the Year and the Innovation Award. This year the accolades continue as he became a new candidate for the Best Chef Awards 2023, a list that ranks the top 100 chefs of the world voted by fellow chefs and industry experts from all over the globe. These awards come to confirm that uniqueness, originality and hard work pay off and that a talented and passionate chef can single handedly elevate the entire culinary status of a country by dreaming big and being authentic.
In Mabee's world being authentic means being hyper seasonal. It means including his traditions and customs into the day to day operation of Amisfield. It means loving nature, the way kiwis love nature and honoring it in every single dish. It means foraging, gathering, fishing and hunting what he cooks. Those are the real values of his work in Amisfield and what makes a meal there a majestic, natural and surprising food experience.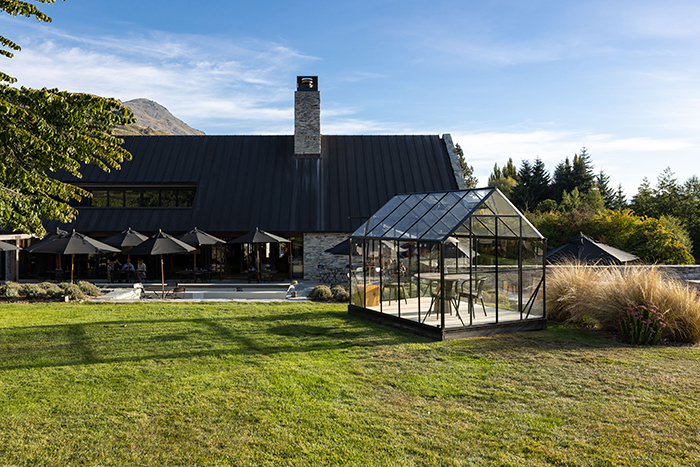 Self Discovery
The beginning of Vaughan's story is not nearly as unique as his present or as his creations in Amisfield. It's the classic story of the kid that didn't see eye to eye with school, moved on to working in a restaurant and without suspecting it, found his passion and purpose. A source of curiosity, hunger and drive that again, like in most cases, led him to embarque in an adventure far away from his native Auckland.
When he was seventeen years old he moved to America and found a new home in California, where he evolved through working in all types of kitchens and restaurants. When he was twenty six he was already in charge of a massive operation in a luxury hotel, with over four restaurants and fifty chefs to his charge, and it was then when he really fell in love with fine dining and the complexity of that side of the industry, which naturally led him to Europe.
"I moved near San Sebastian and I took a post working as a demi chef in meats with Martin Berasategui in Lasarte-Oria. He knew that I had been a chef for quite a while and asked me to cook him a few things because the Spanish chefs didn't speak English. After a year doing service in this 3 star restaurant. He said: Hey, do you reckon you could cook these things for me? And he gave me a few cookbooks from the French Laundry or the Fat Duck, just certain things that he wanted to taste, but no one could do because they couldn't read the recipe, and so it started. I was running R&D in a kitchen below the restaurant. We had like two weekly meetings and I'd give him the recipes and sometimes he would hate it and sometimes he would love it and we would share some champagne and yell GARROTE!", explains Vaughan.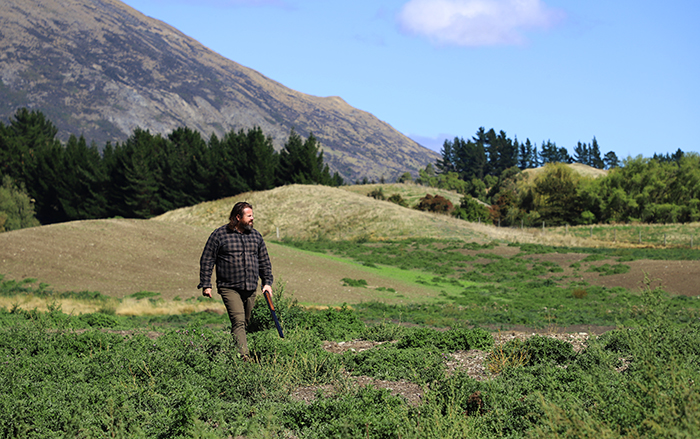 Homecoming
After spending his years with Martin Berasategui, Mabee changed locations to Denmark, specifically to Copenhagen, where he went all-in at Noma. As he explains, Noma was a completely different restaurant at that time, 2009, and he was a part of a group of only sixteen chefs. He started with the typical intern tasks and quickly became the chef in charge of snacks after doing time in pastry. Vaughan has huge respect for Rene till this day.
"René put me as chef de partie of snacks and it was very cool, running the snack station. It was pretty hectic, as you can imagine. I can't even remember how many snacks there were, but there were a lot. And so I did that for a few months. Then we became the number one restaurant in the world. It was a great experience being there as part of the team when that happened because it made you feel pretty good. But quickly after, I felt like I wanted to go home. And I left Noma in 2010." tells Vaughan.
In America he learned about organization and had a first encounter with truly fresh, quality produce. In Spain, Vaughan learned to embrace tradition and to be proud of his own roots, and in Copenhagen the chef learned about the power of being driven and how a leader can transmit that to his team to achieve greatness. Those are the lessons that the now winner of the best chef in New Zealand still carries with him every day into the kitchen of Amisfield. But over a decade ago, when he was just coming back home with no plan or no personal cooking style, his life just felt like a confusion of other cultures and other people's ways of doing things. Like the grapes that grow on the Amisfield vineyards, he needed time to develop, reconnect with his land and create his own path.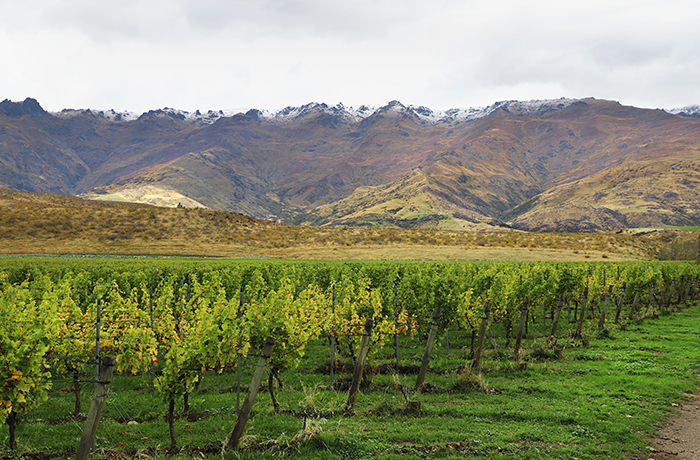 Finding a Voice
When Vaughan Mabee returned to New Zealand after almost fifteen years of adventures and hard work, his curiosity and competitiveness led him to take a tour down south into nature, away from his native city of Auckland. There he found Amisfield that at the time had a completely different approach. He saw it as an opportunity, a canvas that at the time had an Italian influenced kitchen that had nothing to do with its surroundings. It was his chance to reconnect with his land and slowly create his own voice.
"I took this job when I was 31. And I was like, what am I going to do? Who am I? I was starting fresh and I wasn't following anyone. I'm in the middle of nowhere and everything else that I like is way above me. I kind of felt like the underdog. I'm away. I've got this beautiful stone building that's surrounded by vineyards, lakes, mountains and farms in the middle of nowhere. And I don't care how long it's going to take me, but from the bottom of the world, I want to rise to the top. I considered it a huge challenge. And it has been a challenge and a half, and I've been pushing myself for more than a decade and creating what I think is the new frontier of food. New Zealand is an underdog in the food world and my challenge is to change that." says Mabee.
With that motivation he created what is now a unique type of food. His philosophy is showing New Zealand through his cooking. Like the animals that live freely on his island, he also feels a sense of freedom from being so far away from everyone and everything. Away from the noise and the influences. With no boundaries to create and to transform New Zealand's own endemic flavors into fine dining and to turn every meal a guest experiences in Amisfield into a brand new experience, one that they can only have in Central Otago.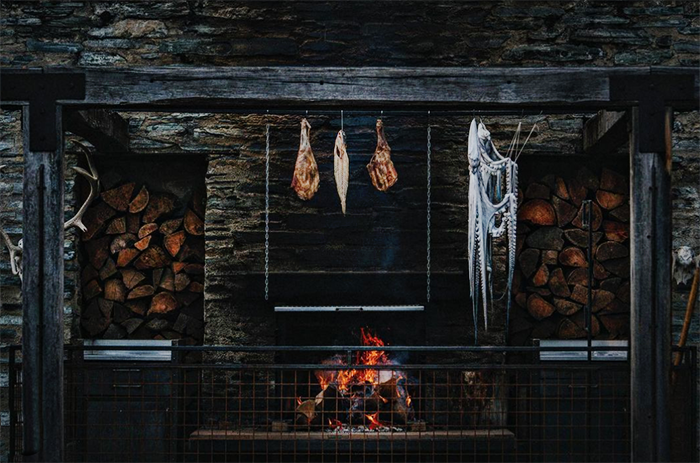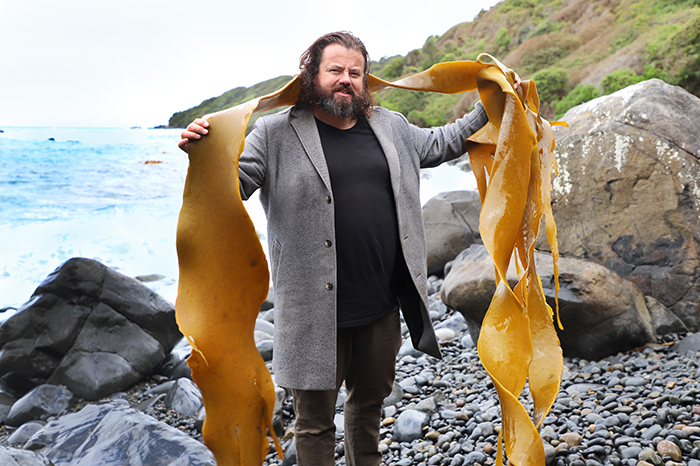 A Child of Earth
It's a crazy concept but some people are never going to get to experience nature like Vaughan does every single day. To millions of people, meat is another product from the supermarket like soap or toilet paper and they never make the connection because they've simply never seen the animal in real life. Maybe that's the reason why a city person can eat meat every day of his life but can't handle hunting or the killing of animals. It's a complete disconnection. Mabee is well aware of how important that connection to nature is to him, his family and his project and considers it for every single thing he does in life.
When you're around so much nature and part of your upbringing, culture and life is to hunt and to share with living breathing animals around you, or to go fishing and to go to the sea, the meaning of loving and respecting nature changes. It's definitely a touchy and controversial subject but Vaughan is very clear on what loving nature means to him and for his cooking. For him, fishing and hunting is a part of the mise en place and there is no other way.  Vaughan has close relationships with fisherman and hunters sometimes he hunts with to keep the wild touches on his menu. There are several aspects that Mabee highlights when he talks about hunting: The amount of wild animal life in New Zealand, the type of life these animals have compared to the farmed ones most people are used to eating and most of all, the respect he has for it.
"When you put in the work to kill an animal, the perspective changes. I'll look at the animal and I'll pick which one I'm going to shoot. For example I'll look for the older, bigger deer. And I think to myself: This guy, he's had an amazing life. He can go wherever he wants to go. He has amazing food in New Zealand because it's so green here. He gets to have a family… It's like he's got everything that a human wants. People aren't free, they're sitting at a desk all day and they hate their job. This guy, he's what I want to be. He's got complete freedom and he's just living exactly how he wants to live. And when I shoot that animal, when I eat that animal or prepare it for our guests, it tastes different from a farmed animal. It's been in the wild. It's been able to eat all this different food. It's not just in a field, trapped. It's free. So it has this flavor that a lot of people in big cities have never tried before and can only try here."
In a way, New Zealand reminds you of Faroe Islands, a place where nature is completely intertwined with everything, where the traditions and customs seem to be more sustainable and healthy than most other places, but that at the same time raises a lot of controversy and seems to be misunderstood by outsiders. The truth is that it's in places like these where I've experienced a true and real respect for nature. An appreciation of what is taken from it and a true sense of responsibility for making the most out of it, without waste, excess or abuse. A truly sustainable and functional ecosystem where, yes, even fine dining can be included.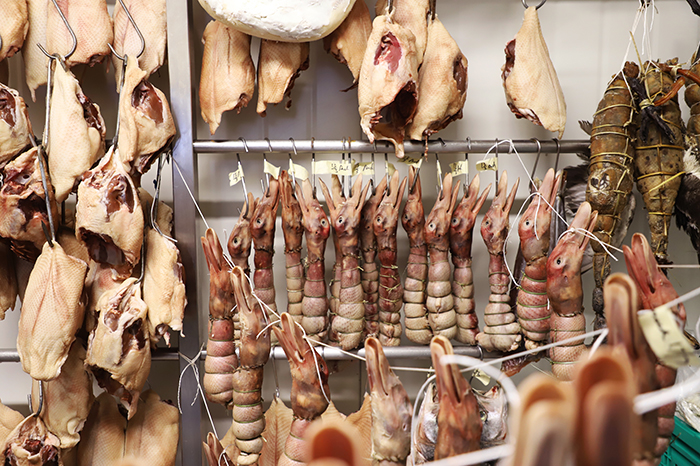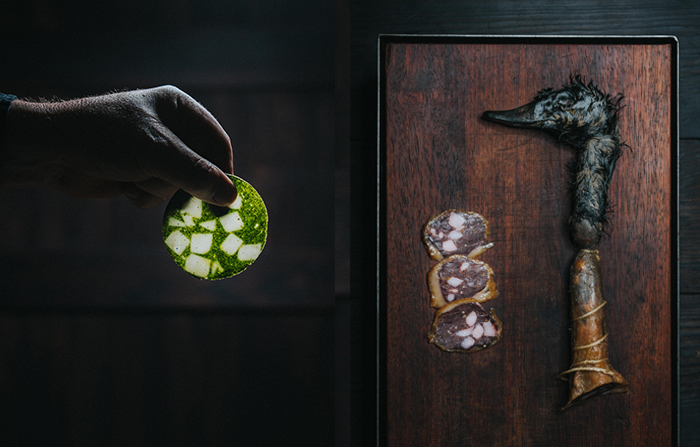 The Taste of Amisfield
The first bite in Amisfield's menu is a show of intentions. It's a cone made with Greenbone, an endemic species, and cold horseradish from their garden that comes to the table using three greenbone heads as plates. It's the first punch of flavor and identity that Mabee uses to set the tone for what's to come. A rock with bright blue baby paua or abalone comes to the table. They are slightly warmed and served whole to get the true flavor of the paua abalone, that's also native to the island and they are brought from Bluff, a seaport town in the most southern parts of the country. The wines of Amisfield's organic single vineyard and other great wineries in New Zealand and the world create an amazing pairing also.
A truffle milk bread comes with a glass of Amisfield Pinot Gris 2016, then a big moment, a charcuterie board that encapsulates the flavors of the island in different types of cured meats from the land and the sea. Jamón, Putangitangi salami and wagyu tongue made in 2018 and treated like bresaola, with amazing texture and explosive umami. From the sea an incredible Paua Saucisson made out of huge oceanic paua abalone and pepper flavors balanced with wild boar fat.
Amongst favorite dishes were the New Zealand Bluff oyster, a national treasure. The Greenbone with a shoal of Whitebait and Beurre blanc, rich and buttery, and the moment of the whole beast that consisted of going outside and seated under the stars, in front of a big fire to have a piece of, for example, an elk that had been slowly cooking with birch wood and brushed in its own fat for 10 hours, all with a glass of Amisfield's superb Pinot Noir.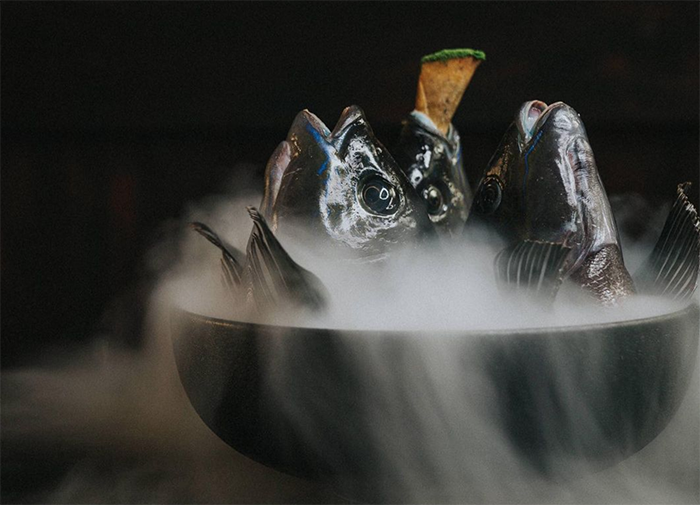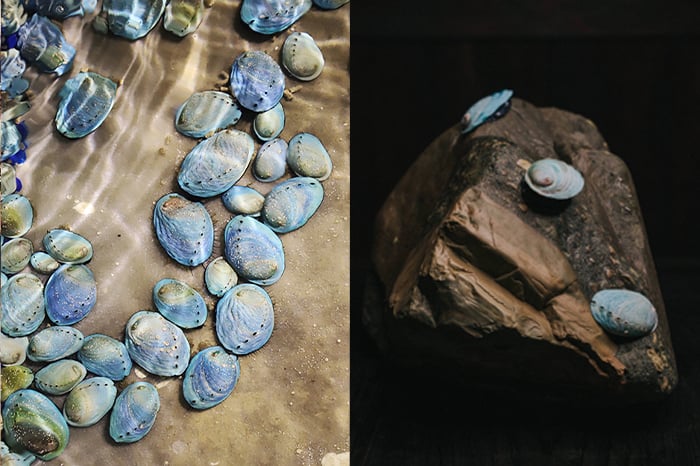 Every dish feels as local and as intense as bungee jumping. Every single one has a story that connects it to Vaughan's love for his own roots and ways. Unapologetically Kiwi, the savory part ends with a lamb's tale confited in its aged fat, covered with a lamb fat wool that disappears in the table with a flame. "The tale is a history of New Zealand farmers eating the lamb's tails and burning the wool over the fires while drinking beer after a long long day. It's possibly the best thing I have ever eaten but you can judge." My verdict: he's right, one of the best things I've ever eaten, too.
The desserts deserve an article to themselves, but to not spoil the whole experience I'll just mention them and leave some things to the imagination: an explosive heritage plum, a huhu grub that makes you feel like a character from The Lion King and a mind-blowing spiker antler made out of deer milk ice cream with blood caramel, a dish that took years to make and that now stands as a grand finale of one of the most exciting and unique fine dining experiences in the world.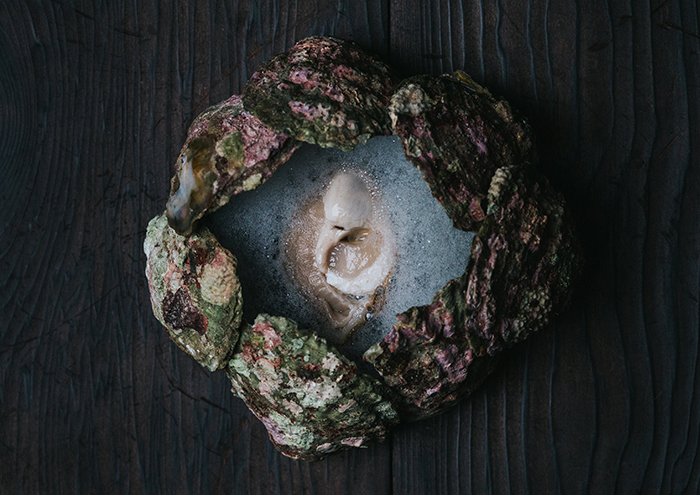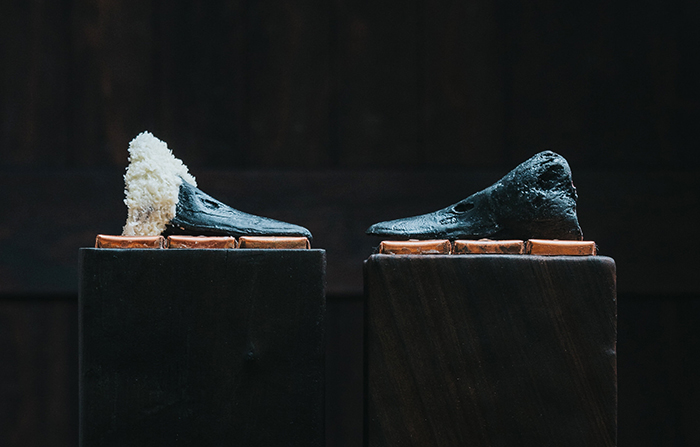 Springtime at Amisfield
Amisfield Winery
One hour away from the restaurant, guarded by the dramatic and imposing Pisa mountain range, you can find the Amisfield vineyards and its winery, a 35 year old project that specializes in pioneering Pinot Noirs. Not nearly as old as the legacy and traditional wineries from Europe, but determined to make amazing juices that reflect their terroir and that translate Central Otago, a spectacular wine region of New Zealand, into the glass.
"The land is hard and our people are pioneers. They were hardy and determined to make it work. We live in the bottom of the world, we're far away from absolutely everything. Imagine when our ancestors came here and found this land. They found nothing and built this nation out of nothing and that hardiness continues through our personalities today, into our determination for working the land and definitely through our wines." Explains Olivia Herbert, an executive member of the Amisfield team.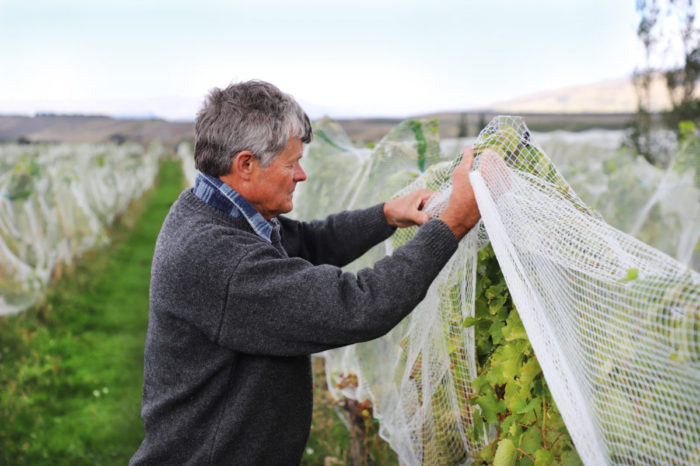 Here the values and philosophy of connecting to nature are as important as in the restaurant. A winery that elaborates amazing new world wines and embraces hyper seasonality to produce around 35,000 cases every year. Quality over quantity – always. Their magnificent Pinot Noirs account for over 60% of the production – the rest comes from Sauvignon Blanc, Pinot Gris, Riesling & Chenin Blanc, all done with as minimal intervention as possible and with organic certification.
Sam Davies, the chief winemaker at Amisfield conveys that being a young winemaking country has been a good thing for them. They have less regulations, traditions and restrictions that limit their creativity and ability to use different methods or techniques. Whilst tradition is fantastic in wine making, it's not good if it becomes stifling or limits what they can achieve and this is exactly where the winery and Vaughan's kitchen cross paths. Mabee also feels this same freedom from coming from a place that still has a long path ahead in terms of culinary culture." It opens the box for us in the kitchen and for them in the winery, to be open minded and to actually create an elaborated Kiwi-food culture and wine scene", Mabee ends.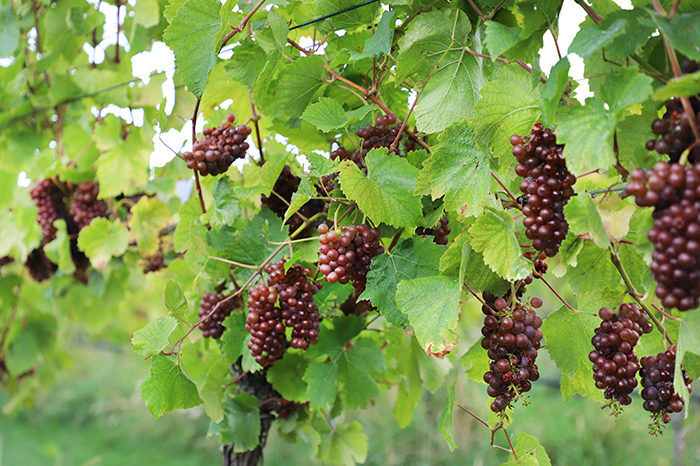 Amisfield Restaurant
10 Arrowtown-Lake Hayes Road, Frankton,
Queenstown 9371, New Zealand
Website