Ambode or masala vada is one of the staple dishes on festive occasions. It is also one dish that can be made and served in a number ways.
By Nandita Nataraj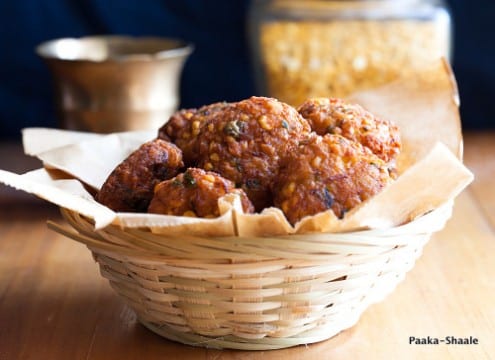 Ambode or Masala Vada
Ambode or masala vada is one of the staple dishes on festive occasions. It is also one dish that can be made and served in a number ways.
Ingredients
Chana dal or bengal gram- 180gm or 1 cup, soaked in enough water for 2 hours
Carrot- 1 small, peeled and grated (optional)
Grated Cabbage- ¼cup (optional)
Rice flour- 2tbsp
Salt to taste
Green chili- 2, finely chopped
Curry leaves- 8-10, finely chopped
Coriander leaves- 2 tbsp, finely chopped
Grated fresh coconut- 2tbsp
Hing- A big pinch
Oil to deep fry.
Instructions
Drain the soaked lentils and pulse in a blender for five to six times. The lentils should not be ground to a fine paste. It is ok if the some portion of the lentil is left whole.
Transfer the coarsely ground chana dal to a large bowl and add the grated carrot, cabbage, rice flour, salt, coconut, green chili, coriander leaves, curry leaves and hing and mix well.
Heat oil in a wok. To check if the oil is hot enough for frying, drop a small portion of the lentil mixture into the oil. If it rises to the surface immediately, then the oil is ready for frying.
Pinch a small lemon sized portion from the lentil mixture, shape them into balls and flatten them slightly in your hands and gently slip it into the oil.
Deep fry the vadas on medium high heat till they are brown on both sides.
Remove the fritters from the oil using a slotted spoon and drain on an absorbent paper and serve immediately.
Repeat the same procedure with the rest of the lentil mixture.
Notes
The use of rice flour is optional. But I feel that rice flour apart from absorbing excess moisture also makes the fritters crisp. You can also substitute, the coriander leaves with mint leaves or the cabbage with onion or corn. Trust me the this is one dish which has endless variations. You can also add a little more zing to these fritters by sprinkling some chaat masala on the fritters before serving.
Nandita Nataraj
Nandita was born, bred and spread in India, but right now lives in Tanzania where her quest for simple and exotic pleasures of food led to the creation of the blog Paaka-Shaale. She believes that food is not just a means to feed a body. But it is also meant to appeal the mind and satiate the soul.