Maple Syrup Cake with Toasted Almonds has all of the flavors of autumn. A little cinnamon, toasted nuts, and the sweet flavor of maple syrup form the seasonal medley. With maple syrup icing, the cake is complete.
By Kristin Rosenau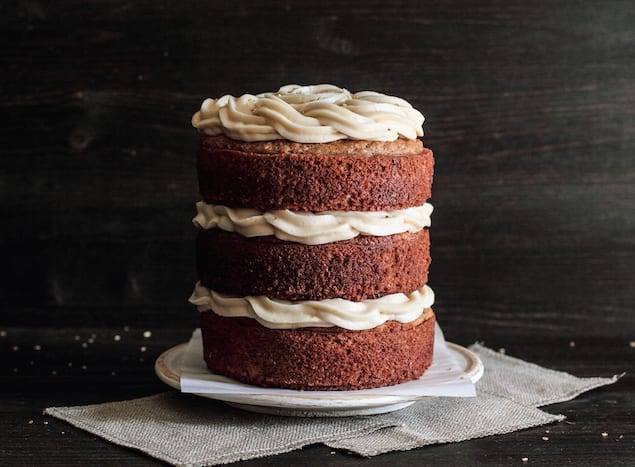 My Canadian roommate introduced me to maple syrup when I first moved to Montreal. You've never tried real maple syrup before? We need to fix that. She poured a little on a spoon, handed it over, and my love for the sticky sweetener began. In the past, I drowned my pancakes and waffles in Aunt Jemima and Mrs. Butterworth's, but pure maple syrup would be my future.
In Canada, maple syrup is considered a standard commodity and is sold in 15 oz cans, perfect for stacking away in the cupboard. When I moved back to the United States, I tucked a stack of cans of maple syrup in my suitcase. Some were for gifts, but most were for myself. After leaving the land of maple syrup festivals, I thought it best to pack away as much as I could before the only syrup I could get my hands on would come in small, maple leaf-shaped containers.
This Maple Syrup Cake comes from Linda Lomelino's newly translated cookbook Lomelino's Cakes: 27 Pretty Cakes to Make Any Day Special. I have been an admirer of Linda's blog Call Me Cupcake since I began blogging over four years ago. Her first cookbook was published in 2012, written in Swedish, her native tongue. I have anxiously awaited the day it would be translated into English. Her love of cake is pure and shines through in the way she creatively layers and decorates her desserts.
I ever so slightly adapted this recipe from her cookbook to suit the ingredients in my cupboards, substituting the almonds for pecans, and using brown sugar instead of muscovado. The maple flavor comes through so beautifully that I had a hard time leaving the cake along long enough to frost it.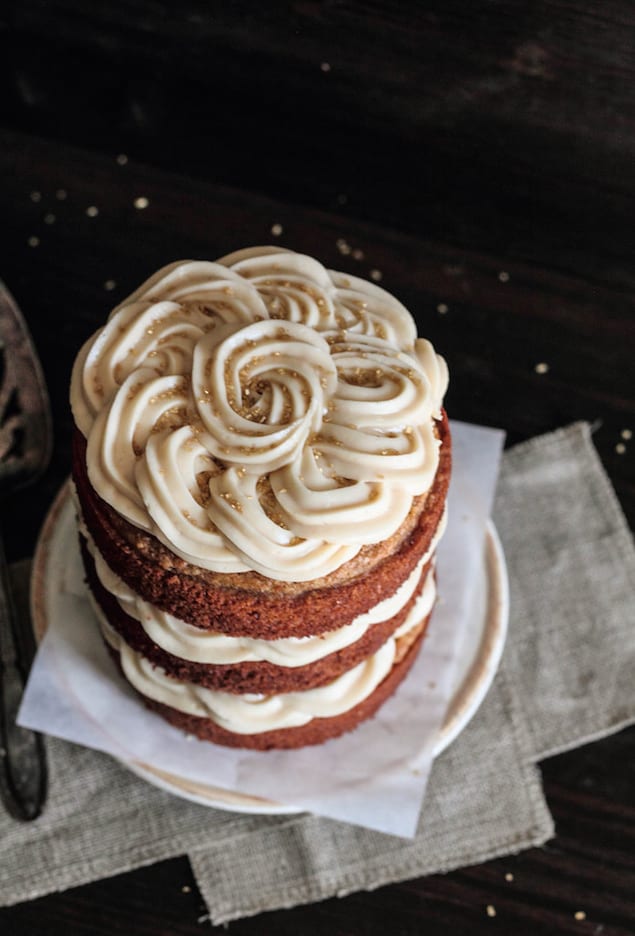 See Also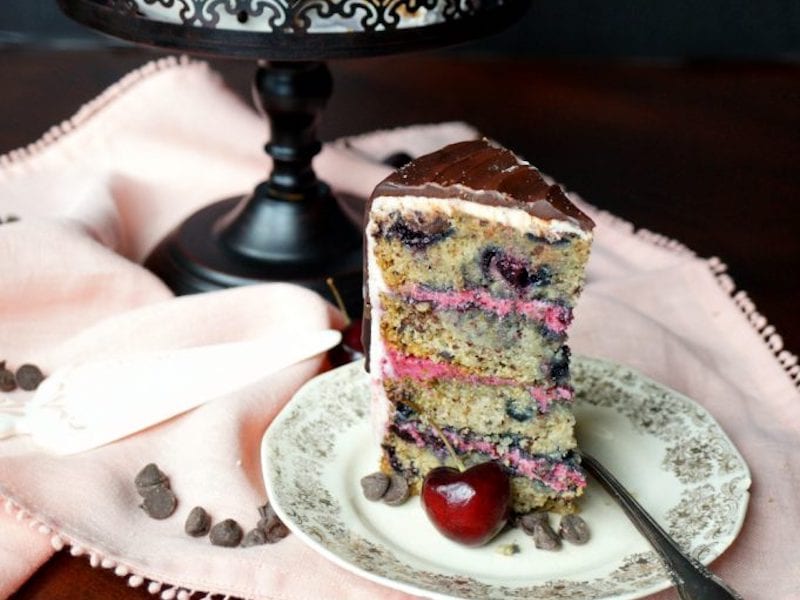 The cake recipe is written for 6-inch pans, but, since they can be difficult to come by, a larger pan could be used instead to make a single layer cake.
Print

Almond and Maple Syrup Spice Cake
---
Author:

Adapted from Lomelino's Cakes: 27 Pretty Cakes to Make Any Day Special

Yield:

Yields

6

-inch 3-layer cake (or

1

layer

9

inch cake)

1

x
Description
This cake has all the flavors of cooler weather. A little cinnamon, toasted nuts, and sweet maple syrup form the medley completed with maple icing.
---
Maple Syrup Cake
3/4 cup

(

106 grams

) whole almonds (or pecans)

6 tablespoons

(

85 grams

) unsalted butter, room temperature

1/2 cup

(

100 grams

) brown sugar, loosely packed

6 tablespoons

(

60 grams

) maple syrup

1

large egg

1 1/4 cups

(

156 grams

) all-purpose flour

2 teaspoons

baking powder

1/2 teaspoon

ground cinnamon

1/4 teaspoon

ground nutmeg

1/4 teaspoon

salt

3/4 cup

(

177

ml) milk
Maple Syrup Frosting (yields about 2 cups)
3

large egg whites

6 tablespoons

(

76 grams

) granulated sugar

1/4 cup

brown sugar, not packed

4 tablespoons

(

40 grams

) maple syrup

3/4 cup

(

170 grams

) unsalted butter, room temperature
---
Instructions
Maple Syrup Cake
Preheat oven to 350 degrees F (180 degrees C). Grease three 6-inch cake pans. Set aside.
Spread the almonds on a rimmed baking sheet and toast for 8 minutes in the oven. Place in a food processor and process until the nuts resemble a coarse flour, about 1-3 minutes. Do not overprocess. Set aside.
In a large mixing bowl, beat the butter and brown sugar until light and fluffy, about 3 minutes. Add in the maple syrup and beat until smooth. Add the egg and completely incorporate it into the batter. Gradually add the flour, baking powder, spices, salt, and finely processed almonds. Stir in the milk until the batter is smooth.
Divide the batter evenly between the prepared pans and bake for 20-25 minutes, or until a toothpick inserted into the center comes out with moist crumbs. Cool the layers in the pans for 10 minutes before transferring to a cooling rack to cool completely.
Maple Syrup Frosting
Place the egg whites and sugars into a heatproof bowl set over a pan of simmer water (or a double boiler). Use a whisk to beat the mixture until it reaches 150 degrees F (65 degrees C), or until the sugar crystals have dissolved and do not feel grainy when rubbed between your fingers. Remove from heat and add the maple syrup.
In a large mixing bowl, beat the meringue until the mixture is cool and thick and forms glossy, stiff peaks, about 5-7 minutes. Add room temperature butter a small amount at a time. Continue beating frosting 3-5 minutes after all butter has been added.
To Assemble
Place first layer on a serving plate. Spoon frosting into a pastry bag. Using a star tip, pipe circles around the top of the cake, beginning at the outer edge and working inward. It's easier to see what you are doing if you start at the outer edge. If you want the cake to be higher, pipe an extra circle around the outer edge, on top of the previous circle of frosting.
Place next layer on top and repeat the piped circles. Place the last layer on top, cut side down, and leave the exterior unfrosted. Garnish with gold sprinkles, if desired.
Category:

Baking, Dessert
Kristin Rosenau
Kristin Rosenau is a baker and science teacher with a serious sweet tooth. She began an affair with butter and sugar fresh out of college and her love for baking has only matured since. The voice behind the blog Pastry Affair, Kristin develops recipes for the home cook, combining classic recipes and homespun flavors with a dash of honesty.