These almond butter stuffed baked apples is perfect for this hectic time of year.
By Nancy Lopez-McHugh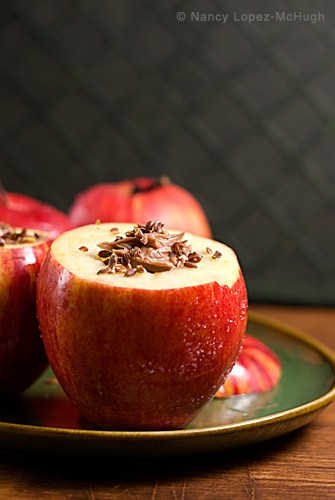 The countdown to Christmas has begun. There are dinner plans, menus, parties, baking, cooking, shopping, wrapping, in-laws visiting and family fighting all to look forward to. Okay perhaps that all sounds a little horrible. If you are American the holiday season begins with Thanksgiving and doesn't end until New Years day. For the rest of us we have about 2 weeks less of that. Regardless it surely is enough to make one crazy and the stress levels to rise.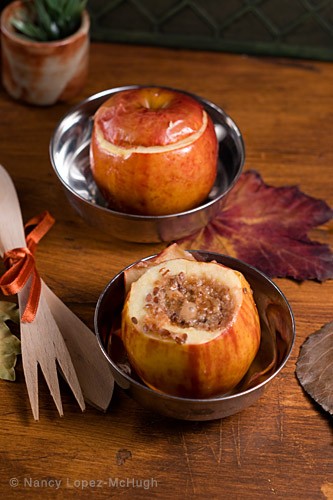 One of the best things you can do for yourself during this season is find easy and most important fast meals to prepare. Lest not forget that everyones sweet tooth kicks into high gear during this season. So the family is going to expect dessert . This almond butter stuffed baked apples is perfect for this hectic time of year. It is fast, easy, delicious, nutritious and most important it satisfies the sweet tooth. How much more perfect could this be? Not much.
Almond butter much like peanut butter or Nutella minus the chocolate. It is a thick paste made by grinding almonds. There are a few varieties like smooth or crunchy and those made with or without toasted almonds. The choice is up to you and personal preference. I used smooth organic almond butter and to give it a little crunch and extra nutritional value I've added whole flax seeds.
See Also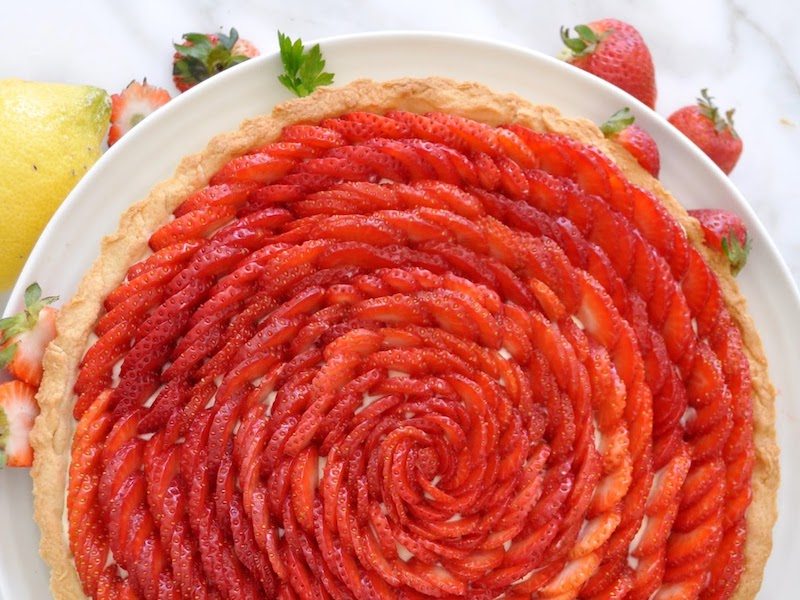 The apples variety used, much like the almond butter, is really up to you. I've used Jonathan or Jonagold apples. They are tasty and hold their shape quite well. If you need a few pointers on the best apples for baking read this article, Baking with Apples.
Do yourself a favor and save some time by baking this easy peasy dessert. Enjoy!

Almond Butter Baked Apples
These almond butter stuffed baked apples is perfect for this hectic time of year.
Author:
Nancy Lopez-McHugh
Ingredients
Apples, properly rinsed
Almond Butter, vegan & organic
oats
EVOO
salt
crushed flax seeds, optional
baking sheet or dish
Instructions
Preheat oven to 200c or 392f and have baking sheet or dish ready. Hold the apples on their sides to cut off the tops, save these tops. Use a small pairing knife to gently core the apples. You only wand to remove the the core but not alot of the apple. Stuff a few oats into the cored bottom of the apple, this is to block draining. Next place about 1 tbsp Almond Butter into the apple core. Sprinkle some crushed flax seeds over the top then use the cut apple top to cover. Place on baking sheet or dish in center of oven.
Bake for 15 minutes or until your apples are soft. Allow to cool slightly before serving.
Nancy Lopez-McHugh
Nancy Lopez-McHugh is a food blogger, photographer and published author. Most recently she has published "Yummy Pics: A Food Blogger's Guide To Better Photos".