A loaf that is slightly sweet and tender with sticky apricot spread, chewy apricot pieces and crunchy almonds.
By Sami Berger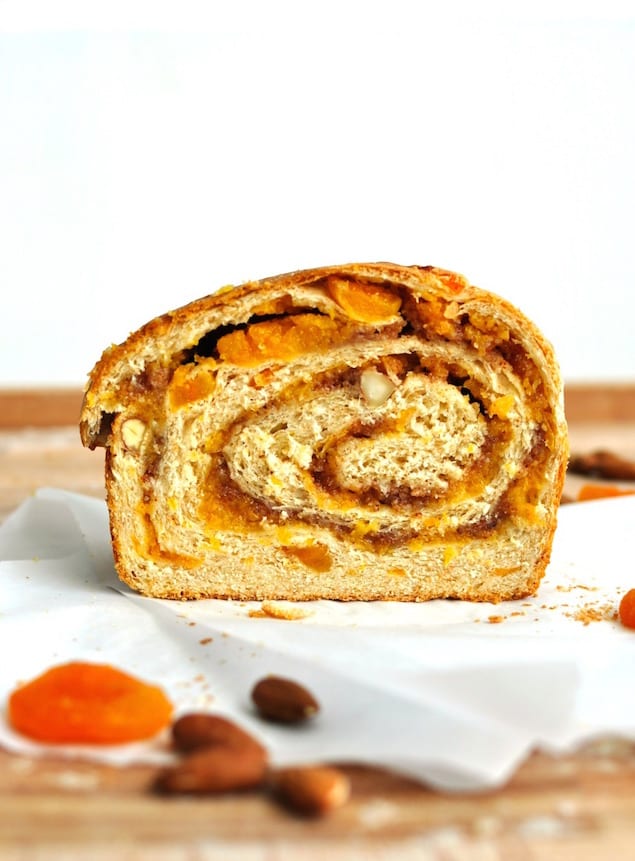 There are a bunch of foods that are perfect blank canvases, that you can make over and over again using the same base recipe and technique and it never gets old. I am sure that applies to a lot of dishes, but when I think of that blank canvas, I think of ice cream and bread. It's not like I have an endless supply of homemade ice cream and bread on hand, but when I am in a creative rut and I think of random flavor combinations (particularly ones that lend themselves to sweet dishes), I can usually turn them into an ice cream or bread creation.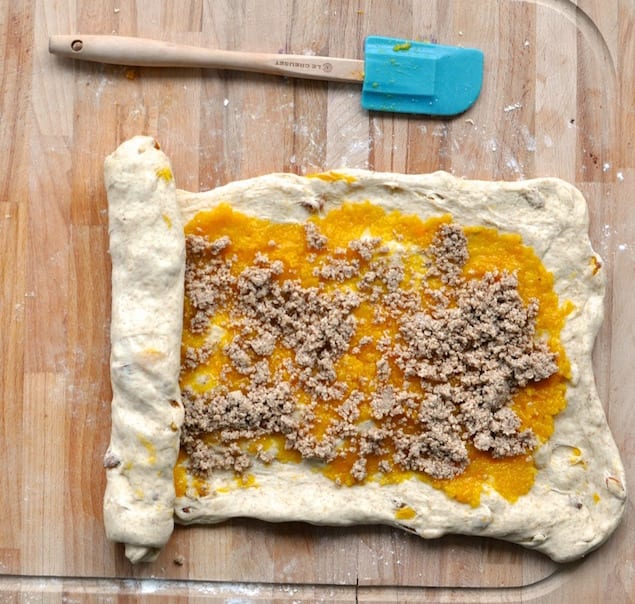 I can very vividly remember the first time I dealt with yeast, and the uncertainty and fear that I felt. Thankfully, the process is so different now. Now, kneading brings me to a zen place, not one of panic. And I can pretty well tell if I have to sprinkle a bit more flour here or there and when things have risen sufficiently. What I'm getting at, is all it takes is a little bit of practice, and the world of breads will be at your fingertips. So, if you are reading this thinking that you will check out some pictures, but will never attempt to make this, give it a shot.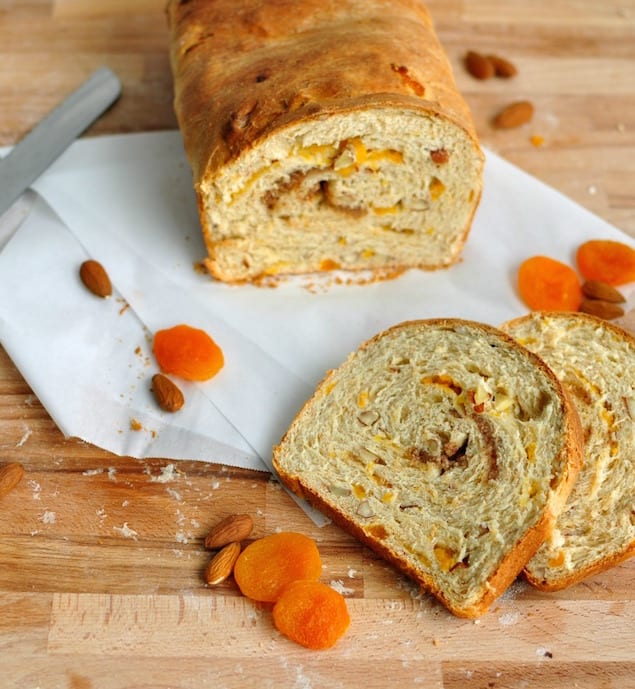 This bread is very delicious. Like a lot of bread that I make, it would be delicious as french toast (that's always where my mind goes…Also, french toast suspicion confirmed: it was delicious). However, it is also awesome as regular toast. Obviously you can smear it with almond butter to make this double almond-y or slather some apricot jam to take it in the other direction (or both of course, I would very much encourage slathering both), but a simple pat of butter would do as well. I actually had it with some havarti cheese and a fried egg for dinner one night (yum!). It is slightly sweet, tender and has some nice texture going on with the sticky apricot spread, chewy apricot pieces and crunchy chopped almonds.

Almond Bread with an Apricot Swirl
A loaf that is slightly sweet and tender with sticky apricot spread, chewy apricot pieces and crunchy almonds. If the dough is too wet, just slowly add a bit more flour (I added about ½ cup). Make sure to distribute the filling very evenly or you will have very uneven swirls. If your apricots are very dry, soak them in some hot water for about 15 minutes.
Recipe Type:
Baking, Bread
Ingredients
1 cup milk (I used 1%)
⅓ cup water
2¼ teaspoons (8g) active yeast
2 tablespoons sugar, DIVIDED
1½ teaspoons salt
¼ cup unsalted butter, melted and cooled to room temperature
1½ cups (275g) whole wheat bread flour
1½ cups (250g) all-purpose flour
200g dried apricots (DIVIDED)
1 cup (120g) + ⅓ cup almonds
2 tablespoons granulated sugar
Instructions
Heat up water and milk until they are at body temperature.
Whisk in 1 tablespoon of sugar and sprinkle yeast over mixture.
Wait about 10 minutes, until the mixture is frothy. If it doesn't froth up it means your yeast is dead and the bread won't rise!
While you're waiting roughly chop 100g of your apricots and ⅓ cup of your almonds (you will knead these pieces into the bread in a couple of steps. The remaining apricots and almonds will be for your filling).
Add sugar (1 tablespoon), salt, and butter to mixture. Mix.
Add flour and mix until the dough starts to come together into shaggy pieces.
Dump dough onto a surface (feel free to flour the surface a bit, but I didn't have to) and knead for about 3 minutes until dough starts to come together. Incorporate your chopped almonds and apricot (I by kneading them into the bread.
Knead for an additional 7 minutes, until dough is smooth.
Place dough in a bowl, and cover with cling wrap or a kitchen towel and let rise for 1½-2 hours, until doubled in size.
In the meantime, grind together 1 cup of almonds and 2 tablespoons of sugar in a food processor until it sticks together when you press it between your fingers (it won't turn to almond butter). Transfer to a bowl.
Place 100g of your apricots in the food processor and process until its become a paste (there may be a few chunks left. Add a splash of water if you need, but the mixture shouldn't be too wet).
Once the dough has doubled in size, remove from bowl and press the dough into a rectangle. The rectangle should be about 6 inches wide and 12 inches long.
Spread the almond paste and apricot paste evenly over the dough.
Roll dough tightly (along the shorter side).
Once dough is rolled, press seam together with your fingers and place in a 9 x 5 loaf pan, seam side down. The ends of the dough should be touching the ends of the pan (see photo above).
Cover and let rise for another 45-60 minutes, until the loaf pan is filled and the dough just crests the lip of the pan.
About 15 minutes before the end of your second rise, preheat your oven to 350F.
Bake for about 45 minutes, until golden brown and hollow sounding when you knock on the bottom.
Let cool completely on a wire rack before slicing.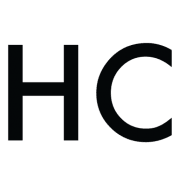 Sami Berger
Sami Berger is the author of My Second Breakfast, a mostly healthy, mostly vegetarian blog. Inspired by her travels and life in a new city, My Second Breakfast is a space to tell stories and experiment with sometimes new, sometimes familiar and most importantly, always delicious, flavours.