Karen Chan with her favorite version of the Mexican classic Tacos Al Pastor.
By Karen Chan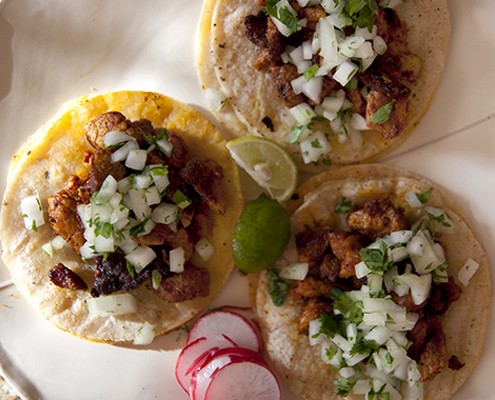 I consider al pastor tacos one of my favorite tacos; always there to satisfy at 2 am off a truck and is blow-your-mind-good freshly sliced off the trompo, a vertical rotisserie al pastor is traditionally cooked on. And then there's the one I had in Guanajuato thatshattered my taco world. The geniuses there melted a thin slice of stringy cheese on the small corn tortilla before piling the shaved meat on top. Holy. Pork.
Al pastor means "shepherd style" in Spanish and refers to the way the meat is cooked. This rotisserie-like pork, marinated in a mixture of chiles and spices, is used in a variety of ways in anything from tacos to tortas (sandwiches).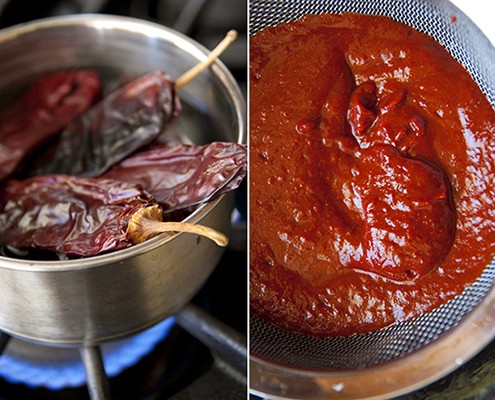 This method of roasting meat is unique to al pastor in Mexico but common in the Middle East where it was brought to central Mexico by early Lebanese immigrants. Pig-friendly Mexican cooks likely adapted this equipment by swapping the lamb or beef that is traditionally used for shawarma for pork. A large pineapple is usually placed on top of the stacked slices of pork which has a natural enzyme called bromelain that tenderizes meat (the grilled pineapple also doubles as a great little topping to the tacos)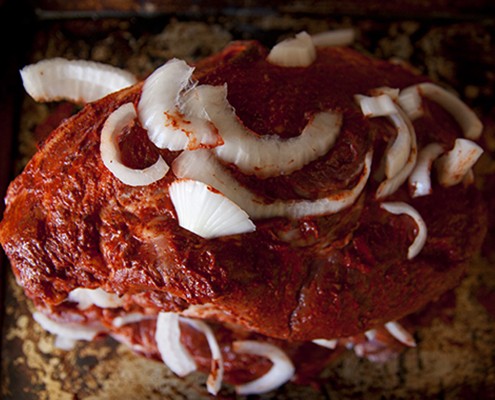 While al pastor is typically something that is enjoyed on the streets of Mexico, this is totally doable at home. This also cooks up great on a BBQ for those last days of summer.
Recipe Type:
Entree, Main
Ingredients
4-5 pound boneless pork butt, sliced into ¼ inch thick slices (ask your butcher to do this)
3 oz of achiote paste (I like El Yucateco brand)
2 guajillo chilies
4 California chilies
½ cup of fresh pineapple juice (buy a whole pineapple and use half for the juice and the other half as a topping to the tacos)
4 cloves of garlic
½ teaspoon of oregano
1 tsp of cumin
1 tbsp of white vinegar
1 tbsp of kosher or sea salt
1 yellow onion, sliced
corn tortillas
2 white onions, finely diced
1 bundle of cilantro, finely minced
sliced radishes
lime wedges
fresh pineapple slices
tomatillo salsa
Instructions
In a small pot bring some water to a boil and add the chilies. Turn off the heat and let the chilies steep until they are pliable.
Take the chilies out of the hot water and remove stems and seeds. Add them to a blender and add the ½ cup of pineapple juice. Blend for a few minutes until very smooth and pass through a fine mesh sieve. It will be a bit thick so use a spatula or spoon and keep stirring the mixture against the sieve.
Pour this pineapple-chilies mixture back into the blender or food processor and add cumin, oregano, garlic, achiote paste, 1 tablespoon of white vinegar and 1 tablespoon of salt and blend until smooth.
In a large bowl or dish, slather thick marinade between layers of pork and add the sliced onions in between, placing each new layer of pork directly on top of each other. Cover with plastic wrap and let it marinade in the refrigerator for one hour (and no more because those pineapple enzymes are powerful!)
In a very large skillet, heat it on high heat until it is scorching hot. Sprinkle a little more salt on both sides of the meat. Sear the pork for 1-2 minutes on each side. Throw in the onions that was in your marinade as well. Your pork should have enough fat on it so you won't need any additional oil but if it doesn't add, just a little to your pan. Sear off all of the pork and then dice them roughly into ½ inch cubes.
Return the diced meat into the pan in batches (don't crowd your pan) and cook the meat until it gets nice and brown about 10 minutes.
Add all the marinating onions and some pineapple slices in your pan, grill or griddle so they become caramelized.
Heat some small tortillas on the pan or griddle.
To assemble your tacos, place two tortillas and pile a little meat on top. Add some onions and cilantro, maybe some tomatillo salsa and some grilled pineapple if you so desire. Buen provecho!
Karen Chan
Karen Chan is passionate about culture and food and explores culinary traditions around the world through her blog, Globetrotter Diaries. As a history buff with a severe case of wanderlust, her travels have exposed her to new and uncommon global foods, which she shares with the world on her own blog as well as on Honest Cooking.