Until recently, the open sandwich tradition of Denmark – known as smørrebrød – was not a thing that ambitious chefs or fashionable restaurants would put on their menus. That was until a young chef started a mission to save what is the most famous Danish addition to the world's culinary map. Now smørrebrød is back in fashion in Copenhagen.
By Kasper Fogh Hansen – Photo By Claes Bech-Poulsen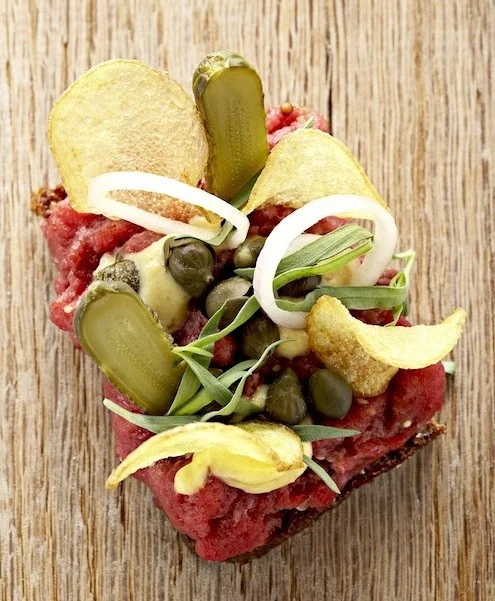 The open sandwich was originally a combination of a working class hero – the rye bread lunch sandwiches of farmers and workers – and the lavish dinners of the bourgeoisie and nobility in Denmark. The urban wealthy made the sandwiches in vogue during the latter part of the 19th century, drawing on an old tradition of serving meats and fish on slices of bread instead of plates.
Restaurants in the Tivoli Gardens in Copenhagen quickly introduced menus with more than a hundred varieties of open sandwiches, mostly on dark rye bread, and these places became the watering holes for Copenhageners on the weekend. The sandwiches strutted with towering combinations of cold meats or pickled and fried fish, some more exotic than appetizing. The tradition was kept alive through the 20th century, primarily by the working class who adopted the tradition both as an inspiration for the everyday lunch as well as the backbone of ordinary restaurants and beer joints.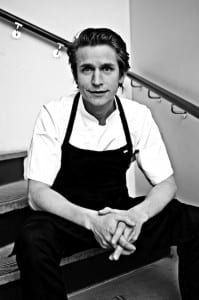 The bastard son of gastronomy
But as time went, and new food trends came along, it was no longer the favorite pastime of young families to eat open sandwich lunches in the flowery Tivoli Gardens. With modern day Danes sitting down in offices without getting sufficient exercise to build up appetite for the rich sandwiches, the sandwiches became synonymous with an antiquated and unhealthy, mayonnaise-loaded lifestyle. Fast currents of new food trends and the arrival of a globalized consumer culture, where every supermarket have shelves of Indonesian, Chinese and Italian foods, left the once popular smørrebrød tradition almost retired and relegated to restaurants with little ambition and a retiree audience.
That was how Chef Adam Aamann found it a few years ago. More than anybody else he has pioneered the resurrection of Denmark's lunch tradition.
"The sandwich tradition had become excessively fatty and meaty, different kinds of meats stacked, few quality products, few vegetables, no herbs, not enough fish and a lot of general sloppiness – a lack of craftsmanship and too many pre-prepared ingredients" says Adam, who started a small take-away joint five years ago with modern interpretations of the classic open sandwiches. He added a fine-dining restaurant three years later. Not many people believed that lunch could be reinvented.
He laughs briefly at the word "modern", an adjective loosely used by food writers to describe anything that stands out. "It's quite funny", he says. "Nowadays modern means making your food from scratch; you would think it would be the other way around".
"I wanted to take lunch seriously," he says, referring to the fact that the midday meal is considered by many fancy chefs to be the bastard son of gastronomy: a laborious and inglorious meal that most top chefs only serve to pay the bills, with their real love being evening gourmet experiences.
The fish nation
Before the industrial and agricultural revolution, which made pig the dominant species of Denmark, the main source of protein in many places were fish and the harvest of the rich seas. Denmark consists of more than 400 islands. "Denmark is fish nation," Adam says. "The farm workers stipulated in their contracts that they could only get served salmon or herring six days a week. They had to demand one day without fish, not to go nuts."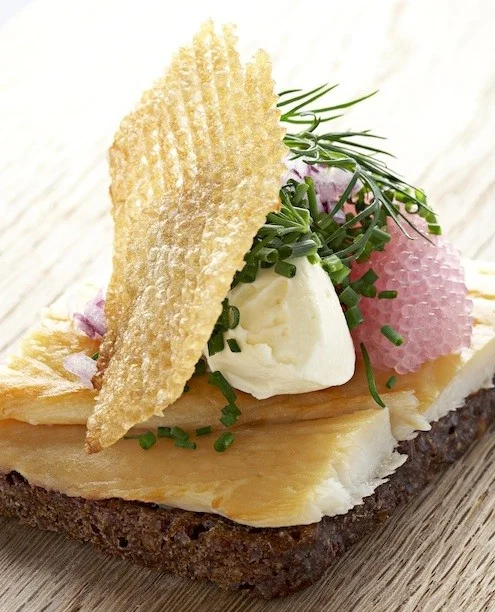 "I try to establish a healthier and better balance between fish and meats. The true charm of the open sandwiches was always variation" he says, showing his own pickled herrings, and pointing to the weever lying besides the fresh herrings on the table. "They're totally cheap and people abstain from them because of their poisonous fins, but I try to include them in my food. They're great. The herring, which many only eat pickled in Denmark, is also remarkable when fresh. Just rub them with some lemon juice and the acid will take care of the little bones really fast. Fry and eat with no hesitation. I think there is a tendency for many Danes to stick to preserved fish products and that's a shame."
A new Nordic food culture
Adam worked for years with Claus Meyer, a gastronomic entrepreneur who started numerous businesses based on Nordic food and the belief that Denmark and the other Nordic countries should explore their own nature and create a culture based on indigenous products. Adam too is focused on developing Nordic food, being of a generation of Danish cooks not looking south for inspiration, but utilizing what their own turf can deliver.
"Actually, the open sandwiches is where the Danish kitchen is the strongest, our lunch tradition is our own. Most people can't mention ten dinner dishes that are really Danish. It's the whole other way around when it comes to the open sandwiches. The most popular combinations and their names are like cultural DNA, everybody knows them, even if many don't eat it anymore," Adam explains. He has written a book with modern recipes for lunch, and has a new book out on how to flavor snaps, the traditional strong Danish spirit.  But the love affair with the sandwiches was also a practical choice.
"As a chef you work late hours and weekends, and you're never home. I had young children, and I needed to find a work-life balance a little more humane. So I figured there might be a niche exploring lunch," he says. Necessity seems to be the mother of invention.
See Also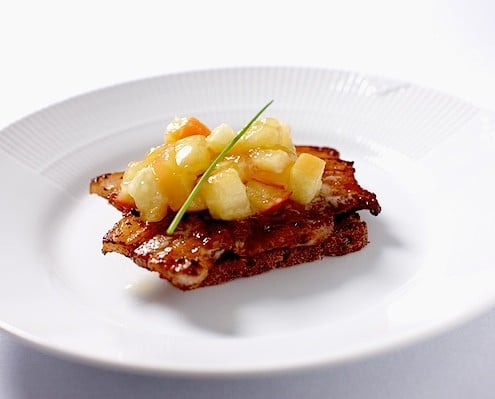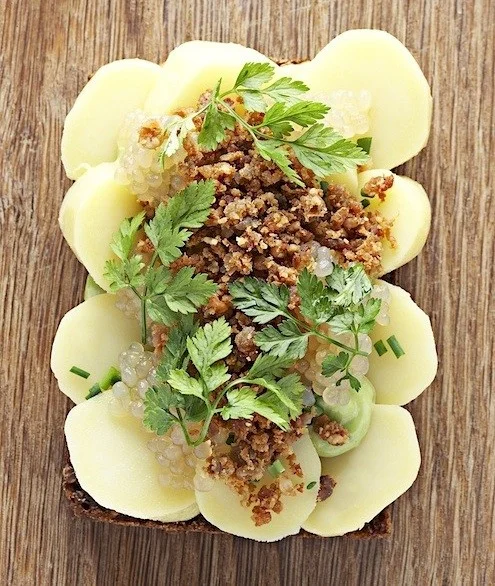 Making something of everyday food
Alongside Adams take-away deli and restaurant, several new places have picked up the sandwich tradition. This has started a new trend in Copenhagen where traditional lunch is one of the most sought-after experiences. Top chefs have started working with the open sandwiches, and the Michelin guide now recommends lunch restaurants as good value dining experiences, Bib Gourmands, in their prestigious guide. Aamann's was the first place primarily known for its lunch to get that honor.
Copenhagen is currently associated with top gastronomy in places such as Noma, the world's best restaurant, Bocuse d'Or winner Rasmus Kofod's Geranium, but Aamann's success shows that the food revolution of Denmark and the Nordic region is much deeper than the gourmet kitchens: "Denmark needs a bistronomy, an improvement also of the regular cuisine. And that is coming along. But it would be great if we were to install some pride in our own food culture, and maintain the traditions that we have," Adam says. He hopes retailers will start to take Danish produce more serious, and market the open sandwich lunch as a special culinary experience.
"After all,"he says, "the open sandwiches are a great part of our identity. We must make something out of it."
Three great places for lunch in Copenhagen:
Aamanns Etablissement – www.aamanns.dk 
Adam Aamann pioneered the new wave of "smørrebrød" in Copenhagen. He is modernizing the tradition, finding a more modern way of presenting the food. More importantly though, he is a fantastic developer of the craftsmanship, always seeking out new kinds of fish, experiments with wild herbs, creative pickling and a clear dedication to the ambition of creating a Nordic food language. But if you are one of those who thinks, that sometimes the top gastronomers in Scandinavia are making to mild a cuisine, lacking intensity in taste, Adam will show you a different direction in Nordic cooking, knocking your socks of with concentrated flavors. His food is both traditional innovative at the same time.
NOTE: Adam Aamann will be opening an Aamanns branch in New York in the nearest future, taking the gospel of smørrebrød to the US.
Schønnemanns – www.restaurantschonnemann.dk 
Old school is often the only school: Schønnemanns is a place that does it the old fashioned way. Once slumbering place, that a few years back were turned around and now are amongst the top places for lunch in Copenhagen. It looks the same though, a traditional cellar, heavy waiters with a tone like a master sergeant, long list of classical interpretations, and no nonsense servings. This is a traditional place that has kept the atmosphere of en everyday lunch restaurant unimpressed by modern ventures in gastronomy or interior decorating. Try the fried, smoked eel with scrambled eggs on rye bread – it's addictive. Most of the time you'll dine with Copenhageners meeting for working lunches or catching up on old acquaintances.
Orangeriet – www.restaurant-orangeriet.dk 
A beautiful old green house in the middle of the preferred recreational parks in Copenhagen, at summer filled with sun craving young people. Jasper Kure is a former Danish competitor at the Bocuse d'Or championships, where he came in at fourth place in 2009. He virtually grew up in the neighborhood and always dreamt of getting this charming and bright restaurant for himself. He has been a chef at several of the top restaurants in the city, and it's a rare thing that a chef with a top gastronomy profile like Jasper is giving attention to "smørrebrød" which he interprets in modern style. This is a place where decorative and modern haute cuisine lives alongside the classic lunch. Orangeriet is great place for feeling the essence of Nordic gastronomy, which arcs both a working class tradition like open sandwiches and ambitious gastronomy.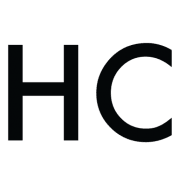 Kasper Fogh Hansen
Kasper is a former food critic who has changed sides in the culinary strife between critics and chefs, to help and to promote the chefs and food innovators that are trying to develop a more intelligent, sustainable and creative food culture in the Nordic region. He is the Director of Communications at FOOD - a small organization started to nurture and feed the interest in Nordic gastronomy, nature, agriculture and culinary culture.