Aam Daal is a raw mango lentil soup that can be served cold as well as warm. Perfect summer food.
By Kankana Saxena
It's summer time.. it's warm and it's time for Mangoes! Back at home during the peak summer, Mom would make 'Aam daal' or 'Raw Mango Lentils'. It's tangy and sweet, with little juicy bite in between and very comforting. You would love it warm as well as cold. Take a piece of bread and dip in it, pour some on white rice or just use a cup and drink it plain. It will surely cool you down in the heat and make you ask for more.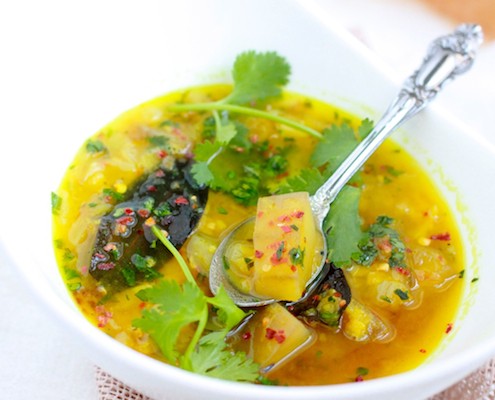 If the raw mangoes are too sour, you can blanch them before adding them to the daal. Some like to mash these mangoes, some grate these, I like to cut them in bite size.

Aam Daal/ Raw Mango Lentil Soup
A warm comforting lentil soup with tangy mango bites in between filled with flavor. Serve it as a soup or enjoy with white rice.
Recipe Type:
Main Course, Side Dish
Ingredients
1 cup (227 Gram) moong daal
1 raw green mango, peeled and chopped to bite size
2 tbs (15 gram) ginger, finely grated
1 onion, finely chopped
1 tbs (15 gram) cumin seed
1 tsp (5 gram)hing/asafoetida
½ cup (114 grams) cilantro, finely chopped
1 green chilly, slit half
2 bay leaf, either fresh or dry
1 tbs (15 gram) ghee/clarified butter
1 tsp (5 gram) chilly powder
1 tsp (5 gram)turmeric
salt
oil, I used olive oil
Instructions
Heat a pan and pour the moong daal.
Reduce the heat to medium and keep sauteing until it turns golden in color.
This will take about 2 to 3 minutes and you can make out that it's done by the roasted aroma.
Once done, you need to boil the lentils with some salt.
Heat some oil in a pan, add the bay leaf, ginger and onion.
Add some salt and saute until the onion becomes translucent.
Pour the mango pieces, turmeric and some salt. Saute for about 3 minutes.
Now, pour the boiled lentils to the pan and add water if it looks too thick.
Add the green chilly and cook for about 5 minutes.
Check for salt and once done, keep it aside.
In a sauce pan, heat 1 tbs ghee. Add chilly powder, cumin seeds, asafoetida and cilantro. Keep in medium heat and cook for a minute. It will spatter so, be very careful.
After about a minute, pour the content on top of the daal.
Serve it hot with some bread or rice.
Notes
The cooking time will differ depending on how you boil the lentils. If you use a pressure cooker, it will take less time as compared to boiling it in a pan or microwave.
Kankana Saxena
Kankana Saxena shares culinary journey, travel stories and passion for photography in her blog 'Playful Cooking'. Her cooking style is mostly nutritional with little bit of indulgence here and there. She believes in the mantra 'homemade is happiness'! She is a native of India but currently resides in Santa Clara, California with her husband.