Located in Alexander City, Alabama, the "sophisticated and unpretentious" Crossroads restaurant SpringHouse serves what they call progressive southern cuisine prepared by Executive Chef Rob McDaniel.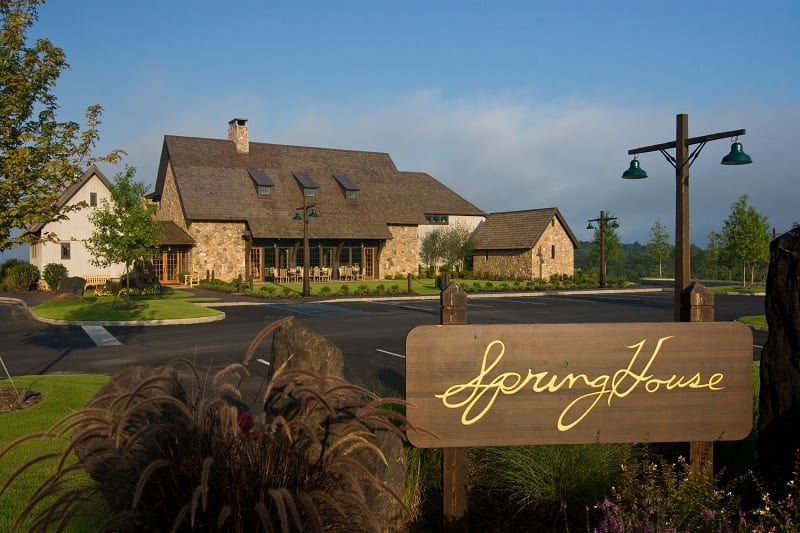 Growing up with two grandmothers that he describes as awesome, it was destiny for Executive Chef Rob McDaniel to have a career in cooking. With one grandmother in the country and the other situated in one of Alabama's smaller but more populated cities, McDaniel had the best of both worlds. In his country home, the one he spent most of his childhood, he learned the ins and outs of traditional southern cuisine. In his second exposure, he relished in devouring three course meals prepared by his second grandmother. Here he experienced what he calls "refined" cooking and made a connection with a southern staple; the grill. Still to this day, the smell of cooking steaks, connects him to his early introduction to southern food. With both refined and "grubby" parts of southern food, whether it is fried chicken, buttered biscuits, collard greens, Chef Rob McDaniel takes what we all thought southern cuisine to be and elevates it to a fresher lighter progressive level.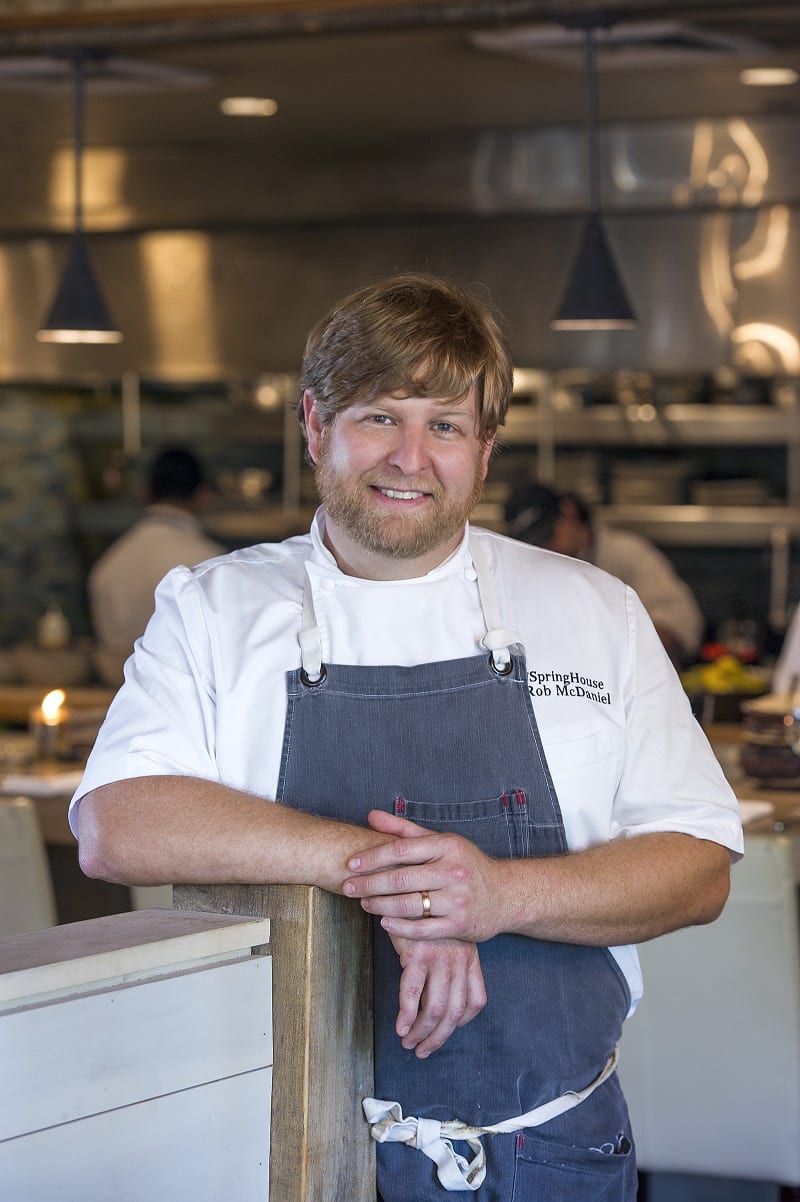 In his explanation of progressive southern cooking, he says it is simply rustic. There are ingredients you can recognize and names you can pronounce. The idea is to leave the guessing game for other parts in life but for food it should be recognizable. The food he prepares includes, of course, grilling well-seasoned fresh meat to accompany fresh sides. The food is straight to the point, there not supposed to be any hesitations about the food you place into your mouth because you know exactly what it is.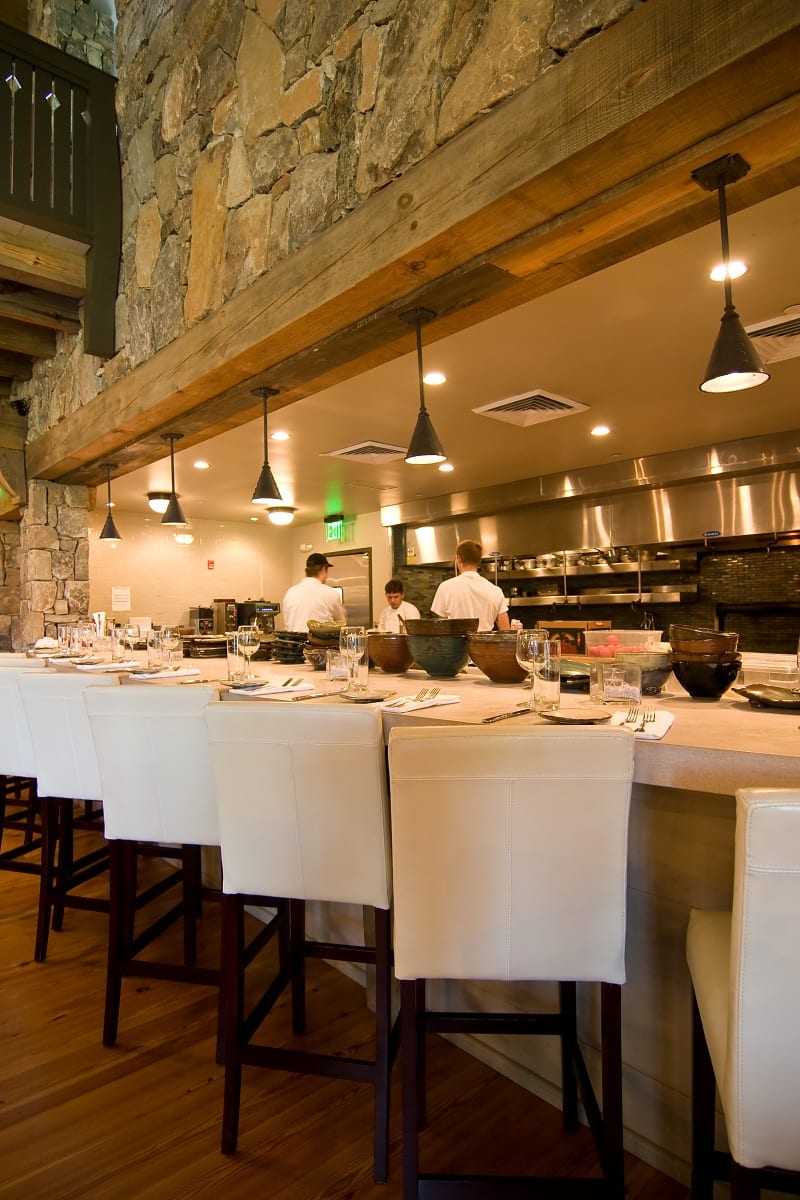 The technique behind this progressive movement is to hit the refresh button on the heavy sauces, and the excess oil. The popular associations people typically have about southern cooking. To get rid of the idea that more butter is better. Instead use the greatness of butter with a purpose to let the main dish shine, like the crispy soft shell crab on the Spring menu . Chef Rob McDaniel says "the trick is to  work with what you have" and to go the natural route, focusing on using real, seasonal ingredients in the right amount.  Moving away from the stereotype of going heavy handed with additives.
In his and SpringHouse's attempt to expose eaters beyond the excessive fried food, some other southern cooking methods Chef  McDaniel use at SpringHouse includes burning wood for smoking meats. Making  a connection with the smells he remembers as a child and using it to release the flavor in a pork chop. He says "the smoke and fire hickory and oak wood goes well with everything" and what would southern cooking be without some heat and flames.
Both Chef McDaniel and SpringHouse's mission is to educate and connect the guests with the rustic food in varied ways. Chef McDaniel accomplishes this when he presents the food so that SpringHouse diners are able to taste the true flavors of the food. Something they may have been missing if they are accustomed to camouflaging the taste by using too much additives or flavorings. Successfully guests seem to love the seasonal vegetable platters and crab dish of SpringHouse.
Another key part about progressive southern cooking is supporting local farmers in Alabama. This passion a result of his experience in Vermont, where he attended culinary school. While attending culinary school there he realized the abundance of farmers markets. There is something special and connective when you know where your produce is coming from. It makes the cooking and eating experience deeper. He wanted to replicate this experience when he moved back to Birmingham, and as a result there are four farmer markets that provide produce to SpringHouse. With offerings such as lamb rabbit duck and pork. He also supports the Gulf of Mexico fish farmers, but does not buy snapper or grouper. Chef McDaniel chooses not to purchase these because there is too much conflict. A lot of restaurants want these fish, so farmers will make catching these fish their priority and it does not seem natural. It goes against his beliefs to selectively source natural and products. Instead he buys whatever is the daily catch or is in season including octopus , trigger fish, mackerel, all of which are featured in SpringHouse's menu.
As for other influences to Chef McDaniel career in cooking he mentions "a man by the name of Dennis". Dennis deepened his knowledge of cooking and working in the restaurant industry and taught him it is never good to lead a team as if they are being  "shot at". Literally meaning to avoid working  as if you have a gun pointed to your head, because there is no good outcome through yelling and screaming. "I do not run my kitchen this way" he says because in the end it will only make things worse for both the SpringHouse team and guests.
A highlight in his career is making it to the James Beard semifinalist list,his future goals entails making it to the James Beard shortlist. Although the award is special, he cares more about his team and the growth of SpringHouse. He would love to be present and instrumental in the growth of both. Since the opening, eight years ago he mentions SpringHouse has become more refined, eight years from now he envisions more growth but still stay true to its roots.
There is always room to grow, even for 78 year old chef in his team James Black. An older team mate who started in Taco Bell and is now doing incredible things at SpringHouse. Chef McDaniel pushes the ideals of never being too old to learn and grow. James Black is the man behind the "exceptional southern vegetables" served at SpringHouse, he also makes some "amazing chicken dumplings" says Chef McDaniel. Overall he is an amazing prep and is very good at creating the southern dishes.
With growth as his main priority he mentions his wife as his toughest critique. This is the same person he would not allow to fry anything. She is a bit "heavy handed with the oil"  he says. People are very used to going heavy with the oil and butter but you do not need a lot of oil to make southern fried chicken and biscuits. But she does know her way around the grill, especially chicken and fish.
There is an undefinable beauty to SpringHouse says Chef McDaniel.  It has a homey warm feeling when you walk inside the earth tone structure . Feeling as if it were a part of the nature surrounding it with scents of wood filling the room. It sits on top a hill facing the sunset overlooking  Lake Martin giving it the picture perfect setting for weddings.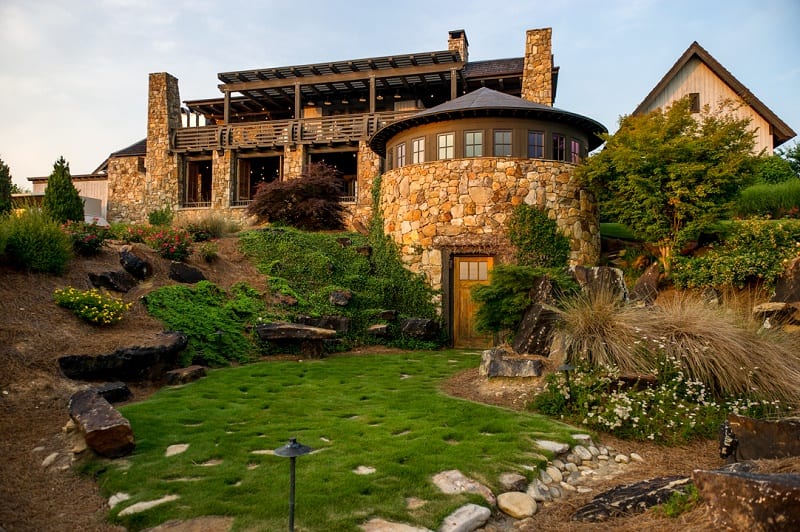 Chef McDaniel says " I am living my dream working at SpringHouse" as it truly fits his lifestyle. He enjoys the balance of his work and personal life,  with the similarity where both  places are surrounded by nature. His next adventure in his favorite place; the outdoors will be elk hunting, it will be his first time.
To make reservations at SpringHouse or explore the beauty Crossroads has to offer visit http://springhouseatcrossroads.com/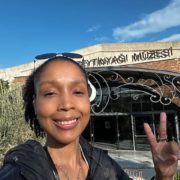 Alyssa Holder
Alyssa Holder is a writer specializing in food and travel topics since 2015.