The Hutong Cuisine cooking school is located in one of Beijing's historic hutong neighborhoods. Jessica Smith spends the day learning how to make Char Siu pork buns.
By Jessica Smith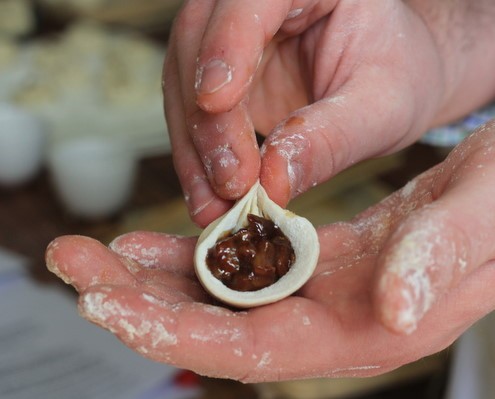 The first time I tasted a steamed char siu pork bun, I was instantly hooked. It held all of the smoky pork flavor of the Kansas City barbecue I ate growing up, enclosed in an addictive, light, sweet puff of dough. These days, when I come across a restaurant serving dumplings, the first thing I seek out is char siu. And although I've become a bit of a connoisseur, I am guilty of keeping a packet of the frozen store-bought variety in my freezer….for emergencies.
I considered it an opportunity too good to pass up when, on a recent trip to Beijing my husband and I came across a cooking class with a lesson in char siu buns on the agenda. I enrolled immediately, rearranging our other touristic endeavors to insure we could devote an entire day to learning this culinary skill at Beijing's
Hutong Cuisine
.
As the name indicates, Hutong Cuisine is located in one of Beijing's historic hutong neighborhoods. It was a cool, bright spring morning when we made our way through the winding alleys between homes to meet up with the school's founder Chunyi Zhou and her jovial siblings, each of whom took a turn teaching an element of the course.
The experience of a cooking class at Hutong Cuisine offered insight into local life from beginning to end. Our small class of five students began the day trailing behind Chunyi at a local street market where she purchased all of the ingredients for the day's lesson from pork to fresh wonton wrappers. In addition to char siu buns our cooking class menu included siu mai dumplings that were filled with shrimp and chicken and wonton soup.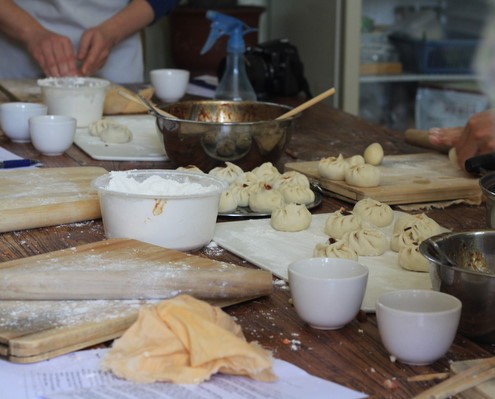 Although much of Beijing is growing so fast that I barely recognized it from a vacation there three years before, the hutongs are a constant reminder of the rich and ancient history of the city. As we dove into our lesson, sounds bouncing off the stone walls of Chunyi's shared courtyard signaled the daily activities of the families nearby.
The work space at Hutong Cuisine contained little more than an immense wooden table that we stood around in a circle as Chunyi mixed a thick marinade of red bean paste and other seasonings. In less than twenty minutes we had thick strips of pork coated in the mixture and in the oven to roast. Over the next hour, as we chopped ingredients with wooden-handled cleavers, formed wontons, and practiced the delicate technique of shaping conical siu mai, the distinctive smell of barbecue pork filled our work space.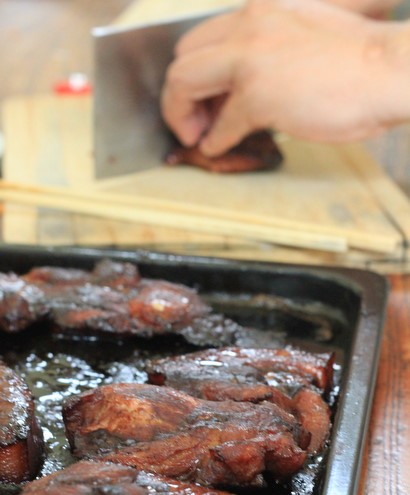 After it came out of the oven, deep reddish brown and caramelized on all sides, we chopped the pork and gave it another coating of marinade, tossing it in a hot wok for a final layer of flavor. Next came the dough, that we cut into even pieces and formed into flat circles with delicate wooden rods. The filling went inside and we laughed at one another's failed efforts to form the latticed seal at the top, a feat that Chunyi could complete so quickly that it was impossible to follow her fingers.
Half of our completed (and slightly imperfect) char siu buns went into a giant steamer, while another half was made crisp on the bottom with a quick fry in a pan drizzled with oil. Our five-person class gathered around the courtyard table to sip tea, relax, and savor our feast.
The char siu buns were everything I had hoped they would be. They were so full of flavor, moist enough to burst open with the first bite, and so satisfying that we shared a collective sigh of disappointment when we realized we were far too full to finish the last few that remained on the plate.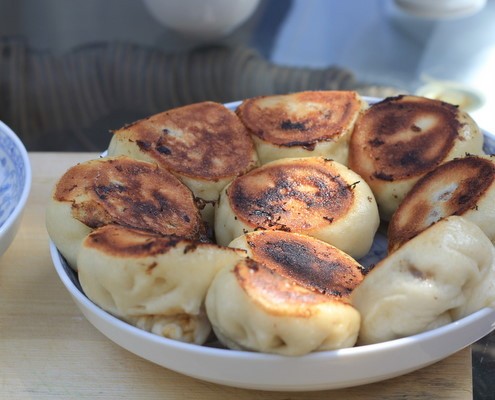 For more information and to sign up for one of Chunyi Zhou's classes, visit www.hutongcuisine.com.
Jessica Smith
Jessica Smith is a native of the American Midwest, currently living in Thailand where she writes about food and travel throughout Southeast Asia. Jessica believes that the best way to understand a place is through its local cuisine.