8282 thrives in New York City's evolving backdrop with its elevated take on authentic Korean food. Once home to The Meatball Shop, this Lower East Side joint has transformed the space into a light-hearted, upbeat environment conducive to winding down and throwing your long work day out the door.
Named after South Korea's country code, +82, Chef Bong Le Jo and his partner, Jee Kim, devised a menu that keeps up with the culinary trends in Seoul, through the eyes of a New Yorker. Designed to be shared, the menu is divided into two categories: small plates called Anju, meaning food that you eat when drinking, and larger plates called Banju, describing the act of eating and drinking together. The servers took great care in getting to know our tastebuds, explaining the menus, and sharing their recommendations throughout our entire dinner.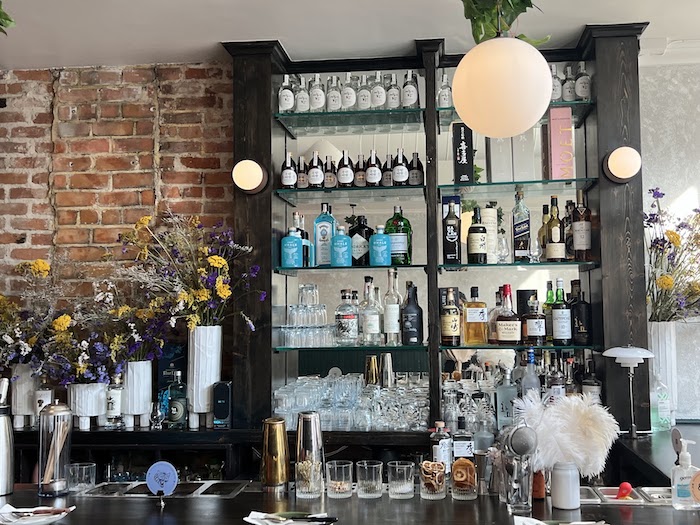 The Sips
Head mixologist, Katrina Sobredilla, designed a cocktail menu that cleverly pairs flavor notes with menu items. I was immediately drawn to the Secret Garden for its compelling combination of ingredients: a dry gin, botanical liqueur, snap pea syrup, lemon, and thyme. The concoction offered an earthy yet light sip, acting like a palate cleanser between the hearty meals. My dining partner opted for the Tea Party, which Kat shared was her spin on New York's clichéd nightlife staple: the espresso martini. Instead of espresso, the foundation of this fresh and airy drink was a caffeinated jasmine tea soju.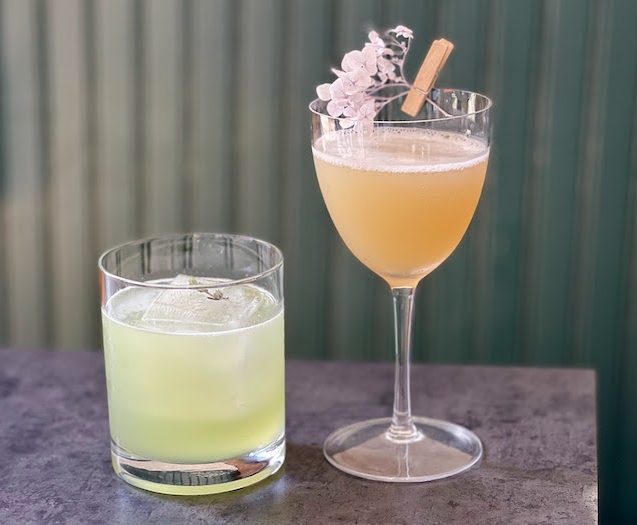 The Small Plates (Anju)
Food plating when done right can often be an art form, and art is precisely what I thought of as our server brought out our first anju plate, the grilled octopus. Fiery tones of reds, oranges, and yellows provided a vibrant stage for the charred octopus, which was cooked to its ideal consistency. The octopus sat on a bed of bell pepper puree, roasted squash, and a light lining of burrata. I'm happy to report that this dish's taste effortlessly matched its visual appeal.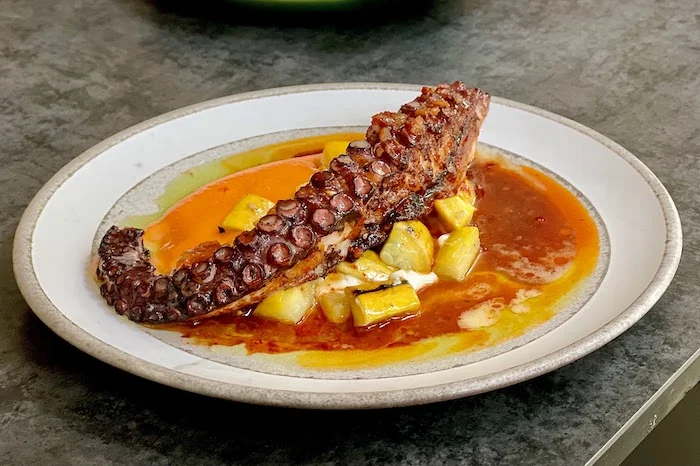 No Korean dining experience is complete without sampling the classic fried chicken. For our second appetizer, we opted to share the Boneless K.F.C, which we snacked on throughout our entire meal as a comforting respite from the burst of flavors in the other dishes. The dish hit the spot with its tender fried chicken thighs tossed in a soy garlic sauce and served with pickled radish noodles.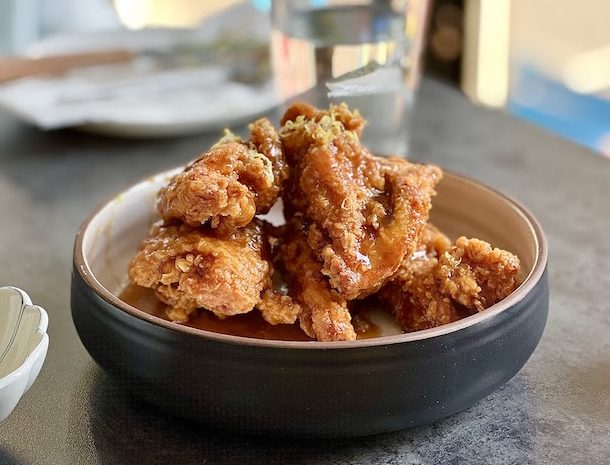 The Large Plates (Banju)
The banju section of the menu consists of a limited but creative list of six dishes, which was a welcomed relief for someone with frequent decision fatigue. For our first dish, we shared the dakgalbi kimchi-bap, consisting of gochujang marinated chicken over cheesy kimchi rice. Each bite was reminiscent of American comfort food, with the rich umami flavors of Korean palates. There was something extra satisfying about the charred crunchy bits at the bottom of the skillet.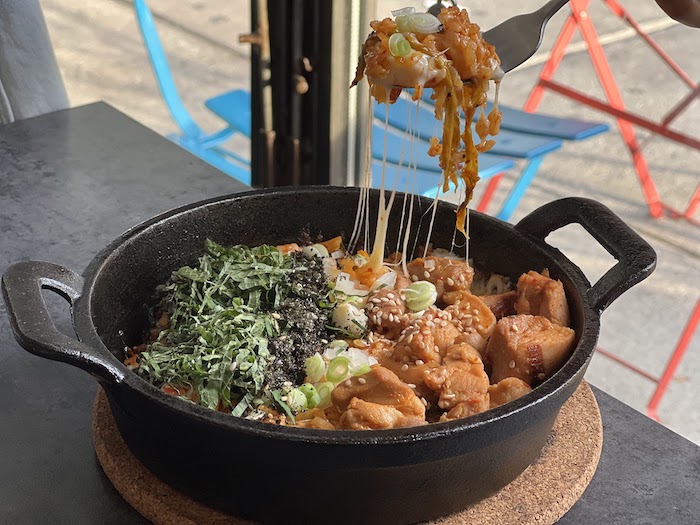 Our second dish was a fancier take on the commonly eaten jjajangbap, a noodle dish with black bean sauce. 8282's elevated version of the jjajang bori-bap incorporates seared scallops over barley, tossed in a medley of black bean sauce, truffle paste, and mushrooms. The scallops were cooked to perfection as they melted in your mouth. Serving barley instead of noodles also creates a more substantial and filling bite.
See Also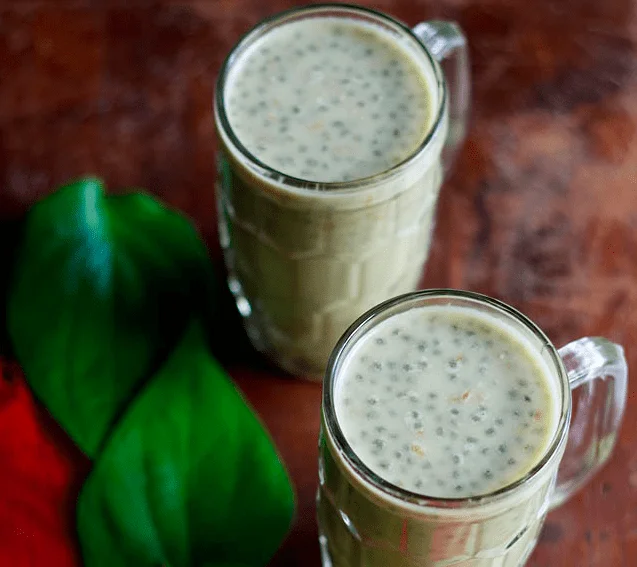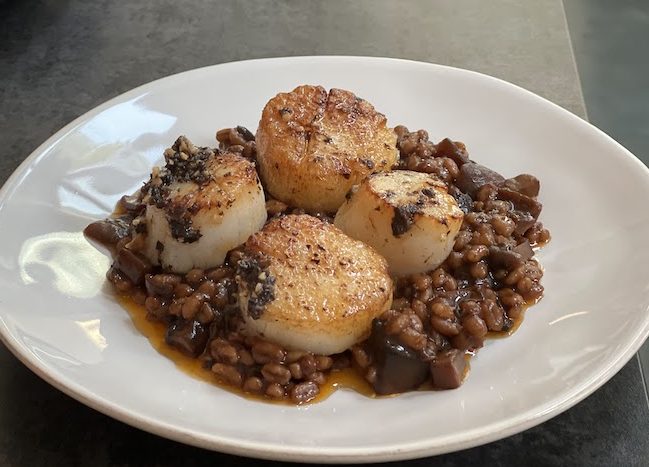 The Sweets
We capped the night with another headliner, the injeolmi ice cream. Reminiscent of peanut butter, injeolmi is a Korean snack made from pounding glutinous rice flour and ground soybean flour. The nutty base added the ideal savory bite for the vanilla ice cream, honey, and parmesan cheese to sit on top. I know what you're thinking, parmesan cheese, nut butter, ice cream?! Hold your judgment — I would be lying if I said I hadn't thought about this dessert every other day since I had it. The dessert perfectly marries sweet with umami and soft with grainy.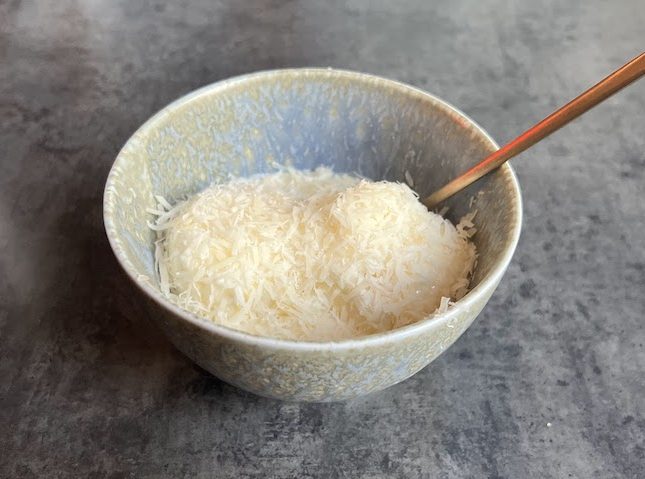 Between the passionate servers, inventive menus, and alluring cocktails, my time at 8282 proved to be quite the memorable dining experience. I wouldn't wait too long to book a reservation, the space filled up before my first sizzling banju plate arrived.
8282
Website
84 Stanton Street, New York, NY.
Open Wednesday-Sunday from 5:00-11:00PM