Welcome to Carmel Valley. Located 20 miles inland from Carmel-by-the-Sea is a charming, rustic village that now houses over 20 local wineries and tasting rooms. It's a perfect location where you can walk to each winery and the restaurants that surround them.  Plus, your pooch is invited, too.
By Mallory Davis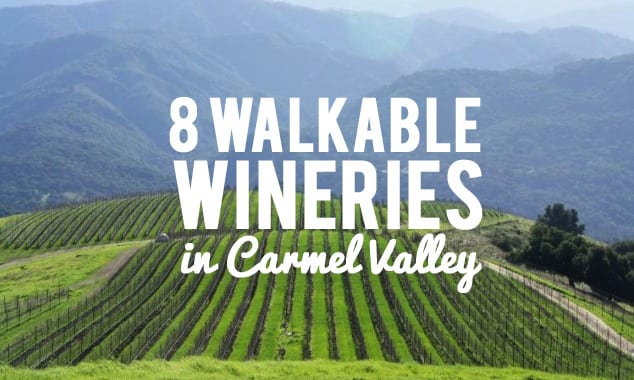 The wineries mentioned below and their corresponding vineyards are all about 15-30 miles down the main road and up in the hills. The Carmel Valley hillsides provide a very unique climate and soil in order to produce some of the best red wines around. The climate does hold back the marine layer which in doing so can become almost too hot to produce white wines. Many of the following wineries produce estate reds, but have to outsource from other local wineries in the Santa Lucia Highlands in order to produce their whites. The Carmel Valley is known to produce some of the best Pinot Noir wines because of the sedimentary soils and warm climate year round in the hills.
To start your journey, catch a ride on the Wine Trolley that starts in Monterey and then takes you out to Carmel Valley. Once you are in the valley, hop on Cowboy Pete's wagon, also known as Happy Trails, and he'll take you to any tasting room you want to go to in the village. Ride in his wagon with his dog Sammy and you are guaranteed to have a great day. Pete is the best tour guide to have in the area and he has a lot of history to back it up.  For more on the Wine Trolley, click here.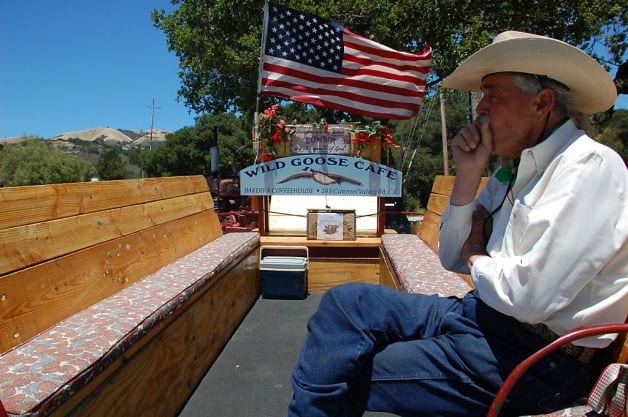 www.sfgate.com
1. Heller Estate Organic Vineyards
The first winery you will come across is Heller and they are 100% certified organic. Because of the organic process and location of the vineyard (located 20 miles down Carmel Valley road in Cachagua), the wines have a distinct minerality that is often rare in wines. I found that the Chenin Blanc is a favorite here of the customers.
Hours
Daily 11-5pm
Phone (831) 659-6220
2. Georis Winery
If you're not a big wine drinker, then sitting in the picturesque Georis gardens with a wood-fired pizza and fresh-squeezed lemonade from the next door Corkscrew Café (Georis' other business) is the perfect way to spend an afternoon. The garden itself is beautiful, but inside the tasting room it offers a quaint and European-influenced atmosphere. Once you are seated, a wine flight is brought to you and you can sit outside in the sun for as long as you'd like. Georis is known for its' Merlot, Rose (very dry, not sweet!), and Bordeaux blend. They are also the only winery in the area to offer a Happy Hour on Friday and Saturday evenings.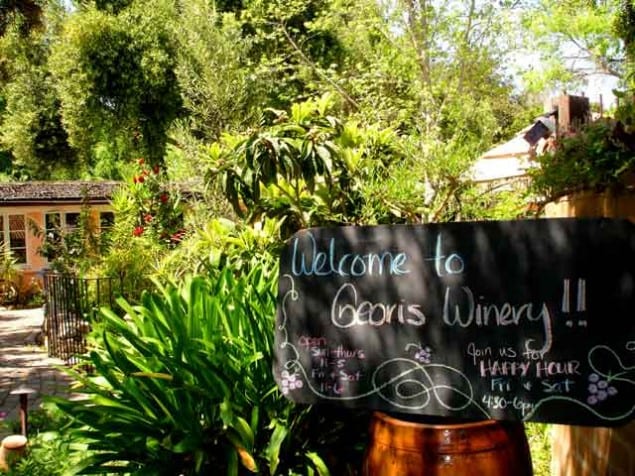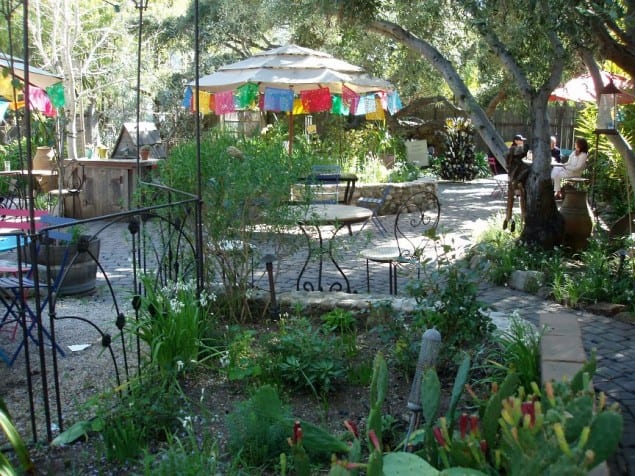 Hours
Sun-Thurs 11-5pm
Fri-Sat 11-6pm
Happy Hour: Fri-Sat 4:30-6pm
Phone (831) 659-1050
3. Marylin Remark Winery
As you stroll into Marylin Remark, you will be greeted by the tasting room manager's dog who automatically makes you feel comfortable and welcomed. There is a standing bar, but a favorite place for a lot of customers is the window seat for two (when it's available!). The staff is extremely knowledgeable about their wines and pairings with different foods. The owners fell in love with France's Rhone region so they have been dedicated to the making of traditional Rhone-style wines. Favorites here include the Viognier and Petite Syrah.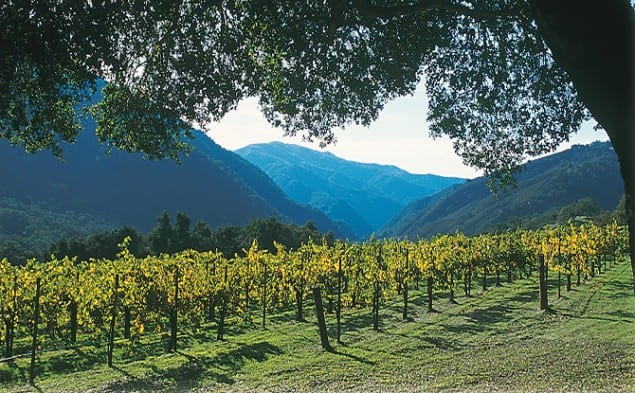 www.seemonterey.com
Hours
Thurs-Fri 1-6pm
Sat-Sun 12-6pm
Phone (831) 659-5661
4. Boekenoogen Winery
Boekenoogen may be newer to the wine world, but you would have no idea walking into the tasting room and having a taste of one of their many wines. Their 2011 Pinot Noir was just voted "Best Red Wine" in the Monterey County and it does not disappoint. You can enjoy your tasting on the sunny patio or hang out with the friendly and charming staff at the bar inside. There is a lot of history concerning the Boekenoogen in the area and it is represented by the family crest that is on their bottles and glasses. Favorites here include the Pinot Noir, Zinfandel, and Viognier.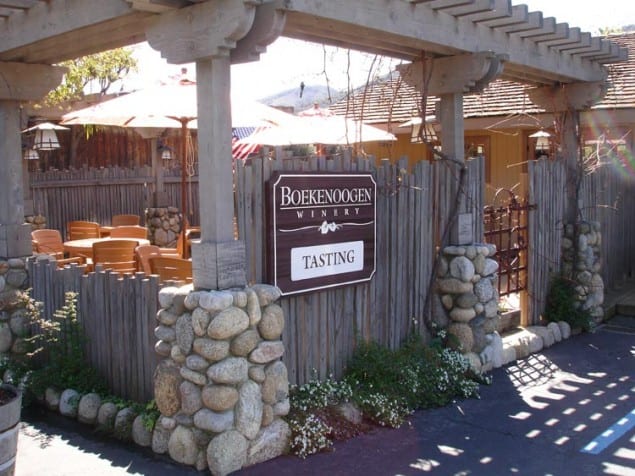 Hours
Daily 11-5pm
Phone (831) 659-4215
5. Parsonage
Parsonage Vineyard is a family owned and operated winery that was created in order to blend the two. Owners Bill and Mary Parsons bought the winery in order to start a brand new chapter in their life and finally do something that they both really enjoy. The tasting room features a Quilt Art Gallery all hand-made by Mary Parsons herself.  After trying and talking with other customers, favorites included the Chardonnay and Syrah.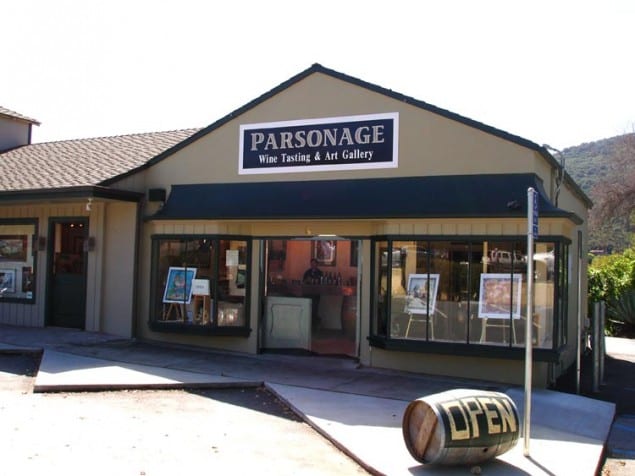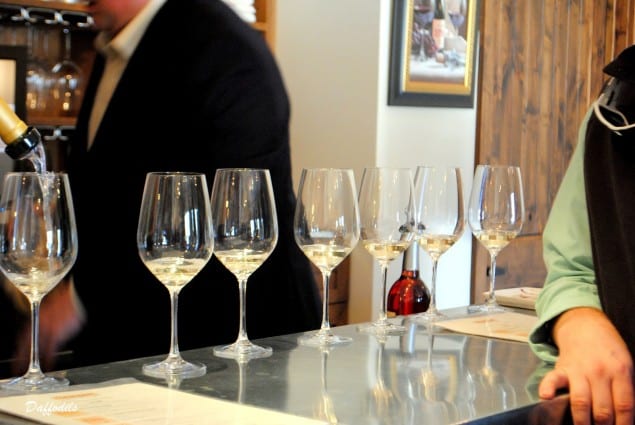 daffoldilshope.blogspot.com
Hours
Daily 11-5pm
Phone (831) 659-7322
6. Talbott Vineyards
Talbott was recently awarded Best Tasting Room in Monterey County by a local paper and there is no doubt it is a lovely wine tasting experience. Talbott owns two vineyards; one located in the Carmel Valley Hills and the other in Santa Lucia Highlands nearby. They are able to produce all estate wines because of the different locations and climates of each vineyard. They offer many vintages of their multiple award winning Chardonnay and Pinot Noir wines. As you sip on a fruity Pinot Noir, you have the pleasure of admiring Mr. Talbott's vintage motorcycle and pedal car collection.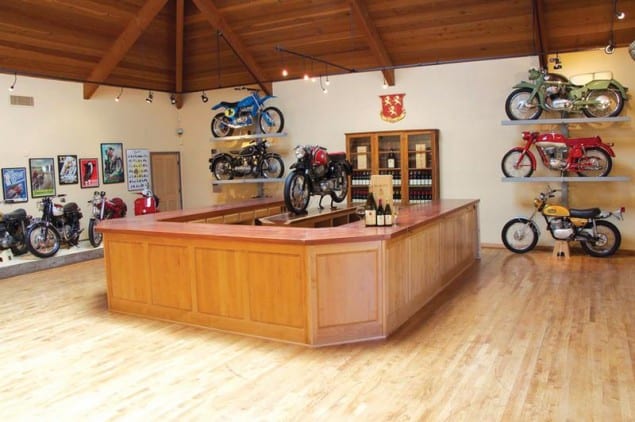 www.talbottvineyards.com
Hours
Mon-Thurs 11-4:30pm
Fri-Sun 11-5pm
Phone (831) 659-3500
7. Holman Ranch Winery
Holman Ranch is a beautiful old ranch house that now houses weddings and other events alike. The main ranch is located behind the village, but their tasting room is in the village for your convenience. Their vineyard is also on the ranch and is also worth checking out if you get a chance. Holman Ranch produces five varietals ranging from a dry Rose of Pinot Noir, Sauvignon Blanc, and Pinot Gris. The tasting room is set up to portray the rustic interior of the actual ranch house up the road. They offer a wine club that features many events throughout the year including a chocolate and wine pairing as well as a cheese and wine pairing. The Rose and Sauvignon Blanc are favorites here.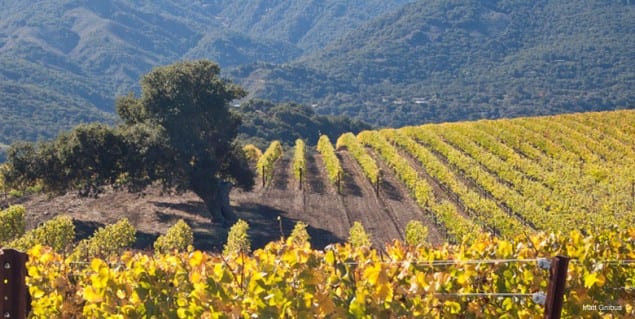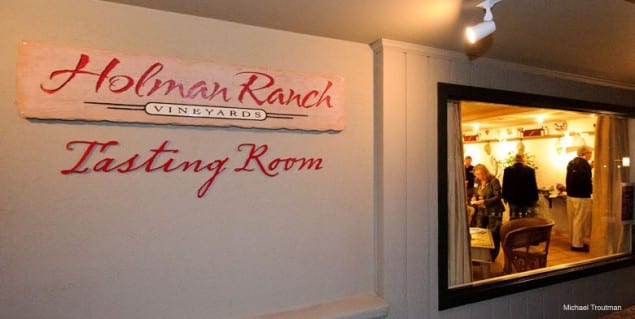 www.holmanranch.com
Hours
Daily 11-6pm
Phone (831) 659-2640
8. Cowgirl Winery
The sister winery to previously talked about Georis Winery is a completely different atmosphere. It is also in the same lot as Talbott Vineyards. Here you can taste all four of their wines while hanging out with chickens or sitting on the bed of an old truck that now houses a table. Bring a picnic lunch, play bocce ball, drink wine and make a day of it. Also, if you bring in a pair of cowboy boots to add to their collection above the bar, you get a free bottle of any of their wines. They offer a charming gift shop full of everything cowgirl and country. Favorite wines here are the Cowgirl Blush (a dry Rose) and the Hacienda (Bordeaux blend). Yeehaw!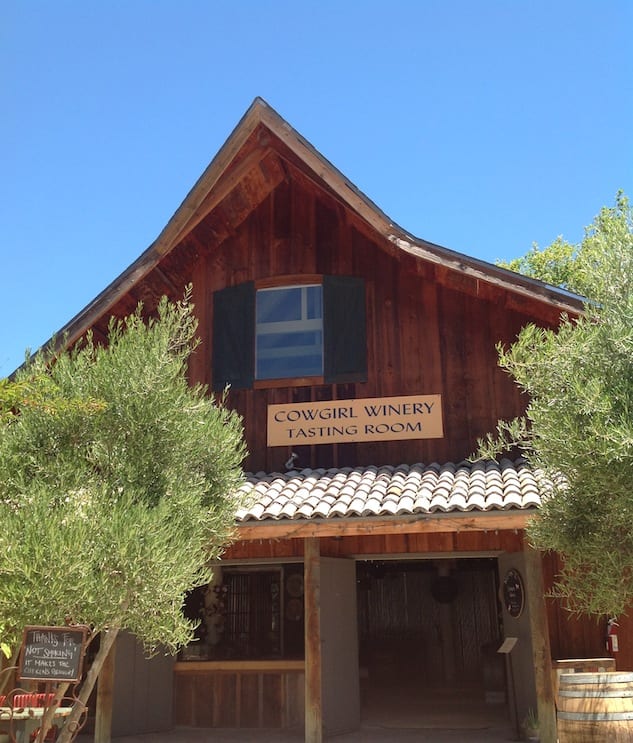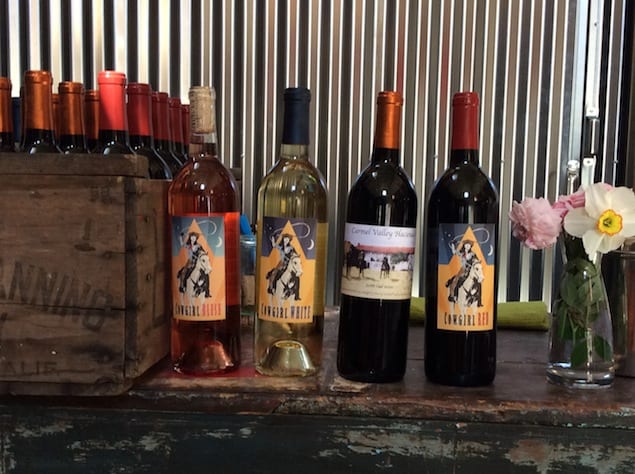 Hours
Sun-Thurs 11:30-5pm
Fri-Sat 11:30-6pm
Phone (831) 298-7030
There is no shortage of great wine in Carmel Valley. So put on your walking shoes, bring your pooch, and a picnic, and you have a full day filled with good wine and fun times. Carmel Valley is the most popular up and coming place for wine so come out and experience what everyone is talking about!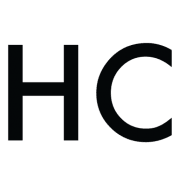 Mallory Davis
Mallory was born and raised in Monterey, California. She has a degree in Broadcast Journalism with an emphasis in sports broadcasting. Although baking and cooking were a favorite part of her childhood; a diagnosis of Celiac Disease is what really set off her passion for food. The diagnosis encouraged her to start cooking and experimenting a lot more. She enjoys making up new and unique recipes to fit her and others' diets (always making sure to include chocolate whenever possible).