This 30-minute vegan burst cherry tomato polenta is bound to become a weeknight staple. Rich cashew cream is woven through hot polenta. Then, the polenta is served generously topped with burst garlic-herb cherry tomatoes.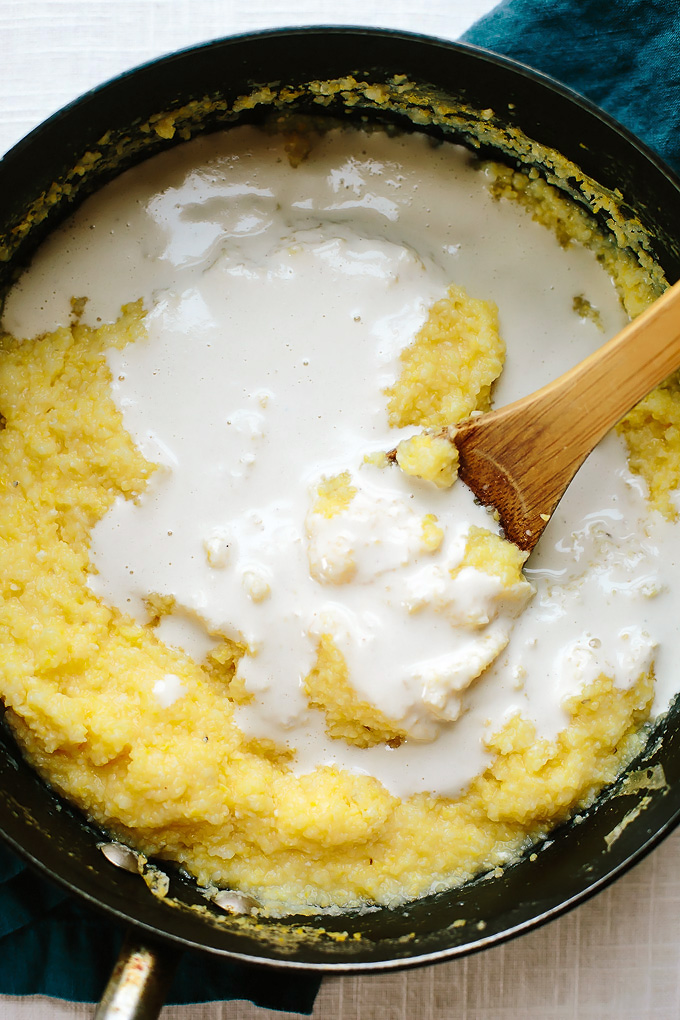 This time of year, I crave recipes that teeter between seasons. Elements of warmth and comfort balanced by bright flavors and colors.
This dish embodies that sentiment completely.
Spoonfuls of warm, creamy polenta topped with tangy, red-hot-hued burst cherry tomatoes.
Rich and comforting balanced by bright and zesty.
As we lean further into spring, I find myself craving more and more time outside. Time to walk, to sit, to ponder… even time to rake the yard (suburban life has truly taken hold).
And the more time I spend outside, the less time I want to spend inside fussing over the stove at the end of a long day. Which is why this dish is so perfect. It pulls together in a swift 30 minutes and reheats like a dream. It's a breeze whether you're making it the night-of or tucking into leftovers after a fast 5-minute reheat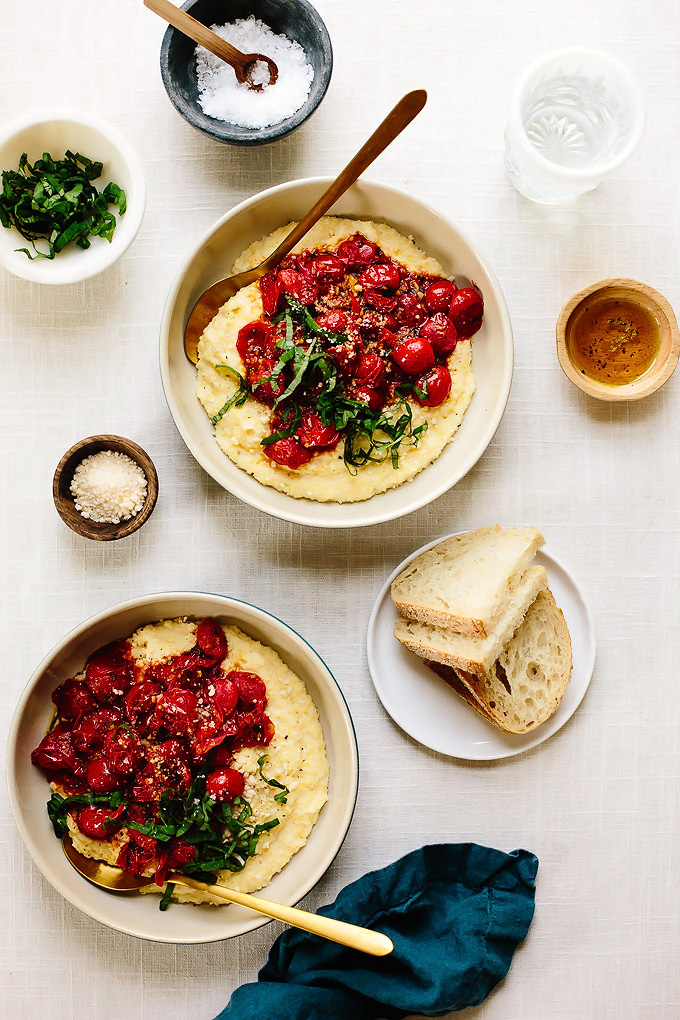 To whip together this simple vegan meal, you'll start by making the polenta. Bring several cups of salted water to a boil. Once the water is boiling, very slowly whisk in one cup of polenta. The key to smooth polenta is adding slowly and whisking vigorously.
Continue whisking for another minute or two after all the polenta is added. Then, reduce the heat and simmer for 10 to 15 minutes, or until thickened.
Once the polenta is ready, stir in a generous pour of cashew cream (you'll prepare this in advance by blending together raw cashews and filtered water until completely smooth).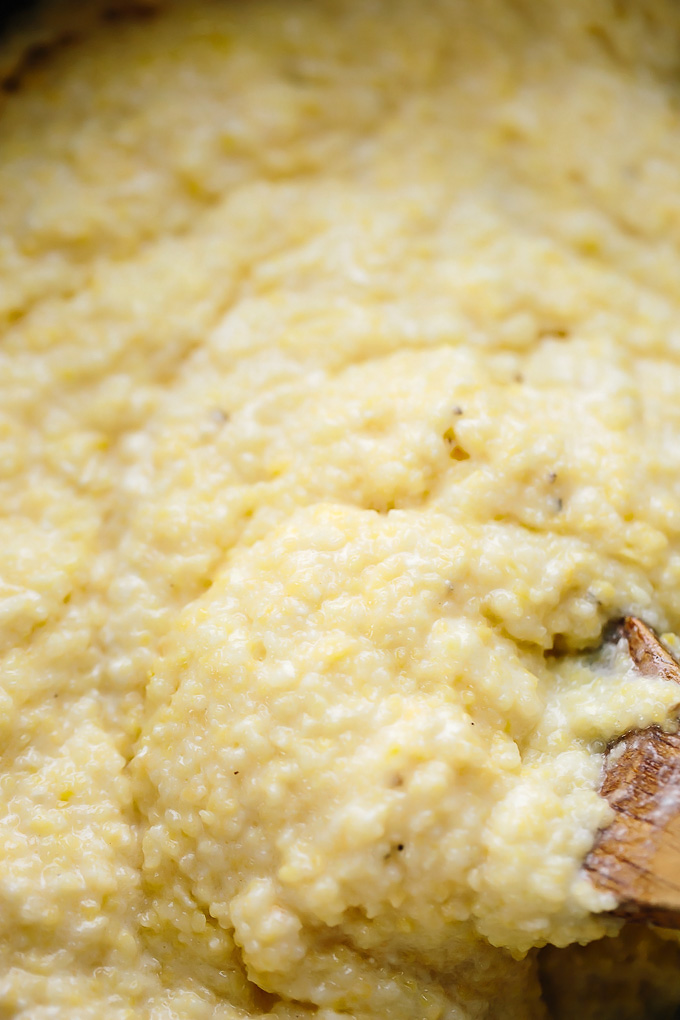 The cashew cream adds a luxurious richness to the polenta and softens its golden hue to a pale, buttery yellow.
If you're up for multitasking, I recommend making the burst tomatoes while the polenta simmers. If you're not, you can wait to prepare them and simply reheat the polenta before serving.
Either way, to make the burst tomatoes, begin by heating a bit of olive oil in a large sauté pan. Add minced garlic, dried basil, dried oregano, and dried parsley. Cook for a minute, or until fragrant. Then, add four cups grape tomatoes (or use tricolor or heirloom for an exceptionally pretty finished dish) and a bit of sea salt.
See Also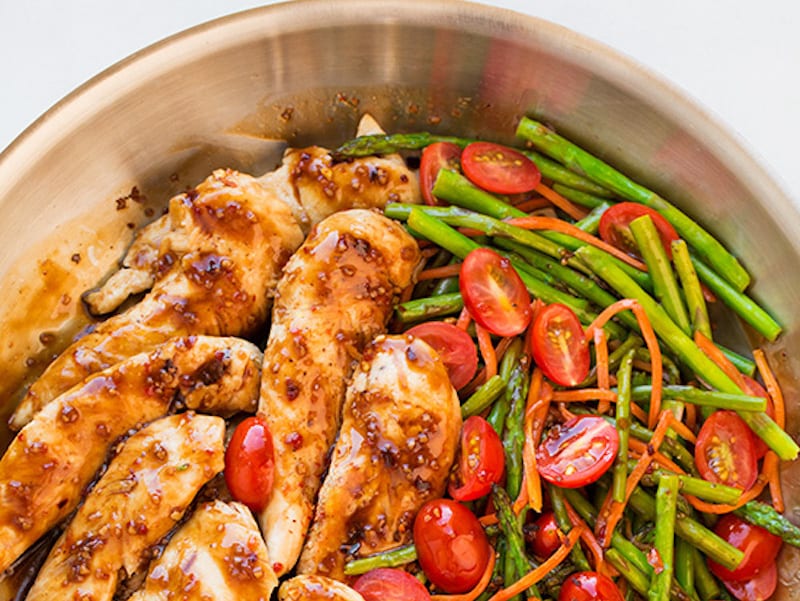 Cook the tomatoes for 6 to 10 minutes, or until they burst open and release their juices, nudging them around on occasion to prevent scorching.
Once the tomatoes are ready, spoon them over the warm polenta.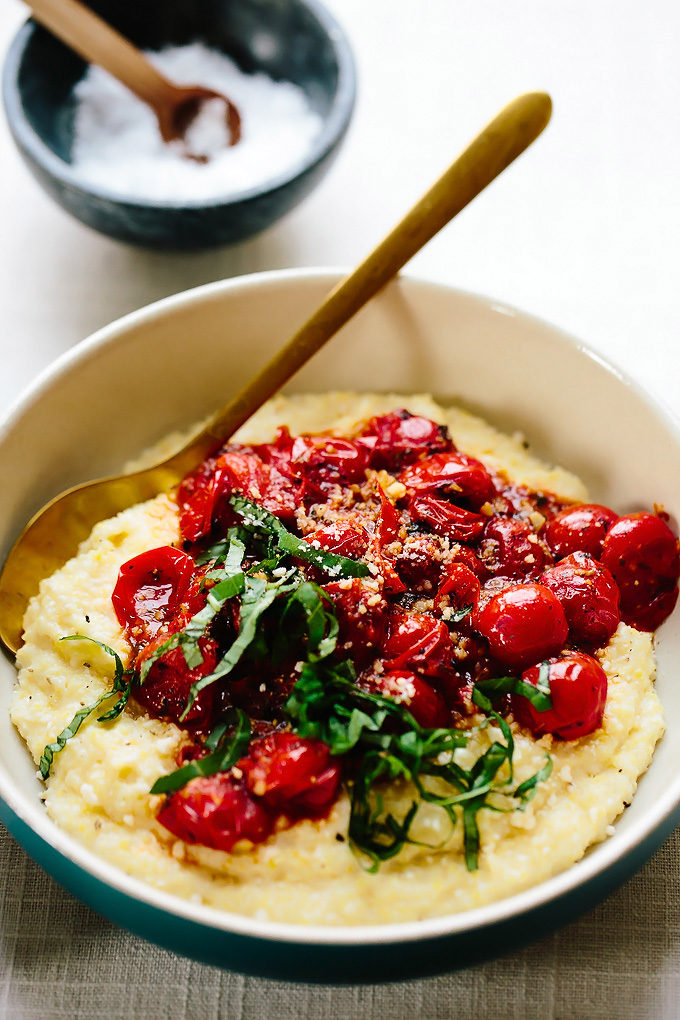 I like to finish this dish with finely chopped basil and a sprinkle of vegan parmesan.
A few slices of crusty Italian bread are also a welcomed addition…
Click HERE for the recipe.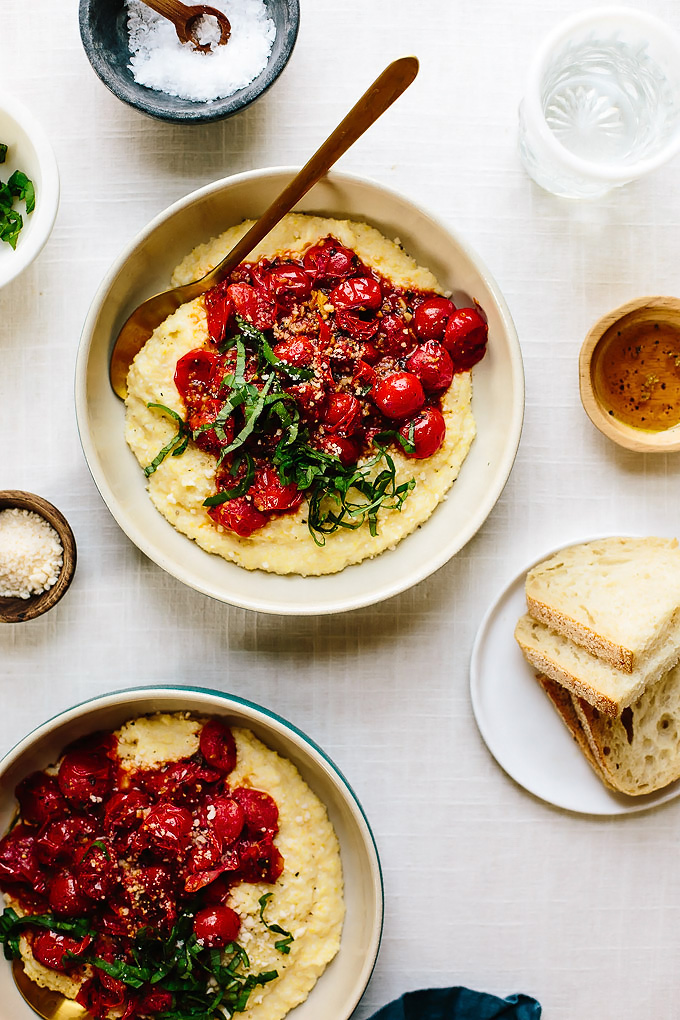 Ashley Melillo
Ashley Melillo is the creator of Blissful Basil, a blog dedicated to unearthing the happiest side of life through wholesome, plant-based foods. Being a school psychologist and food blogger, Ashley incorporates a wide array of health-enhancing ingredients into her recipes with the hope of guiding others on their path towards improved well-being.