The thought of a fall smoothie; when the weather is chillier seems far-fetch. But should it be? Just like in the summer, when we toss seasonal fruits and vegetables into a blender to create delicious, healthy on the go smoothies – the process can be applied in the fall too. Simply swap out the peaches and mangoes with ingredients such as maple, pumpkin, and cinnamon. For an additional boost of energy try adding in a shot or more of caffeine from popular brewers such as Toby's Estate and Bulletproof. Or make it vegan by using a milked nut beverage by Elmhurst. Tis' the season for new smoothie blends and of course a slice or more of pie.
Bulletproof Pumpkin Spice Fall Smoothie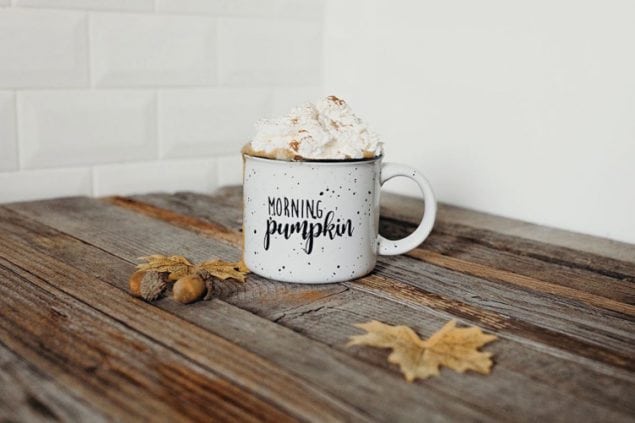 Ingredients:
1 peeled and frozen green banana
1/2 cup cold-brewed or chilled coffee from mold-free beans
1/4 teaspoon ground Ceylon cinnamon
1/8 teaspoon nutmeg
1/8 teaspoon allspice
2 tablespoons full-fat canned coconut milk (BPA-free)
1 scoop collagen protein (optional)
1/4 cup ice
Directions
Combine all ingredients in a saucepan. Over medium heat, simmer for approximately five minutes.  Stir well to evenly blend spices and oils.
In a high-speed blender, add 2 1/2 cups Bulletproof coffee (brewed strong), add pumpkin spice mixture from saucepan – blend on high for 30 seconds until creamy and frothy.
(Option: if you don't have a blender, add premade coffee to pumpkin mixture and use a hand blender in saucepan – blend till smooth and frothy.)
Optional: add xylitol, monk fruit, stevia, or other natural sweetener.
Optional: add raw cream/whipped cream on top for a special treat, if you can find it!
Note: Recipe and image are courtesy of Bulletproof
Maple Vanilla Peanut Fall Smoothie with Elmhurst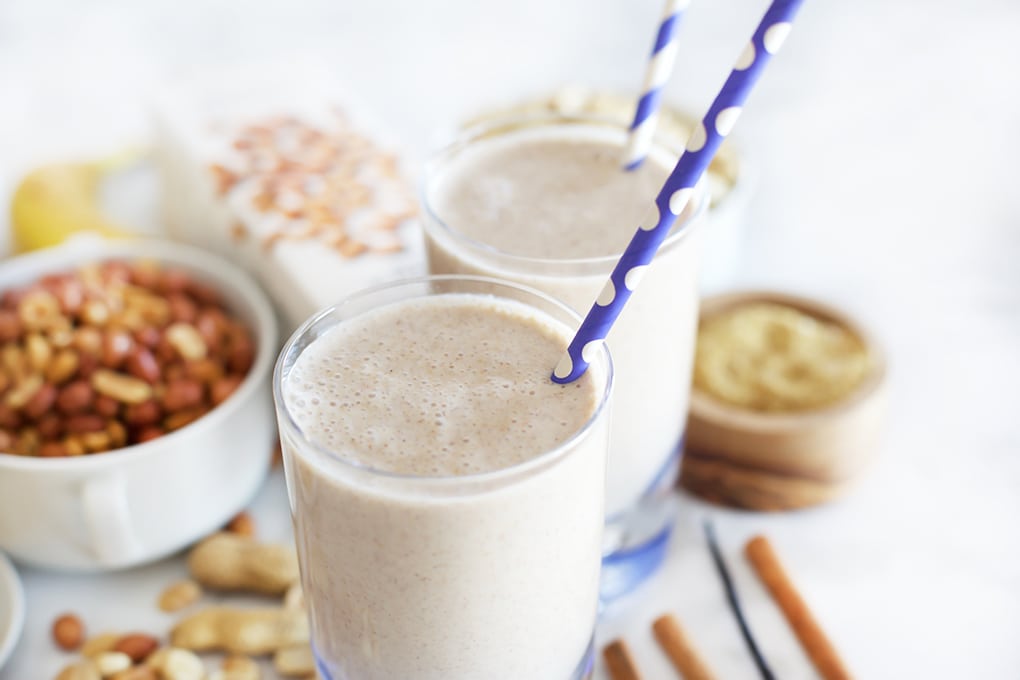 Ingredients:
1.5 cups Elmhurst Milked Peanuts™
 1 cup frozen banana
2 Tbsp ground flaxseed
1 Tbsp maple syrup
1 Tbsp vanilla extract
 1 tsp cinnamon
Directions
Blend together all ingredients until completely liquefied and no chunks are remaining.
Enjoy!
Note: Recipe and image are courtesy of Elmhurst
Green Mocha Fall Smoothie with Toby's Estate
Ingredients:
2 large handfuls of greens (spinach or kale)
1/2 cup of almond milk
1 cup of Toby's Estate Cold Brew coffee
1 frozen banana
2 tablespoons of cocoa powder
1 tsp cinnamon
Directions
Blend together the green,almond milk, and coffee in a blender until the greens are completely liquefied and no chunks are remaining.
Add in the remaining ingredients and blend until creamy.
Enjoy!
Note: All of the smoothies below make 1 serving. To make, blend all of the ingredients together until smooth. Add water a little bit at a time to thin the smoothie, if desired.