From late night eats to morning toasts and everything in between, check out this guide to all the must-try Singapore foods.
When "Makan" or "have you eaten", is the main greeting in Singapore, that immediately tells you something about the importance of food in the country.
On our quest for Authentic Food in Singapore, we were surprised by the depth and diversity of the local flavors. Food in Singapore has cultural influences from everywhere, and have been assembled together to create something totally unique. You find Chinese, Indonesian, Southern Indian influences and not surprisingly, a significant Malay influence.
Choosing the 12 authentic food and dishes to highlight was actually a really difficult task. The country offers so much to choose from, and there are many similarities to the food in Malaysia.
This list is by no means exhaustive, but it does take you on a culinary journey across the island to taste the authentic food in Singapore.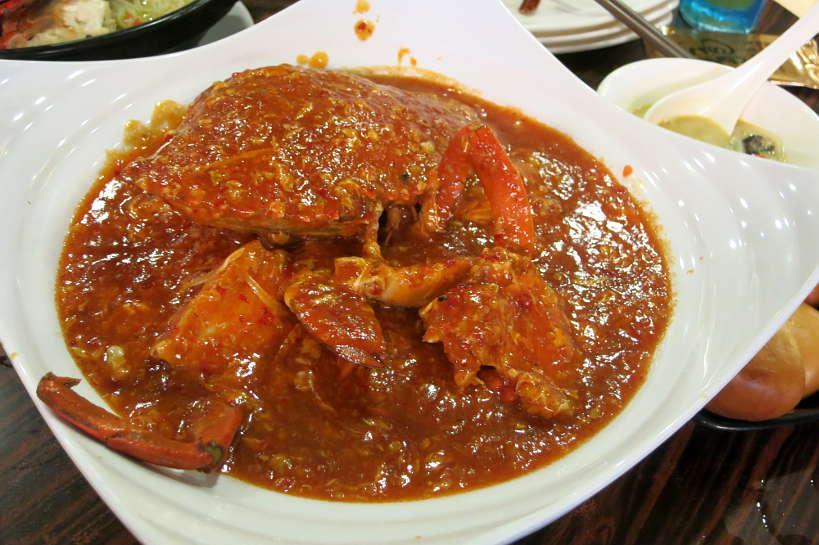 Chili Crab – The National Dish of Singapore
A 2011 CNN poll ranked the World's 50 Best Foods and Singapore Chili Crab made the list at number #35. Your visit to Singapore will not be complete without trying this iconic Singaporean seafood dish. While there are ways to cook up the delicious crab, the two most famous styles are Singapore crab with a spicy tomato chile sauce and crab with black pepper sauce.
This dish was invented from a pushcart in 1956, by a husband who asked his wife to experiment with other methods of cooking crab other than steaming. After adding chili to stir-fried crab in tomato sauce, their crabs became wildly popular. Later, a local chef added a slight twist to the dish using sambal sauce (local chili and shrimp paste), tomato paste and eggs to cook the gravy. This has now become the version most commonly served in Singapore.
Our friend Sheena, a teacher in Singapore who writes about off-beat adventures and delicious foods at estsyexplores.com, guided us through the Singapore chili crab scene.
At Mellben Seafood, we had the chili crab and clay pot crab vermicelli soup (clay pot crab bee hoon) accompanied with salted egg yolk green beans. The crabs were gigantic in size with the most juicy and succulent chunks of meat we have ever eaten. The chili crab is actually not chili or spicy despite its name. It is slathered in a thick delicious chili paste which is perfect to dip fried buns called mantous, which are served with the crab.
Where To Have It
Mellben Seafood is a local Tze Char restaurant (also spelled Che Char or Zi Char) which are uniquely Singaporean restaurants that serve home-style dishes in more elaborate settings than hawker centers. The prices are also more expensive than hawker centers, but cheaper than upscale restaurants.
This particular location was in Toa Payoh, a residential neighborhood. In this open courtyard setting are several other restaurants, hawker stalls, fruit stands and local shops.
Mellben Seafood TPY
Address: Blk 211 Toa Payoh Lorong 8 #01-11/15, Singapore 310211
Hours: Daily, 4:30 pm to 11:30 pm
Price: SGD 55, approx $39.70 USD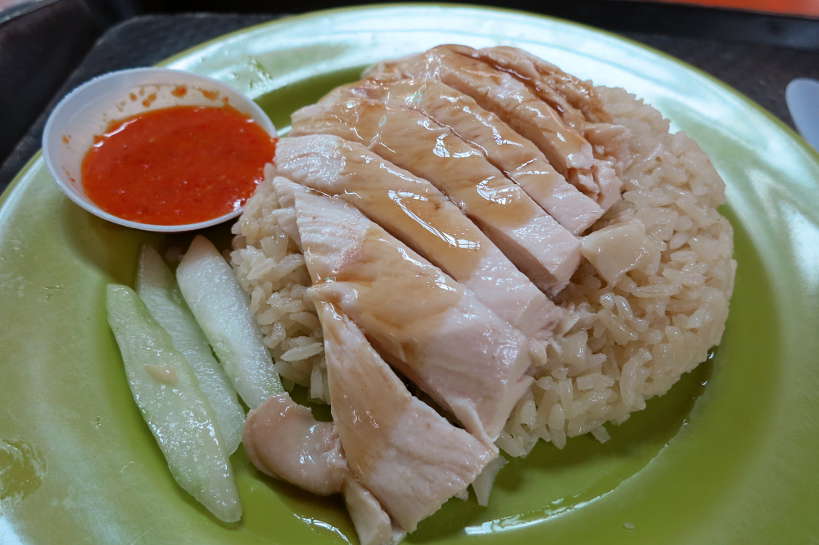 Hainanese Chicken – Chicken Rice from Hainan Province
This is one of my favorite dishes from Singapore. What I love about Hainanese chicken is that it is as succulent as it is simple. It practically melts in your mouth!
Hainanese chicken is a rice dish with juicy steamed white chicken cut into thin pieces. The chicken is served with fragrant rice with some light soy sauce. The dish is topped with cilantro and sesame oil and accompanied by a garlic-chilli sauce. The rice is cooked in the chicken broth with ginger and pandan leaves giving it its unique fragrance. This dish comes from the Chinese immigrants from the province of Hainan in Southern China. They kept the traditional methods of cooking the chicken and the rice which gives this dish its unique flavor.
Where To Have It
In Singapore, you will find many places where to have Hainanese chicken! Every Singaporean has its own favorite Hainanese chicken stall.
While Tian Tian was our favorite, we also discovered Eng Kee food stall at Eunos hawker center where we were staying. Like at Tian Tian, you also have to wait in line at this popular vendor to get your dish.
Tian Tian
Address: Maxwell Road Food Center, 1 Kadayanallur St, Singapore.
Hours: Everyday, 8:00 am – 11:00 pm
Prices: About SGD 3.50, approx $2.50 USD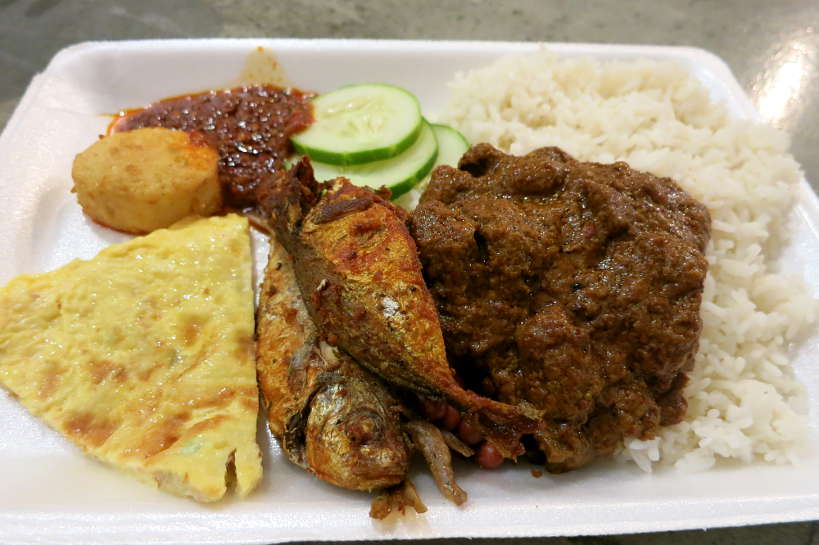 Nasi Lemak – A Malay Dish
Nasi Lemak is a Malay dish that is very popular in Singapore. There are several ways of preparing it, though at the core is a rich rice dish cooked in coconut milk and pandan leaf.
It is typically served with deep-fried fish or chicken wings, grilled fish paste, fried anchovies and peanuts, eggs, cucumber slices, and sambal (spicy chili paste). This is one of the most flavorful and contrasted dishes in Singapore. This hearty dish is best eaten when you have an appetite!
Where To Have It
Otak-Otak – A Nyonya Cuisine Specialty
Otak Otak is a popular classic Nyonya specialty that can be found in Malaysia and Singapore alike.
Nyonya cuisine refers to the cuisine from the descendants of the early Chinese immigrants who settled in Malaysia and Singapore. The cuisine is the result of blending Chinese ingredients with various distinct spices and cooking techniques used by the Malay.
Otak Otak actually means "brains" in Malay due to its texture and shape. Not to worry it has nothing to do with brain per se! It is a grilled or steamed fish cake made with the flesh of the fish which is mixed with tapioca starch, and wrapped in a banana leaf. This dish can be eaten as a snack or as a main meal with a side of rice. We enjoyed this dish as an appetizer and we found it light and refined in taste. A nice treat to open up to Nyonya flavors.
Where to have it
Guan Hoe Soon is a Nyonya restaurant located in the Joo Chiat foodie area of Singapore. Open since 1953, it is one of the oldest Nyonya restaurants in Singapore. Dedicated to Nyonya cuisine, you will find several Nyonya specialties to enjoy including the delicious Otak-Otak.
Guan Hoe Soon
Address: 40 Joo Chiat Pl, Singapore
Hours: Everyday from 11:00 am to 3:00 pm and 6:00 pm to 9:30 pm
Prices: Expect to pay SGD8.00 for Otak-Otak appetizer ($5.80 USD). A meal will cost you around SGD $20.00 to $30.00, approx $15.00 to $20.00 USD
Bak Kut Teh – Pork Rib Soup
This humble dish of Chinese origin is one of Singapore's most popular dishes. It is also popular in Malaysia and we actually had it in Kuala Lumpur, the capital of Malaysia.
Bak Kut Tey is a pork rib soup, made up of juicy pork ribs, simmered for hours in a rich herbal broth. While it sounds simple, the soup is actually highly complex and demands the right amount of peppers, garlic among other ingredients to achieve the best flavors. The name Bak Kut Tey, literally means meat bone tea and is in reference to the Chinese tea that is consumed with this dish.
We enjoyed this delicious soup and found the broth nice and peppery. Not spicy, but just the right amount of flavors for a nice bite. Having boiled for hours, the pork was tender and literally fell off the bones.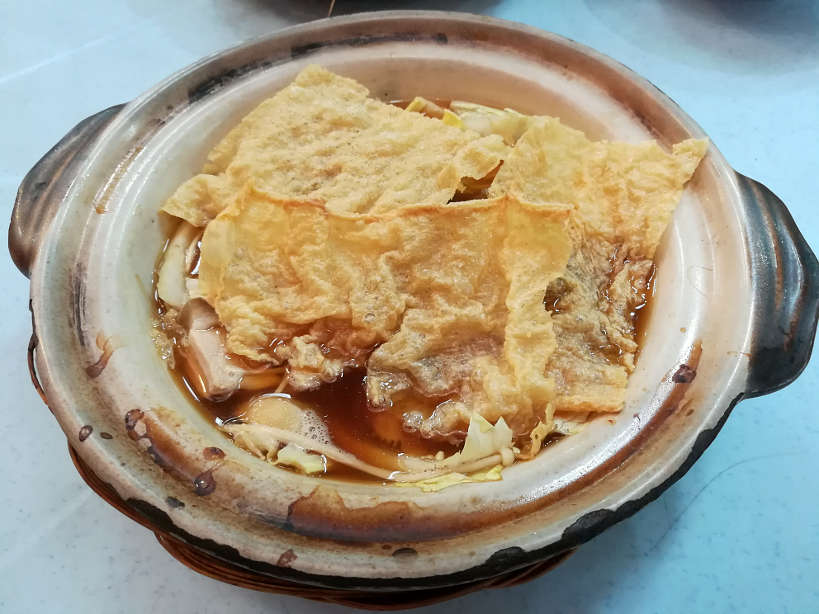 Where to Have It
Recommended by locals, here is one of the best spots to try Bak Kut Teh in Singapore.
This restaurant has been serving Singapore Bak Kut Teh for over 40 years. It is an institution that is globally famous for its meaty, pork ribs simmered in a delicious broth using a family secret recipe.
Founder Bak Kut Teh
Address: 347 Balestier Road, Singapore 329777
Hours: 12:00 pm to 2:30 pm and 6:00 pm to 2:00 am (Closed on Tuesday)
Prices: Expect to pay between SGD 6.50 to SGD 10.00 (approx $4.50 USD to $7.50 USD)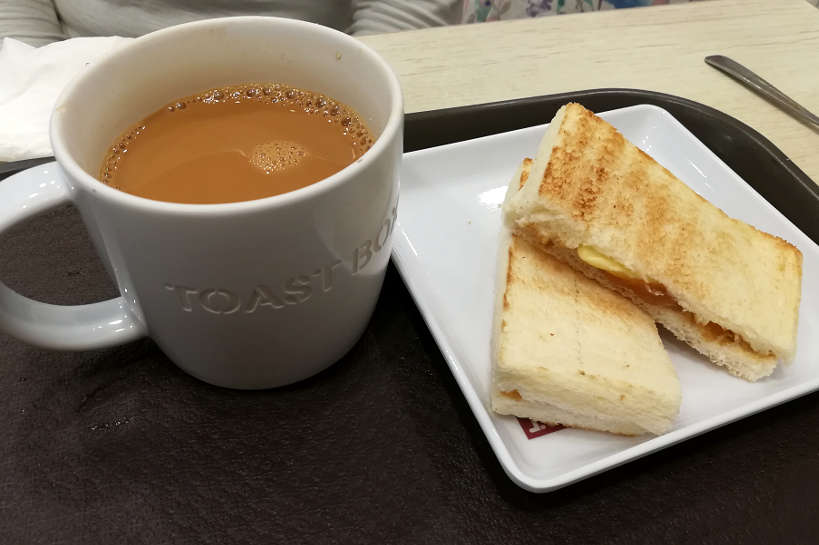 Kaya Toast with Kopi – Singapore's National Breakfast
Toast and coffee might not seem that exciting as a breakfast dish. But in Singapore, it is a treasure. We first tasted Kaya Toast and Kopi (coffee) when we landed in Singapore's Changi Airport and were immediately blown away. The taste and flavors are outstanding.
Kaya toast is toasted bread with butter and kaya, a jam made from eggs, sugar, coconut milk and pandan leaves. Not too sweet, this is one of the most delicious jams we've had.
The breakfast dish is enhanced even further when paired with soft boiled eggs and a steaming cup of coffee or tea. Kopi, the signature coffee drink comes with sugar, sweetened condensed milk and evaporated milk. This breakfast treat is the perfect start to a new day or a delicious snack in the middle of the day.
Where to Have It
We ate Kaya toast several times, and each time our appreciation of the flavors increased. We stumbled onto Toast Box, while escaping the rain on a chilly afternoon and enjoyed Kaya Toast and hot Kopi in a cozy environment. Ya Kun Kaya Toast is a popular Singaporean chain with locations throughout the city. At Chiang Airport, be sure to make a stop at Wang Cafe for the last time or for a welcome breakfast to Singapore.
Toast Box
Address: More than 70 locations across the island
Hours: Daily, 8:00 am – 10:30 pm
Prices: Between SGD 2.00 for Kaya Toast and SGD 1.50 for Kopi, approx $1.44 USD to $1.10 USD
Ya Kun Kaya Toast
Address: Several locations throughout the island
Hours: Daily, 8:00 am – 10:00 pm
Prices: Between SGD 2.00 for Kaya Toast and SGD 1.50 for Kopi, approx $1.44 USD to $1.10 USD
Wang Cafe
Address: Changi Airport, Terminal 1, #01-02,
Hours: Everyday, 24/7
Prices: Between SGD 2.00 for Kaya Toast and SGD 1.50 for Kopi, approx $1.44 USD to $1.10 USD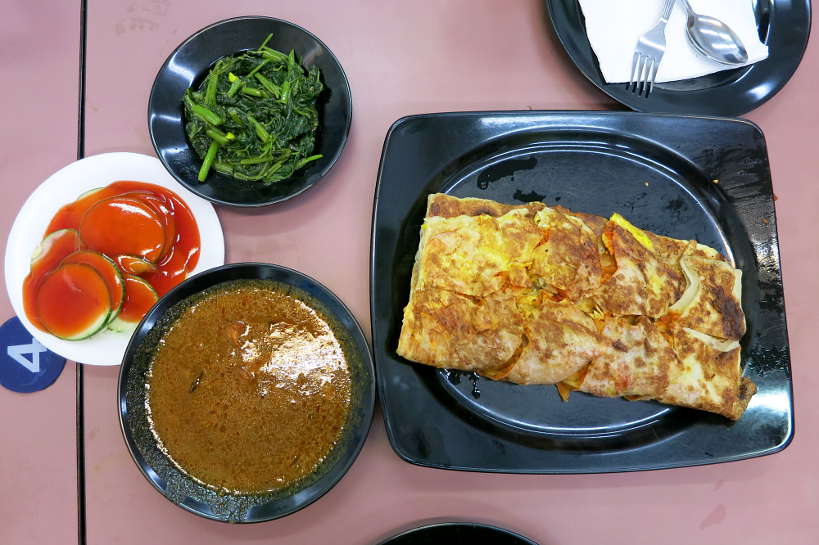 Murtabak – Stuffed Folded Omelette Pancake
We love Indian food, though have mostly enjoyed in the U.S. Murtabak was new to the both of us and highly recommended as a dish not to miss in Singapore.
The single place that kept coming up to have murtabak was Zam Zam, an Indian Muslim restaurant with an international reputation.
Murtabak is a like a huge and stuffed pancake filled with either chicken, beef, and mutton, which are the most popular fillings. Although, you can also find venison and sardine versions as well. At Zam Zam, we ordered their signature chicken murtabak. Given this calorie laden and humongous dish, we opted to share one order. There is everything to like about Murtabak. Layers of crispy buttery naan pastry with a golden, flakey appearance. Bursting on the inside are chunks of succulent chicken, folds of egg and sweet onions, and spices that give it an orange glow.
The murtabak comes with a bowl of thick chicken curry, that pairs perfectly with the chicken.
While murtabak is flavourful on its own, it reaches a higher level of deliciousness when coated liberally with the curry sauce.
Where to Have It
This is one of the most well-known restaurants in Singapore for murtabak and also one of the oldest restaurants, founded in 1908.
While in the area, watch the theatrics of different vendors flipping dough and sizzling flatbread. It is truly fascinating to watch the preparation of murtabak.
Singapore Zam Zam
Address: 679 North Bridge Road
Hours: Daily, 7:00am to 11:00pm
Sizes: Five different sizes: Small, Medium, Large, Special, Super Special
Prices: Prices range from SGD 6.00 to SGD 17.00, approx $4.30 USD to $12.30 USD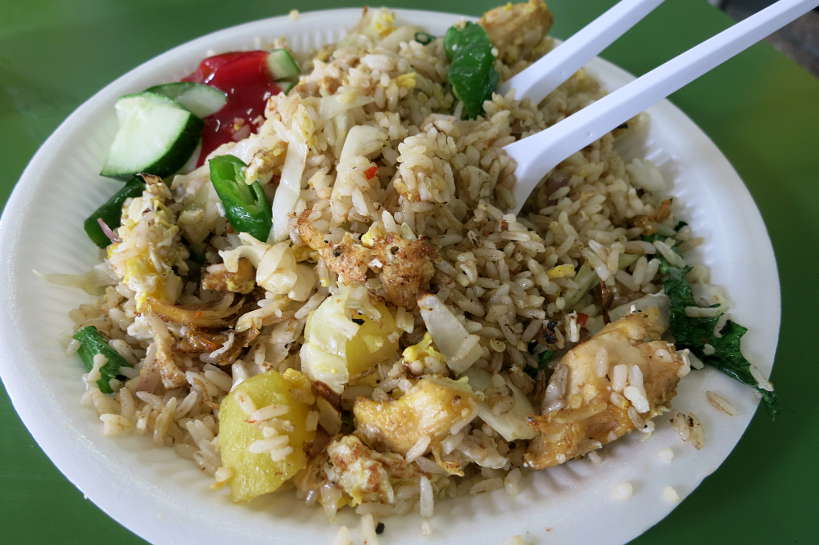 Biryani – Aromatic Fried Rice Dish
Biryani is a fried rice dish of Indian Muslim influence. The rice used is a distinctive long grain rice, usually Basmati rice which cooks to a light and fluffy texture. Meats can be added and the most popular is chicken, mutton or fish. The spices used are heavy in flavor with cinnamon, cloves, nutmeg and bay leaves. In one dish, the rice is served with the accompanying chicken or mutton curry.
Where to Have It
You'll find Biryani in several Singapore hawker centers. We enjoyed this simple and delicious dish at Eunos hawker center, where we stayed. Listed below are recommendations given to us by locals.
Allauddin's Biryani, Tekka Center
Address: 665 Buffalo Rd, #01-229, Tekka Food Centre
Hours: Daily, 9:00am – 8:00pm
Prices: Between SGD 4.50 – SGD 6.50, approx $3.25 USD to $4.70 USD
Singapore Zam Zam
Address: 679 North Bridge Road
Hours: Daily, 7:00am to 11:00pm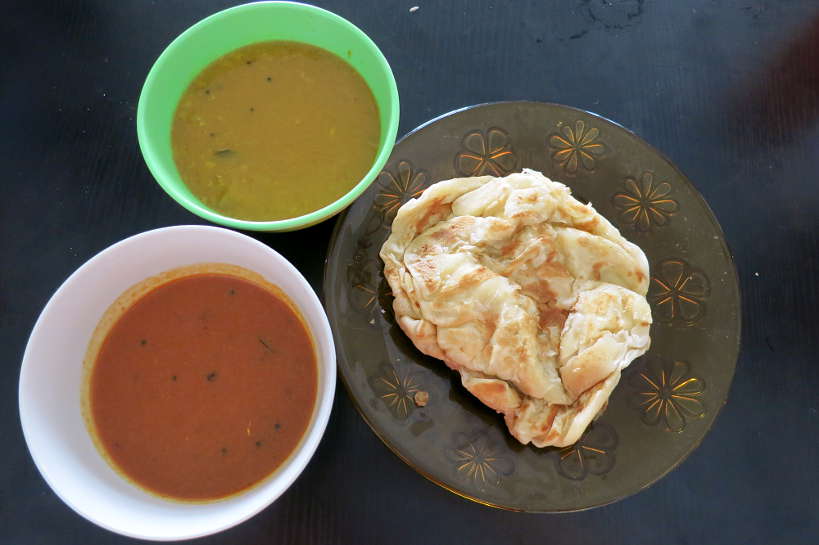 Roti Prata – South Indian Flatbread
Roti Prata is a signature dish of Singapore. It is also extremely popular in Malaysia where it goes by the name Roti Canai. It's history can be traced back to Indian subcontinent as well as Pakistan. The meaning of Roti Prata is simple. Roti means roti or bread and Prata means flat. The Indian version is known as Paratha.
This is a simple meal that is very tasty. This pancake-like flatbread is served with a meat-based or a vegetable-based curry. You tear up slices of the roti and dip it into the delicious curry and have light meal or a filling snack. Delicious and one of our favorite snacks.
Where to Have It
This popular Indian restaurant in Little India, serves delicious and inexpensive South Indian and North Indian vegetarian foods.
Komala Vilas Restaurant
Address: 76-78 Serangoon Road
Hours: Daily, 7:00am to 11:00pm
Prices: range from SGD 6.00 to SGD 17.00, approx $4.30 USD to $12.30 USD
Singapore Zam Zam
Address: 679 North Bridge Road
Hours: Daily, 7:00am to 11:00pm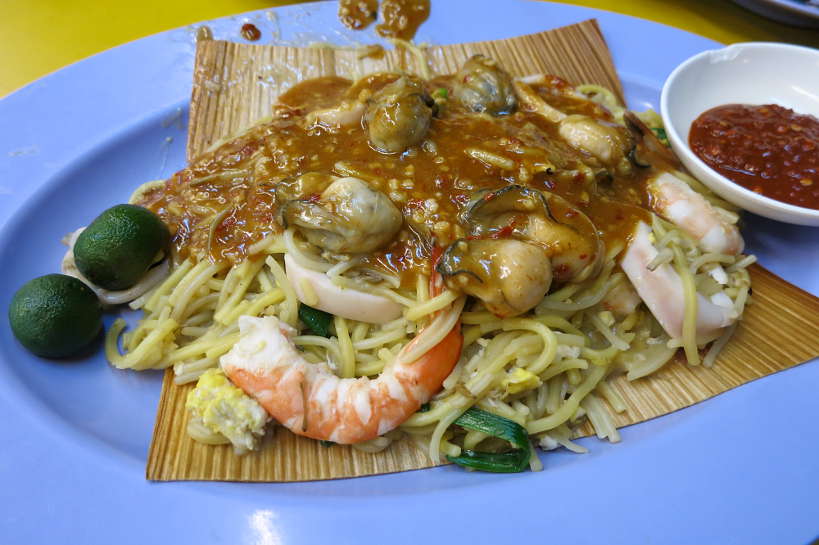 Fried Hokkien Mee – Stir Fried Noodles, the Singaporean Way
Hokkien Mee is dish found in Malaysia and Singapore which originated from Hokkien, in the Southern province of China.
Hokkien Mee is cooked very differently regarding where you have it. In Singapore, it is a stir-fried dish made of a combination of rice and egg noodles. It is served with a thick and fragrant sauce made from fresh shrimp and dried prawns. It comes with prawns, squid, oysters, spring onions and fresh lime. On the side, you will get a sambal sauce with red chili and light soy sauce.
Where to Have It
Kim's Hokkien Mee is a famous local joint a the corner a busy street. You will not miss its flashy neon and its reference to Mr. Kim! We got this recommendation from our Airbnb co-host, a local Singaporean.
The open air seating is enticing and you will find several variations of Kim's Hokkien Mee on the menu. Rich and creamy, this Hokkien Mee will satiate your hunger. Enjoy it with a fresh coconut juice.
Kim's Hokkien Mee
Address: 62B Jln Eunos, Singapore
Hours: Everyday from 11am to 1am
Prices: Expect to pay between SGD8.00 – SGD 12.00, approx $5.78USD – $8.66 USD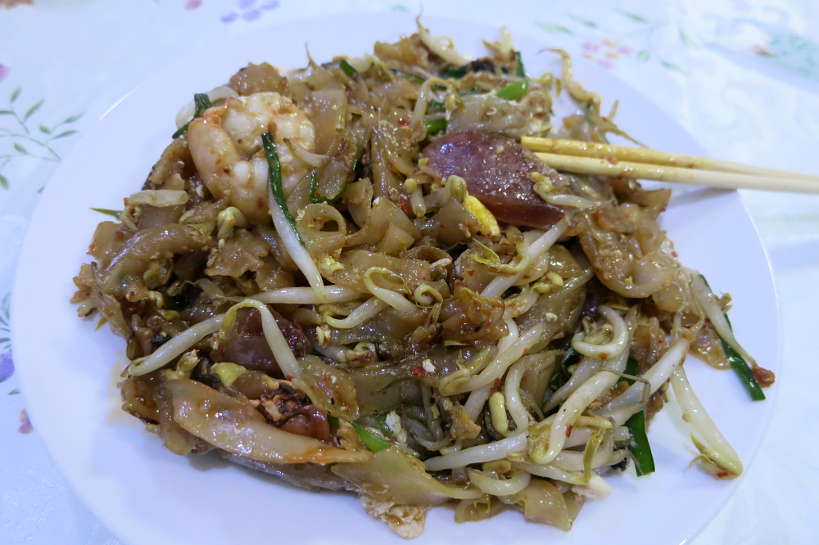 Char Kway Teow – Singapore's Local Favorite Dish
Char Kway Teow is one of the most popular dishes in Malaysia and Singapore. This is a stir-fried dish made of flat rice noodles, with prawns, eggs, slices of Chinese sausages, bean sprouts, Chinese chives, shrimp-paste. It is stir-fried over very high heat with a light and dark chili soy sauce.
It is hard to resist to a delicious plate of Char Kway Teow! We named it the Pad Thai of Malaysia. If you love fried noodles, you will love this dish. It can be quite fatty but it is truly delicious.
Where to Have It
Chon Hiang is a famous Char Kway Teow food stall in the East Coast Lagoon Food Village one of the best hawker centers to eat in Singapore. There, Ms. MuiMui, a second generation hawker, is known for her cooking skills.
Her stall was recommended to us by locals. We didn't eat Char Kway Teow in Singapore because we had eaten it several times in Malaysia. Our focus was on the unique specialties and authentic food in Singapore.
However, if you make it to this relaxing hawker center by the beach, don't forget to visit Ms. Muimui food stall!
Chon Hiang
Address: 1220 East Coast Park Service Road.
Hours:Everyday, 10:30 am – 2:00 am
Prices: starts at SGD3.00, approx $2.20 USD
Pork Satay – Singapore's Favorite Late Night Snack
Pork Satay are grilled bamboo skewered pork served with spicy dipping sauce. The sauce is a combination of soy and peanut sauce and chili. Pork satay is served with cucumbers and onions and is a great snack to enjoy on a late night.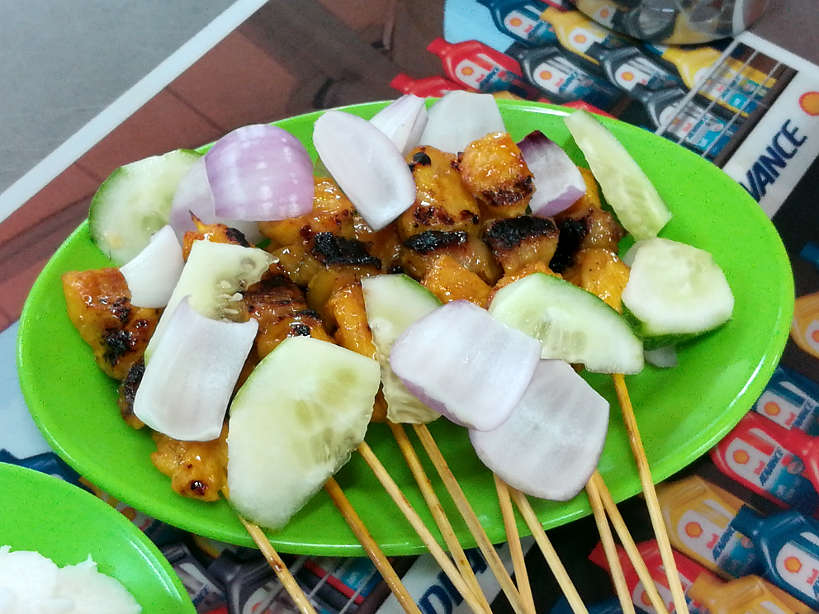 Where to Have It
One of the best place to have Pork Satay is at Satay by the Bay. Not only you will have the choice of six satay food stalls, you will also enjoy the Gardens by the Bay. Wander through the different food stalls and sample the different skewers. Try beef, chicken, mutton and prawns satay and let your nose and taste buds guide you.
Address: 18 Marina Gardens Dr, Singapore.
Hours: Everyday from 8pm to 11pm and until 2am on weekends and Wednesdays.
Prices: About SGD0.70 / per skewer, approx $0.50USD.
Traveling to Singapore? Here are the other guides you need.
Authentic Food Quest
Rosemary Kimani and Claire Rouger are co-founders of Authentic Food Quest. They traded in their corporate jobs in 2015 to eat their way around the world. Starting out in South America, they traveled to Argentina, Uruguay, Chile and Peru and spent 6 months discovering the authentic foods in the region. Their mission is to inspire people to travel through authentic food. They have just published their first book on Amazon: Authentic Food Quest Argentina: A Guide to Eat Your Way Authentically Through Argentina. Join them on their quest as they eat their way through the Philippines, Vietnam, Thailand, Cambodia and Malaysia in Southeast Asia.