London may not be top on your list of food cities, but after reading this you might change your mind. While the scene is ever-changing, here are a few favorite restaurants and dishes right now.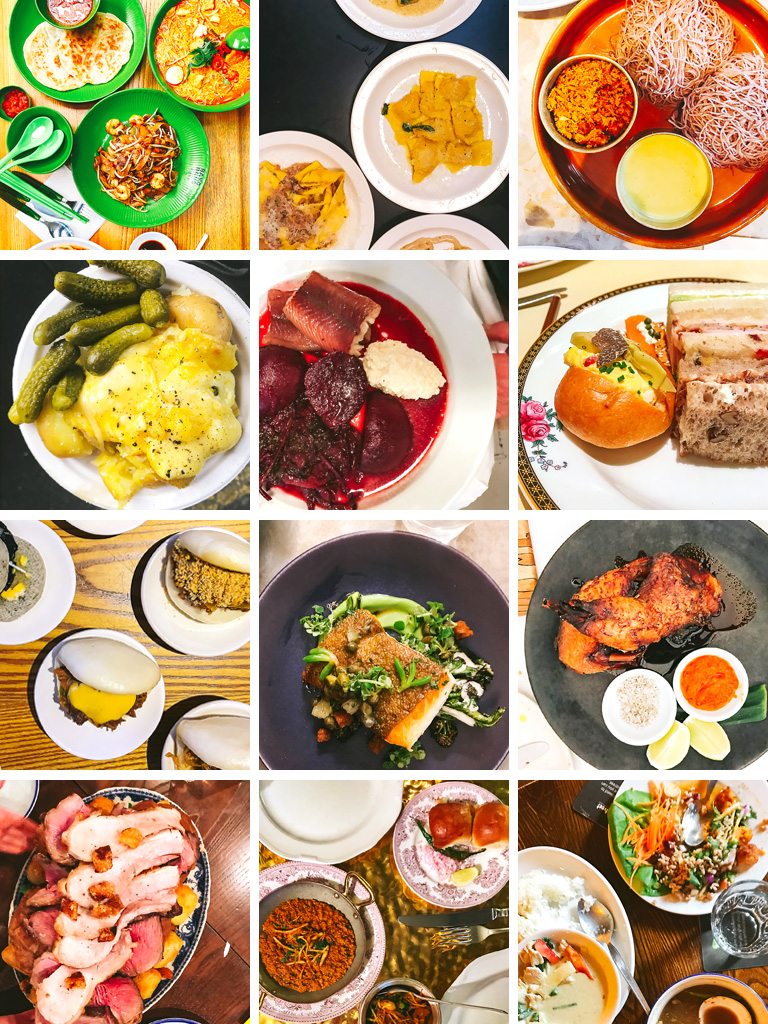 "I'm coming to London. What do I need to eat?"
I get asked this question a lot. My friends, today I'm answering that question with the 12 things you must eat in London. From zingy Sri Lankan food to the meatiest Sunday roast you'll ever find, I've got something for everyone on this list. Are you ready? Let's go!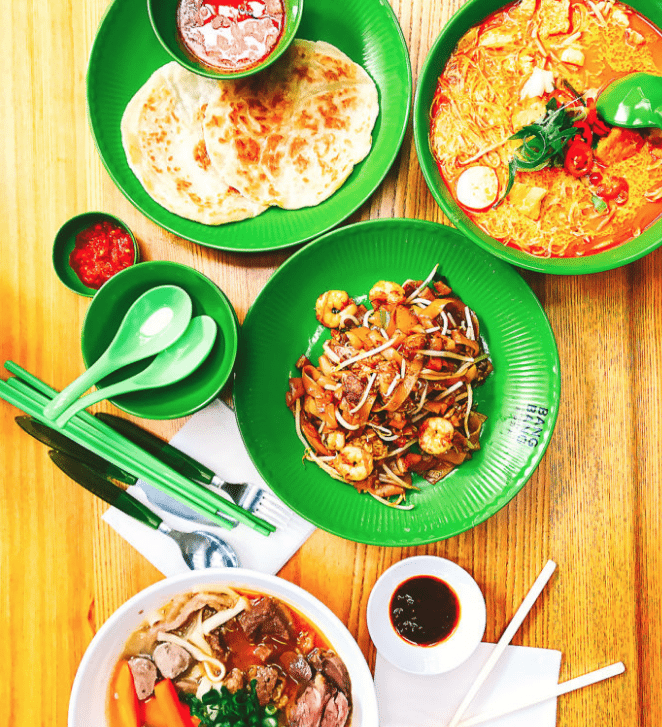 1. MALAYSIAN CURRY LAKSA, COCONUT TREE AT BANG BANG ORIENTAL FOOD HALL
Last year London got its first Asian-style food hall, Bang Bang Oriental Food Hall. Located in Colindale (north London), it's a hike to get there, but well worth the trip. The Malaysian curry laksa, a creamy coconut milk-based egg noodle soup spiced with chili oil, is the real deal. Be sure to ask for the "Malaysian spicy" version, which adds a fiery dollop of chili paste right on the top. Other must-try dishes in the food hall are Royal China's dim sum and marbled roast duck from an outpost of the famous Four Seasons in Queensway.
2. CACIO E PEPE PICI PASTA, PADELLA
One of Borough Market's top five eats also makes it into the overall list of best dishes in London because it's truly that memorable. Padella is a slip of a pasta joint on the edge of Borough Market. The shop operates without a reservation system, and even so, a waiting list often fills up within the first hour of lunch or dinner service. It's well worth it, though, for the pici pasta. Thick curls of handmade pasta are coated in an eggy cacio e pepe (Pecorino and freshly-grated pepper) sauce. The pasta is chewy, the sauce is glossy, and the overall result is just perfection. At £6.50 for a plate, it's a steal, except that you'll want to order another. And another.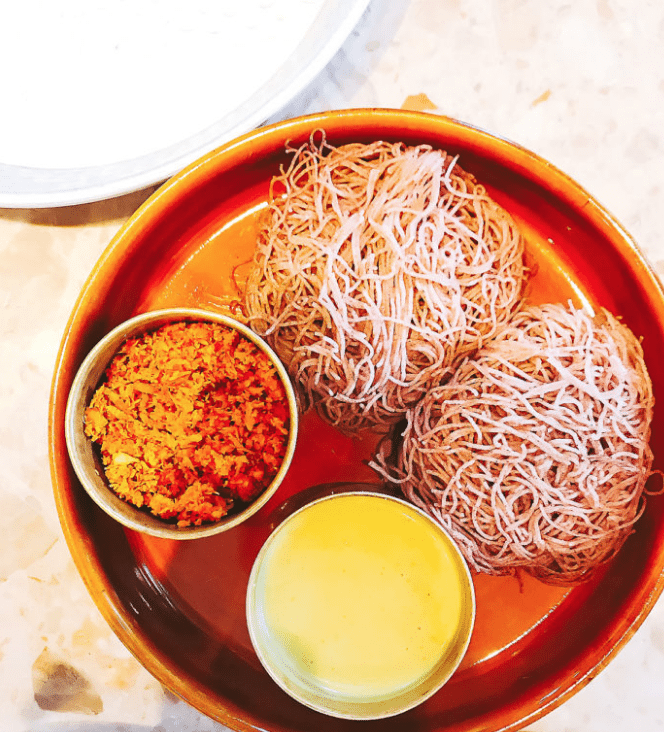 3. STRING HOPPERS, HOPPERS
Hoppers is making Sri Lankan food accessible and hip in London, and we are all the better for it. When it first opened in Soho with a no-reservation, waiting list only policy, getting a seat was based on luck and a prayer. Thankfully, a second location in St. Christopher's Place near Marylebone has changed that. There are quite a few can't miss dishes here, from the egg hopper (£4.50), a flaky pancake with a perfectly-cooked Burford Brown egg in the middle, to the vegetable kothu roti (£9), a stir-fry of hearty greens and other veg with broken roti pancakes folded in. But the real winner here is the string hoppers (£5) and the accompanying curries. String hoppers are like bouncy rice noodles, and when swirled into a creamy fenugreek curry and topped with flaky coconut sambol, the result is a spicy mix of textures that is seriously addictive.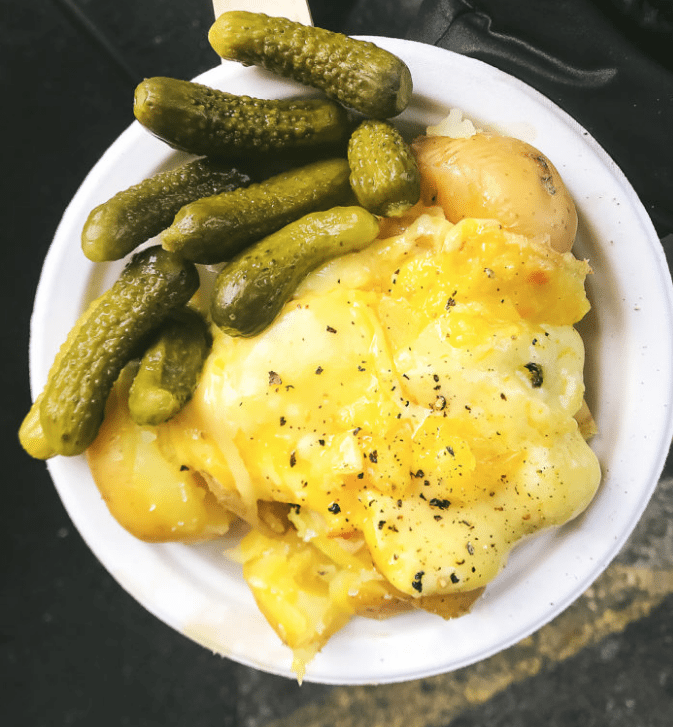 4. RACLETTE, KAPPACASEIN
It shouldn't be surprising that London's greatest food market would be home to not just one, but two must-eat foods in London. Kappacasein Dairy makes its own cheeses, then brings that cheese to its Borough Market stall. Its raclette is a meltable Swiss cheese placed under a hot grill for bubbly, melted goodness. The cheese is lazily draped over boiled potatoes and cornichons (tiny, tart pickles). It's best eaten on a gloomy day for a cozy pick-me-up; luckily, there's no shortage of those in London.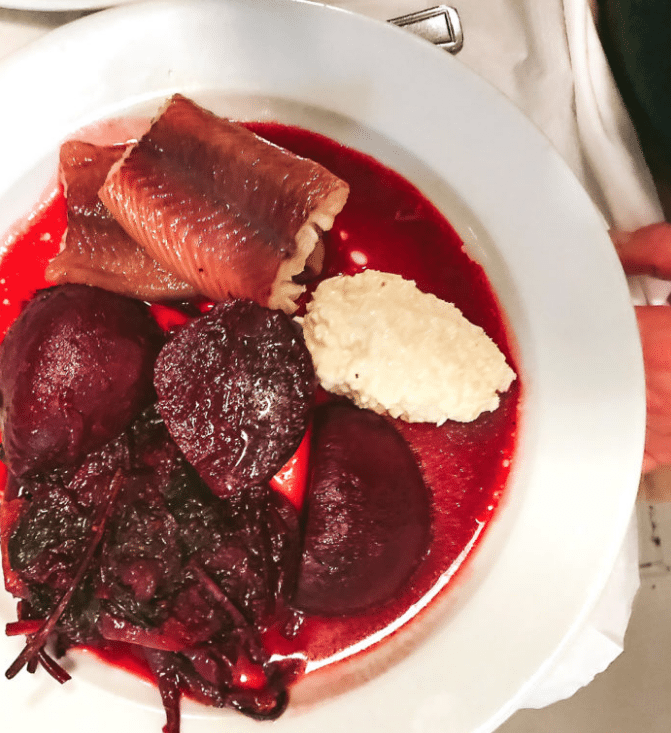 5. SMOKED EEL AND PICKLED BEETROOT, ST. JOHN SMITHFIELD
St. John chef Fergus Henderson made a name for himself for his nose-to-tail approach to traditional British cooking, but that doesn't mean you should overlook the smoked eel, a British staple. St. John's version comes with tart pickled beetroot and red cabbage. The tartness of the beetroot balances so nicely with the flaky, tender smoked eel, and a dollop of sinus-clearing horseradish is an added boost of energy.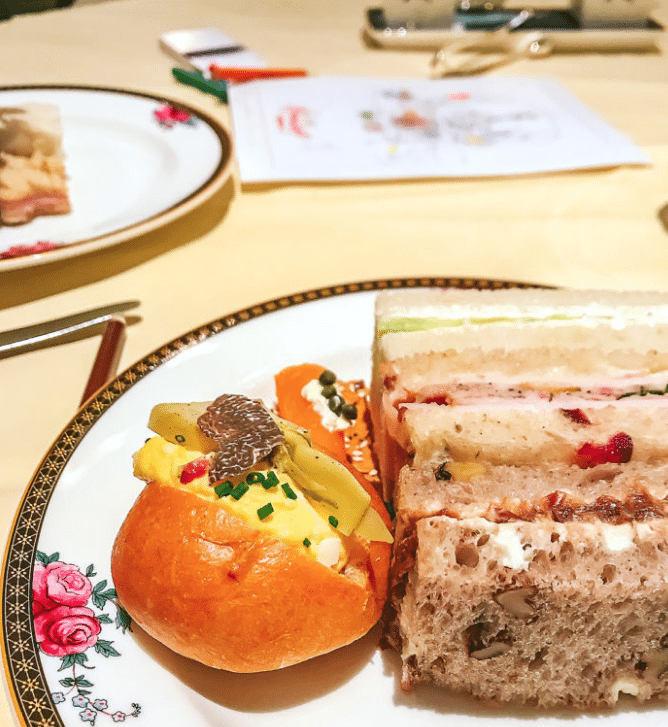 6. AFTERNOON TEA, PALM COURT AT THE LANGHAM
No roundup of the 12 things you must eat in London is complete without a proper afternoon tea. Have the penultimate tea experience at the Palm Court restaurant inside The Langham Hotel, the birthplace of afternoon tea. Tea and afternoon refreshments (£55) are served on tall towers of Wedgwood china. The classic sandwiches with modern twists, such as the prawn cocktail with tomato "powder," are not to be missed, and scones arrive perfectly flaky and warm. Don't worry — if one plate isn't enough, your server will keep bringing them until you beg for mercy.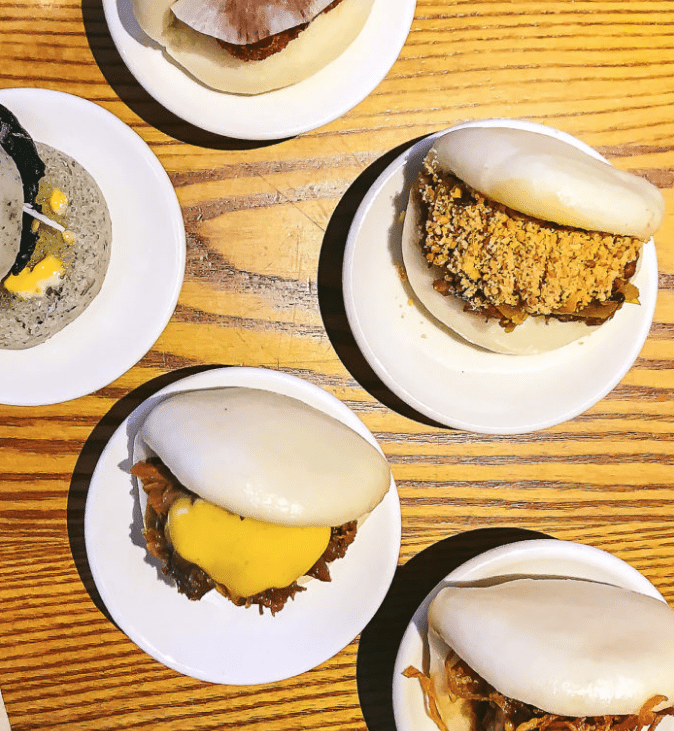 7. BAO SAMPLER, BAO FITRZROVIA
There are buns, and then there are BAO's Taiwanese steamed buns, which are pillowy and light as air. The fillings at BAO aren't exactly conventional, even though the traditional pork belly with crushed peanuts is available. Don't miss the blackened cod that's covered in squid ink. The chalkiness of the squid ink provides a really great textural contrast to the soft bun. For folks who can't make up their mind, the BAO sampler is an adorable, miniaturized version of all five bao on the menu. It's best to be quick about it, though — the bao samplers are only available in limited quantities each day, and they sell out quickly.
8. POLLOCK À LA GRENOBLOISE, LEMON & BROCCOLETTI, FRENCHIE COVENT GARDEN
Parisian chef Greg Marchand sharpened his knives in London and New York before returning to Paris and opening Frenchie, a riff on a nickname given to him by British celebrity chef Jamie Oliver. With his Covent Garden location, Marchand marries simple food with sophisticated methods. The pollock a la Grenobloise (£28) is a technically perfect seared piece of fish, and it's the charred broccoletti and crisp-fried pieces of lemon rind that elevate this dish to extraordinary.
9. TWICE COOKED HALF CHICKEN WITH CHILI SAUCE, NOPI LONDON
It's safe to say that London — and the world — is pretty obsessed with Yotam Ottolenghi's fresh take on vegetable medleys and salads. At NOPI, his higher end restaurant, diners can enjoy his signature riffs on vegetables infused wth a Southeast Asian flair from his executive chef, Ramael Scully. The twice-cooked half chicken arrives with a crispy, honeyed skin and meat that's bursting with chin-dribbling juice. Even better are the bites taken with the spiky chili sauce and lemon myrtle salt. This isn't a fork-and-knife kind of half-chicken, so get ready to get down and dirty with it.
10. "ALL-IN" SUNDAY ROAST, BLACKLOCK
Meat is the name of the game at Blacklock, and their wallet-friendly "all-in" Sunday roast is a no-brainer. For £20 per person, you can tuck in to a smorgasbord of beef, lamb and pork cuts, along with roasted vegetables, gravy and Yorkshire puddings (known as popovers in the U.S.). The meats are juicy, the potatoes are crispy, and the gravy is a fantastic mix of salt and meatiness. It's an eat-until-your-pants-burst kind of situation, and it is breathtaking.
11.KID GOAT METHI KEEMA, GYMKHANA
Oh, there's so much that's good about Gymkhana. The old-school gin and tonics. The proud, puffed rice biryanis. The feel of colonial India in its atmosphere and decor. But one of the best dishes there is one that isn't actually much to look at . The kid goat methi keema isn't the prettiest dish, but it's addictive to eat. A savory mix of ground kid goat in a tomato-based sauce with a punch of spices is served with fresh green chilies and soft buttered rolls. Add a few hot spoonfuls of the goat to the rolls, and you've got an Indian riff on the sloppy joe.
12. CRISPY RICE BALL SALAD, THE HERON PADDINGTON
Nothing about The Heron would lead you to believe that some of the most authentic Thai food is being served inside. The exterior is a nondescript English pub, and its interior is –well, a nondescript English pub. The menu, however, is anything but, focusing on Northern Thai specialties. Don't miss the Yuk Ham Khao Tod (£8), a crumbled crispy rice ball salad with ground pork, chilies, peanuts and red onion along with a few healthy dashes of lime juice for good measure. This is the kind of salad that I never turn away — it's hot, spicy, sweet and salty, and the crumbled rice adds more satisfying crunch.
FOR OTHER TIPS ON VISITING LONDON, CHECK OUT:
Borough Market's Top 5 Eats
Afternoon Tea at Fortum and Mason
Honey & Co.
Ann Kaufman
Ann Kaufman is an emotional food enthusiast who writes about food at Grits & Chopsticks. When she's not writing about food, she's caring for her two young children, lawyering and thinking about her next meal.