Are you stuck in a rut with the usual routine for your Thanksgiving turkey? Try a new technique with one of these flavorsome methods for cooking the bird.
By Catherine Baker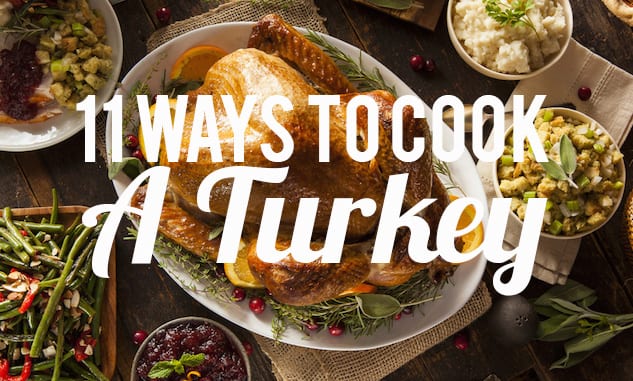 Shutterstock: Brent Hofacker
It's coming up to that time of year again folks: everything is all about the gobble, gobble. While Thanksgiving is easily the most-beloved and traditional of all American holidays, the preparations for the family and friend-filled day can be tedious, time-consuming and quite frankly, intimidating. However, I've found a bona fide way to handle the sometimes stressful situation. Just keep calm and remember what Julia Child said, "The only real stumbling block is fear of failure. In cooking you've got to have a what-the-hell attitude." Now slide on over to the adventurous side of the table, and try out a new cooking method for the star of the show.
Roasted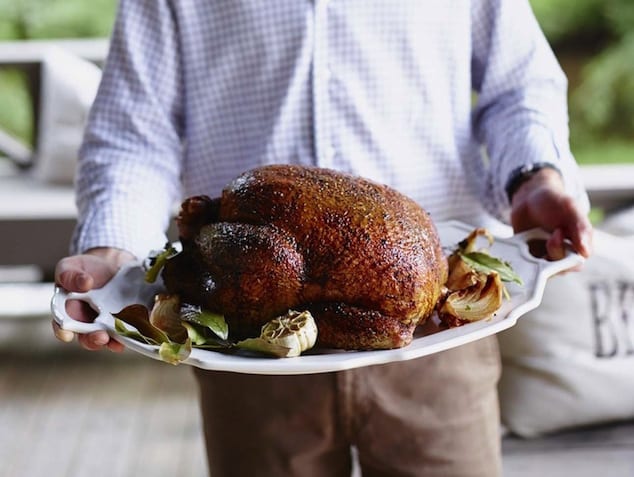 blog.williams-sonoma.com
The most common and conventional way to cook a whole turkey. Use this method if you're a first-timer or want a guaranteed way of presenting the main dish in one glorious piece. There are countless recipes for roasted turkey from traditional to exotic. Try this one for Blackberry Farm's recipe or this one for a Thai verison.
Rotisserie Roasted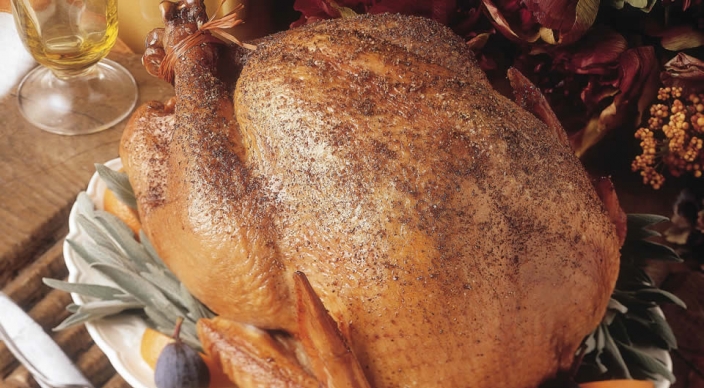 http://weber.com
Want golden-brown, evenly-cooked meat to impress your guests? Rotisserie roasting may be the method just for you. Also referred as "spit-roasting," this slow-cooking process delivers a crispy crust and no shortage of juicy flavor. Here's a delicious sage, orange, and clove recipe.
Brined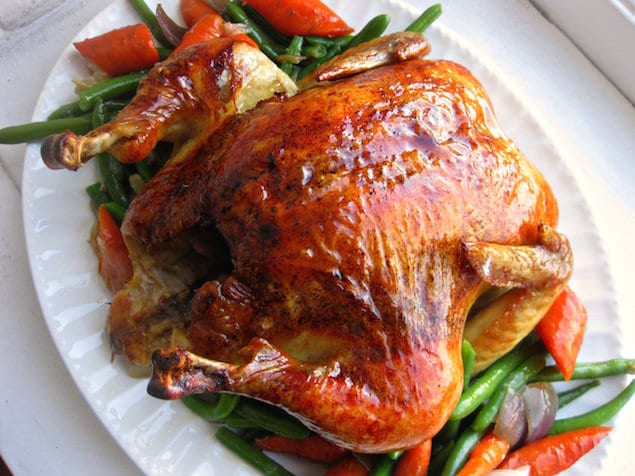 www.canyoustayfordinner.com
To brine or not to brine—that is the question. If you've sworn off turkey on Turkey Day because you're tired of too dry, too tough meat, brining may be the solution you've been looking for all these years! By soaking the bird for a length of time in a salt-based mixture, you are ensuring a succulent taste the day of the feast. Get Chef Virginia Willis's brined then roasted recipe here.
Grilled
http://thebittenword.com
If you're one of the lucky ones to enjoy warmer weather at the end of November, grilling may be a new, fun method to encourage guests to meander outside and free up some space in the kitchen. You can use gas or charcoal, but remember to check your bird and grill temperatures often. Check out this recipe here.
Smoked
http://thedomesticatedman.com
Looking for something strong in flavor that also frees up some of that invaluable oven space? Happen to have or know someone who has a charcoal or gas grill? Then you should definitely be thinking about smoking your turkey this year! Brining overnight is highly suggested for perfectly moist meat according to this smoked recipe.
Steamed
http://nytimes.com
If famed French chef Jacques Pépin offers a cooking suggestion, it's best to just nod your head in agreement and follow his directions immediately. Steaming adds moisture to the meat while roasting it at the end gives that crispy crust everyone gushes about for years to come. Get Monsieur Pépin's recipe here.
Braised and Roasted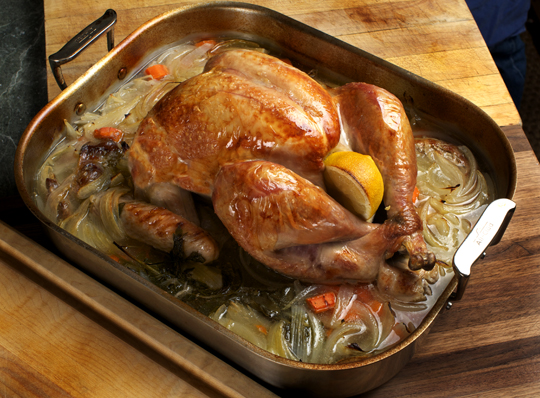 http://ruhlman.com
If it ain't broke, don't fix it. That's a general good rule of thumb and also Michael Ruhlman's philosophy when it comes to a Thanksgiving turkey. His braised then roasted method solves two of the greatest turkey dilemmas: "how to have both juicy breast meat and tender dark meat" and "how to serve it hot to a lot of people." By first braising the bird half-submerged in cooking liquid stovetop, then roasting it to finish it off, this method ensures a delectable main dish. Check out the dilemma-solving recipe here.
Roasted with Cheesecloth
http://marthastewart.com
Any butter enthusiasts out there? If so, here's a recipe especially for you. The cheesecloth is soaked in butter and wine, then draped over the usually dried out turkey breasts. Continue basting the cloth with the butter wine mixture throughout the cooking process. A moist, delicious turkey is the outcome. Try Martha Stewart's cheesecloth recipe here.
Spatchcocked
http://seriouseats.com
What a weird but fun word to say—spatchcocked. Also referred to as "butterflied" turkey, this method involves cutting the turkey down the back, removing the backbone, and letting it lie flat. This allows for even cooking on all parts of the bird and the crispiest skin. You can then roast, grill or smoke the turkey to perfection, and don't forget to add the flavorful backbone to your broth if you plan on making gravy. See J. Kenji López-Alt's recipe here and tutorial video here.
Beer Can Turkey
http://meatwave.com
Talk about putting on a show! The cooking benefits of using this method are debatable, but I'm sure everyone can agree that this way looks just as impressive as having a whole roasted turkey come to the table ready for carving. You can roast, grill or smoke a beer can turkey, and here is an excellent brined and smoked recipe.
Fried
http://chow.com
I saved the best for last, according to my very-biased Georgia opinion. A Thanksgiving without fried turkey is just another day in my book. It may be daunting and a potential safety hazard, but the result will have you cooking your bird no other way from here on out and will save you quite a bit of time. Gather everyone around, nibble on some appetizers, and carefully watch the fryer bring a little (or rather large) piece of heaven right to the comfort of your own home. Try this southern rub recipe here or watch this video for a step-by-step visual.
#mc_embed_signup{background:#fff; border: 3px double black; clear:left; font:14px Georgia,serif;  width:635px;}
/* Add your own MailChimp form style overrides in your site stylesheet or in this style block.
We recommend moving this block and the preceding CSS link to the HEAD of your HTML file. */