This traditional German dish ranges in size and shape throughout the country, but the buttery caramelized onions and savory bacon filling is consistent.
By Kimberly Killebrew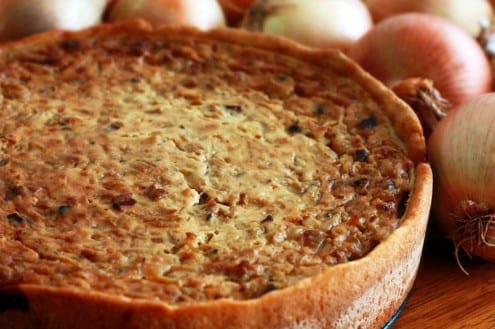 Zwiebelkuchen: German Onion Pie
This traditional German dish ranges in size and shape throughout the country, but the buttery caramelized onions and savory bacon filling is consistent.
Author:
Kimberly Killebrew
Ingredients
For the dough:
½ cup plus 2 tablespoons all-purpose flour
½ teaspoon salt
4 tablespoons butter at room temperature and cut into small cubes
A little less than 1 cup warm milk
1 tsp yeast
For the filling:
2 ¼ lbs yellow onions, finely diced
5 slices thick cut bacon, finely diced
1 ½ cups full fat sour cream
4 large eggs
2 tablespoons all-purpose flour
2 teaspoons salt
1 teaspoon caraway seeds
Freshly ground black pepper
Instructions
To make the Dough:
Dissolve the yeast in the warm milk and let stand for 5 minutes. Place the four and salt in a food processor and make a well in the center. Add the butter and pour the milk mixture over. Using a dough hook, knead the dough on the "bread" setting for about 6 minutes. Add more milk or flour as needed. Form the dough into a ball, spray the same bowl with olive or vegetable oil, cover loosely with plastic wrap, and let the dough rise in a warm place until nearly doubled in size. (I usually turn the oven on 350 degrees F for about 1 minute just until it's a warm, turn it off, and let the dough rise in the oven).
Preheat the oven to 400 F.
To make the Onion/Bacon Mixture:
Fry up the bacon. When the bacon is done add the onions to it along with 2 tablespoons of butter. Reduce the heat and let the onions slowly caramelize to a nice golden brown, about 20 minutes. Remove from heat and allow the mixture to cool.
To make the Filling:
In a bowl, combine 1 ½ cups full fat sour cream, 3 jumbo eggs (or 4 large), 2 tablespoons all-purpose flour, 2 teaspoons salt, 1 teaspoon caraway seeds, and some freshly ground pepper. Add the onion/bacon mixture to it and thoroughly combine everything.
Once the yeast dough has risen, butter a medium-sized springform (9 inches or so) and spread out the yeast dough on the bottom and up the sides (leaving about ½ inch from the top). The dough will keep retracting, just work fairly quickly and then immediately pour the onion mixture into it (it will hold the dough in place) and put it in the oven.
Place the Zwiebelkuchen on the middle shelf in the oven and bake for 55-60 minutes, until the top is light brown and the center of the pie feels fairly firm to the touch. Let cool for at least 20 minutes before serving. Can be eaten lukewarm or cold.
Kimberly Killebrew
Raised in Western Europe, widely traveled, and currently residing near Seattle with her husband and children, Kimberly loves preparing and experimenting with a large range of flavors and cuisines. This is reflected in her food blog, The Daring Gourmet, where she invites all to "tour the world through your taste buds." Passionate cook, recipe developer and photo enthusiast, her culinary repertoire includes everything from gourmet to simple comfort food, and, as she puts it, "simply downright good eats."