This lasagna is a lighter and yummy alternative to the traditional meat lasagna, perfectly suitable for vegetarians and people with tomato intolerance.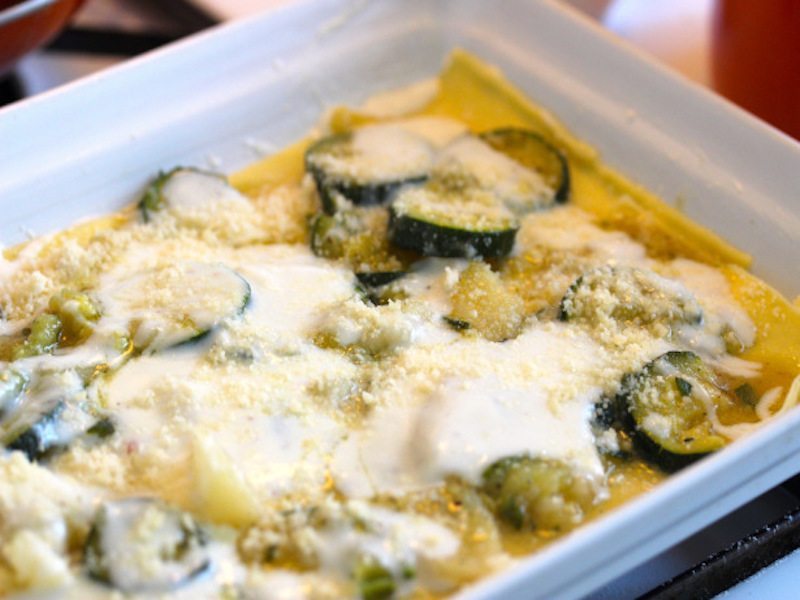 Let's prepare a delicious, healthy lasagna made with zucchini and potatoes.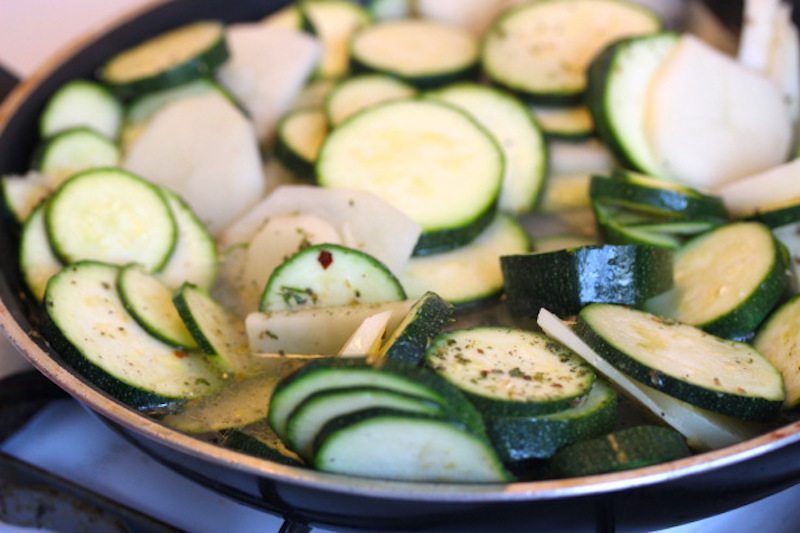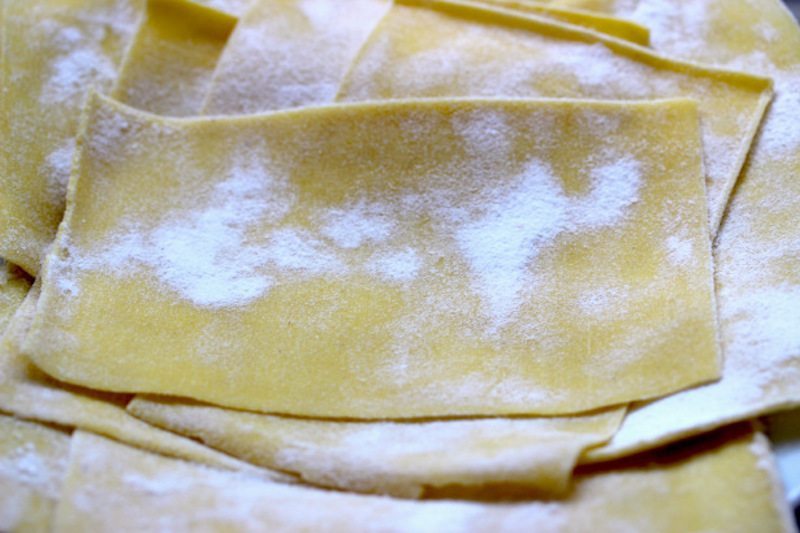 For this dish, I used only fresh organic produce and the highest quality of dairies. Enjoy every bite.
See Also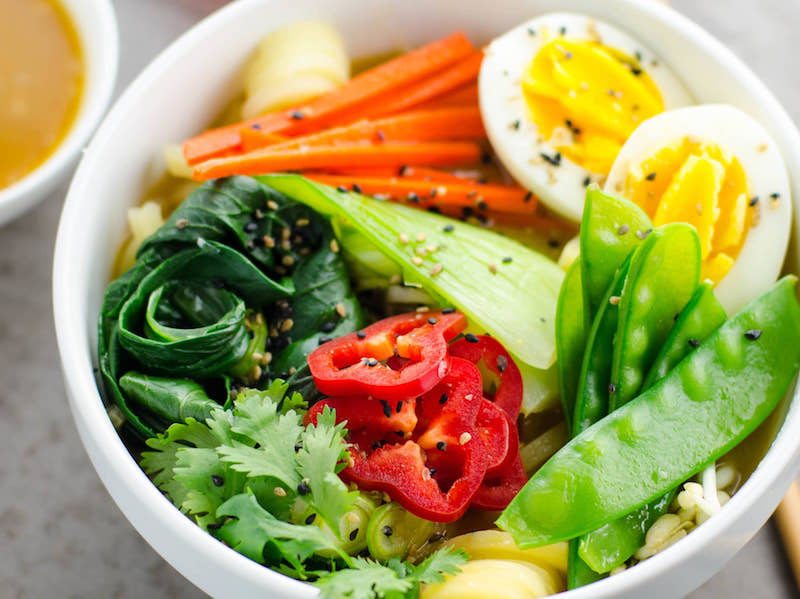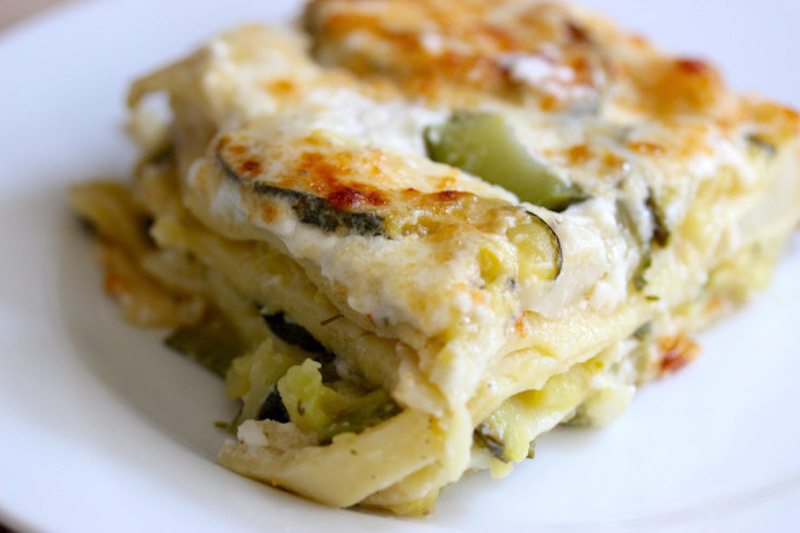 Buon Appetito!!!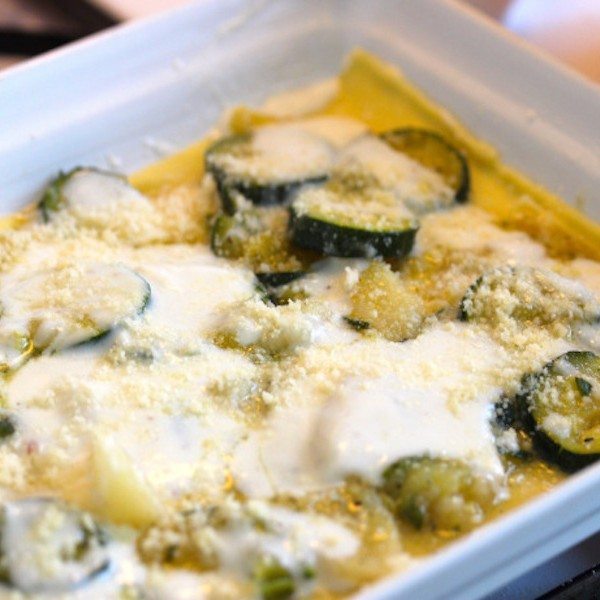 Ale Gambini
Ingredients
1

package

12 oz fresh lasagna sheets

3

tbsp

Extra Virgin Olive Oil

1

garlic clove

2

large zucchini

2

medium potatoes

1

cup

water

warm

2

cups

whole milk

warm

4

tbsp

unsalted butter

4

tbsp

flour

1

pinch

ground nutmeg

salt and pepper

to taste

1

cup

Parmigiano Reggiano

grated
Instructions
Preheat oven at 350 F degrees.

Wash, dry and cut into thin rounds the zucchini.

Peel, wash, dry and cut into thin rounds the potatoes.

In a large skillet, brown the garlic with Extra Virgin Olive Oil. Remove the garlic and add zucchini and potatoes. Sauté for a couple of minutes, than add 1 cup of warm water, salt and pepper to taste and cook at medium heat until tender.

In the meantime, prepare the béchamel sauce melting the butter in a medium sauce pan over low heat. Remove the butter from heat then add the flour and stir until smooth. Slowly pour in the warm milk, whisking continuously. Return the mixture over medium heat, add nutmeg and cook until just thick. Set aside.

Boil the lasagna sheets on a large skillet of salted boiling water for a couple of minutes, then remove and lay on a kitchen towel to dry.

To assemble the Lasagna, grease the bottom of a rectangular baking dish with a knob of butter then spread over a couple of tablespoons of béchamel sauce. Place the first layer of lasagna sheets than some zucchini and potatoes, spread over some béchamel sauce and sprinkle with Parmigiano Reggiano.

Repeat (lasagna sheets, béchamel sauce, zucchini and potatoes, Parmigiano Reggiano) for other 3 times or until all the ingredients are gone. (I usually prepare my lasagna with no more than 4 layers).

Cook for 35 minutes.

Allow to cool for 10 minutes before serving.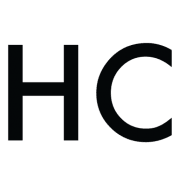 Ale Gambini
ALE GAMBINI IS A LA-BASED FOOD WRITER, COOKBOOK AUTHOR AND AWARD NOMINEE HOST CHEF IN WEB SERIES. 100% ITALIAN (BORN AND RAISED IN MILAN) SHE LEARNED HOW TO COOK AND LOVE FOOD FROM HER GRANDMOTHER NONNA FERNANDA. ITALIAN FOOD AMBASSADOR AND OFFICIAL CONTRIBUTOR FOR EXPO 2015 MILANO, HONEST COOKING, ALIMENTARI MAGAZINE, SHE ALSO DEVELOPS RECIPES FOR PRESTIGIOUS ITALIAN AND INTERNATIONAL BRANDS. ALE LEADS COOKING CLASSES IN LOS ANGELES. FOLLOW HER ON A QUEEN IN THE KITCHEN, AUTHENTIC ITALIAN FOOD AT ITS BEST.