Yogurt Kaalan Curry with Kohlrabi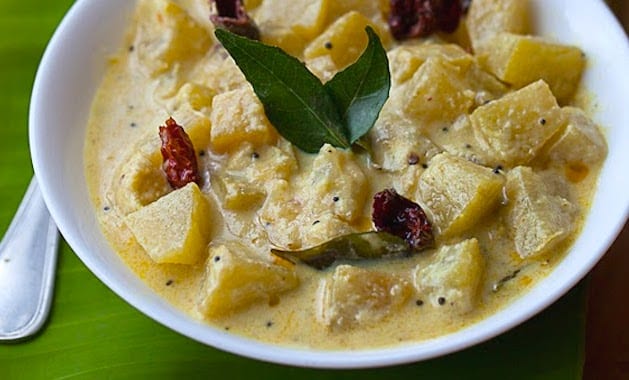 This curry side dish is traditionally made with bananas or yams. We love it with the mild kohlrabi that instantly soaks up the irresistible curry flavors.
By Nandita Nataraj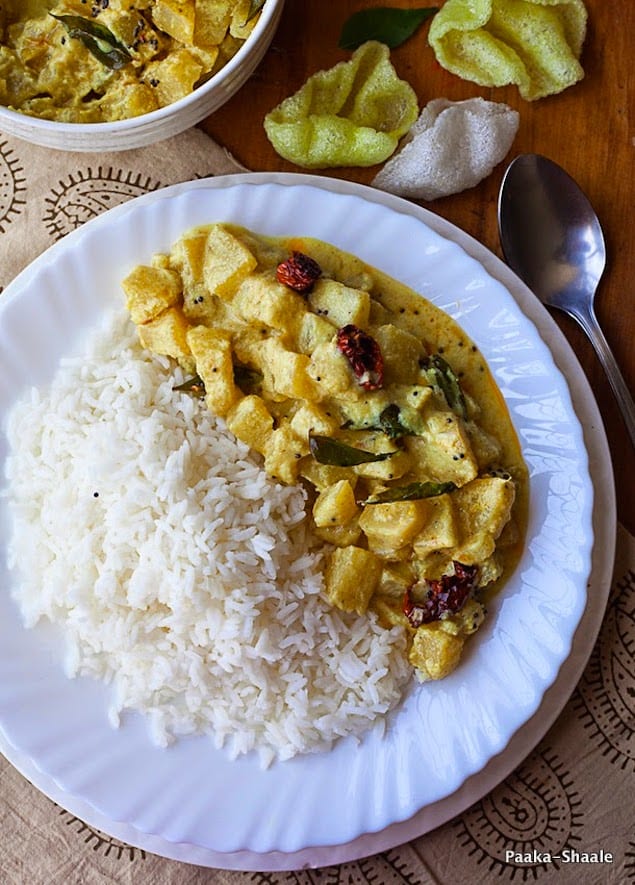 The Kaalan is a yogurt based side dish that is a staple of all festivities in Kerala. I was told that Kalan is a must during the Onam feast. This side dish is almost always prepared with either raw bananas or elephant yam. Since I had neither, I just decided to go ahead and make it with the Kohlarabi that was waiting to be used up and it was delicious. The kohlrabi is quite bland in taste. So the sour flavor of the yogurt and the spicy pepper compliments the bland vegetable beautifully making this curry quite irresistible.

Yogurt Kaalan Curry with Kohlrabi
This curry side dish is traditionally made with bananas or yams. We love it with the mild kohlrabi that instantly soaks up the irresistible curry flavors.
Ingredients
Kohlrabi- 2med, peeled and cut into cubes
Freshly ground black pepper powder- ½tsp
Turmeric- ¼tsp
Salt- to taste
Slightly sour yogurt- 250ml, Whisked
Rice flour corn starch- 1tbsp mixed with 2tbsp of water
For the ground paste:
Coconut- ½ cup
Cumin seeds- 1tsp
Green chili- 1-2
For the seasoning
Coconut oil- 2tsp
Mustard seeds- ½ tsp
Curry leaves- 1 sprig
Asafetida- a large pinch
Red chili- 1, deseeded and torn into pieces
Fenugreek seeds- A pinch, dry roasted and powdered
Instructions
Combine the chopped Kohlrabi along with salt, turmeric and pepper powder. Add one cup of water and cook till the Kohlrabi is cooked through and fork tender.
Grind the coconut, cumin seeds and green chilies along with some water to a fine paste add add the paste to the cooked kohlrabi.Mix well and allow the mixture to simmer for five minutes.
Stir in the whisked yogurt and the rice flour mixture, mix well and allow the mixture to simmer for five more minutes. Add the fenugreek powder at this stage and take off the heat.
For the seasoning, Heat the coconut oil in a pan and add the mustard seeds. Once they crackle, add the curry leaves and the red chili pieces and fry till crisp.
Add the asafetida, take of the heat and add the seasoning to the prepared Kaalan and serve hot with rice.
Notes
he rice flour is usually not added to this curry. I chose to include rice flour because, I wanted the curry with a thick gravy like consistency. You can omit the rice flour if you want the curry to be slightly watery.
Nandita Nataraj
Nandita was born, bred and spread in India, but right now lives in Tanzania where her quest for simple and exotic pleasures of food led to the creation of the blog Paaka-Shaale. She believes that food is not just a means to feed a body. But it is also meant to appeal the mind and satiate the soul.