Sponsored Post: Whether you are hosting a wine party or looking for the perfect pairing for your dinner party menu, we've teamed up with Sonoma-Cutrer to provide wine inspiration for your next gathering.
Get cozy this winter with a warm evening of wine paired with cheese and chocolate fondue.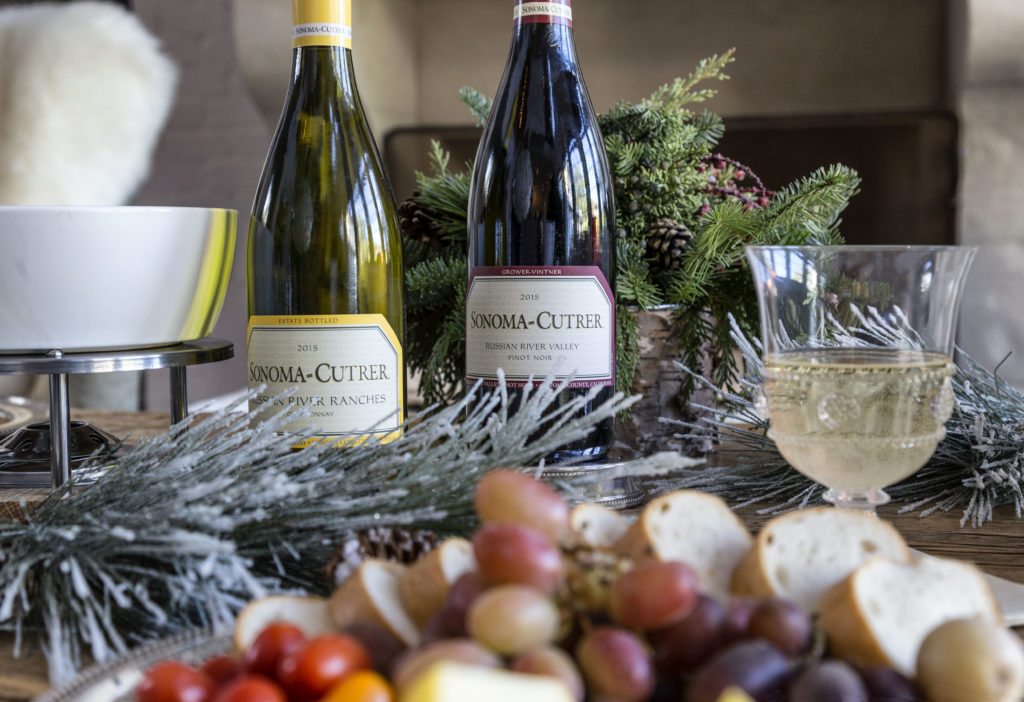 Let's get cozy this winter and do it up big, with a fondue and wine party to satisfy a crowd. Warm gooey cheese and melted, fragrant chocolate wrap us up in a warm way. Fondue is my love language, especially if I have on ski boots and I'm sitting half way up a mountain in a warm and cozy lodge. When I had the opportunity to pair one of my favorite recipes with some of Sonoma-Cutrer's award-winning wines, I knew fondue was in the picture.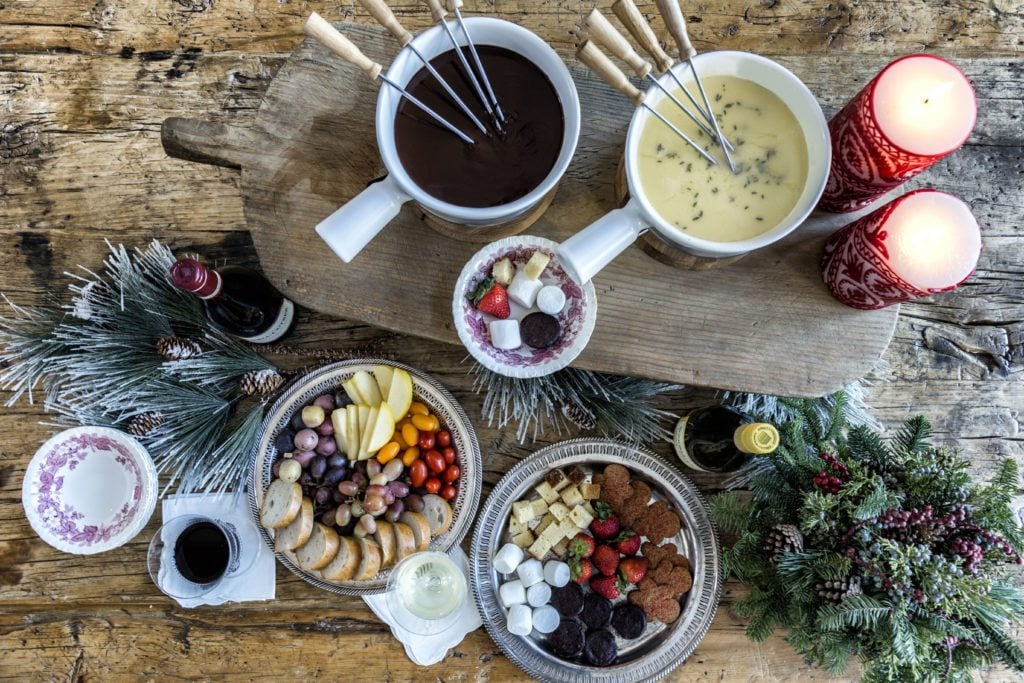 Don't be intimidated by fondue — it seems like a tricky proposition, but really all you do is melt ingredients and get them to emulsify (or in other words, mix together). There are a few tips for cheese fondue that will keep your cheese from separating (and help it taste delicious):
Melt the cheese over low heat, have patience my friend. It will help the cheese to emulsify with the wet ingredients.
Use a little lemon juice to brighten the flavor and cut the richness of the cheese.
Many recipes for cheese fondue say the kirsch is optional, I beg to differ. It adds a flavor component that you don't want to miss.
Use the same white wine in the fondue that you plan to drink with it, in this case I like a bottle of Russian River Ranches Sonoma-Cutrer Chardonnay. The nose of the wine has a hint of apple and pear, and the refreshing citrus notes pair well with the richness of the cheese. If you can't find it locally, you can order it online here.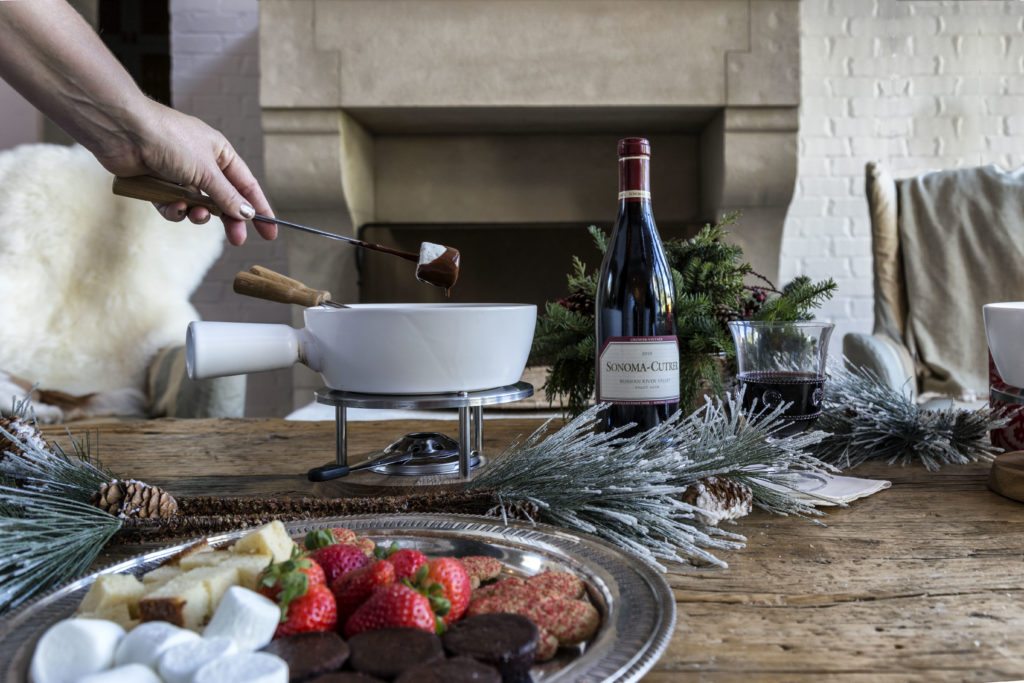 A fondue night wouldn't be complete without chocolate fondue, Sonoma-Cutrer Russian River Valley Pinot Noir and all the dessert accoutrements for dipping. The pinot noir has hints of spice and black cherry and a smooth finish, and is delicious paired with chocolate. Chocolate fondue is a slightly easier feat to pull off, the only tip is to use good quality chocolate and keep the heat low. Who doesn't love melted chocolate? Especially when it's covering pound cake, strawberries or brownies. Yes, chocolate dipped in chocolate!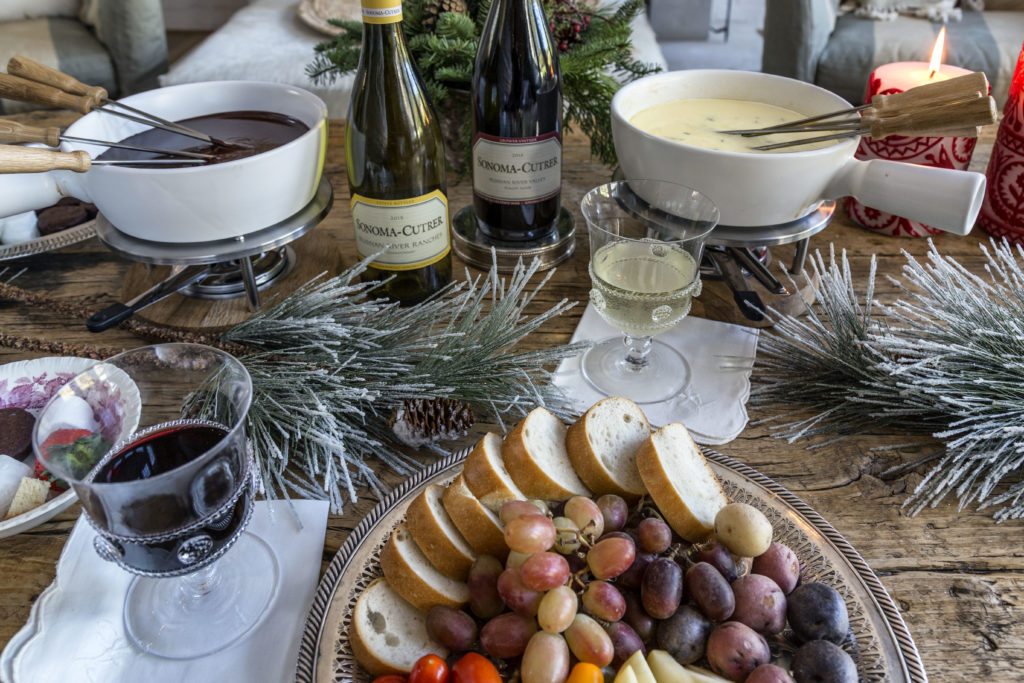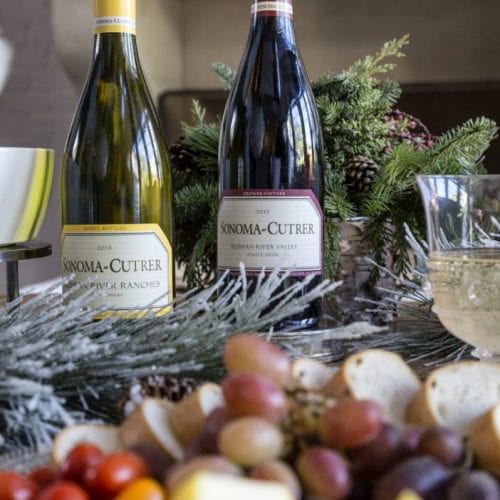 Cheese Fondue
Marcia Smart
Ingredients
1

garlic clove

peeled

1

cup

white wine

1

tablespoon

cornstarch

1

tablespoon

kirsch

1/2

teaspoon

dry mustard

1

teaspoon

lemon juice

1

pound

Gruyere cheese

grated

1/2

pound

Emmentaler cheese

grated

Freshly ground pepper

3-4

gratings of fresh nutmeg

Dippers

such as cubed baguette or rustic French bread, apples, pears, cherry tomatoes, cooked red potatoes and blanched broccoli
Instructions
Rub the inside of a fondue pot with the clove of garlic; set aside.

In a heavy pot over low heat, add the wine and bring it to a low simmer. In a small bowl, whisk together the cornstarch, kirsch, dry mustard and lemon juice; set aside.

Gradually add the grated cheese to the wine and stir with a wooden spoon (it's better to stir in a z-shaped pattern instead of a circular pattern). When cheese is just melted, add the cornstarch mixture to the pot and stir to combine.

Bring the fondue to a low simmer and stir until thickened, about 3-5 minutes.

Transfer to fondue pot and light the flame underneath the pot.