PARTNER POST: Reinvent potato recipes to be fresher and lighter in the new year. Make it your resolution to try these dishes as nutritious packed lunch ideas.
A hearty winter dish loaded with nutrients, this gratin make a warm pan of kale, apples, and the versatile potato.
By Carlene Thomas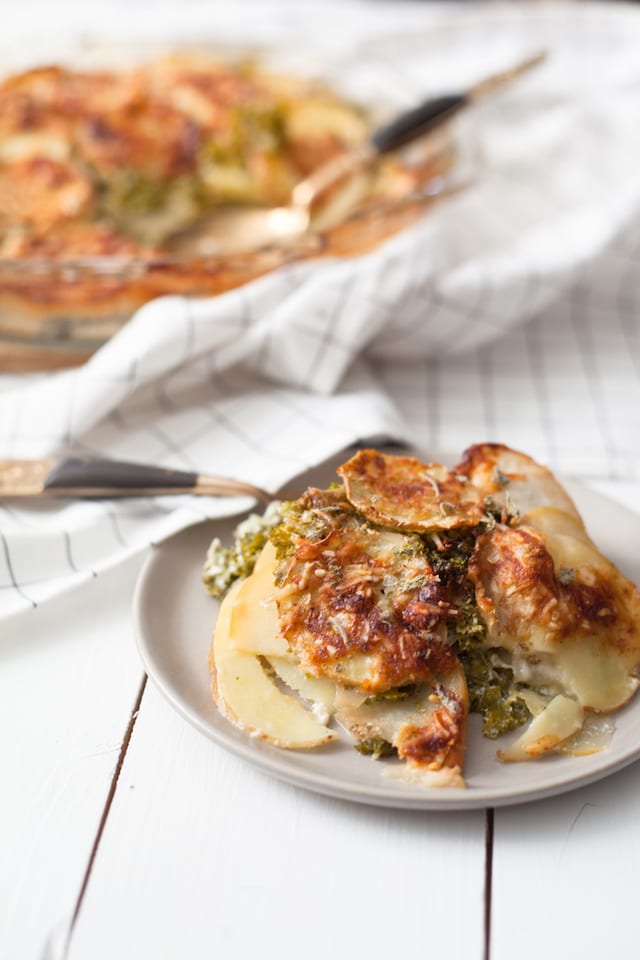 You know what's great? Versatile, classic and simple things. Like potatoes.
For winter, having potatoes on hand to work with makes my cooking life a little bit more relaxing. I can just grab a few to roast, mash, or even turn into soup. But maybe one of my favorite preparations of all is a gratin. Except, a typical gratin is just LOADED with cheese and cream, so I pared it back and brought in additional flavors and nutrients (apples and kale and aged cheese) to make it a healthy part of a warm night in together.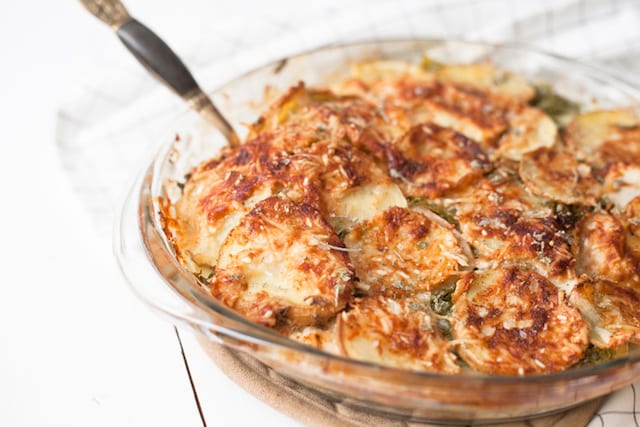 Potatoes have a ton of nutrients that the general public seems to forget about. A medium potato with skin is about 110 calories. HELLO. Wouldn't you want that over those stupid 100 calorie junk food packs? YES. Please make me a potato with salt and pepper! They're also a source of antioxidants. YES. Those sexy things that sometimes people only think are in tropical fruits. They've got vitamin C, carotenoids and anthocyanins. And I can't forget about vitamin B6 which is a metabolism helper. To learn more about the nutrition benefits of potatoes and more ways to prepare them, check out Potato Goodness.
Also, try this beautifully spiced recipe for Bombay Potatoes.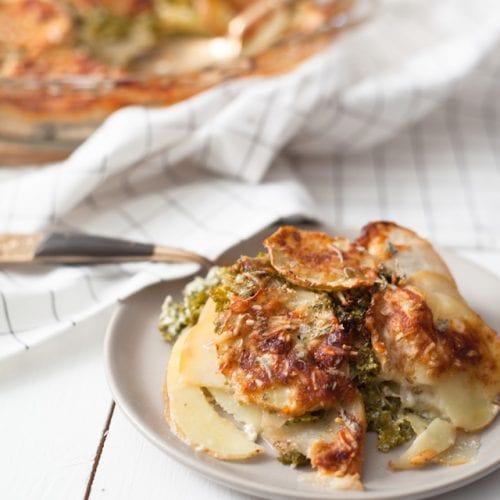 Winter Potato Gratin with Kale and Apples
Carlene Thomas
A hearty winter dish loaded with nutrients, this gratin make a warm pan of kale, apples, and the versatile potato.
Ingredients
2

large yukon gold potatoes

thinly sliced

1

gala apple

cored, thinly sliced

1

bunch kale

roughly 2 cups, de-stemmed

a pinch of salt and freshly ground black pepper

1

tsp

crushed dry sage

1

tsp

chili powder

1

cup

parmesan cheese

finely grated

2

cups

low-fat 1% milk

2

tablespoons

butter
Instructions
Preheat oven to 400 degrees F. Butter or lightly oil a baking dish (10 inch or so works well) or cast iron skillet.

Thinly slice potatoes and apples. Chiffonade kale leaves. Create a layer of potatoes on the bottom of the dish. Top with salt, pepper, half the parmesan cheese and a pinch of sage and chili. Create the next layer of apples, add kale and add one final layer of potatoes. Top with the rest of the parmesan, salt, pepper and spices. Pour milk over the top, into the dish and add pieces of butter on top. Bake for half an hour and drain off the remaining milk.

Return the gratin to the oven and bake for another 30-45 minutes until the top is golden brown and the potatoes are soft and easy to pierce with a fork.